Are you considering buying a cordless lawnmower from Spear & Jackson in the coming days or weeks? If so, then please make sure to check out our detailed Spear & Jackson Cordless Lawnmower review which will outline what we believe are the 4 best options to choose from under this brand so at least you have more than just 1 choice when it comes to making your own final decision.
Focus
Our review will focus on the lower priced 34cm Spear & Jackson S2434CR Cordless Rotary Lawnmower as this one offers the lowest possible price, but we will also compare it to larger lawn mowers from Spear and Jackson such as the 40cm wide and also the 44cm wide cordless options.
Corded and Cordless
Please be aware that if you are seeking the lowest possible price, then you should skip the 34cm cordless and go for the 34cm corded lawnmower instead as it works just as well in our opinion – the only thing you are limited to though are the cables, cords and possible additional extension cords.
Anyway, I assume you came here to learn more about the Cordless options from Spear & Jackson and starting off, I have to say that I was very impressed with this little machine and the cost was a lot lower than expected, especially for a Cordless lawnmower which typically are £200+ or even £300+. For easier navigation, our review is split into 5 main parts so feel free to skip to whatever part interest you the most.
Cordless Lawnmower Review Content
Part 1: Brief Overview and FAQ's
Part 2: Spear Jackson 34cm Cordless Lawn Mower Review
Part 3: Assembly Tips (mostly image displays)
Part 4: Alternative Spear & Jackson Lawnmowers to Consider (larger options)
Part 5: Comparison Table & Conclusion
As price guides can only be presented at the time of this Spear & Jackson Cordless lawnmower review, please make sure to view the price checkers provided below to ensure you get the most accurate up to date price information.
Read also: Our Spear & Jackson Lawnmower Review Compilation Here
Part 1: Brief Overview and FAQ's
| Model: | Spear & Jackson S2434CR 34cm Cordless Rotary Lawnmower |
| --- | --- |
| Battery Power: | 24V |
| Cutting Width: | 34cm wide |
| Best Place to Buy: | Argos – View Stock Availability Here |
| Warranty: | 3 years duration |
| Support: | Spear & Jackson customer helpline on 0345 605 2068 |
Frequently Asked Questions for the Cordless Spear & Jackson Lawnmower (14)
Q1. How long does it take to recharge the battery?
A. On average, it will take 60 minutes to fully recharge the battery once again.
Q2. Does it include both the battery and the charging unit?
A. Yes, both the charger and the battery are included in the pack.
Q3. How long does assembly take?
A. Assembly is quick and easy and can be done in less than 10 minutes (tips are provided below)
Q4. How long will the battery last for when fully charged?
A. It depends on grass conditions (thickness / dampness) but should run for 25 to 35 minutes on average.
Q5. Is there a mulching plug included with this lawnmower?
A. No, there is no mulching plug available in this lawnmower
Q6. Can this lawnmower be set as self propelled?
A. No, this is only a push lawnmower (it cannot be self-propelled)
Q7. Does it come with a brushless motor for higher efficiency?
A. Yes, it includes a brushless motor for superior results, power and longevity
Q8. Where can you get additional or spare batteries and chargers?
A. These are available from Spear & Jackson directly on 0345 605 2068
Q9. Can it give a striped finish with a roller?
A. Yes, there is a rear roller built in to generate attractive stripes.
Q10. How heavy is this machine to push?
A. This small lawnmower weighs less than 12.5kg for easier pushing
Q11. Can it be hung on a garage wall?
A. No, it cannot be hung on a wall, but it can be folded down nice and neat
Q12. Can this battery be used for other Spear & Jackson tools?
A. Unfortunately not at this moment of time anyway from what we have seen
Q13. What is the weight of the battery?
A. The battery weight is approx. 0.7kg
Q14. Can it be used on wet grass?
A. It is recommended to use in dry grass only (or slightly damp grass is fine also)
Part 2: Spear Jackson 34cm Cordless Lawn Mower Review
Spear & Jackson 24V 34cm Cordless Rotary Lawnmower S2434CR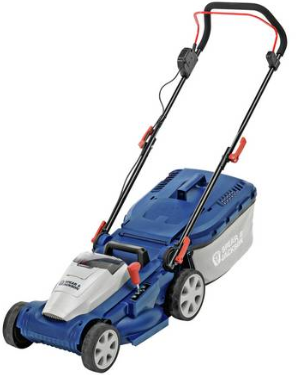 Main Features in Summary:
Smaller frame 34cm mow width
Cordless 24V battery
1-hour recharging time
Runtime is 25-35 mins
Brushless motor included
Rear roller & safety switch
Handle is height adjustable
Grass collection capacity 35L
5 mow heights 2.2 to 6.2cm
Warranty is 3 years
Cordless Mower Description:
This small 34cm cordless lawnmower from Spear & Jackson is certainly one of the most popular and best sellers under this brand and it is one of the lowest priced options we have seen when it comes to buying a cordless battery powered lawn mower. It has received a Best Buy award and numerous positive reviews from previous buyers in the past which certainly adds confidence before you make that all-important final decision.
The 24V battery and charging unit is included in the box delivery and it has side combs to allow it to mow extra close to boundary walls which reduces the level of trimming you need to do when the mowing is complete. It comes with a brushless motor which gives better efficiency, performance and longevity and there are 5 different mow height settings that can be adjusted using a single lever.
The mow heights range from 2.2cm up as far as 6.2cm so you will have you get a closer tighter cut as many other cordless mowers usually have a lowest minimum mow height of 3cm. The battery will last on average 25 to 35 minutes depending on grass conditions (thickness / grass heights / dampness / density) and it takes 1 hour to get the battery fully recharged once again which is supported with LED battery life light indicators.
You get more from the brushless motor as it can react to thicker and more difficult conditions when needed and the grass collection unit has a capacity of just 35 litres with a grass full indicator.
There is also a comfortable soft grip handle, a rear roller for generating mow stripes, a safety switch as standard and it is lightweight to use at just 12.2kg
In addition, if you wish, you can choose to buy this using a credit card plan with Argos where the overall cost can be spread over 6 months instead of having to pay for it all up front plus you get a 3 year warranty
Price Guide: £140 to £200 @ Argos

A further 5 images are outlined below to give you a better idea on the frame and features for this particular cordless lawnmower
Pros and Cons which we came across:
Pros for the Spear & Jackson 34cm Cordless Mower:
This little machine has won awards for the Best buy which certainly goes a long way when choosing a lawn mower for smaller gardens
As the weight is less than 12.5kg, it makes it so much easier to push this machine around your garden and even to push it up slopes or around uneven ground is a doddle
Price wise, we found it hard to match as good a cordless mower as this for the price, great overall value for what it can do and the price you need to pay as many other cordless mowers can cost well over £300+ while this one is generally found for less than £160 (at the time of this review)
The battery LED lights is a great feature to have as you always know in advance when the battery is near depletion and when you need to start recharging it once again.
The grass collection unit works really well to leave a nice tidy finish and the built-in rear roller helps to leave an eye-catching striped finish once the job is done.
You are buying from a brand that is trusted in the UK with over 250 years' experience which goes a long way when it comes to back up support and service.
Unlike many other mowers, this machine has the easy fold handles which allows it to be folded away when not in use which is a whole lot easier.
The last thing we liked was how tight it can mow to boundary walls and flower beds with very little trimming work needed thereafter.
Overall very good value for the amount of money you need to spend and it gives more cutting power than you would expect from a mower of this size
Cons for the Spear & Jackson 34cm Cordless Mower:
Getting additional batteries is harder than expected. Argos sell the lawn mowers but don't sell additional batteries as well which I find hard to understand why. You need to call 0345 605 2068 to get extra batteries or a second charger
The battery for this lawnmower doesn't appear to be interchangeable with other Spear & Jackson cordless tools which is disappointing
For larger projects and more difficult conditions, we found that the battery charge will deplete a lot quicker than expected (even as low as 20 mins)
The battery is a lot less powerful than others we have seen which explains the lower price level. Other batteries can be as high as 60V where this battery is only 24V.
Assembly instructions could have better images and better laid out steps but is fairly manageable all the same
The grass collection is fairly small, so you find you need to empty the unit a lot more frequently
As the width is so narrow, it is fine for small town house type lawns however would be far to slow for larger gardens such as half acre of three-quarter acre sites.
In isolated cases, small parts were missing on delivery, the frame handles did not line up or match as they should have when assembling and there have been some minor issues reported with the battery which caused returns.
There is no mulching plug or side discharge option included – only rear collect or rear discharge

LED Lights:
One good thing to know here about the battery is that it has an LED light display to show you how much battery life is left for mowing. This way, you know in advance when it needs to be recharged. The different LED lights that will be displayed are outlined below

Part 3: Assembly Tips
The assembly manual that comes with this box is well laid out but if you need to get an idea on the steps involved before you buy, then check out the image displays below that outlines the main steps you need to follow when assembling this lawnmower
Part 4: 3 Alternative Spear & Jackson Lawnmowers to Consider
If you have a larger than normal town house lawn or even a half acre site, then you should really consider a wider framed cordless lawnmower instead such as the 40cm or the 44cm wide mowers as they are a great help to reduce the level of time needed to get the job done if time is never on your side…
1, Spear & Jackson 34cm Cordless Lawnmower & Trimmer Combo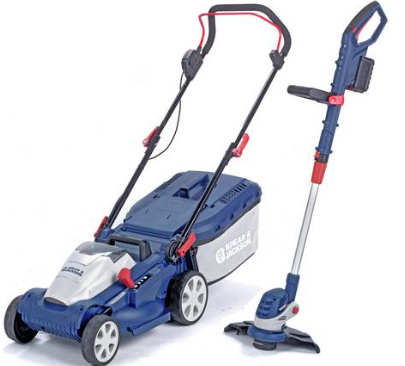 Main Points to Note:
Combination trimmer & mower
24V 4.0Ah batteries x 2
Back up battery included
34cm mower & 25cm trimmer
Brushless motor & 5 heights
Mow heights 2.2cm to 6.2cm
Charger & 2 batteries included
Rear roller & 35L capacity unit
Price Guide: £180 - £250 @ Argos

2, Spear & Jackson 40cm Cordless Lawnmower (2 Batteries)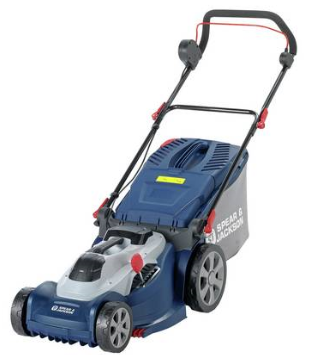 Main Points to Note:
Wider cutting width 40cm
2.5 Ah batteries x 2 included
90-minute recharge time
7 different mow height settings
Cuts from 2.5cm to 7.5cm
Blade width is 40cm
Larger grass collector 45L
Rear roller & safety switch
Price Guide: £230 - £300 @ Argos

3, Spear & Jackson 44cm Cordless Lawnmower (2 Batteries)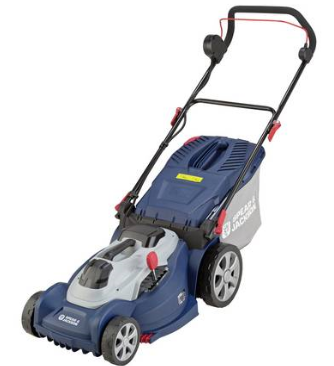 Main Points to Note:
Widest mow width 44cm
Designed for larger gardens
Recharging takes 75 minutes
36V battery & side comb included
2 batteries & charger included
Largest grass box 50L capacity
Safety switch and rear roller
Heavier weight of 19.5kg
Price Guide: £280 - £350 @ Argos

Part 5: Comparison Table & Conclusion
To help you compare how each of these cordless lawn mowers compare against one another, then check out the comparison table outlined below. One thing that is unpredictable though is the runtime on the charged battery. If your lawn is well kept and maintained, then you can expect the batteries to last 30 to 35 minutes. However, if your lawn has become unmanaged with tall denser thicker grasses, then obviously the runtime on the battery will deplete a lot quicker so you will need to bear this in mind when working out how much battery life you will get.
Comparison Table
| Model: | 34cm Cordless | 40cm Cordless | 44cm Cordless |
| --- | --- | --- | --- |
| Battery: | 24V | 40V (2 batteries) | 36V (2 batteries) |
| Mow Width: | 34cm | 40cm | 44cm |
| Side Comb: | Included | Included | Included |
| Battery Runtime: | 25-35 mins | 25-35 mins each | 25-35 mins each |
| Recharge Time: | 60 mins | 90 mins | 75 mins |
| Rear Roller: | Included | Included | Included |
| Grass collection: | 35L capacity | 45L capacity | 50L capacity |
| Mow Heights: | 5 (2.2cm - 6.2cm) | 7 (2.5cm – 7.5cm) | 7 (2.5cm – 7.5cm) |
| Handle: | Height adjustable | Height adjustable | Height adjustable |
| Safety Switch: | Included | Included | Included |
| Weight: | 12.2kg | 19kg | 19.5kg |
| Warranty: | 3 years | 3 years | 3 years |
Conclusion
Would we buy this 34cm Lawnmower? Yes, if we lived in a small-town house type garden as it gives you all the cutting power you need at the lowest possible price.  Getting it set up from the box is quick and easy to assemble and it is so lightweight and easy to push unlike many other heavier petrol-powered lawn mowers. Having no cords or cables is also a major plus and the tightness of the cut to the boundary walls was very impressive along with having a brushless motor and a lower than usual cutting height of 2.2cm for a tighter finish.
Power Source
If your lawn is quite a distance from your house, then a cable or extension cord would be far too difficult to manage, so you are far better off using a cordless model instead. It would be great if these mowers offered a mulching plug or side discharge option though, but we didn't really miss these features anyway as the grass collection is so good.
Larger Lawns
If you live in a large estate or a half acre site or more, then you are better off getting the larger framed 40cm or the 44cm models as the 34cm would be far too slow in our opinion. That being said, this little machine is a fine piece of equipment backed with a reliable 3-year warranty and we have no issue whatsoever in recommending it to the wider UK public based on or own experiences.

Educate others in the UK
Have you ever used a Cordless Spear & Jackson Lawnmower before? Anything good or bad to say about them?
If possible, please educate others in the UK community by leaving a comment in the comment box section provided below.