Hello to all the mowers across the UK and welcome to this compilation review of Spear & Jackson Lawn mowers which are available to buy in the UK at present. If you are considering buying a Spear & Jackson Lawnmower in the coming days, then please take a quick look through this review which will help you decide which model will best suit your particular set of requirements.
In addition, I am sure that price will be an important factor for you so make sure to view the competitive low price checkers which are provided below which will help make sure you have the most up to date price information... (please note that this review has been updated and includes another electric lawnmower also)
View also: Our Cordless Lawnmower Reviews here
Lawn Mower Review Overview
| Lawnmower Review: | Detail: |
| --- | --- |
| Brand: | Spear & Jackson |
| Lawnmower types: | Electric - Cordless, Corded & Hover |
| Models: | Small, Medium and Large |
| Headquarters: | Sheffield, UK |
| Best Place to Buy: | Argos UK – View Stock levels & Prices here |
| Warranty | 3 Years |
Spear & Jackson Lawnmower Overview
The history of Spear and Jackson goes back a long time to 1830 so they have a very strong presence and throughout the UK. They are based in Sheffield in South Yorkshire and they are part of the United Pacific Industries Ltd organisation. Sheffield is renowned for steel and made high quality steel products back as far as the 14 century.
The company was founded by both Sam Jackson and John Spear and they are highly recognised for their high quality products and localised customer service. As with any business, they looked to reduce some costs so a part of their manufacturing was moved to Asia but the quality of the products they produce remain the same.
FAQ's about Spear & Jackson Lawnmowers
Q1. Which is the most popular lawnmower in their range?
A. The most popular is the corded 32cm 1200W model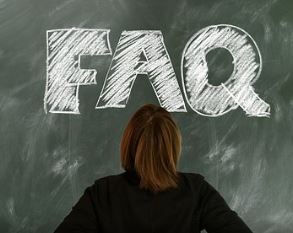 Q2. What can I do if I have problems with the mower?
A. You can contact Spear & Jackson directly as they have a dedicated support service to answer any queries you may have.
Q3. What level of warranty is available?
A. There is a 3 year warranty available from Spear & Jackson
Q4. Is the corded 32cm 1200m fitted with a Roller?
A. No, there is no roller fitted with this corded 32cm 1200w model.
Q5. How do you get replacement parts such as blades?
A. You can contact them directly on 01904 727500 for replacement parts but please make sure you know the model number before calling
Q6. How long does it take to charge the battery for the cordless model?
A. The recharge time on the 40V battery is approximately 1 hour
Q7. How long do the batteries last on the cordless mowers:
A. The duration of the battery typically is 30 to 40 minutes long
Q8. Is the roller included with the cordless model 37cm?
A. Yes, a roller is included with this model to give a striped effect.
Spear and Jackson Lawnmower Review Compilation
1, Spear & Jackson 32cm Corded Rotary Lawnmower 1200W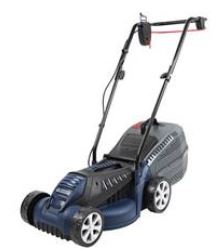 Main Features:
This model is by far the most popular in the range and is 32cm wide blade
This is a cored mower so there is no need to worry about batteries or fuel
You get a grass collection unit with a capacity of 30L and it also has an indicator
Perfect for your small to medium sized lawns
Gives great power and more than one would expect from a machine this size
The cutting heights are easily changed by the spring-loaded axles.
There are 3 different mow height settings to suit different types of grasses and the mow heights range from 2cm up as far as 6cm.
The cable you are provided with is 10m long
The weight of this model us 10.6kg and there is also a safety switch included.
Pros:  Overall this mower has received excellent feedback and is certainly one you should consider if you have a small lawn. Its reliable, easy to assemble and easy to move around as it is less than 11kg in weight. The price is also a major attraction when you compare to similar models in the category.
Cons: The maximum length of the cord is 10m so you will need to buy an extension cord for a further reach around your lawn. Grass box is quite small and will fill up very quickly. Really only suitable for your smaller type lawns.

2, Spear & Jackson 37cm 40V Cordless Rotary Lawnmower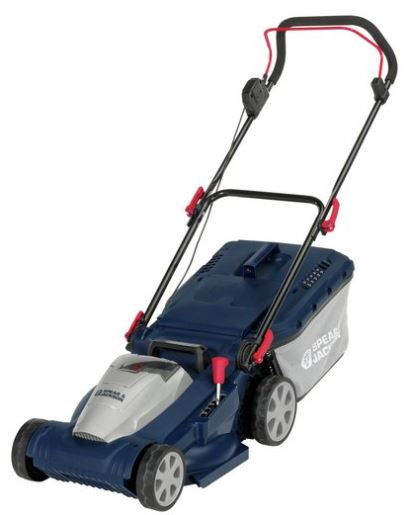 Main Features:
This is a cordless mower so there are no cables involved in operating this model
This mower has the RunBoost technology to assist the 40V battery
It also has the battery patented cooling system so you get a longer run time of approximately 40 minutes which is great if your lawn takes that bit longer to get completed.
The width of the blade is 37cm wide
The size of the lawn that it can manage to cover is approximately 375 metres squared so you need to make sure your own lawn is measured and below this are to avoid disappointment.
Battery charge time is roughly 1 hour and the grass box which is included has a capacity of 40L.
You also get the Edgemow guide which helps you get a cleaner finish around tight corners and edging
The roller is also included for this model to give you the striped effect and the handles can fold down for easy storage
There is 5 height settings and the mow heights range from 2.2 cm to 6.2cm
Included also is the safety switch and the weight is 13.6kg.
Pros: The one thing you don't have to worry about is a cable across your lawn as you mow. Perfect and ideal for smaller type lawns that take less than 40 minutes to get through. Having the roller included to give you a striped finish makes your lawn look really professional and attractive.
Cons: You are limited to 375 metres squared lawn size, if your lawn is bigger than this, you will have to wait and recharge the battery to go at it again. You also need to remember where the charger is at all times and always remember to have it charged prior to any mowing work you plan to do. Price is also on the high side when compared to the corded version and there is the possibility of battery degradation over time.

3, Spear & Jackson 33cm 1700W Hover Lawnmower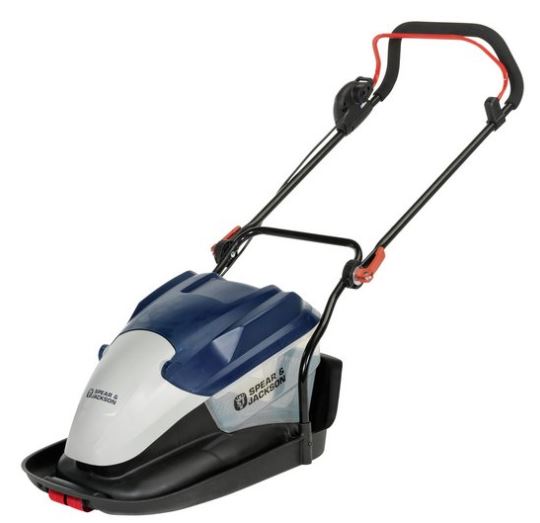 Main Features:
This hover lawnmower is 33cm wide 1700W and is powered by an electric cable which is 12m in length.
The hover moves on a cushion of air so there is reduced friction.
You have the options of both collecting the grass or indeed mulching if that is your preference
There is 4 separate mow height settings provided for you with this model and the mow heights range from 1.2cm up to a maximum of 3.3cm
The grass box is somewhat smaller than others and is 20L
Depending on your own height, the height of the handle can also be adjusted to suit your own individual needs
There is a 12m cable included also and you also get a safety switch for added protection
If you want to collect the grass, simply remove the mulch plug.
Pros: Gives to a finer mow to a lower height of 1.2cm and it is extremely easy to move about as the weights is less than 9kg. The price is also very competitive when compared to similar models on its category. The added capability of the mulching feature will also help you put nutrients back into your soil if needed and there is a nice soft grip handle which is great at helping you with fatigue.
Cons: The grass collection box is very small and fills up very quickly.

4, Spear & Jackson 40cm Corded Rotary Lawnmower 1700W - S1740ER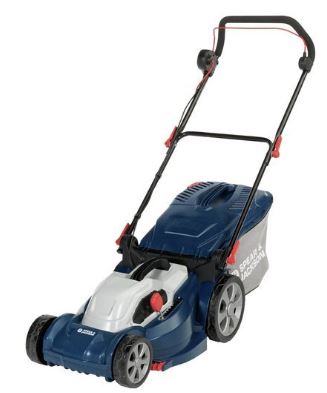 Main Features:
This is the widest corded mower under the Spear & Jackson brand at 40cm wide and is also the most powerful with 1700W which gives you plenty of power in dealing with thicker heavier grasses.
Again – this is corded (not cordless) so you need to make sure you have a separate extension cord that will travel the length of your lawn.
More suited for larger type lawns only (as the 32cm/34cm will suffice for small lawns)
You get 7 different heights to choose from - 2.5 cm up as far as 7cm and it is controlled in one central location
For striped effect, there is a roller at the back and the bag size is 50L
The power cord is 12 mitres long – however if your lawn is longer than this – please look at getting a suitable extension cord.
The handle is also height adjustable to suit your own height and comes in at a weight of 18.6kg
Price tends to be higher and is generally found to be in the £140 to £160 region and can be checked below and of course there is an attractive 3 year warranty included as standard.
Pros: The larger grass bag, roller added in for the striped effect, the 1700W of power and the 3 year warranty makes this lawnmower one of the best choices especially if you lawn is larger and needs a wider blade than the 32cm or 35cm. The extra width does cut down on the number of passes you need to do which saves time and the power cord of 12 mitres is longer and a safety switch is included for your added protection. This mower is more powerful than you would expect for its size and the assembly process is simple and easy to get started.
Cons: You need to be prepared to spend a little more as it is the most expensive in the corded range but is well justified with the increased size and features. Ideally it should be used for your larger type lawn – if you have a smaller type town house lawn - then the lower priced 32cm should suffice for your needs. Apart from the higher price, and some minor issues with the bag indicator, there is very little to complain about here

Comparison Table
A quick summary comparison chart is also outlined below for a selection of the lawnmowers under the brand of Spear and Jackson
| Model | Type | Grass box | Mow height | Weight & Width | Power |
| --- | --- | --- | --- | --- | --- |
| Spear & Jackson 32cm Corded Rotary Lawnmower 1200W | Corded | 30L | 3 settings, 2cm – 6cm | 10.6kg, 32cm | 1200W |
| Spear & Jackson 40cm Corded Rotary Lawnmower | Corded | 50L | 7 settings, 2.5 – 7.5cm | 18.6kg, 40cm | 1700W |
| Spear & Jackson 37cm 40V Cordless Rotary Lawnmower | Cordless | 40L | 5 settings, 2.2cm – 6.2cm | 13.6kg, 37cm | 40V battery |
| Spear & Jackson 33cm 1700W Hover Lawnmower | Hover | 20L | 4 settings, 1.2cm – 3.3cm | 8.7kg, 33cm | 1700W |
Further Reading
If you are still on the fence about the Spear & Jackson Lawn mowers, then take a quick look through other lawnmower reviews as follows that may be of interest to you:
Bosch Lawnmower Review Compilation – Read more here
Flymo Lawnmower Review Compilation – Read more here
Best UK Corded Lawnmowers reviewed – Read more here
Best UK Cordless Lawnmowers reviewed – Read more here

Finally, if you have used a Spear & Jackson lawnmower in the past - please share your experiences good or bad with the wider community by leaving a comment in the comment box below - so that they can learn also!