Greetings and many thanks for taking the time to visit our Best Cordless Lawnmower Amazon review selection which are available in the UK market at present across trusted brands that you will already be familiar with. We have looked and tested several Cordless lawn mowers and we have come up with a list of popular options that should tick everyone's boxes in terms of quality, workability, reliability and of course price ranges.
Home Deliveries
Firstly, you should be aware that you do not need to commute to your local retail store destination to collect as these Lawn mowers can all be easily ordered online and get delivered to your home hassle free which is one less thing that you need to worry about.
Secondly, please note also that guide prices can be shown at the time of this review as prices can change slightly from week to week or month to month depending on local promotional activities so please make sure to view the price checkers outlined below to ensure you have the most up to date accurate price information.
View also: Additional best lawnmower lists here
Best Cordless Lawnmowers @ Amazon - Top 5 Picks
1, Bosch Cordless Rotak 32cm 36V Lawnmower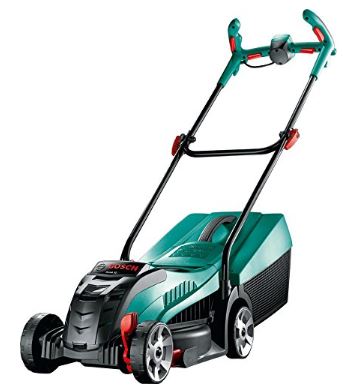 Key Features Available
First on this list is the Bosch Cordless Rotak 32cm wide 36V Lawnmower which has the 2.0Ah battery and charger included and are suitable for lawns up to 300m2 on average. This lawn mower from Bosch offers you 3 cutting heights that range from 3cm up to 6cm, a safety key which is great if there are children around and it has a grass collection box with a capacity of 31L.
It is lightweight to work with as it is less than 11kg and you can enjoy the ergoflex handle for better control around tight corners and flower beds. There are also the grass combs which perform nice and tidy around edges or boundaries.
The battery available here is charged at 80% capacity in 40 minutes and the battery runtime will operate anywhere from 30 to 45 minutes depending on the grass conditions. The price level at the time of this review was seen on sale for less than £320 with Amazon UK which should be double checked below (2 year warranty is also available)

2, Greenworks 40V 35cm Cordless Lawn Mower

Key Features Available
Second on this list is the Greenworks 40V Cordless Lawn Mower with a 35cm mow path (or 14 inches) which has the charger and 2 x 2Ah batteries included. If you wish, you can also go down the route of getting the lawnmower with just 1 battery which means a significant reduction in terms of costs for you the end user.
The one good thing is the fact that you get 2 batteries included in the package which ultimately means that you can switch to the second one if the battery on the first runs out before you have finished your mowing work. This lawn mower also gives a mulching option (unlike many Electric lawn mowers) and the battery runtime normally works for a runtime of approx. 40 minutes on average which is adequate for many UK type gardens and recharging normally takes 1 hour on average.
The price level at the time of this review depends on if you want the tool only (without the battery) or the Tool with 1 battery or the Tool with 2 batteries which again can be double checked below at Amazon if you wish to take a closer look.

3, Flymo Mighti-Mo 30cm 40V Cordless Battery Lawn Mower

Key Features Available
Third on this list is the Flymo Mighti-Mo 300 Lithium ion 40V cordless battery Lawnmower with a cutting mow path of 30cm and which certainly has one of the best prices we have come across and is ideal for people seeking the lowest possible price. The size of a lawn that it can work for would be up to 250m2, it has a charger and battery included and there are 5 different mow height settings that range from 2.5cm up to 6.5cm. The grass box is quite small also at just 30L capacity.
In addition, there is a second option of getting a Trimmer included as part of a Twin package which may also be of interest to you if a Trimmer is something that you need to add to your toolkit. This is also one of the smallest and lightest cordless lawn mowers at less than 10kg and you can always contact Flymo customer service direct on 0344 844 4558 if needed for any parts or technical issues that you may have.
The price level at the time of this review was seen on sale for less than £150 which again can be double checked below if you are seeking a bargain or the best possible price.

4, Makita Cordless 43cm Lawn Mower (Tool Only)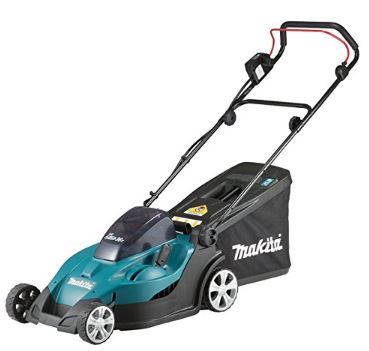 Key Features Available
At number 4 we have the Makita Cordless 43cm Lawn Mower which comes as a bare tool (without the batteries) and is ideal for people who already have a Makita 36V battery being used for other Makita type power tools or would prefer to buy the batteries as separate
This lawn mower requires 2 18V Lithium-ion batteries (not included) and as it is wider at 43cm, it is designed for cutting lawn area sizes of up to 950m2 and it also has a much larger grass collection unit with a capacity of 50 Litres. This lawn mower includes the electronic current limiter for overload protection, the grass box has a level indicator and the weight is about average coming in at approx. 20kg.
In addition, the battery runtime tends to last for 25 to 30 minutes depending on grass conditions and it has the rubberised handle bar to reduce hand fatigue and foldable handles which is perfect for people with limited storage space. The price level at the time of this review was seen on sale for less than £200 which again can be double checked below if you already have an existing battery or wish to buy the batteries separately (mow heights range from 2cm to 7.5cm)

5, WORX 36V Cordless 34cm Lawn Mower (WG779E.2)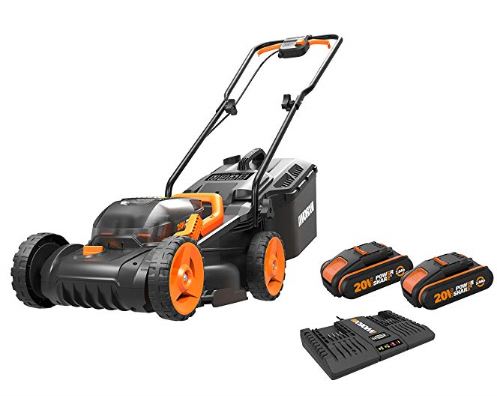 Key Features Available
At number 5 we have the WORX 36V Cordless 34cm width Lawn Mower model number WG779E.2 which we found to perform very well also across mixed grass conditions be it dry, thick, damp or tall grasses and also did a tidy job around wall boundaries and edges.
One thing worth noting is the fact that this lawn mower has the Intellicut technology cutting where the power will remain steady even in thicker type grasses. It is powered by 2 x 20V 2.0Ah batteries and there is a handy dual porter charger where both batteries can be charged at the same time! In terms of weight, it is not too bad coming in at less than 15kg and you should also know that these batteries are interchangeable with other 20V WORX tools that you may have.
There are 5 different mow height settings to choose from that range from 2cm up to 6cm and the quality of the battery here is higher than normal to give you faster recharge times and longer run times. In addition, there is also the rear rollers to give nice attractive stripes across your lawn and it can be folded away when not in use.
Pricewise, the price tag at the time of this review was seen on sale for less than £200 which can be double checked below if you believe this could be a viable option for you. (2 battery packs of 20V included)

Conclusion
So, that more or less wraps up our research and review for the best cordless lawn mowers in Amazon at present – we hope you found it helpful in some way as it certainly took us long enough to finish it! Our personal preference would have to be the Greenworks Cordless lawnmower above based on overall workability, battery performance the cutting quality.
Community Feedback
Finally, are there any Cordless Lawn mowers that you feel should be included on this list? Or do you have any positive or negative feedback on Cordless Lawn mowers from the past?
If possible, please educate and share with the UK community by leaving your suggestions or feedback in the comment section provided below – So that other people across the community can learn also!!!