After reviewing the Spear & Jackson lawnmowers, we wanted to test their grass trimmers also so if you are thinking about buying one in the coming days, then check out this Spear & Jackson Grass Trimmer review which will let you know how it performed and we will also outline any issues which we came across.
Range
There are over 5 different types of grass trimmers from Spear & Jackson which are either corded and cordless and we will focus our review on the lowest price option in this category namely the 25cm 350W Corded grass trimmer which was on sale for less than £50 at the time of this review.
Corded vs Cordless
We have reviewed and tested this low-price grass trimmer to see how good it really is and we will also briefly outline 2 popular cordless alternatives if you need to avoid using cable cords or extension cords. This way at least you have more than just 1 choice before you make your own final decision. Our review will outline all the key features you need to know, some assembly tips and FAQ's plus all the main pros and cons which we came across that you check out further down on this page.
Electric Grass Trimmer Review Content
Part 1: Trimmer Overview & FAQ's
Part 2: Spear & Jackson 320W 25cm Grass Trimmer Review
Part 3: Assembly Tips
Part 4: Cordless Alternatives to Consider
Part 5: Our Conclusion
As guide price levels can only be published at the time of this Spear & Jackson Grass trimmer review, please make sure to view the price checkers provided below to ensure you have the most accurate up to date price information.
Read also: Our Spear & Jackson Cordless Lawnmower review here
Part 1: Trimmer Overview & FAQ's
| Model: | Spear & Jackson 25cm Corded Hedge Trimmer S3525ET |
| --- | --- |
| Power: | 350W |
| Trim Width: | 25cm wide |
| Best Place to Buy: | Argos UK – View Stock and Prices Here |
| Warranty: | 3 years duration |
| Support: | Spear & Jackson customer helpline - 0345 605 2067 |
FAQ's- Spear & Jackson Corded Grass Trimmer (12)
Q1. Is the length of the tube adjustable or extendable?
A. Yes, you can adjust or extend the aluminium shaft to suit your height level
Q2. Is there a second spool line included with this trimmer?
A. Yes, there is a spool in the head plus a spare spool in the upper holder.
Q3. Can this trim denser thicker grass trimmings?
A. No, only lighter edge trimming is recommended as you need 400W+ power for thicker denser grasses.
Q4. Can this trimmer be used for cutting brambles?
A. No, you will need more cutting power such as 600W for cutting brambles.
Q5. How heavy is this trimmer to carry and work with?
A. This is one of the lightest trimmers you will find as the weight is only approx. 3kg
Q6. Can it cut long grass?
A. It is recommended that you cut long grass in steps – start at higher levels and work your way down
Q7. What are the length dimensions at the minimum and maximum?
A. The minimum length is approx. 97cm while the maximum length is approx. 117cm
Q8. What is the diameter of the trimming line?
A. The trimming line here has a diameter of 1.2mm
Q9. Where can I get additional spool lines as they are not on sale with Argos?
A. You need to contact Spear & Jackson directly on 01904 727505 for additional spool lines or source them elsewhere
Q10. How does the auto line feed work?
A. The line feed is extended a small bit every time you turn on the machine automatically
Q11. Will it accept universal spool lines?
A. Yes, this trimmer will accept different spool lines as it can handle universal spools.
Q12. Do I need to assemble the spool line in the handle?
A. No, this spool line is a spare spool line and only needs to be put in place when the first runs out
Part 2: Spear & Jackson 25cm Grass Trimmer Review
Spear & Jackson 350W 25cm Corded Grass Trimmer (S3525ET)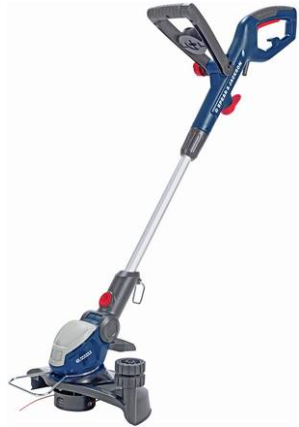 Main Features in Summary:
Motor power 350W
3 in 1 grass trimmer
Wheel support edging
Flower guard in place
Auto spool line feed
Second spool line included
Adjustable shaft
Cable cord 10m long
Rotating head & soft grip
Warranty is 3 years
Electric Grass trimmer description:
This grass trimmer from Spear & Jackson is the smallest and lowest power option which explains the lower price level available in the range. It is a corded 350W powered trimmer which designed for small gardens and lighter duty trimming work around edges, flower beds and boundary walls.
The trimming width provided is 25cm, it has a cable cord length of 10m long and it comes with a rotating head capability so you can trim underneath garden furniture, under benches and under trampolines and swing sets. The rotating head can be adjusted by pressing on the foot pedal provided.
The edging is supported with a wheel support, so you have more accuracy around delicate trimming work, it comes with an auto spool line feed and a second spool line is included and stored in the upper handle frame.
This grass trimmer includes a standard flower guard at the front of the head, the telescopic aluminium shaft can be extended and the handle on top can also be adjusted at different angles. The spool line is fed automatically which works great and it comes with a comfortable grip which helps to reduce the level of hand fatigue that may set in over longer trimming jobs.
Back up support is available from Argos or Spear & Jackson directly on 0345 605 2067, the weight is less than 3kg which is one of the lightest you will see anywhere else and it is backed with a 3 year warranty to protect you investment well into the future.
Price Guide: Less than £80

Further images of the Spear & Jackson 350W 25cm Corded Grass Trimmer S3525ET are outlined below
Pros and Cons which we came across
Pros for the Spear & Jackson Corded Grass Trimmer
There is a second spool line available here where many other grass trimmers have just the single spool line included.
You have a direct line to Spear & Jackson in the UK who tend to be available 7 days a week for any technical support or issues that you may need. Approx. 80% of all customer issues are resolved over the phone.
Unlike many other grass trimmers, the length of the shaft can be adjusted for shorter or taller people which goes a long way to reduce back aches.
The spool line is fed out automatically here, so you don't have to manually extend the spool line after each use – it is done automatically for you
The wheels support works fine to help give better accuracy around borders or patios and the head rotation works easily to get the grass trimmed under garden furniture, trampolines and benches
Universal spool lines will work with this grass trimmer so you can use other branded spools when you need to replace the spools - view here
The length of the reels is long enough to last a few seasons and having a second spare spool line should last you a few years in our opinion.
Heavier grass trimmers can be very difficult on your arms and hands after 20 minutes work, but this lighter weight tool certainly helps you to work longer with lower levels of fatigue setting in.
Cons for the Spear & Jackson Corded Grass Trimmer
The length of the cable cords on their lawnmowers is 12m long however the length of the cords on their grass trimmers is 2m shorter. It would be better if the grass trimmer cords were the same as their lawnmowers.
Trimming work is more difficult and slower as you need to master a technique of grass trimming while avoiding or navigating the cord at the same time.
As the cord is only 10m long, you may need an extension cord also which will be an added expense and more hassle which means more cables to navigate around.
Lower power levels are available here, so it is designed for lighter duty work only. It lacks the power for cutting thick coarse grasses and brambles
Extra spool lines are not available from Argos which is a bit annoying. You need to contact Spear & Jackson directly on 01904 727505 for additional spool lines or source elsewhere.
Although not experienced by us, there have been several issues reported recently that would be concerning. The types of issues being reported are jamming of the auto feed line, fuse replacing, weak line strength and motor issues which wouldn't be up to the normal Spear & Jackson standards that we have experienced in the past. I wonder if standards have slipped since the current lockdown and pandemic problems have hit the world.

Read also: Our Spear & Jackson Hedge Trimmer review here
Part 3: Assembly Tips
A detailed manual is supplied with the box delivery but if you need to know some of the steps involved before you buy, then check out some of the images outlined below that will give you a brief idea on the steps you need to take to get it up and running correctly such as fixing the safety guard, assembling the front handle and assembling the plant protector.
What's in the Box?
There are 15 main parts included in this package such as the cable retainer, support wheel and angle button adjustment which are all summarised in detail below – each part is labelled 1 to 15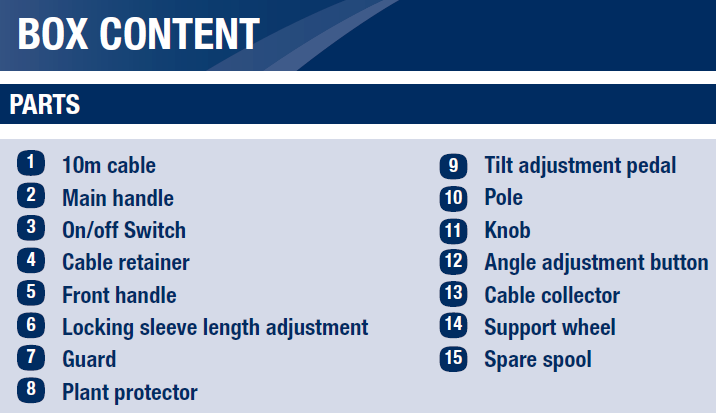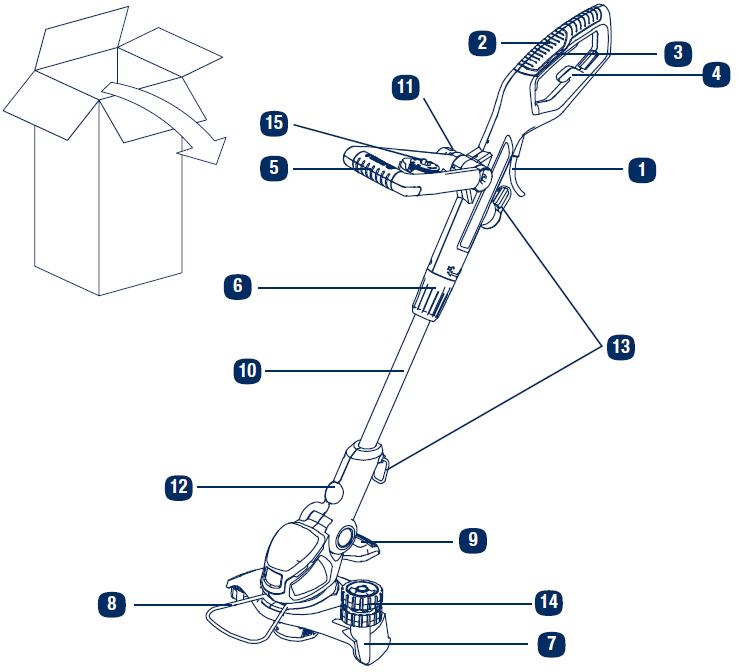 Part 4: Cordless Alternatives to Consider
If you would prefer a more reliable and cord free alternative, then check out the 2 cordless grass trimmers from Spear & Jackson instead that we have more confidence in recommending to the general public. Both of these will give a trimming work time of 25 to 45 minutes depending on the model and they also have a 3 year warranty.
1, Spear & Jackson 18V 25cm Cordless Grass Trimmer (S1825CT)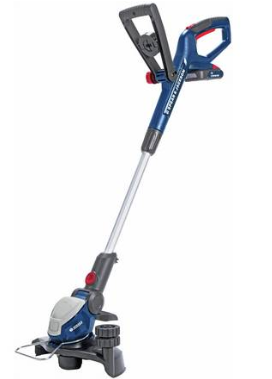 Main Features to Note:
18V battery powered 25cm width
Auto feed line & spare spool line
Adjustable shaft & rotating head
Wheel support for edging
Weight 2.7kg / Plant guard protector
1 hour charge time / 25-35 min runtime
Price Guide: £50 to £80

2, Spear & Jackson 36V 30cm Cordless Grass Trimmer (S3630CT2)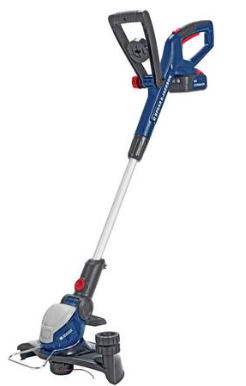 Main Features to Note:
36V battery powered – 2.5Ah battery
Plant guard protector, Weight 3.3kg
90 min charge time / 35-45 min runtime
Foot-pedal for angle adjustments
Adjustable handle & telescopic shaft
Soft grip handle, rotating head, auto feed line
Price Guide: £100 to £150

Part 5: Our Conclusion
Would we buy this Spear & Jackson Corded 25cm Grass trimmer or would we recommend it? Due to the number of recent complaints experienced by the general public, I would have to say no! There are too many issues seen with the line quality, auto line feed and although we did not experience them ourselves, it was worrying to see so many recent complaints about it.
That being said, I much preferred the Cordless Spear & Jackson 36V grass trimmer as there was more reliable power and auto feed line, a stronger cutting line and of course there was no cords or cables to manage or navigate while working at the same time. So, if you are deciding on which Spear & Jackson grass trimmer to go with, the one that I would recommend the most is the Cordless 36V model based on our own experiences – the lowest priced option doesn't always give you the best results!

Educate Others
Have you ever used a Spear & Jackson Grass trimmer before in the recent past? Anything good or bad to say about it? Any problems with the line or feed system?
If possible, please educate others in the UK community by leaving your comment in the comment box section provided below.