Greetings once again and here I have reviewed the best tractor ride on lawnmowers available in the UK market at present.  A riding lawnmower is a type of lawn mower on which the you are seated on the lawnmower itself and you don't need to push the mower. Riding mowers resemble small tractors and are self propelled. They normally have a petrol engine which turns the cutting blades and also powers its wheels for motion.
Where to Buy?
There are lots and lots of places where you can buy Tractor lawn mowers be it locally or even online. The one main problem with Tractor lawn mowers is that it is not always possible to collect so ordering online can prove to be very convenient indeed. Two places that we recommend that you can get many of the tractor lawn mowers is from Just Lawnmowers and Mowers Online UK direct (Cheltenham Mowers) who are based in Gloucester and they are very well experienced in delivering heavy garden equipment as they have done from many years already.
Many of their prices can be checked below or if you have the time, then visit their showroom in Gloucestershire. If you cannot visit them, then ordering online with them works just as well and they normally can have it delivered in a matter of a few days. In addition, there is a full after sales support service workshop available if needed – simply call them for any support that you need!
Best UK Tractor Ride on Lawn Mowers - Our Top Picks
1, Honda HT Premium Lawn Tractor Mower HF2417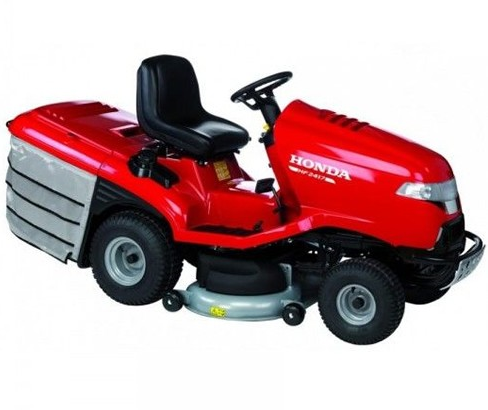 Tractor Mower Overview
At number 1 is the slightly less expensive Honda HT Premium Lawn Tractor model number HF2417 which has a 40-inch cutting deck and a Honda V-twin engine. The things we liked here is the one touch electric grass dump system that it offers along with front and rear bumpers, automatically activated headlights and the Hydrostatic drive and the extended seat.
The grass collection unit here is large enough at 300L capacity, it has a grass full indicator and a smooth push-button electric blade engagement that leaves a great clean finish in no time at all. The frame is somewhat smaller, but is doesn't lack any power than you would expect.
Included with the tractor mower is the extra features of the Versamow mulching and also the Optiflow improved air flow grass collection which makes the usage and overall experience a delight to work with. Other features that you can expect to see are the electric key start, a 102cm cutting width, a Honda V-twin 4-stroke 530cc engine and a cutter deck with a hose cleaning nozzle. The fuel is filled from the rear, it is treated for anti-rust and the controls are easy to manage and reach while working plus a 5 year warranty also applies
Price Guide: £4500 - £5000 

2, John Deere X350R 42 inch Lawn Tractor Mower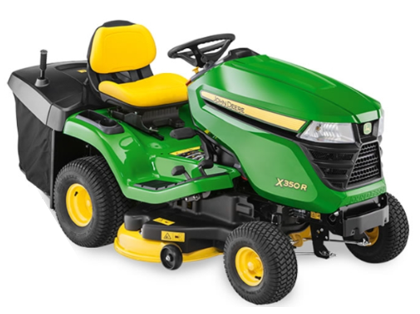 Tractor Mower Overview
A superb addition to our list would have to be the awesome John Deere X350R 42 inch Lawn Tractor mower with the high powered 603cc Kawaskai V-Twin engine which is an absolute pleasure to work with time and time again. It offers you a 107cm wide mowing path with cruise control and a Hydrostatic drive system and it is delivered fully assembled and ready to go from the very start. The mowing heights can be adjusted in 6mm increments and you have the optimum target zone best cut speed as well as the electronic petrol gauge and voltage indicator in place.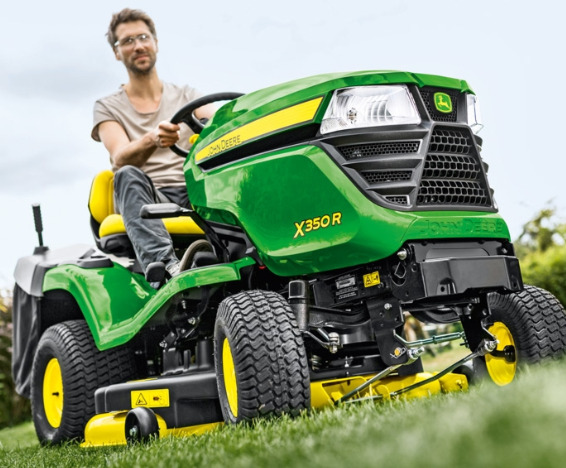 You get dual control pedals for the speed operation and it is part of the X300 premium series range that can handle large lawn areas up to 2 acres or 8000m2 as a rough guide. The seating is highly comfortable for longer mowing sessions, you can empty the rear collector from the driver's seat with the lever and you get an premium quality tractor mowing experience with everything you would expect and more. Overall, we would have to say that this is an impressive piece of mowing equipment that includes the deck levelling mechanism system, a 300L collection bag and it is covered with a 2 year warranty
Price Guide: £7000 - £7500

3, Mountfield Lawn Tractor Mower 2248H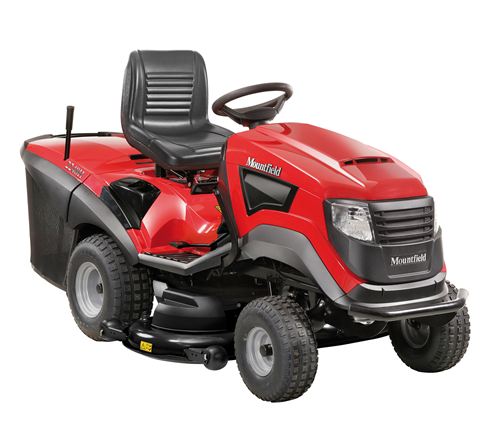 Tractor Mower Overview
Up next is from a brand that we personally like and it's the Mountfield Lawn Tractor Mower model number 2248H which usually will cost around the £4k mark so it is not the cheapest available yet is not the most expensive either. The Mountfield brand is one that has been used in the UK for many years now and they are certainly one of the best when it comes to making high quality garden equipment in our opinion.
When ordered online, this mower will be delivered fully assembled and it will be up and running before anyone leaves which certainly adds confidence when making a purchase of this size – delivery normally takes a couple of days. This tractor mower is well able to handle lawn areas of up to 5 acres no problem, it has the 656cc V twin cylinder Briggs & Stratton engine and also a 48 inch Contra-Flo cutting system that certainly impressed us and works a treat.
There is also a mulching plug included and it will take a minute or so to switch from the collection mode to the mulching mode. It comes with the hydrostatic transmission, nicely placed control levers, a seat that can be adjusted and also a tow bar
The fuel tank is slightly smaller with a capacity of 7L, the cutting width is 48 inches or 122cm and it comes with a Briggs & Stratton V-twin cylinder Intek engine. The grass collection unit holds a capacity of 320L and it comes with head lights, a tow-bar, mulch plug and an audible alarm – very impressive overall and one that you should definitely consider before making your final decision.

4, Snapper 42 Inch Rear Collect Garden Tractor Mower RPX310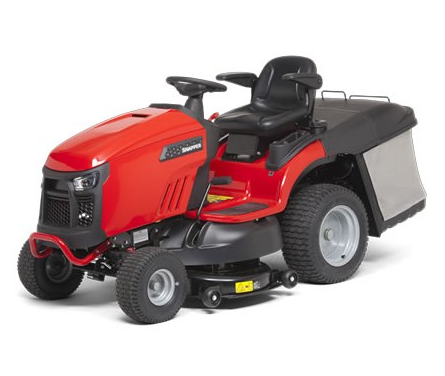 Tractor Mower Overview
At number 4, we have the Snapper 42 Inch Rear Collect Garden Tractor Mower model number RPX310 which has a lower warranty that the options already outlined but still comes with a 3 year warranty which to be fair, is adequate enough. As soon as you get on top of this machine, you will be impressed with the large robust frame which is heavy duty overall – you know you are sitting on a powerful piece of equipment straight from the start.
This mower comes with a Briggs & Stratton professional series 8270 V-Twin engine which gives greater fuel efficiency, a longer life, extra power and superb performance. The seat design is impressive with a mid back design, you get a cup holder, an arm rest and a large fuel tank that has a capacity of 11 litres of unleaded petrol. There is also the cruise control feature, 4 wheel drive support for extra traction of difficult terrain and it can handle steep slopes and hills even when wet no problem whatsoever.
The hydrostatic transmission and cruise control make mowing as simple as possible so all you have to do is sit back, steer and enjoy the experience. There is a front bumper, it can mow in reverse and also a maintenance monitor which always comes in handy. Additional features worth noting are the LED lights, the Tuff Torq K46 transmission, a 42 inch mowing width, a collection unit capacity of 350L and 7 different mow height positions.
Price Guide: £3500 - £4000

5, Westwood T40 Hydro 38 Inch Lawn Tractor Mower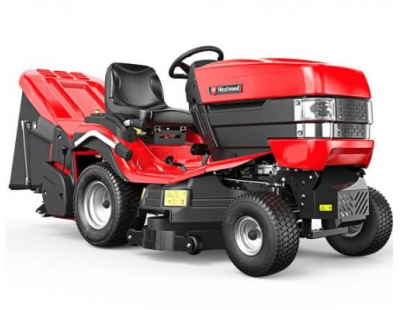 Tractor Mower Overview
At number 5 which can also be delivered up and running and fully assembled is the Westwood T40 Hydro 38 Inch 546cc Lawn Tractor Mower which offers additional premium features, a 546cc Ariens engine and a user-friendly user dashboard display.
This dashboard display is a really nice additional tool to have to ensure you can operate the machine to it potential week in week out. The frame and size are not the largest on this list but is still offers a cutting mow width of 38 inches and a easy to use push button controlled power take-off to drive the attachments. The electric powered take off is certainly impressive and we also liked the Vector Flow system and the 3 contra-rotating blades in the cutting deck. You will also see that this machine has a heavy duty steel chassis with a cast front axle and reinforced cutter deck which can handle difficult conditions without causing you any hassle.
This option is probably more suited for people with 1 acre areas to cut and the smaller frame allows access where there is limited gaps or gates to get through. Other things that are worth mentioning is the adjustable seat, a parking brake, it is corrosive resistant and there are 9 mowing heights that range from 1.2cm to 10cm. It also has a 3 year warranty cover
Price Guide: £3500 to £4000

6, Stiga Estate Pro Lawn Tractor Mower 9102 XWSY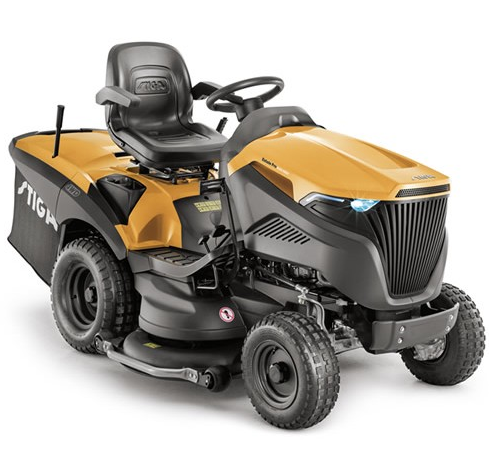 Tractor Mower Overview
At number 6 is the 4WD 102cm Stiga Estate Pro Lawn Tractor model number 9102 XWSY which can be delivered fully assembled to your front door and they make sure it is up and running before they leave your premises.
It has a hydrostatic transmission, a cutting width of 102cm and also a 4-wheel drive to handle any type of heavy work load that you need to deal with. The engine capacity here is 688cc, it comes with a Honda GXV 690 engine and the fuel tank has a capacity of 10 litres of unleaded petrol. It offers cruise control, a parking brake and a grass collection unit that has a capacity of 360L.
There is also a towing hitch, a battery charger, a mulch plug and it can manage on steep slopes and hills no problem whatsoever even when damp or wet. It provides 9 different mow height settings that range from 2.5cm to 10cm high. Overall, this is a beast of a machine with tons of power and reliability and we would recommend this on our overall list and it has a 5 year warranty
Price Guide: £5000 - £6000

7, Toro TimeCutter HD XS5450 MyRIDE Tractor Mower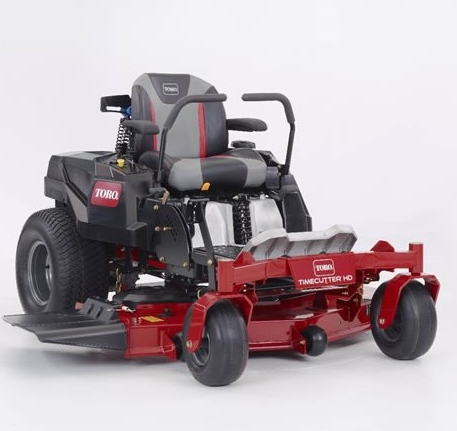 Tractor Mower Overview
Another on our list today is the awesome Toro Time-Cutter HD XS5450 MyRIDE Tractor mower which is an absolute pleasure to work with and makes the job of cutting and mowing so much more enjoyable to do. The longer you work with this machine, the more you will like it, but it does take some time to get used to it from our experiences. Once you master the controls and the feel of it, this beast of a machine is pure class!
Like the other mowers on this list, delivery is done in a matter of a few days and they build it and get it up and running so that is one less thing to worry about. The main feature here is the zero turning capability and in terms of zero turn ride on mowers, this is certainly one of the best if not the best that we have ever worked with.
Not only does it mow quickly, it saves you so much more time as it handles corners, flower beds, around trees and various other obstacles that you may come across.  It has a 3 blade recycler tractor and it is designed for both mulching and side discharge – whatever takes your preference. You can simply turn on the spot, it can handle various different lawns and terrains and it can handle areas of up to 10k square meters no problem. The wheels are anti-scalp and it has a suspended, rear shock adjustable operator platform that you will like as it can isolate various vibrations and large or small bumps.
The fuel tank holds nearly 19L of fuel, it comes with a 24.5HP 708cc Toro V-Twin engine, arm rest and it can operate up to a speed of 8.5 km per hour. If power, quality and speed is what you are after, then this machine will tick all the boxes for you! It is delivered mow ready and it comes with a 3 year warranty
Price Guide: £5000 - £6000

8, Snapper Zero-Turn Ride-On Mower ZTX105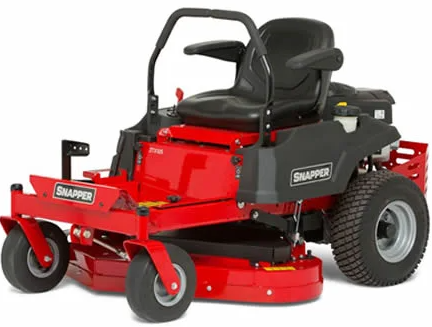 At number 7 we have another Zero turn lawnmower and it's the Snapper Zero-Turn Ride-On Mower code reference ZTX105 which includes the Briggs and Stratton Intek 7200 series engine, the side grass discharge and you should be able to get your hands on it for less than £5000 when seen at the time of our review.
This beast of a machine has the V-twin 656cc powerful engine with a 91cm heavy duty gauge steel deck and the dual hydro gear transmission for optimum performance and easier management of the mower. It is supported by the front rotational castor wheels to give zero turn capability and it can handle much larger areas of up to 10000m2 no problem whatsoever.
It also has the deck wash port as well as the arm rests and electric key start and it comes backed with a 3 year warranty for you.
Price: £4000 - £5000

9, Mountfield 827H Compact Ride on Lawnmower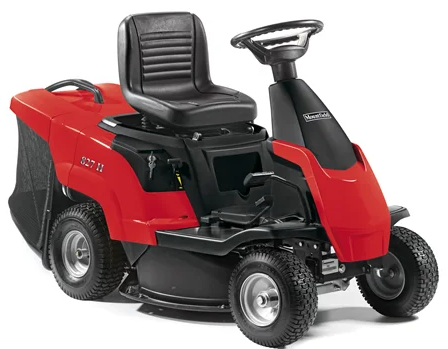 For those of you who need a reliable but more affordable and smaller ride on lawnmower, then the perfect solution in our opinion is the Mountfield 827H Compact Ride on Lawnmower that has the hydrostatic transmission (similar to an automatic car) and tends to be on sale for less than £2300 from what we have seen. This smaller ride on mower is designed for garden size areas of approx. 3000m2 and you can collect plenty of grass clippings in the grass box that has a storage capacity of 150 litres.
The mowing path width on offer is 66cm and it works better for getting around flowers beds, trees and other plants in the garden than larger tractor lawn mowers in our opinion. It is also a better solution for people who have restricted access through smaller garden gates or have smaller storage spaces in their garages. It is one of the best sellers within the Mountfield range due to its reliability, performance and lower price point.
Overall we believe this ride on mower provides excellent value for money and it comes  backed with a 5 year warranty as long as it is serviced annually by an authorized Mountfield dealer.
Price Guide: £1800 - £2300

10, Cobra 42 inch 452cc Hydrostatic T2 Transmission Ride-On Tractor Mower COLT108HSL
If you don't want to collect the grass clippings and just use the side discharge, then a ride on mower than performs well and offers good value for the money is the Cobra 42 inch 452cc Ride-On Tractor Mower that includes the Hydrostatic T2 Transmission and a well-designed powerful 452cc Loncin OHV engine.
Another thing that we liked is the fact that this lawnmower includes the tow hitch at the rear and a mulching plus to return the clippings to the soil as a natural fertiliser.
The mowing path is 42 inches or 108cm wide and it offers mow heights that range from 2.5cm up to 8cm. It is also good around tight corners as the turning radius is only 45cm and it comes backed with a 5 year warranty as long as it is serviced every year.
Price Guide: £2000 - £2500

Final Tractor Mower Recommendation
AL-KO Solo T20-105.2HD V2 SD Rear Collect Garden Tractor Lawnmower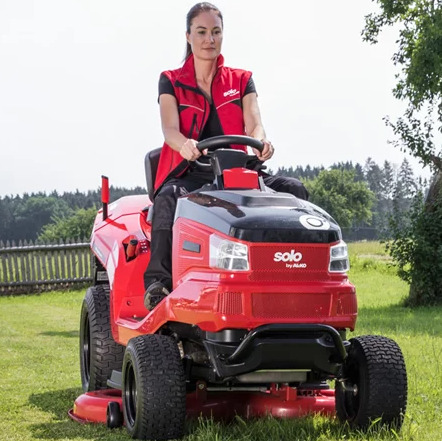 Our last recommendation today performed a lot better than expected and it's the AL-KO Solo Rear Collect Garden Tractor Lawnmower (T20-105.2HD V2 SD) that includes the free mulch plug and it also has the rear collect and towing hitch included.
This brand of lawnmowers are designed in Germany and manufactured in Austria and they are an established brand from a European perspective. It comes designed with an Intek V-twin Briggs and Stratton engine and it includes the hydrostatic transmission as well as a 300 litre capacity grass collection box with the dump lever.
The mowing path width is 105cm and a cool feature is that your smart phone can be connected so you can see the performance for yourself such as the speed and fuel usage and levels on you smart phone cradle. The steering wheel is also cool in that it feels like a sports steering wheel and you can also choose to use the cruise control on larger areas which makes the whole job of mowing so much more easier to do. The side deflector is optional and it has the rear collect as well as the mulching capabilities options included.
Price Guide: £4000 - £4500

Further Reading
If you are still undecided and wish to consider cheaper Lawn mower options, then feel free to browse a selection of other reviews as follows...
Best UK Corded Lawn Mowers – Take a look here
Best UK Cordless Lawn Mowers – Take a look here
Best UK Petrol Mowers (Push and Self propelled) – Take a look here
Best UK Robotic Mowers – Take a look here
Conclusion
Mowing your lawn with a garden tractor can save you a great deal of time and help you recapture the joys of gardening. Tractors offer versatility, too. For a start, you can choose either side-ejection or rear-collection models. Many come with a mulching option and some offer a large integrated collection boxes handle up to 320 litres of grass. There's a range of cutting heights so a tractor can cope both with fine lawns and paddocks. In addition, a tractor can turn into an all-purpose garden machine, easily transformed into a trailer, lawn roller, fertiliser spreader or moss raker.
Tractors are more expensive than a walk-behind machine. But there are a lot of extra benefits such as wider cutting decks and the ability to cover large areas of ground much quicker, all designed to make life easier. In other words, they make mowing something to look forward to, not dread. With so many options it is difficult to choose the best tractor lawn mower. Look up to our suggestions above and you are sure to find the right machine for you.
If you have you any experiences with Tractor Mowers good or bad in the past -  Then please share it with the community by leaving a comment in the comment box below