Getting your hands on a Tesco Lawn mower appears to be more difficult than expected at present but we have completed a quick review for the Tesco Electric Rotary ELM1015 Lawn mower in the event that it becomes more readily available on sale in the near future once again.
In the event that it is out of stock when you visit this page, we have included alternative branded corded Electric Lawn mowers that you can check out which are household names and tend to be stocked quite well from an availability point of view.
View also: Spear & Jackson Cordless Lawnmowers @ Argos here
Electric
We were unable to review the Tesco Petrol Lawnmower at this time as it was off sale so we have stuck with a review of the electric Tesco lawnmower instead. Before you start, please note that only price guides can be shown at the time of this review so please make sure to view the price checkers provided below which will help ensure you have the most accurate up to date price information.
Read also: Popular Electric Grass Trimmers here
Tesco Lawnmower Overview
| Model: | Corded Electric ELM1015 |
| --- | --- |
| Power Level: | 1000W |
| Grass Collection: | 27 litre capacity |
| Mow Width: | 32cm |
| Blades: | Metal |
Sideview for the Tesco Garden Lawn mower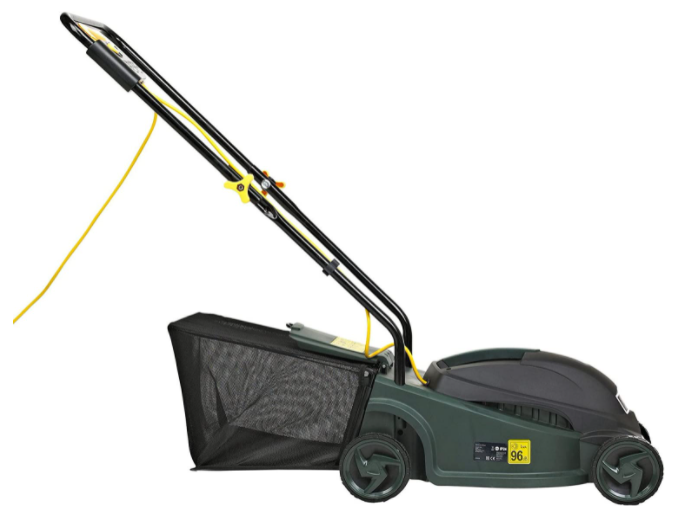 Tesco Electric Lawnmower - Features, Pros and Cons
Tesco Electric Rotary Lawn Mower ELM1015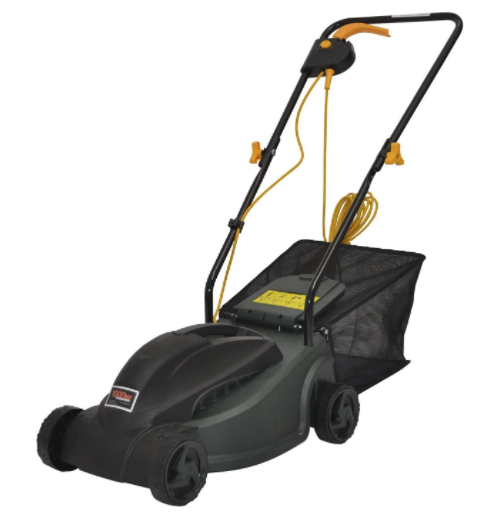 Key Features:
Corded electric power supply - Motor power of 1000W
Grass collection capacity 27L
Cutting width is 32cm - Manual push lawnmower
For small gardens only - Cable length is 10m
Extension cables may be needed
Minimal assembly required
Pros for the Tesco ELM1015
Great low price point making it the ideal solution for people seeking the lowest possible price level
Corded electric power supply so there is no need to worry about expensive batteries or the recharging of batteries over and over again
Using an electric lawn mower is a lot more environmentally friendly as there are no fuels or oils to worry about
Lower level of ongoing maintenance costs for each season – minimal blade sharpening requirements. Good value overall for the amount of money you need to pay
Cons for the Tesco ELM1015
Stock availability appears to be very low or even minimal – it is difficult to find it readily available on sale anywhere online from what we have seen
Lower power level of just 1000W and the mowing height adjustments are quite limited
Grass collection bag is very small and the mow width is very narrow so it is really only capable of dealing with small type lawns of less than 200m2 in our opinion
You need to develop a technique of avoiding the cord as you cut the grass plus there is no rear roller for garden stripes
Struggles with damp or wet grass and also with thicker denser grass types – regular mowing is needed to keep it under control
Tesco Electric Lawnmower ELM1015 handle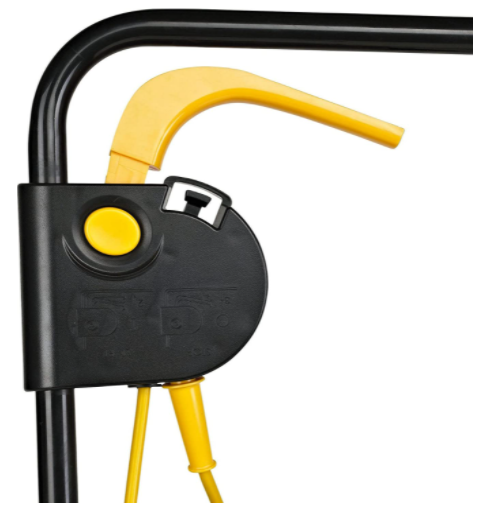 Read also: Popular Lawnmowers at Argos here
Alternative Electric Lawnmowers
If you find that the Tesco Lawnmower is out of stock during your visit, then you should take a closer look at the following 3 alternatives from Bosch, Flymo and Spear & Jackson which are backed with numerous positive reviews across the UK at present. These Corded Electric Lawn mowers tend to be stocked very well and they all come with warranties for a minimum of 12 months up to 3 years long.
Alternative 1: Bosch Rotak 34R 34cm 1300W Electric Lawnmower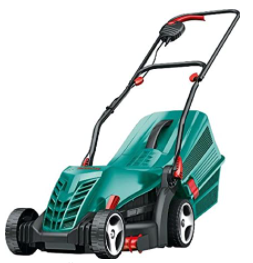 Electric Lawnmower Overview:
Corded electric lawnmower 12m length - Mowing width 34cm with motor power 1300W
Larger grass collection capacity of 40 litres - Grass combs on the sides to reduce trimming
5 mow height settings ranging from 2cm to 7cm
Stackable grass box and folding handles
2 year standard warranty applies - 3 years if registered online within 28 days
Price Guide: Less than £150
Alternative 2: Flymo Speedi-Mo Electric 36cm 1500W Lawnmower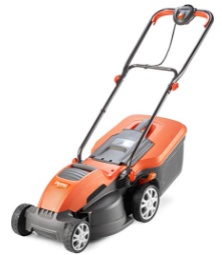 Electric Lawnmower Overview:
Wider mow cutting width of 36cm - For lawns up to a guide size of 350m2
Stronger motor power of 1500W
Available with or without the vision window - Lightweight design easy to push around
Grass collection box carries 40 litres
For both small and medium sized lawns - 5 mow height settings from 2cm to 6cm
Price Guide: Less than £130
Comparisons Electric Lawn Mowers
To see how the Tesco lawnmower compares to other branded electric lawnmowers in the UK, then check out the comparison table provided below as follows when it comes to power, mow widths, cable lengths and lawn size guides…
| Lawnmower | Tesco ELM1015 | Bosch 34R | Flymo Speedi-Mo |
| --- | --- | --- | --- |
| Power: | 1000W | 1300W | 1500W |
| Mow Width: | 32cm | 34cm | 36cm |
| Grass Collection: | 27L capacity | 40L capacity | 40L capacity |
| Rear Rollers: | None | Included | None |
| Mow Heights: | 3 settings | 5 settings | 5 settings |
| Cut Heights: | 2.5cm to 6cm | 2cm to 7cm | 2cm to 6cm |
| Cable length: | 10 meters | 12 meters | 12 meters |
| Grass Combs: | None | Yes | None |
| Lawn size guide: | 250m2 | 300m2 | 350m2 |
| Warranty: | 12 months | 2 to 3 years | 12 months |
Alternative 3: Spear & Jackson 32cm 1200W Corded Rotary Lawnmower S1232ER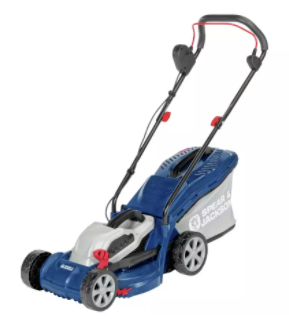 Electric Lawnmower Overview:
Trustworthy and highly rated corded lawnmower
5 mow cutting heights from 2cm to 6cm
Longer cable support of 12m length
Mowing width of 32cm with a metal blade - Central mow height adjustments
For small to medium sized lawns
Built in rear roller included for garden stripes
Motor power of 1200W with side combs - Grass collection capacity of 30 litres
Lightweight design of just 8.6kg for easy pushing - Longer 3 year warranty cover provided
Price Guide: £80 - £130 @ Argos

View also: Our Grass Trimmer Reviews here
Tesco Lawnmower Community Feedback
Have you ever used a Tesco Lawn mower yourself in the recent past? Anything positive or negative to report?
If possible, please feel free to leave your opinions or feedback in the comment box section provided below – so that others across the UK community can learn also!