Are you thinking about buying an Aldi Lawnmower in the coming days? If so, then please make sure to check out this quick review which covers both the Aldi Petrol Lawnmower and also the Aldi Electric Cordless lawnmower under the lawnmower brand of Ferrex which were on sale at the time of this review. Their other branded Gardenline Lawn mowers were off sale at this time so we could only cover their Ferrex range of branded lawnmowers as part of this particular review.
View also: Our Petrol Lawnmower Reviews here
Online versus In-store
At the time of this review, only 1 Lawnmower could be ordered online which was the Aldi Ferrex Petrol Lawnmower as the Aldi Ferrex Electric Lawn mowers were either available only at store level or were out of stock. This was very disappointing to say the very least as you only have one brand of Lawn mowers to choose from. Many other retailers that sell Lawn mowers online stock a much larger range of brands and lawnmower types from what we have seen.
Compare: Argos Lawnmower Prices here
Lacking Options
There were no Electric corded lawnmowers that come at a lower price and there were no Riding Mowers or Hover lawnmowers either so you are limited to Petrol and Cordless Lawnmowers only – again we were surprised to see the range available so limited especially from an online ordering point of view.
View also: Popular Lawnmowers from Argos UK here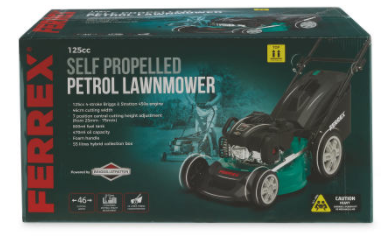 Aldi UK Lawnmower Overview
A summary table is outlined below that compares both the Petrol and the Electric lawnmowers currently available on sale at Aldi. This table compares all the key features, power levels, lawn size guides, mowing widths and collection box size capacities. In addition, sample video reviews are included further down on this page that you can check out also which will give you a better understanding of what these Ferrex lawnmowers from Aldi are all about.
| Lawnmower | Ferrex Petrol | Ferrex Electric |
| --- | --- | --- |
| Operation: | Self-propelled | Push Cordless |
| Engine: | Briggs & Stratton 450e | Electric |
| Displacement: | 125cc (4 stroke) | Brushless motor |
| Mow Width: | 46cm | 40cm |
| Mulch Plug: | Included | Included |
| Foldable Handles: | Yes | Yes |
| Garden Size Guide: | 2000 – 3000m2 | 150 – 300m2 |
| Lawn size: | Large sites | Small to medium |
| Mow Settings: | 7 | 6 |
| Mow heights: | 2.5cm to 7.5cm | 2.5cm to 7.5cm |
| Grass Collector: | 55L capacity | 45L capacity |
| Battery: | N/A | 20/40V Li-ion |
| Battery duration: | N/A | 25 – 30 mins |
| Battery Recharging: | N/A | Average 90 mins |
| Fuel tank: | 800ml | N/A |
| Warranty: | 3 years | 3 years |
View also: Our Best Lawnmower Lists here
Ferrex Petrol Lawnmower Review (Aldi)
For easier navigation, we have split this review into 3 parts. Firstly an overview on the key features, then an outline of the advantages seen and finally a summary on some of the negatives that we came across…
Ferrex 125cc 46cm 4 Stroke Petrol Lawnmower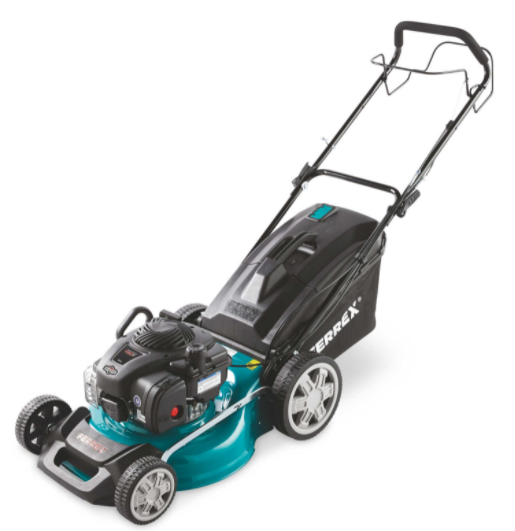 Petrol Lawnmower Key Features:
Briggs & Stratton 125cc 4 stroke engine
Mowing metal with 46cm
Foldable handles for more space
7 mow heights 2.5cm-7.5cm
Mulching plug included
Petrol tank capacity 0.8 Litre
Hard top grass collector unit - Grass collection capacity 55L
Warranty duration 3 years - Customer service 0800 042 0800
Price Guide: Less than £200
Pros for the Ferrex Petrol Lawnmower
It offers a great price level for a self propelled lawnmower – many other brands can be £300 plus while you should be able to get your hands on this model for less than £200 – great value overall
Grass collection box is superb quality with the hard top – unlike many other grass collectors that can be flimsy and easily damaged
Handles can be folded down which is great when you have limited storage space available during the off seasons
Excellent warranty cover period of 3 years is available which protects you and your garden investment plus they can be contacted on 01904727506 with any queries that you may have
Grass clippings are collected very well and the grass collection unit of capacity of 55 litres stands up well against other brands.
Decent mowing width of 46cm and a good choice of 7 mow height settings ranging from 2.5cm up as far as 7.5cm
Easy to assembly, get started and adding in the necessary fuel and oils. Overall it performs a lot better than expected and it can deal with longer grasses and damp grasses no problem whatsoever
Cons for the Ferrex Petrol Lawnmower
Speed settings on the self-propelling could be a whole lot better – fairly limited speed options are available with just the fixed speed
Limited to just one Petrol mowing option in the range and the bolt tightener could be of higher quality for assembly
Reports of some small parts missing when it comes to assembly which can be annoying and the instructions need to be updated to correspond with all the necessary parts
Some issues have been seen in relation to starting the machine with the pull cord on rare occasions but not experienced by us
Additional SAE oils and petrol will need to be bought which are a further expense – plus the noise levels may be too much to bear for neighbours living close by.
Engine power could be stronger for the self propelling cutting of deeper grasses, it is a bit heavy to manoeuvre around tight corners or flower beds and the hub caps on the wheels could be tighter
No side discharge is available or rear roller like what we have seen with other brands and you should compare the Mountfield Petrol lawnmowers below also
Video Insert: Review of the Ferrex Petrol Lawnmower
Compare: Flymo Speedi-mo Lawnmower Price from Amazon here
Ferrex Electric Cordless Lawnmower Review (Aldi)
This review will focus on the Cordless Lawnmower with the charger and battery included which will be the most expensive option. If you already have a 20V battery and charger in stock that are compatible, then you have the option of buying the Lawnmower as a bare tool without the battery and charger which in turn can save you around £45 to £50 when seen at the time of this review.
Ferrex 40cm Cordless Electric 40V Lawnmower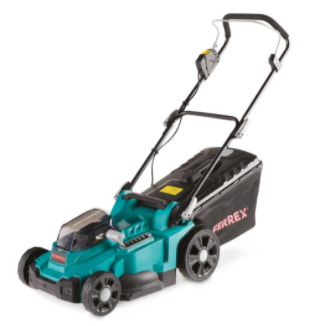 Electric Lawnmower Key Features:
Mowing cutting width of 40cm - Manual push cordless battery
Additional battery & charger available - Can be used as backup power supply
Foldable handle to help with storage
Deliveries 2 to 7 working days
Battery duration 25 to 30 minutes - Battery recharging average 90 minutes
Lawn size guide up to 250/300m2
20V/40V Activ Energy Battery
Lightweight design only ~13kg - Grass collection box 45L capacity
Brushless motor & safety key
Mulch kit with 6 mow heights
Warranty cover lasts for 3 years - Battery warranty is shorter at 2 years
Warranty support 0080034996753
Price Guide: Less than £150
Pros for the Electric Lawnmower
An additional battery and charger is also available separately as back up if needed which can be got for less than approx. £50 extra combined (back up batteries are useful for larger lawns)
Some other Cordless lawnmowers can cost well over £200 while this lawnmower from Ferrex is generally on sale for less than £150 so there are certainly savings to be made here
No cords to worry about, no fuel or oil ongoing costs and little to no ongoing maintenance costs to deal with.
Superb warranty period of 3 years is available which adds confidence before you commit to a purchase. Plus you have a customer services team for queries on 0800 042 0800
Lighter weight design of only 13kg so it is a hell of lot easier to push around the garden than the heavier petrol lawnmower
Excellent quality grass collection box – solid, robust and well able to deal with heavy duty work that will stand the test of time
Overall, this lawnmowers cuts well, collects the clippings, is easy to assembly and push and the battery work time worked as expected
Cons for the Electric Lawnmower
There is a limit to the mowing time available of just 25 to 30 minutes. You may need to stop, recharge and mow again to get the job done and get finally finished depending on the garden size
Limited stocks and availability as it tends to be off sale or out of stock especially during peak seasons which means you need to shop elsewhere (check out the popular alternatives below)
Only suitable for small to medium sized gardens up to 250/300m2 maximum in our opinion. Larger gardens than this will be too time consuming and too slow for a lawnmower like this. We would recommend buying a second back up battery for lawns up to 500m2 if you are determined to get your hands on a cordless mower
Tougher, thicker and damp conditions tend to deplete the battery charge more quickly so mowing times are reduced and there is no rear roller to generate the striped effect
You need to be careful with your final selection as this lawnmower is available with and without the battery & charger. Make sure you order this model if you have no charger or battery!
Lacks the superior petrol engine power of mowing tall or denser grasses – you will need to start at the higher settings and do a double mowing run or pivot the back wheels at a higher cut level
Isolated cases have been seen with issues around starting, the grass box handle and mower blades which are rare but have happened in isolated incidences nonetheless so check out and compare Spear and Jackson below

Video Insert: Review of the Ferrex Electric Cordless Lawnmower
Alternative Electric Lawnmowers - Compare
If you find that the Ferrex Electric Lawnmower has limited stocks and you need to check out alternative brands, then take a closer look at the 2 following options from Bosch and Spear & Jackson that tend to have excellent levels of stock supply from what we have seen…
View also: Popular Lawnmowers from Homebase UK here
Conclusion:
Although the Petrol Lawnmower may not be perfect, it is certainly an impressive machine for the price and the amount of money you need to spend. Several other self-propelled Petrol lawnmowers cost a hell of lot more than this so getting this self-propelled lawnmower for less than £200 is great value overall and it is well able to mow, collect clippings, start easily and give an overall tidy finish to your lawn. In summary, we would have no hesitation in recommending them based on the price and quality for both the petrol and the cordless electric lawnmower models.
If you find that it is out of stock or cannot be ordered online when you visit this page, then check out a lower priced Spear & Jackson lawnmower from Argos below which tends to be stocked quite well even during peak seasons from what we have seen…

Aldi Lawnmower Feedback
Have you ever used an Aldi Lawn mower yourself in the recent past? Did everything work out for you as expected?
If possible, please feel free to leave your opinions or feedback in the comment box section provided below – so that others across the UK community can learn also!