After reviewing several Corded electric Lawn mowers across the market, we have finally compiled our updated list of the best Corded electric Lawn mowers in the USA and most of them are from household established brands that you should already be somewhat familiar with. We have avoided the really expensive corded Lawn mowers that were overpriced in our opinion and instead stuck to Corded Lawn mowers that we felt gave the best value for the money.
Best Corded List Overview
To help speed up the process when it comes to your own online research, we have 8 recommendations here for you to consider for your own lawn mowing needs. Our last recommendation further down on this page would be best suited for people who are seeking the lowest possible price rather than superior power levels and cutting performances. While we can only give you price guides at the time of our review, please make sure to use the price checkers provided below which will help ensure you have the most accurate up to date price information.
View also: Our Best Lawnmower Lists here
Pros for Corded Lawn mowers
You have the constant power supply so you don't have to worry about battery run times or the recharging of batteries
The prices are always significantly lower than the cordless battery powered and gas lawn mowers so money can be saved here
There are no fuels, oils, filters, spark plugs, high maintenance costs or additional spare batteries to worry about which can be more expensive than you think
The noise levels are much more bearable than many gas powered lawn mowers in the market
Cons for Corded Lawn mowers
You are limited to the length of the power cord so extension cords will be needed which will be an added expense depending on your yard dimensions
The power levels for dealing with overgrown grass and difficult mowing conditions is limited so you need to mow more regularly instead of letting the grass grow out of control
The grass collection boxes tend to be on the smaller scale when compared to gas lawn mowers which means more frequent emptying
There is no self-propelled support on these corded lawn mowers so you will need to do all the pushing yourself
Best Corded Electric Lawn Mowers USA – 8 Recommendations
1, Greenworks 12 Amp 20 Inch 3-in-1 Electric Corded Lawn Mower 25022
There are numerous Greenworks electric lawn mowers available in their portfolio but the corded lawnmower that we particularly liked is the 25022 12 Amp 20 Inch 3 in 1 Electric Corded Lawn mower as it is easy to manage and mow with and it does a really good job on the grass cuttings and collections. You get 7 mowing heights here that range from 1.5 to 3.75 inches and the rear wheels are 10 inches which are plenty for most mowing work you will do.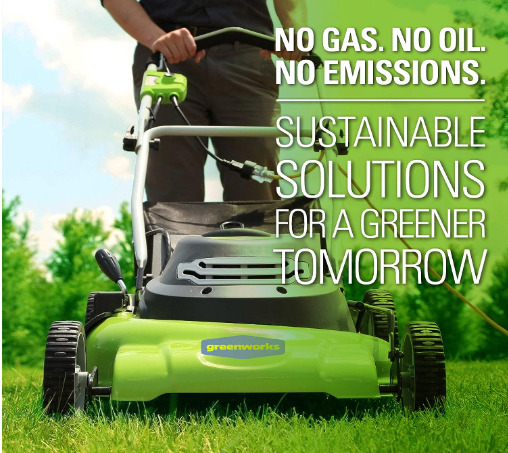 This is a 3 in 1 lawn mower in that you can mulch, rear collect or use the side discharge and the cord retainer is useful to have as well as having the folding handles for improved storage and the safety cut off switch. Other features we really liked was the cord lock on the power cable which prevents it accidentally getting disconnected and the cam lock handles make the folding work so much easier to do than we expected
Price Guide: $250 - $350

View also: More Best Lawnmower Lists
Greenworks Corded Lawnmower Video Demo
2, Sun Joe 13 Amp 14 Inch Electric Lawn Mower MJ401E-PRO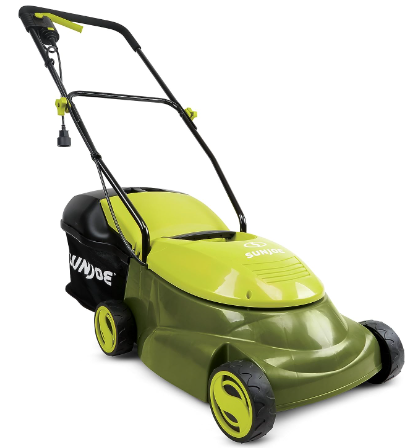 Sun Joe are an established brand when it comes to electric lawn mowers and their corded lawnmower that we would recommend in particular is the MJ401E-PRO 14 Inch 13 Amp Electric Lawn mower which has the large side discharge chute that can be attached to the rear. It's a very affordable corded electric lawn mower that most families can well afford and it would be one of the better options for people seeking the lowest possible price.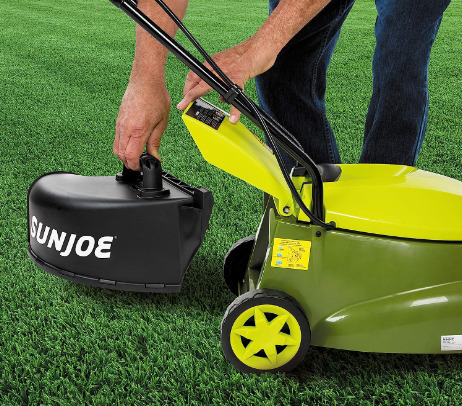 It's a lightweight frame design at just 30 lbs so there is no issue when it comes to pushing it around and there are 3 mowing height options to choose from. The grass collection bag here has a capacity of 10.6 gallon storage and the mowing width is just 14 inches so it really designed only for the small type yard. The discharge chute is particularly useful for less formal areas or when the grass is too long for collection and it works great especially at the start of the mowing season when mowing conditions can be difficult.
Price Guide: $100 - $150

View also: Our Corded Lawnmower Reviews
Sun Joe Corded Lawnmower Video Demo
3, LawnMaster 16 Inch 12 Amp Electric Lawn Mower MEB1216K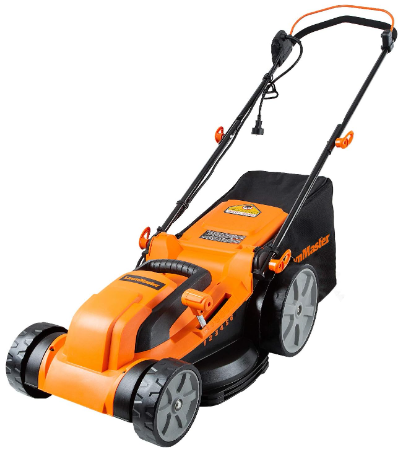 An impressive corded lawnmower also worth considering is the MEB1216K LawnMaster that is 16 inches wide with a 12 Amp electric Lawnmower which has proven to be very popular with numerous positive reviews and we can see why. It starts perfectly every time and it is well able to mow small yards without much effort and the collection of the grass clippings into the grass box was quite good without having to tidy up afterwards.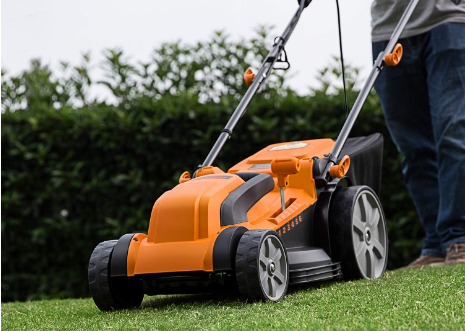 It's a lightweight mowing machine so pushing it around is no problem whatsoever and you get 6 mowing height options here as well as the 8 gallon capacity grass box. Adjusting the mowing heights is done with the single lever and it can give you a tighter neater cut down to 1 inch which is perfect for those of you who prefer a tighter cut. You also get a cord retainer provided here as well as the lock knobs and foam grip when it comes to the handles
Price Guide: $120 - $170

View also: Multiple Corded Lawnmower Reviews
4, Craftsman 20 Inch 13 Amp Electric Lawn Mower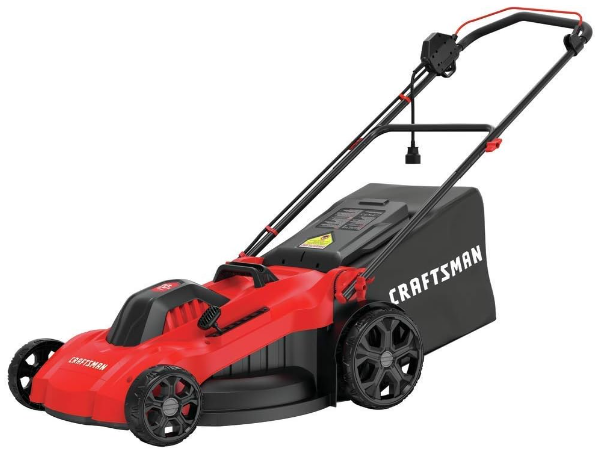 We came across the Craftsman 20 inch 13 Amp lawn mower and it certainly deserves to be on our list today as it starts perfectly every time and the mowing and collection of grass clippings was better than expected. It gives you a decent mowing path width of 20 inches and the 13 Amp power is plenty for moderate mowing conditions as long as you mow regularly instead of letting the grass grow out of control.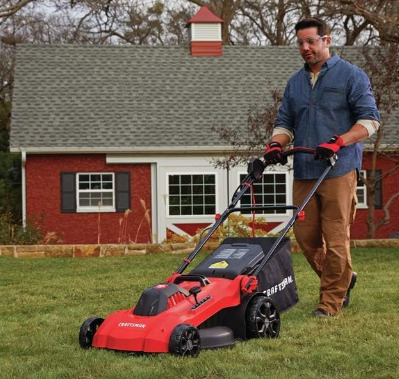 The weight of this machine is lighter at approx. 20 lbs so there are no problems when it comes to pushing it around you lawn even around the sloped areas or difficult mowing terrain. The blades work fine for giving you a nice clean cut and assembly is quite simple with easy to follow instructions. If you have a small yard and you like the brand of Craftsman, then this little mower will do the job just fine for you
Price Guide: $200 - $250

View also: Our Robotic Mower Reviews
5, American Lawn Mower Company 14 Inch 11 Amp Mower 50514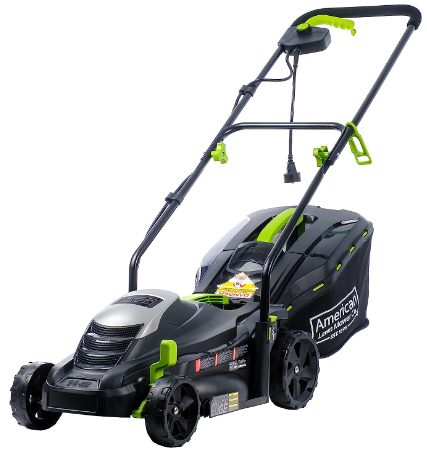 For the smaller yards and for people seeking a low priced reliable corded powered electric lawnmower, then take a serious look at the American Lawn Mower Company 14 Inch (50514) lawn mower with a motor power level of 11 Amp and you should be able to get your hands on it for less than $180 when seen at the time of our review. Its lightweight for pushing, the starting works perfectly and the mowing works great as long as you keep the grass heights under control by mowing regularly.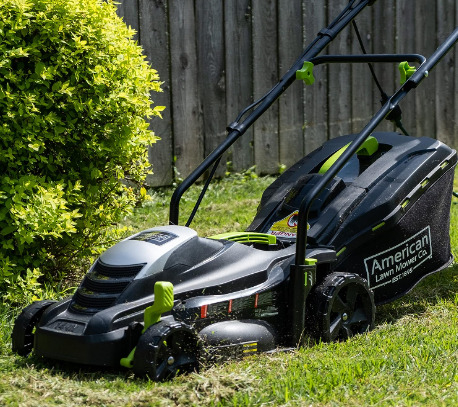 You get 5 mowing height options with this lawnmower and you are buying from an American brand that has been around for over 100 years so they have tons of experience in this sector to say the very least. We liked that the handles are height adjustable plus you have the option for mulching or rear collecting and the single lever mow height adjustment from 1 inch to 2.5 inches can give you a nice clean cut finish.
Price Guide: $130 - $180

View also: Branded Robotic Mower Reviews
6, Black + Decker 10 Amp 15 Inch Electric Lawn Mower (BEMW472BH)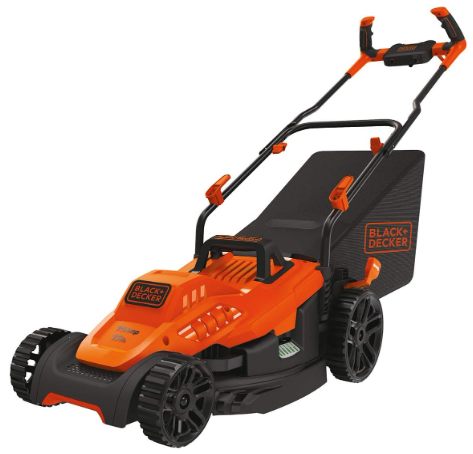 There are multiple Black + Decker lawn mowers available in the market but the lower priced 10 Amp 15 inch corded lawn mower would be the one that we would recommend in particular especially when it comes to value for the money and the lowest possible price level. One of the main reasons why we liked this lawnmower was the top handles with the bike handle design which makes the job of steering and manoeuvring this lawn mower so much more enjoyable to do.
Again, the weight would be on a lower level so there is no problems when it comes to pushing it around your lawn and you get 6 mowing height options to choose from depending on your own lawn conditions. For longer grasses, you can start at the higher 3 inch mow height setting and then work your way down to the lower 1 inch mow height setting on your second and third pass.
Price Guide: $140 - $190

View also: Our Cordless Lawnmower Reviews
7, Ryobi 16 inch 13 Amp Corded Electric Lawn Mower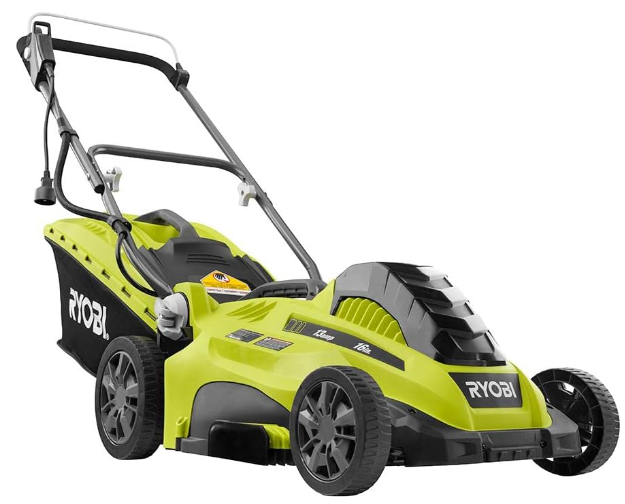 Another corded electric lawnmower that deserves serious consideration is the Ryobi 16 inch corded electric Lawn mower with the 13 Amp power level and it comes backed with tons of positive reviews and we can see why. There are multiple lawn mowers from Ryobi but this corded version certainly stands out as being the best option for the average home owner. It is ideal for people with small yards to maintain and it comes with a 3 year warranty for peace of mind
After the mowing work is done, the handles can be folded down neatly which is ideal for people with small storage spaces in their sheds and it weighs around 32 lbs so there are no problems when it comes to pushing it around your lawn with ease. If you like the Ryobi brand for gardening tools, then this 13 Amp corded 16 inch lawn mower will be the ideal choice for you as it gives more power for difficult mowing conditions than expected
Price Guide: $230 - $280

View also: Alternative Cordless Lawnmower Reviews
Best Value Corded Lawn Mower
8, Black + Decker 3 in 1 Electric String Trimmer, Edger, Lawn Mower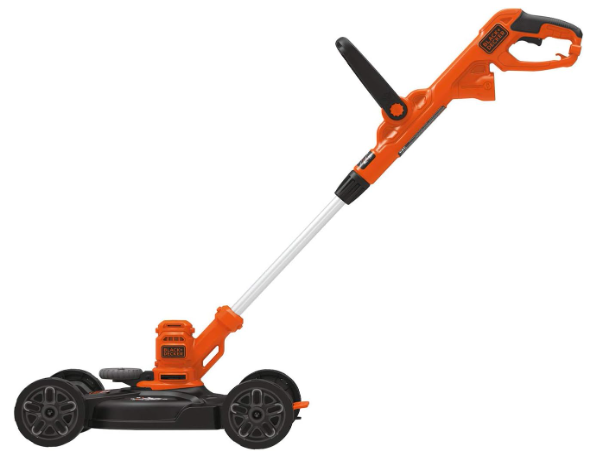 For people who don't need a grass collection box and are seeking the absolute lowest bargain price level, then you don't need to look much further than the Black + Decker 3 in 1 lawn mower in our opinion. In addition to mowing, it also includes both the edging and string trimmer functions so you get a versatile mowing machine that can do more than just mowing grass. The power level though is on the lighter side at 6.5 Amp so you need to mow more regularly and frequently to keep the grass growing conditions under control so bear this in mind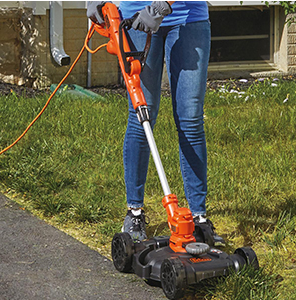 It is one of the lowest prices around when it comes to corded lawn mowers so the big attraction here is the savings you can make when you buy, but please be aware that with lower priced and lower powered corded lawn mowers like this will need more regular grass mowing and management – don't let the grass grow too long from what we have seen. Its lightweight design means it is only approx. 10 lbs for pushing and it's a great gardening tool to have in your shed especially if you need trimming and edging work done all with the same tool.
Price Guide: $90 - $120

View also: Further Corded Lawnmower Reviews
Conclusion
After completing this reviewed list for the best Corded Lawn mowers available in the US, we hope all our hard work here has helped you out in some small way and given you a better idea of the best lawn mower for your own yard. We have included wider 20 inch corded lawn mowers, narrower lower priced corded lawn mowers, lawn mowers with side discharge and mulching functions plus a 3 in 1 multi-tool lawnmower so there should be something here to cater for your own mowing needs.
Corded Lawn Mowers Community Feedback
Have you ever used any of these Corded Lawn mowers in the past? Which Corded lawn mower would you recommend in particular? If possible, please share your own opinions and feedback with the wider mowing community by leaving a short comment in the comment box section provided below…