Hello and welcome to this review on the Best Gas Push Lawn mowers that are available to order in the US marketplace at present. There are several types of mowers, each suitable for a particular scale and purpose. The smaller types of gas mowers are really for smaller residential lawns and gardens while the larger gas mowers can handle much larger lots.
The only thing though will be the length of time you have on your side to spend mowing your lawn.  Lawnmowers are widely used on all sports grounds also as well as parks but we shall focus on mowers for residential purposes for this review. Lawnmowers specifications have certainly improved and they are getting better and better as times goes by and it certainly is a lot more efficient than the domesticated grazing of animals in the past!
Best Gas Push Lawn Mowers - Our Top Picks
1, Poulan Pro 20 inch 125cc Gas Powered (Side-Discharged) Push Lawn Mower
Key features:
The Poulan Pro 20 inch push gas mower is definitely one of the favourite options in the market and this model has the 450e 125cc engine to provide lots of power to get the tough work done for you and make your lawn looking attractive and completed to your satisfaction.
It can even take heavier of that heavier, thicker and taller grass though a second pass may be needed to get it completely cleared.
There is a great amount of mow height flexibility here also as it provides 5 different heights for you and the range of the mow heights starts at 1 inch and ends at 3.5 inches
If you need to stop this mower quickly, it has an excellent front bar which can be adjusted easily to stop it in the case of any emergency that may come up.
Please be aware that only the side discharge is included and there is no rear grass catcher which means that you don't have to waste time emptying it all the time.
Ideally, this mower is an option for you if you have a small to medium sized lawn that has a fairly flat terrain and will give you 4.5 foot Ibs gross torque to make your job a hell of lot easier.
One last thing is that this model is quite easy to assemble so at least then that is one less thing for you to worry about

2, Remington 21" Gas Push Mower with Kohler Engine
Key features:
The Remington gas push mower has all you need and more for tackling small to medium size lawns as it provides you with a stronger and premium 173cc Kohler XT 755 engine so it will help you in an amazing way to rip through tough and thick grass in a quick and easy fashion.
This mower can provide you with a mulching facility and also there is the rear grass catcher at the rear so you can have a nice clean looking lawn after you have finished mowing.
If you have tall grass, you can start at the highest 6 level mowing setting and then work your way down until you have it to your desired level.
The wheels are 7 inches at the front and 8 inches at the back to allow you to get around those tighter spots
It also includes the 2 year warranty to give you a great sense of security if you decide to buy.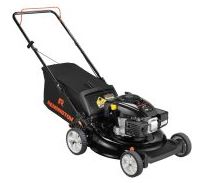 3, MTD 3-In-1 Gas Push Lawn Mower, High-Wheel, 140cc Engine, 21 inch
Key Features:
This is a Troy Bilt 3 in 1 mower push gas mower that provides a lot of functionality for all you mowing needs and is certainly a favorite among many mowers alike in the market place. One thing that stands out is the 3 in 1 feature and also the high wheels at the back which are 11 inches which is perfect for hilly or rough terrain.
The engine is a Briggs and Stratton 140cc 550ex series engine so it will provide you with great power to tackle those tougher jobs you may have to complete.
As it is a 3 in 1 mower, you can either side discharge, mulch or even use the rear discharge with the grass catcher so you have fantastic flexibility depending on your own particular set of requirements.
There is also the dual lever adjustor for changing the height levels, the dimensions are 36.75 by 24 by 17.75 inches and the weight of this model is 74 Ibs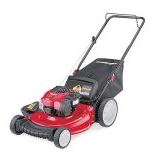 Further Alternatives are also outlined below...
So that wraps up this short selection of some of the best push gas mowers that are available to buy at present. If you would prefer to look at some of the best electric or reel mowers instead, then feel free to take a look at other reviews as follows:
Finally, I would like to thank you for taking the time to visit and I hope this review has helped you out in some way.