If you are thinking about buying a McGregor Corded Electric Lawn mower in the coming days or weeks, then make sure to check out our review which will outline everything you need to know plus all the main pros and cons that we came across during the course of our review.
You can also download the user manuals here if you wish to help you with the assembly process and we will outline the 2 best options to choose from namely the McGregor 32cm corded 1200W Lawnmower and the slightly larger and more powerful McGregor 34cm 1400W corded electric Lawnmower.
Comparisons
We have included a detailed comparison table at the end of this page so that you can see all the features, dimensions and weights side by side which will help you when it comes to making your final decision. In addition, we have also included price comparison options versus other brands which possibly can save you some money in the process. As we can only provide guide prices during our review, please make sure to view the price checkers provided below to help ensure you have the most accurate up to date pricing information.
Read also: Best Electric Corded Lawnmowers
McGregor Corded Lawnmower Review – 2 Recommendations
Option 1: McGregor 32cm 1200W Corded Lawnmower MER1232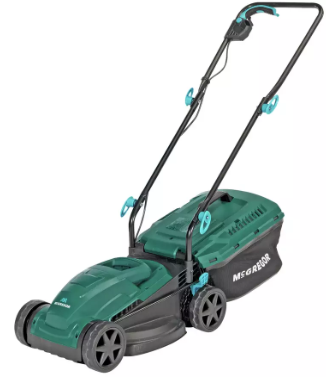 Our first recommendation is the lower priced and smaller McGregor 32cm 1200W Electric lawnmower that offers a narrower mowing path of 32cm wide and a lower power output of 1200W that is suitable for small lawn sizes only that would be up to 50-60m2 as a rough guide in our opinion. The big attraction here is the lower price on offer as you should be able to get your hands on it for less than £90 when seen at the time of our review so it is ideal for people seeking a bargain or the lowest possible price.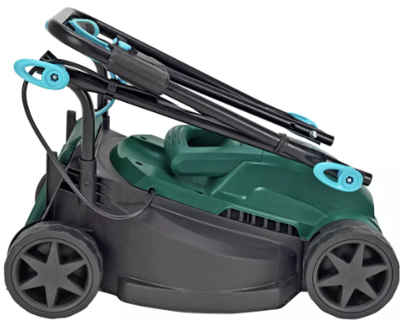 As it is a smaller lawnmower, you need to get into the habit of mowing more regularly as lawnmowers like this typically will struggle with long and thick grasses that have not been cut in a long time. This corded lawnmower offer 5 mowing heights that range from 2cm up to 6cm so you should start at the higher setting for longer grass and work your way down on the second or third pass.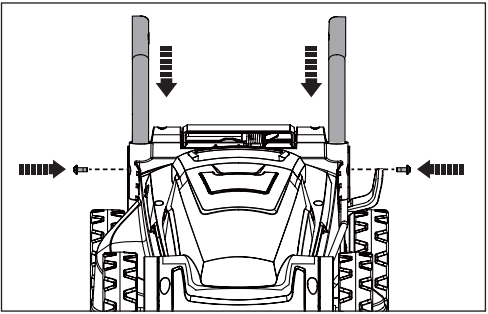 You get a rear roller included for generating lawn stripes and the grass box has a storage capacity of 33 litres which fills up rather quickly especially if the grass hasn't been cut in a long time. The power cable is 10m long so you may need an extension cord and the handles can be folded after use for tighter storage plus it is backed with a 2 year warranty protection.
Price Guide: £70 - £90 @ Argos

Read also: Popular Cordless Lawnmowers
Option 2: McGregor 34cm 1400W Corded Lawnmower MER1434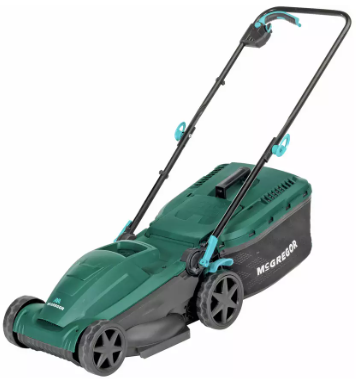 The second McGregor corded lawnmower that we recommend is the McGregor 34cm Corded 1400W Lawnmower which only costs slightly more than the 32cm 1200W version and it is designed for slightly larger lawns 60-80m2 in our opinion. The power cord here is the same length of 10m so you may need to invest in an extension cord also depending on your own lawn dimensions. It also has the rear rollers for the stripes and there are 6 mowing height options that range from 2cm up to 7cm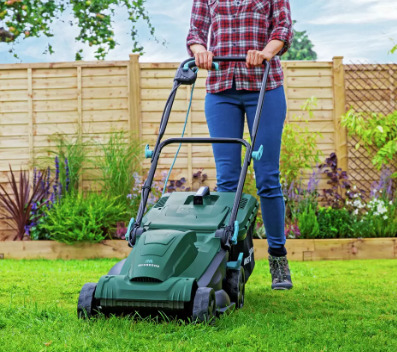 You get the grass full indicator on the grass box to tell you when it is full and needs to be emptied and the handles can be adjusted to suit your own height as well as being folded down after use for small storage spaces (dimensions are in the comparison table below). It is equipped to deal with tougher mowing conditions than the 1200W with its carbon steel blade and torque drive system.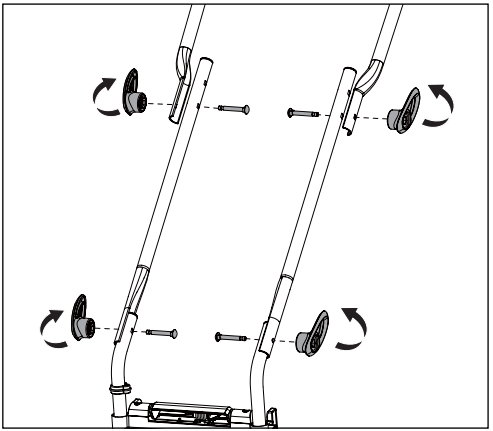 Mowing heights can be adjusted using the single lever beside the wheel and you will need to start on the highest mow settings for taller or longer grasses and work your way down on the next mowing pass. These McGregor corded lawnmowers are made in China and they are designed for the British type lawn. This grass box is slightly larger at 35 litre capacity and it will also fill up rather quickly if you don't mow your lawn on a regular basis.
Price Guide: £90 - £110 @ Argos

Read also: Popular Robotic lawnmowers
Pros for the McGregor Corded Lawnmower
They are ideal for small town house type lawns and they come with great prices offering good value for the money which are ideal for people on a tighter budget seeking the lowest possible price
The level of noise emitted is very low which is great for any neighbours living close by and there are no fuels, oils or emissions to worry about.
There are rear rollers included in these lawnmowers for giving you lawn stripes which are not available on many other branded corded lawnmowers in the market
Folding down the handles was easier than expected and it is ideal for people with limited storage spaces in their sheds
There are no recoil pull cords to deal with as all you have to do is plug it in and press a button to get it started and away you go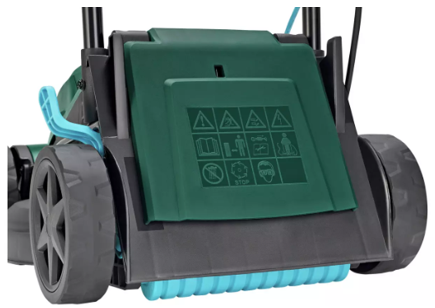 Cons for the McGregor Corded Lawnmowers
As there is no self-propelled support, you will need to do all the pushing yourself but is manageable all the same with their lightweight designs
The length of the power cable is 10m long so you may need to invest in an extension cord to reach the full length of your lawn. Other lawnmowers such as Spear and Jackson offer longer power cords of 12m
They lack the power ability to plough through thick and long grasses like petrol lawnmowers, so you need to mow more regularly and avoid the grass growing out of control
You need to develop a technique of mowing the grass and avoiding the power cord at the same time – extra care and attention is needed
There are no mulch plugs or side discharge options which are available on higher priced lawnmowers plus they are limited to small lawns only (50-80m2)
Price Comparisons vs Brands
McGregor Corded Lawnmower User Manuals
If you need further support on the assembly, safety guidelines, user tips and maintenance – then check out the user manuals for these McGregor corded lawnmowers as follows
View also: Our Grass Trimmer Reviews here
McGregor Corded Lawnmower Comparison Table
To add further clarity on the dimensions, power levels, features and sizes, feel free to check out the comparison table below where you can see both of these McGregor Corded lawnmowers side by side.
| McGregor Corded | McGregor MER1232 | McGregor MER1434 |
| --- | --- | --- |
| Power | 1200W | 1400W |
| Mow width | 32cm | 34cm |
| Lawn size guide | Up to 50-60m2 | Up to 60-80m2 |
| Power cable | 10m long | 10m long |
| Mow heights | 5, 2cm – 6cm | 6, 2cm – 7cm |
| Rear Roller | Yes | Yes |
| Side discharge | No | No |
| Mulching | No | No |
| Self-propelled | No | No |
| Grass box size | 33L capacity | 35L capacity |
| Foldable handles | Yes | Yes |
| Weight | 9.5kg | 11.5kg |
| Dimensions | H95 x W35 x D109cm | H109 x W36 x D109cm |
| Folded dimensions | H60 x W37 x D29cm | H70 x W38 x D31cm |
| Warranty | 2 years | 2 years |
View also: Our Best Lawnmower Lists here
Conclusion
Although these small lawnmowers are limited to small lawns only and they don't have any self-propelled support, mulch plugs or side discharges, they still offer great value for the money as they get the job done as needed without any fuss and they can be folded down neatly after use in your shed.
More frequent mowing is needed to keep the grass growth under control as small electric lawnmowers like this struggle with long or thicker grasses that haven't been mowed for a long time – it's a good excuse for more frequent exercise and calorie burning! Yes the power cord could be slightly longer but for the price you get, its does a great mowing job all the same so we have no hesitation in recommending them to the wider public

McGregor Corded Lawnmower Feedback
Have you ever used a McGregor Corded Lawnmower in the past? If possible, please share your own feedback and opinions with the wider community by leaving a comment in the comment box section provided below….