After reviewing several Troy-Bilt Gas Lawn mowers in their range, we also wanted to complete our quick review on the Troy-Bilt TB125B Hand Push Gas Lawn Mower to find out if it works and mows as well as other lawn mowers in this category.
First things first, it is worth pointing out that Troy-Bilt is a well-established household name in this sector and they have a brand to protect which goes a long way to ensure their customers are fully satisfied with their range of gardening tools and equipment.
View also: Our Best Lawnmower Lists here
Comparisons
To ensure you have all the necessary information, we have also included a comparison table at the end of this page versus the TB110 and the TB105B so you can see the features side by side against other hand push gas lawn mowers in their range.
In addition, you will also have the opportunity to compare prices for this lawn mower across different seller channels be it Troy-Bilt themselves, Home Depot or Amazon so make sure to check these out while you are here which can possibly save you some money in the process.
View also: Further Gas Lawn mower Reviews Here
Troy-Bilt TB125B Push Lawn Mower Review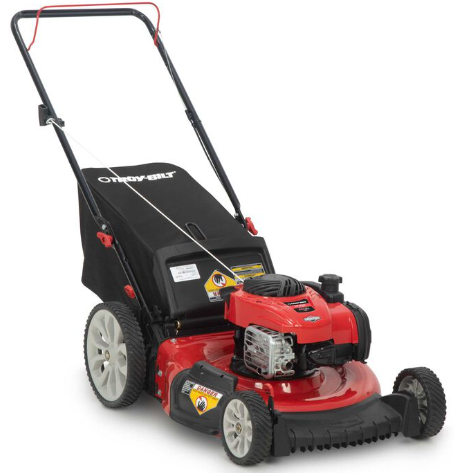 This TB125B gas push Lawn mower from Troy-Bilt is designed for small yards and it comes with a Briggs and Stratton 500ex 140cc engine so there is plenty of power under your arms as you mow and work your yard. Please note that the 500x engine is Prime N Pull but this lawn mower has the 500ex engine so you get the ReadyStart technology included as standard which means no choke and no primer is required.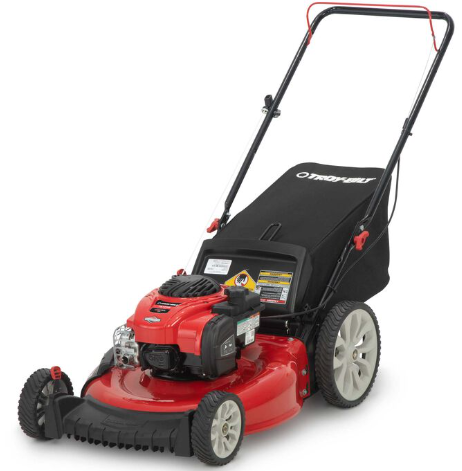 You need to follow the maintenance and servicing procedures to ensure that it works as expected for the following season and you should get into the habit of clearing out the undercarriage of the mower every few weeks or even after each mowing if you have the time.
One thing you will like is the fact that this is a 3 in 1 mower in that you can choose to mulch, use the rear collection or even use the side discharge for less informal areas or longer grass areas in your yard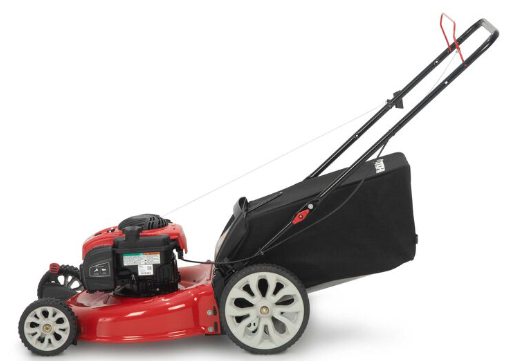 This lawn mower offers you a mowing path width of 21 inches plus the larger 11 inch rear wheels are great when it comes to rough terrain and long grass. You get 6 mowing heights that range from 1.25 inch up to 3.75 inch plus your investment is protected with their 2 year warranty cover
Pros
It comes with a reasonable and fair price tag for what you get so it offers good value in our opinion
Starting is supported with the ReadyStart technology so you don't have to worry about chokes or priming
The quality of the blade, mowing finish and collection of grass clippings is quite impressive
Cons
No self-propelled support so slopes and hills will be difficult to work on
There is no wash port for the undercarriage so you need to manually do this yourself
As there is no electric starter, you need to start it using the recoil pull cord
Price Guide: $350 - $400 @ Troy-Bilt

View also: Troy-Bilt TB120B TB110 Lawn mower Reviews
Price Comparison Options
To ensure you get the best value including delivery costs, please make sure to check out the 2 price options below that can possibly save you some money in the process while you are here today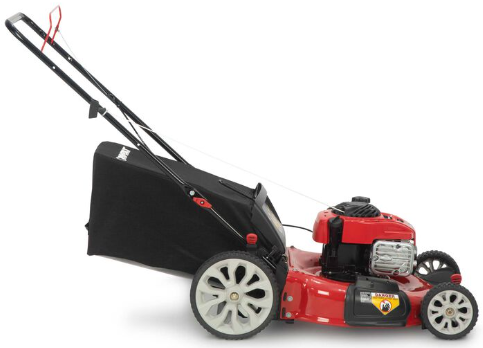 Troy-Bilt Gas Lawn Mower Comparisons
To add further clarity on this lawn mower versus other Troy-Bilt Lawn mowers in their range, feel free to take a quick look through this comparison table so you can see all their main features side by side
| Troy-Bilt Mower | TB125B | TB110 | TB105B |
| --- | --- | --- | --- |
| Mow width | 21 inches | 21 inches | 21 inches |
| Functions | 3 in 1 | 2 in 1 | 2 in 1 |
| Engine | B&S 140cc | B&S 140cc | B&S 140cc |
| Rear Bag | 1.9 Bushel | 1.9 Bushel | None |
| Starter | Recoil | Recoil | Recoil |
| Fuel tank | 0.8L | 0.8L | 0.8L |
| Oil capacity | 15 oz | 15 oz | 15 oz |
| Drive System | Push | Push | Push |
| Wash port | None | None | None |
| Mow heights | 1.25" to 3.75 " | 1.25" to 3.75 " | 1.25" to 3.75 " |
| Deck heights | 6 | 6 | 6 |
| Mulch plug | Yes | Yes | Yes |
| Side discharge | Yes | No | Yes |
| Warranty | 2 years | 2 years | 2 years |
View also: Our Robotic Lawnmower Reviews here
Conclusion
After reviewing this Troy-Bilt Gas TB125B Lawn mower, we would have no hesitation in recommending it to the wider public. Sure, it's not the best Gas Lawn mower we have ever used but it is well built with great mowing results and it comes with an attractive price level that provides good value for the money in our opinion. Further pricing updates, images, reviews plus stock availability can be viewed at Troy-Bilt below…

Gas Push Lawn Mower Feedback
Have you any previous experiences of using a Troy-Bilt Gas Hand Push Lawnmower in the past? If possible, please share your own opinions with the wider mowing community by leaving a comment in the comment box section provided below – so that everyone else can learn also…