Hello again from Paul at Lawn Mower reviews and here I have reviewed the Snapper Zero Turn 54 inch 24HP Mower which you should take a quick look at if you are interesting in buying it in the coming days or weeks.
Before you buy, please make sure to take a look at the comparison charts which are provided below so you know exactly what is involved and how it compares to other different Mowers in the market. In addition, I will also outline all the important key features that you need to be aware of so please take some time to go through these also…
Zero Turn Lawn Mower Overview:
| Lawn Mower: | Snapper Zero Turn 54 inch 24 HP Mower |
| --- | --- |
| Warranty: | 3-year warranty |
| Engine | Briggs and Stratton |
| Brand: | Snapper |
| Engine model: | 24 HP Intek Engine |
| Turning: | Turns at zero which reduces movement time |
| Mower width | 54 inches |
| Best place to buy: | Amazon - Check Stock Availability Here |
Important Key Features:
Ability to turn on a dime so can mow the grass fast
Additional comfort through the foam steering wheel and the high back chair
Best suited for flat terrains or slightly uneven surfaces
Electric PTO switch for switching off the blades
Premium Briggs & Stratton 24HP Intek Engine
Perfect for large size lawns up to 2 acres
Dual hydrostatic transmission is included for changeable forward / reverse speed levels
Front wheels are 13 inches and the back wheels are 18 inches
Spin on oil filter for easy replacing
Engine is 24 HP
Front axle is made from durable steel
Mow width is 54 inches
Fuel capacity is 2.8 gallons
Easy to use deck wash for easy maintenance

Further images of the Snapper Zero Turn Mower is outlined below…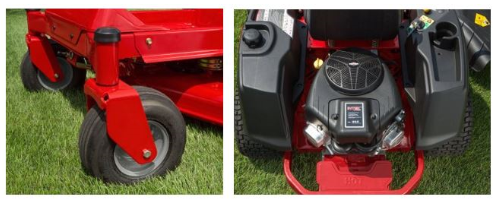 Please also be aware that a smaller version of this available also which comes at a cheaper price that may be of interest to you and it's the Snapper Zero Turn 46 inch 20 HP Riding Mower. The mow width and the HP is less than the larger model outlined above but it is certainly worth looking at also due to the lower price. Plus also be aware that the front wheels are 11 inches here when compared to 13 inches above.

There is also a compilation of various Snapper Reviews and videos which can be viewed by clicking here.
Finally, I really hope this review has helped you with your search for the Snapper Zero Turn Mower and please feel free to let me know your own personal experiences with your own mowers by leaving a comment below…