Is your lawn less than 100 square metres or less than approx. 10 metres on each side and you need a low priced reliable electric corded lawnmower to keep control of the grass? If so, then check out our brief Spear & Jackson Corded Lawnmower review which comes with a 12m long cable which is longer than many other brands we have come across as some cords are only 10m long and in some cases the cords can be as short as 8m long.
Cable Length
Having the 12m length cord available on this corded lawnmower is a big advantage if you need to avoid buying an additional extension cord which are an added expense and they also can be a bit of a nuisance trying to navigate the lawnmower and the cord at the same time.
Cordless vs Corded
To be honest, I much prefer the cordless Spear & Jackson lawnmower than the corded as there is a lot more freedom overall but the one big advantage on the corded is that it is approx. half the price of the cordless so it will be the better option for people who are seeking the lowest possible price. At the time of this review, the cordless was around £150 where the smallest corded was less than £80 so there is a significant amount of money to be saved going down the corded route – the only thing you will need to master is the skill of navigating the cord while you mow and to avoid running over the cord and cutting it (yes it has happened numerous times in the past)
Focus
Our review will focus on the Spear & Jackson 32cm Corded lawnmower as this one has the lowest price available but we will also outline an cover 2 further larger corded options that offer more power so at least you have more than just 1 choice when it comes to making your own final decision
Corded Electric Lawnmower Review Content
Part 1: Overview & FAQ's
Part 2: Spear & Jackson 32cm Corded Lawnmower Review
Part 3: Assembly Tips
Part 4: Larger Corded Lawnmowers to Consider
Part 5: Comparisons & Conclusion
Please note before you begin that guide prices can only be presented at the time of this Spear & Jackson Corded lawnmower review, so please make sure to view the price checkers provided below to ensure you get the most accurate up to date price information.
Read also: Our Spear & Jackson Cordless Lawnmower Review here
Part 1: Brief Overview & FAQ's
| Model: | Spear & Jackson 32cm Corded Rotary Lawnmower |
| --- | --- |
| Power: | 1200W |
| Cutting Width: | 32cm wide |
| Best Place to Buy: | Argos UK – View stock and updated prices here |
| Warranty: | 3 years duration |
| Support: | Spear & Jackson customer helpline on 0345 605 2067 or 01904 727505 |
Frequently Asked Questions - Spear & Jackson Corded Lawnmower 
Q1. Does this lawnmower cut tight to the edges?
A. Yes, it includes grass side combs to give a tight finish around flower beds and boundaries.
Q2. Can it be used without the grass collection unit?
A. Yes, but it is recommended that you wear suitable garden footwear when doing this
Q3. What are the folded dimensions when it comes to storage?
A. The folded dimensions when storing are approx.  65cm by 42cm by 31cm (similar to the box dimensions)
Q4. What level of noise is emitted?
A. The sound power level emitted is 96DB for the 32cm corded lawnmower
Q5. Do you need tools to adjust the height levels?
A. No tools are needed as there is an easy to use single lever provided instead
Q6. What are the cutting heights available?
A. The 5 cutting heights start at 2cm and go up to 6cm in 1cm increments. So, the 5 heights are 2cm, 3cm, 4cm, 5cm and 6cm.
Q7. Can this mower be set to self-propelled?
A. No, this is a push mower only – there is no self-propelled function available
Q8. Is there a mulch plug or a side discharge available?
A. No, neither a side discharge or a mulch plug is available (only rear discharge or rear collect)
Q9. Who do I contact if I have any problems or need extra parts with this lawnmower?
A. You can contact Spear & Jackson sales support directly on 0345 605 2067
Q10. What is the full assembled length for storage?
A. The length is 95cm, but it can be folded down for tighter storage.
Part 2: Spear & Jackson 32cm Corded Lawnmower Review
Spear & Jackson 1200W 32cm Corded Rotary Lawnmower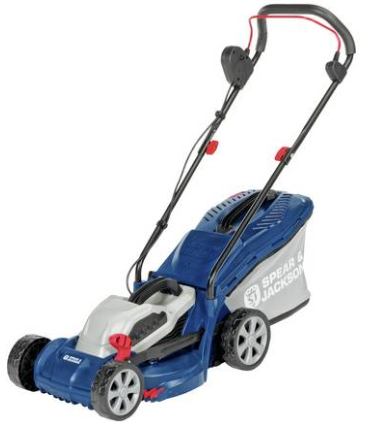 Main Features in Summary
Smallest and lowest price rotary lawnmower from Spear & Jackson
Highly recommended with mostly positive reviews
Provides motor power of 1200W and a cutting width of 32cm
Lawn size guide is up to 100 metres squared
Side combs provide a tighter finish around boundaries and edges
Single lever height adjustment – 5 levels starting at 2cm up to 6cm
Small compact grass collection unit with capacity of 30L
Includes rear roller for stripes, safety switch and soft grip handle
Grass collection unit has a grass full indicator and the cable is 12m long
Price Guide: Less than £80 

Further images of the Corded 32cm Rotary Lawnmower from Spear & Jackson are outlined below
Pros & Cons to Note...
Pros for the Corded 32cm Lawnmower:
This is a seriously lightweight machine which is less than 9kg so pushing it around the lawn, around uneven ground or even up slopes is a piece of cake.
Many other corded lawnmower brands have cords that are only 8m long or 10m long where the cords here are longer at 12m which helps to reduce the possibility of needing extension cords.
One advantage over the cordless is that you have a constant power supply available and you don't have to worry about battery charges depleting or battery degradation over time.
The rear roller is a nice addition to help give you eye catching mow stripes and the side combs really do help give a tighter finish on the edges
There is also no need to worry about buying additional batteries and charger which are a lot more expensive than what you would expect.
It is an environmentally friendly alternative to petrol powered mowers with no maintenance costs, no messy oils or fuels and no toxic fumes emitted
There is no recoil starting as you are provided with a push button start system instead which makes starting the machine a doddle to do.
Provides more power than you would expect, it collects the grass clippings very effectively and it leaves a nice and tidy finish which is supported with a comfortable soft grip handle to reduce the level of hand fatigue that may set in.
Cons for the Corded 32cm Lawnmower:
There is no self-propelled function or mulching plug included so you are limited to rear collections only which explains the lower price.
There are no side discharge options either which we see are available from other brands (again it explains the lower price available)
Even though the cable is longer than normal, you are still limited to 12m from the power socket to the edge of your garden so extension cords may still be needed (best to measure up before you buy)
The frame on this mower is the smallest around at 32cm which means more mowing passes will be needed on your end and ultimately it will take longer than usual to get the job done.
While it did not happen to us, it has been reported that the slots for the screws on the handles did not line up as well as they should have which can be annoying
It can struggle with long grass or heavy thicker denser grasses due to the smaller frame and lower levels of power provided. You need to keep your lawn more regularly maintained rather that letting it get out of control for the best results.
The screws for the handles could be more robust and issues about parts missing and the wheels coming loose have also been reported – not something that you would expect from a brand such a Spear & Jackson!

Part 3: Assembly Tips
If you need to know some of the assembly steps before you buy, then check out some of the images outlined below that will give you a rough idea on what you can expect to do and the steps that you will need to follow.
What's in the Box?
An overview of what is included in the box delivery is summarised below.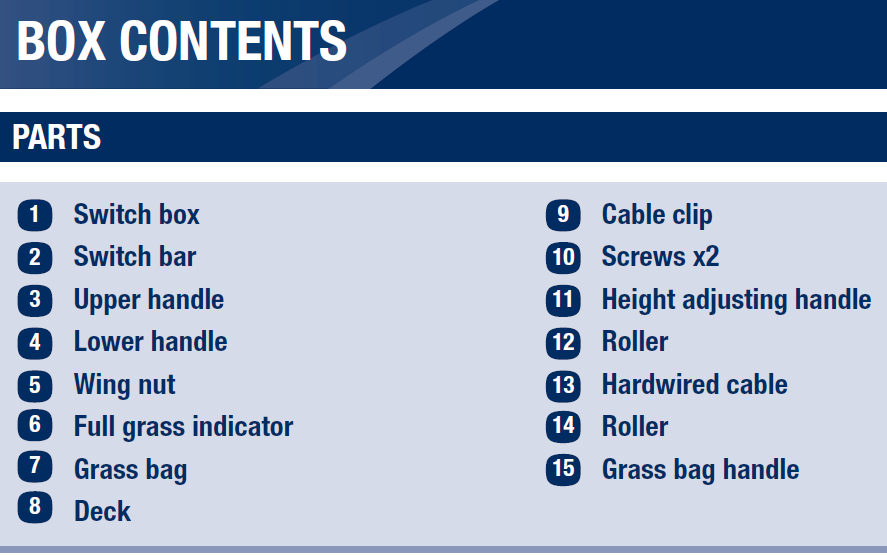 Part 4: Larger Corded Lawnmowers to Consider
If you have more money to spend and you need to look at options which are wider than 32cm, then check out the 2 options outlined below that will also be of interest to you as these options also provide superior levels of power for longer and thicker grasses.
Part 5: Comparisons & Conclusion
Comparion Table
A brief comparison table is outlined below for the 3 different corded Spear & Jackson lawnmowers in this review which hopefully can add further clarity where needed.
| Model: | 32cm Corded | 37cm Corded | 40cm Corded |
| --- | --- | --- | --- |
| Power: | 1200W | 1600W | 1700W |
| Side Comb: | Included | Included | Included |
| Mow heights: | 5 (2cm-6cm) | 7 (2.5cm-7cm) | 7 (2.5cm-7cm) |
| Rear Roller: | Included | Included | Included |
| Side Discharge: | N/A | N/A | N/A |
| Mulch Plug: | N/A | N/A | N/A |
| Self-Propelled: | N/A | N/A | N/A |
| Grass Collector: | 30L capacity | 40L capacity | 50L capacity |
| Cable Length: | 12m long | 12m long | 12m long |
| Handle: | Height adjustable | Height adjustable | Height adjustable |
| Safety switch: | Included | Included | Included |
| Weight: | 8.6kg | 18.5kg | 21.2kg |
| Warranty: | 3 years long | 3 years long | 3 years long |
View also: Our Grass Trimmer Reviews here
Conclusion
While this is not the best lawnmower that you will ever have, it still does a really good job nonetheless for the amount of money you have to spend. If you are looking for a reliable low cost basic lawnmower at the lowest possible price, then you don't have to look further than this and the fact that it is backed with a 3 year warranty is a major plus.
Cord Navigation
The assembly is quick and easy, the mow heights can be adjusted very easily and the only major problem or issue that you will have is to learn a technique or master the skill of navigating the mow lines while avoiding the power cord at the same time.
Preference
Our preference though is still the Cordless 34cm Spear & Jackson lawnmower to avoid the hassle of the cords but you will need to be prepared to pay approx. twice as much for the cordless versus the corded. Overall, we would have to say that we were very impressed with this little machine on small town house type gardens and we have no issue whatsoever in recommending it highly to the UK general public.
I would also have to say that it performs better than some of the more expensive brands we have reviewed in the past and for a price tag which is generally available for less than £80, you can't go too wrong with this. Our own personal preference on the corded though would have to be the larger 37cm corded (instead of the 32cm) simply because of the extra power that it provides.
Final Tips
All that being said, you need to realistic with it's capabilities – this is not a petrol mower that can cut through meadow like tall grasses and thick dense grasses. This is a machine designed for small gardens where lower levels of power are needed and the key for getting the best results is to maintain your lawn at a manageable level by mowing the grass as regularly as you can instead of letting it get out of control.

Optional Feedback – Educate Others
Have you ever used a Corded Spear & Jackson Lawnmower before? Anything good or bad to say about it?
If possible, please educate others in the UK community by leaving a comment in the comment box section provided below.