Hello and welcome to this compilation review of Flymo Lawnmowers which are currently available to buy across the UK market at present. Flymo is part of the world's largest producer of outdoor power products, and our success has been brought about by our determination to be the innovators within the garden care industry, making the lives of gardeners easier.
The British invention of the hovercraft, was the inspiration for Swedish lawn mower manufacturer Karl Dahlman to invent a flying lawnmower. A lawn mower floating on a cushion of air. Flymo, for short – a brilliant idea in 1964, and a brilliant idea today! It wasn't long before the idea 'took off' and the company grew from strength to strength during the 1970's, building lawnmowers in its UK factory, where they are still manufactured today.
Lawnmower Review Overview
Overview on Flymo Lawn mowers:
The first sales season for Flymo in 1965 brought immediate success. Initially, customers found the 'hover' concept hard to imagine - it was so revolutionary for its time! Early sales tended to be made only after the Flymo had been demonstrated on the customer's lawn. Once they had seen it in action, customers were happy to trade up their old-fashioned, petrol cylinder mowers, for the light and agile Flymo. The media were equally quick to support this revolutionary, exciting new brand.
Today, Flymo offers the most comprehensive range of mowers and accessories in the world. In honour of its 50th birthday, Flymo released its latest innovation – the Robotic Lawnmower 1200R. The Flymo Robotic Lawnmower 1200R has been designed to save time and make life easier.
Day or night, rain or shine, the 1200R cuts and fertilises the lawn to perfection – and neither disturbs the neighbours, or emits any fumes!
Quality plays a major part in Flymo's success. Quality of materials and construction, the use of the latest engineering techniques, and stringent quality control testing, giving consumers assurance of the highest standards, and years of trouble free service.
Flymo continues to be a leading brand in the Husqvarna group. Husqvarna, a world leading producer of outdoor products including robotic lawn mowers, garden tractors, chainsaws and trimmers, employs approx. 14,000 employees in 40 countries.
Flymo Lawn Mower Review Compilation Overview
1, Flymo HoverVac 280 Electric Hover Collect Lawnmower, 1300 W
Key features:
This is the one of the bestsellers in Hover Lawnmowers in the UK at present. The HoverVac 280 is a lightweight, easy to for you to use, electric hover collect lawnmower, that will help you to get your lawn looking great in no time. It will glide across your lawn, cutting and collecting the grass as you go. The HoverVac 280 is perfect for people with smaller gardens.
The Hovervac 280 has a powerful motor of 1300w. This electric hover collect mower, floats on a cushion of air making cutting your lawn, quicker and easier.
The Hovervac 280 has four cutting heights, varying from 10-30mm. Choose the cutting height to match the condition of your lawn, or your personal preference. It has 28cm metal cutting blade that cuts the grass cleanly for a neater, tidier finish.
Coming fully assembled, you just need to remove from the box, pull the handle into the required position and you're ready to go. This slick system also allows for easy transportation and storage. Lawnmower features a 1300 watt powerful electric hover motor.
It has a 20 litre grass collection box. A 10m power cable. An emergency safety switch that can stop the machine immediately and has a weight 8.8kg.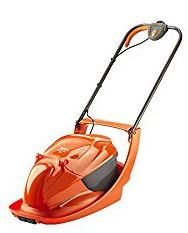 2, Flymo Easi Glide 300 Electric Hover Collect Lawnmower 1300W - 30cm
Key Features:
A powerful and reliable lawnmower fitted with FLYMO's unique Vision window. The FLYMO Easi Glide 300V hover mower floats on a cushion of air helping to make it lightweight and highly manoeuvrable.
This hover mower collects and compacts the grass, collecting the grass in its easy to remove grass collection box.
By compacting the grass clippings as it collects it reduces the need to empty your lawnmower, making cutting your lawn quicker and more efficient.
The unique Vision window found on this electric lawnmowers grass collection box, also lets you know when the grass box is full. This prevents overfilling, resulting in grass clippings being left on your lawn.
The FLYMO Easi Glide 300V comes fully assembled out of the box – no building instructions necessary.
Its small, compact design makes it neat and easy to store in a shed or garage.
It has a weight of 8.5 Kg and is bright orange in colour.
Its 1300 Watt motor is power by mains electricity via an electric cord.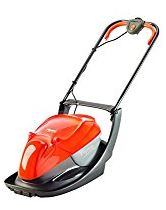 3, Flymo FTL330 Turbo Lite Electric Hover Lawnmower – Orange
Key Features
This model is Amazon's choice among Flymo lawnmowers, so please give it a good look. May be this model is perfect for you. Suitable for small to medium sized gardens, the Flymo Turbo Lite 330 uses its powerful 1150W electric motor to float on a cushion of air whilst cutting the grass.
Easy to store and carry this electric hover lawnmower is suitable for all to use.
The drive shaft of the motor, powers a fan which is attached above the cutting blades. The impeller draws air from above the cutting housing which creates pressure on the underside, lifting the mower from the lawn.
Enhanced electric hover lawnmower. Designed for quick and easy mowing on a cushion of air. Equipped with a powerful motor to tackle tough mowing tasks.
The Flymo Turbo Lite 330 floats on a cushion of air and its ergonomic design means it can cut in various directions when powered. Lightweight and with foldable handles, the Flymo Turbo Lite 330 is easy to carry from your lawn to a storage area.
Storage of the Flymo Turbo Lite 330 is easy. With foldable handles, it can be stored in your garden shed or garage.
It is electric powered lawnmower with 33cm cutting width, designed for use on small to medium sized gardens. Ergonomic design allows left or right handed use.
Lightweight at only 6.5 kg allowing easy transportation and storage and of course it is Made in the UK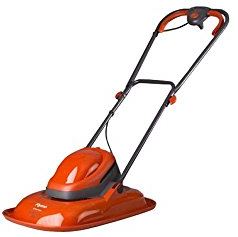 4, Flymo Easimo Electric Wheeled Rotary Lawnmower, 900 W - Orange/Black
Key Features:
You can choose an electric powered rotary mower which are ideal for medium sized lawn. It  boast a simple, easy to use design and can achieve perfectly neat stripes across your grass with the help of a handy rear roller.
The bigger the cutting width, the quicker you will cut the lawn. If you need to mow a large lawn then you should use a rotary lawn mower with a large cutting width.
This model has a 32cm wide blade width. Ergonomically designed for simple and easy use in your garden Collects and compacts more grass for less emptying of the 29 L grassbox.
Lightweight at only 8.3 kg, allowing easy transportation and storage.
It is designed for use on small to medium sized gardens.
Choice of three cutting heights from 20-60 mm is very convenient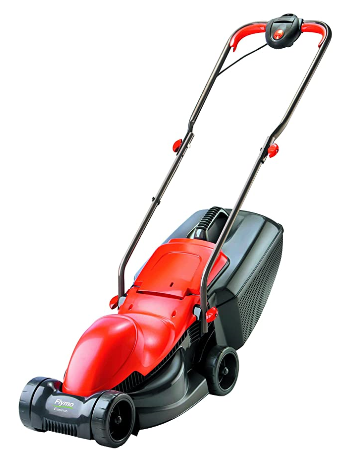 5, Flymo 1200R Lithium-Ion Robotic Lawnmower
Key Features
Day or night, rain or shine - a Flymo robot lawn mower cuts the grass for you, so you don't have to. Enjoy spending time relaxing in the garden, rather than mowing the lawn. With a robot mower you can spend time doing the things you love without ever having to empty a grass box again.
The principle behind the robotic lawn mower couldn't be simpler. It cuts the grass little and often in an irregular pattern, and because the grass clippings are so small they quickly dissolve back into the lawn.
They then add nutrients back into the soil, for a thicker, greener, healthier looking lawn. If it finds any objects in its way, it will stop, turn and cut the lawn in another direction.
Our Flymo robot lawn mower is suitable for most lawns up to 400m2 and can even tackle hills! Due to the 1200R low weight and unique wheel design, robotic lawnmowers can successfully tackle inclines up to 25%, making them ideal for almost every garden.
For more advice on whether one would suit your garden, visit the Flymo robotic mower support centre.
The innovative Flymo Robotic Lawnmower 1200R does your mowing for you: it mows the lawn on its own, while you enjoy your free time to do other things. Thanks to its irregular pattern, the 1200R mows a lawn area up to a maximum of 400 m² – effectively, reliably and without wheel ruts.
Always resulting in a perfectly cared-for lawn. When required, the robotic mower recharges itself at the charging station. Its easy-to-place boundary wire shows the 1200R where to mow. It repeatedly cuts the grass tips with swing back razor-sharp blades; grass clippings disappear back into the soil acting as a natural fertiliser (mulch principle).
The cutting height of 2 to 5 cm can be easily set with a rotary knob which is located away from the blades. With a weight of eight kilograms, the robust robotic mower tackles inclines up to 25 %.
Programming is incredibly simple and quick. Different mowing times or days can be set on the large selection panel with display. Following the menu is easy and intuitive.
After programming, the 1200R starts on its own at the set times, even when it rains. The powerful and no maintenance easy-care lithium-ion 18 V /1.6 Ah battery ensures reliable and energy-saving operation. The 1200R also works very quietly and without emissions.
Highly sensitive collision sensors and the boundary wire help the 1200R to avoid obstacles in the garden. Lift and tilt sensors, and a large space between the housing and blades, guarantee additional safety for people and animals. For example, when the mower is lifted, the blades immediately stop and thereby prevent injuries.
The robotic mower can also be stopped at any time with the large, easy-to-access stop button. 1200R is flexible and therefore well suited for nearly any garden type, as well as for example secondary areas.
The robotic mower is supplied with a charging station, a power cable, boundary wire, pegs, couplers and connectors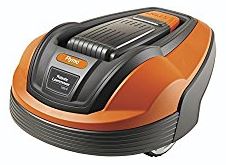 6, Flymo Mighti-Mo 300 Li Cordless Battery Lawnmower, 40 V
Key Features
Cordless lawn mowers have long been the favourite of many gardeners, and with Flymo's cutting-edge lithium ion technology, you can now own a battery-powered mower that's compact, powerful and incredibly easy to manoeuvre.
Don't be fooled by their size - battery lawn mowers are powerful machines that really pack a punch! Making mowing the lawn effortless from start to finish, they can cut up to 250m2 (the size of the average tennis court) with one full charge.
They come with all the benefits of a cordless lawn mower too but without the hassle of handling and storing petrol. Go anywhere and reach anywhere in your garden with the help of a cordless lawn mower.
From cutting grass on hills to manoeuvring down slopes, a battery lawn mower allows you to reach all areas of the garden without the restriction of a power cable.
Due to their lightweight and easy to carry design, you can carry them to even the most difficult places to mow the lawn. You'll never have the inconvenience of buying, storing and adding petrol to your mower ever again when you buy a battery lawn mower.
You'll get all the benefits of a petrol machine but without all the fuss or hassle of handling fuel. Battery powered law nmowers aren't just easy to use though - they're also better for the environment as they're quieter and produce no direct fuel emissions.
The Flymo Mighti-Mo - the surprisingly powerful battery lawnmower that is capable of cutting approximately one full tennis court in a single charge. Cut the grass in all area of your lawn without being restricted by cables or obstacles with this cordless mower. Both the battery & charger are included in this product.
With 5 different cutting heights between 25-65mm, you can vary the length you cut the grass depending on the weather and season in seconds, using the lawnmowers height adjustment lever, conveniently located on the side of the mower.
Coming with an easy to remove and empty 30 litre collection box, the mighti-mo has superb grass collection performance allowing you to cut the grass for longer periods without needing to empty the grass box.
The compact design of this battery lawnmower make it easy to store conveniently in your shed or garage. The handles simply and easily fold down letting it be stored in small spaces. It has a 2 hours recharge time and weight of 9.99kg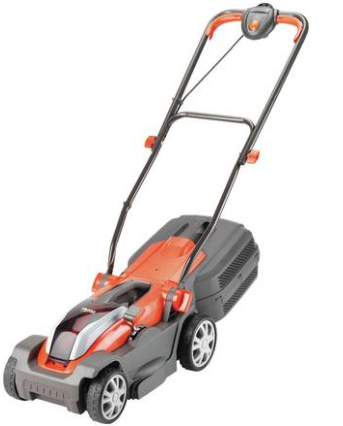 7, Flymo XL500 Petrol Power Air Cushion Mower - Honda 160 cc Engine
Key Features
The Flymo XL500 Petrol  Power Air Cushion Mower provides all the benefits of air cushion mowing with the additional benefit of petrol power freedom.
So easy and manoeuvrable, the XL500 makes difficult outlying areas more accessible.
Designed for large-scale domestic and semi-professional use the XL500 features a powerful, high quality engine for use on slopes of up to 45°.
The XL500 provides all the benefits of air cushion mowing with the additional advantage of petrol power freedom. .
It is designed for large-scale domestic and semi-professional use.
Petrol provides power and freedom of movement.
Easy start Honda engine for continuous use on inclined surfaces.
Powerful 160cc engine to take care of the thicker taller grasses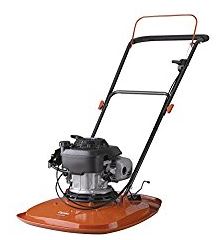 Comparison Table
A Quick Comparison Table is outline below:
| Model | Mow Width | Power |
| --- | --- | --- |
| Flymo HoverVac 280 Electric Hover Collect Lawnmower, 1300W | 29cm | 1300W |
| Flymo Easi Glide 300 Electric Hover Collect Lawnmower 1300W - 30cm | 30cm | 1300W |
| Flymo FTL330 Turbo Lite Electric Hover Lawnmower - Orange | 33cm | 1150W |
| Flymo Easimo Electric Wheeled Rotary Lawnmower, 900 W - Orange/Black | 32cm | 900W |
| Flymo 1200R Lithium-Ion Robotic Lawnmower | 17cm | 18V 1.6 Ah Lithium-ion Battery. |
| Flymo Mighti-Mo 300 Cordless Battery Lawnmower 40 V | 30cm | 40V lithium-ion battery |
| Flymo Petrol Power Air Cushion Mower - Honda 160cc Engine | 51cm | 160cc |
Some Useful Tips on Lawn mowers:
You should always consider changing the cutting height of your lawnmower when the weather changes.
Raise the height of cut for spring, then lower it down when spring starts to warm up. Raise again if we're lucky enough to get a dry summer, then follow by lowering as the growth begins to pick up in early Autumn. Continue to raise again when you decide to do your last cuts of the year.
Things to consider when buying a ride-on mower - If you're tired of pushing yourself to do the lawns, take a look at the new range of ride-on mowers and get our tips on how to buy possibly the biggest investment in a single product you'll make when you live on a block.
What's best for your conditions? If you are mowing a flat lawn, your choice of ride-on is wide open. But for many people, their lawn may vary from undulating through to steep. In this case, you will need a machine with a low centre of gravity. Another aspect is the length of the grass you're trying to mow, especially if there are areas you let grow long.
Diesel or Petrol? Diesel engine ride-on mowers have more torque and are cheaper to run than petrol engines, which is why they are the favoured choice of contractors, who tend to run them for the hours required to make the higher purchase price economical.
Mow or tow it? Another option is the tow behind mower, usually pulled around by an ATV. Where a tow-behind machine comes into its own is when you have a larger area of lawn and you also want to top paddocks. You can use a ride-on but working on rough ground will quickly wreck belts and blades, and eventually cause expensive repair bills. A cutting unit that you tow behind an ATV is powered by its own engine, and can move over rough terrain at good speeds.
Steering: wheels or levers? A tractor-style ride-on mower suits people who like the comfort and familiarity of driving a machine that is similar to a car, and if you have a large, open lawn with few obstacles, this may be the most economic option. But don't let the unusual styling of a lever steer ride-on mower stop off giving it a go
Why torque is important? Ride-on mowers have ratings for horsepower, displacement and torque. Horsepower is what makes the machine move forward and accelerate under normal conditions. If you have hills, or you want to tow a trailer full of heavy stones, you'll want more horsepower. Torque is a force, the power generated by the engine that gives a machine its 'grunt' to turn the blades, and to keep turning them under stresses like long, wet grass. The higher the torque, the better the performance under stress.
Frequently Asked Questions about Flymo Lawn Mowers
Q. Where are Flymo Lawnmowers manufactured?
A. Flymo Lawnmowers are manufactured in their factory in UK
Q. What Are the Terms and Conditions of my warranty?
A. All Flymo products are covered for parts and labour for 12 months, providing the fault or defect is found to be a result of faulty manufacture. The Flymo Robotic Mower 1200R comes with a two year warranty.
Q. Why Does My Lawnmower Not Cut Low Enough?
A. Not all Flymo lawnmowers have the same cutting height. The type of lawnmower and model determines the minimum and maximum height of cut.
Q. Why Can't I Manually Turn the Blade on my Lawnmower?
A. When the lawnmower is switched off and the blade is turned manually by hand, you will feel some resistance. The blade will not turn freely as there is a safety brake fitted. The brake is released on starting the lawnmower.
Q. Can I adjust the Angle of the handles on my Lawnmower?
A- On some of our lawnmowers the handles can be moved to a certain extent, but this is governed by legislation, as we have to have a given distance between the operator and the cutting blade on the lawnmower.
Q. Can I Sharpen the Metal Blade on my Lawnmower?
A. Metal lawnmower blades can be sharpened by your local service agent. Alternatively new blades can be purchased via the Official Flymo WebShop or local retailers. It is recommended that you only use Genuine Flymo parts and accessories on your lawnmower.
Q. Why Does My Lawnmower Keep Cutting Out?
A. There could be a fault with the cable or switch box. Make sure that you are using the correct type of extension cable. Some extension cable reels have built in overload cut-outs, and are rated too low for most lawnmowers making them unsuitable. The extension cable should allow 13 amps.
Q. Why Is My Lawnmower Vibrating Excessively?
A.  The lawnmowers cutting blade may be out of balance, or the blade bolt could be damaged, if so then it needs to be replaced. Check to see if the impeller (fan) is worn or damaged and if the lugs on the spacers have sheared, if so then these too need replacing. Make sure that the grass box is emptied regularly and the mower is cleaned thoroughly.
Q. How Does the Robotic 1200R work and how does it know where to go?
A. The working area is defined by a perimeter wire (called loop wire) that you can compare with the fence for sheep. The robotic lawnmower cuts the grass in a random pattern within the fence. That gives a carpet-like nice looking result. You can use the 1200R's timer settings to make the operation time to suit you and your garden. For each 30m2 lawn area, please program one hour of operation time per day.
Q. How long does the Robotic 1200R take to recharge?
A. When the Flymo Robotic Lawnmower 1200R needs more power, it will automatically return to the charging station and charges for approximately 80-100 minutes to regain a full charge. After having completed the charging process the robotic mower automatically starts cutting the grass again.
Q. Why doesn't my Hover Mower, Hover?
A. When starting a hover mower, it should be tilted slightly to allow the air to circulate under the deck, giving it lift. Not doing this could make the lawnmower feel heavy during use. If your lawn feels 'spongy' underfoot, this could be a result of a build-up of thatch and moss. This causes the machine to be sucked down onto the lawn and prevents in from hovering. This can be remedied by scarifying the lawn. A Flymo lawn rake is the quick and easy way to remove moss and thatch from your lawn.
Further Reading:
If you would also like to look at some of the other Best UK mower categories, further reviews on some of the Best Lawn mowers in the UK are outlined below that may be of interest to you…
Conclusion
Quality plays a major part in Flymo's success. Quality of materials and construction, the use of the latest engineering techniques, and stringent quality control testing, giving consumers assurance of the highest standards, and years of trouble free service. Flymo is part of the world's largest producer of outdoor power products, and their success has been brought about by their determination to be the innovators within the garden care industry, making the lives of gardeners easier.
Why one would I choose? If it was a small garden it would have to be the Mighty-mo and for a larger garden - it would have to be the Robotic mower, that's my opinion anyway but best of luck with making your own decision
In addition, please share your experiences good or bad with the community by leaving a comment in the comment box below.