Hello and welcome to this compilation review of Bosch Lawn mowers which are available in the UK market at present. In the UK, Bosch has been present since 1898, when Robert Bosch opened the company's first office outside Germany.
Every one of the Bosch Group's business sectors has a presence in the UK: Mobility Solutions, Consumer Goods, Energy and Building Technology and Industrial Technology. Bosch operates in the UK as Robert Bosch Limited and employs around 5,300 associates across 41 sites. The UK is the second largest European market for Bosch after Germany and fourth largest in the world.
Electric Lawn Mower Review Overview
Bosch Lawn Mower Overview
Bosch makes great lawnmowers of various types. A beautiful lawn, resilient and neat. An electric lawnmower from Bosch is ideal for this. It mows with the enormous power previously achieved only by a petrol-driven lawnmower. And thanks to the innovative grass combs, it also provides unique results when cutting close to edges.
The Indego robotic lawnmower mows quickly and cleanly, lane by lane. Thanks to "Logicut", the Bosch Indego calculates an efficient route and mows it in parallel lines. While the Indego is working, you can tend to other projects.
Some Frequently Asked Questions about Bosch Lawn Mowers
Q1. Do the Bosch mowers have a metal blade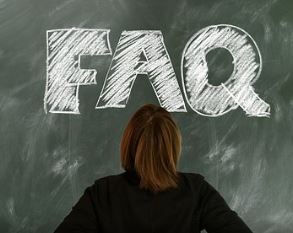 A. Most Bosch lawnmowers have metal blades, but please check for individual models.
Q2:  Does it cut well with damp tall grass
A. Yes, it does. Please check specific model for detailed specifications.
Q3. Does it require any batteries to start?
A. No. It is all electric, no batteries required.
Q4. What is the warranty on this product?
A. 2 years free warranty, extendable to 3 years if you register with MyBosch
Q5. Are replacement blades available?
A. Yes, at extra cost
Q6. Is the electric cord included?
A. Yes, 10m power lead is included, but depending on the size of the lawn you may need an extension cord.
Q7. Is it made in Germany?
A. No.  It is manufactured in China as per German specifications.
Bosch Lawnmower Review Compilation
1, Bosch Rotak 34 R Electric Rotary Lawnmower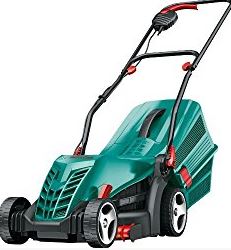 Key features
The Bosch Rotak 34 R is a lightweight and compact lawnmower with a 34cm cutting width making it ideal for medium sized lawns up to 300m² in size.  It has a high speed 1300W 'Powerdrive' motor that enables you to cut long grass with ease, with multiple settings.
Each of these settings can be changed by a single action lever. As with its more powerful models Rotak 34 R also has the innovative grass combs, which allows you to easily cut up to and over the edge of your lawn ensuring neat and tidy results.
This unique feature is very useful when your lawn is close to a wall or a boundary. Even with such a powerful motor the Rotak 34 R is a light weight machine, weighing just over 11kg, so that you can easily carry and store it, when not in use.
Additionally, the double folding handles and stackable grass-box is really handy for compact storage. It has large wheels that make it easy to manoeuvre on even uneven grass field. This machine will provide you years of service and it comes with a 2-year warranty which can be extended to 3 years by registering with MyBosch.
All in all, this compact machine will ensure that your lawn is always in a pristine condition.

2, Bosch Rotak 36 Ergoflex Corded Electric Rotary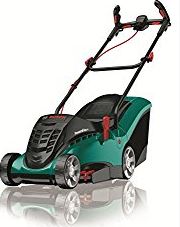 Key features:
The Rotak 36 Ergolflex Electric Rotary lawnmower is a Light weight mid-sized machine which is quite suitable for use on small to medium sized lawns. It has the same unique grass combs technology that cuts right up to the edge of the grass, which is same as found in the larger and bigger models.
The integrated rear roller offers great stability and prevents scalping. It has a very ergonomic design so that the handles can fold down for easy storage.
The large 40 L grass box is big enough so that you don't have to empty the box frequently. The powerful 1350 W motor cuts through even damp grass.
Even for its power and ability, it is amazingly light at 14.3 kg. It has a 10m electric cord which is sufficient for small lawns. However, if you have a faraway electric receptacle or a larger lawn then you can easily purchase and extension cord without any problems.
It has large wheels that make it easy to manoeuvre on even uneven grass field. This machine will provide a 2-year warranty which can be extended to 3 years by registering with MyBosch. Overall, you get a great compact machine to keep your lawn in great shape.

3, Bosch Rotak 37 Ergoflex Electric Rotary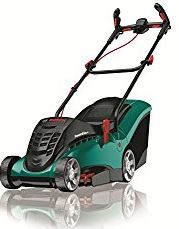 Key Features
This model has a powerful with 1400W motor and still is strong enough to cut through any grass.  The lightweight design to make mowing around obstacles a breeze.
It has a hardened precision steel cutting blade width of 37 cm and is suitable for use on lawns up to 300 m/sq. The single lever is very convenient to adjust the height of cut grass and allows for easy change to suit different conditions with minimal efforts.
Ergoflex handles are built so as to allow effortless control and improved posture. This reduces muscle strain while mowing for long periods. With 14.1 Kg weight it is light but still sturdy and will give years of maintenance free service. Have a lawn going up to the edge of a wall or boundary is no problem and it can cut right up to the edge of your lawn with grass combs.
The integrated rear roller is so convenient and there are leaves to rake later on. The large 40 L grass box will keep you're a lot of your cut grass and you will be spending less time in emptying your machine. This is a machine that you can buy with confidence and it ensures to keep your lawn neat and tidy at all times

4, Bosch Rotak 40 Ergoflex Corded Rotary Lawn Mower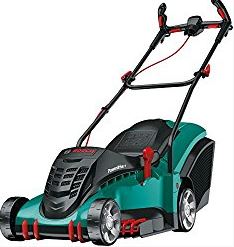 Key Features
This is one of most powerful 1700 Watts electric rotary lawnmower from Bosch, you will feel the power of its motor as you easily glide through your lot cutting the grass evenly right up to the edge of your law with the extended grass combs.
Tough grass, twigs, stems will not clog this machine as its high speed motor gives a high rpm to the blades that can handles anything that comes its way.
Wide 40 cm cutting blade will let you cover a large area in a short time and with power coming directly from electric mains supply you don't have to stop to recharge or refuel. Although it is a powerful machine it weighs only 16 kgs. And it will easy for you to move it from garage to the lawn and back easily. Even pushing on the grass is easy with its big wide wheels that will not put a strain on you as it easily glides through over all types of terrain.
The single lever operates the height of cut adjustment will help you change the settings easily to meet various conditions. Ergoflex handles will let have effortless control, and you will have an improved posture and reduced muscle strain whilst mowing. A quick click setup and you are good to go.

5, Bosch Rotak 32 LI Ergoflex Cordless Lawn Mower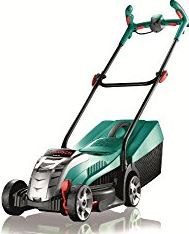 Key Features
The compact Rotak 32 LI cordless lawnmower offers powerful precision for urban spaces. Enjoy unrestricted mowing thanks to the proven Bosch lithium-ion technology, with no mess of cables to get caught up in, and no petrol exhaust fumes. Its lightweight design and integrated carrying handles make it particularly practical to transport, while the Ergoflex handles make manoeuvring around obstacles a breeze.
The lawnmower's efficient energy management system ensures intelligently controlled power and additional operational time to get the job done. Every lawn can be a natural masterpiece with the light and versatile Rotak 32 LI. Ideal for small to medium-sized gardens of up to 300 m2, the motor powered by a lithium-ion battery can handle even long and damp grass.
The lightweight lawnmower is suitable for all grass types and masterfully cuts grass on slopes or uneven lawns, as well as around trees, shrubs and flowerbeds. Its integrated grass combs allow the Rotak 32 LI to effortlessly mow along fences and driveways. The Bosch Rotak 32 LI makes lawn mowing a breeze. It has no power cords to manage while mowing and is particularly silent, with a low noise development of only 74 dB(A).
This lightweight lawnmower is easy to push on all terrains, including up and down slopes, and with a simple one point system, the cutting height can be adjusted to suit your preferences, without any tools required. Further handy features include a charge level indicator as well as fold-down handles for simple and compact storage. With inset front wheels and grass combs, the Bosch Rotak 32 LI cuts grass growing close to or even over the edge of the lawn.
Thanks to its sharpened steel blade, the mower ensures that no strips of uncut grass are left behind, even when cutting around flowerbeds, walls or paths. The cutting width of the mower is 32 cm, while the cutting height can be adjusted from 30 to 60 mm using a simple handle. Also, the Rotak 32 LI weighs merely 10.4 kg and its 36V 2 Ah lithium-ion battery is fully charged in only 140 minutes.

6, Bosch Rotak 37 LI Ergoflex Cordless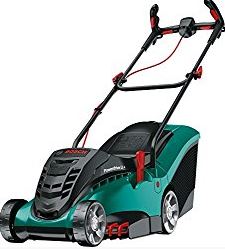 Key Features:
The Rotak 37 LI lawnmower is cordless and comes equipped with a state-of-the-art 36 V/4.0 Ah high-power lithium-ion battery which powers the EC motor with Powerdrive LI +. The Rotak 37 LI delivers a stellar cutting performance because of its hardened and sharpened steel blades.
It also features grass combs, allowing for a closer cut next to edges of walls and flower beds. Thanks to the intelligent Bosch Syneon Chip the battery delivers more runtime so that even complex projects are easy to handle. As it is battery powered, the Rotak 37 LI can frees you from getting tangled in cables or being exposed to the unpleasant smell of petrol fumes. Setting it up is incredibly simple with its QuickClick function designed to aid its easy assembly.
It also boasts an Ergoflex system for improved manoeuvrability that also improves body posture and comes with an integrated handle for easy carrying. The Rotak 37 LI's lightweight body contributes to its manoeuvrability, making mowing your lawn a walk in the park. Additionally, the device comes with the intelligent Syneon Chip which controls perfect interaction between Lithium-Ion battery, powerful motor and robust gearbox.
The Rotak 37 Li weighs 13.2 kg and has a 36 V/4.0 Ah high-power lithium-ion battery power source, which recharges to 100% in 140 minutes, and an EC motor with Powerdrive LI +. Equipped with grass combs, it delivers a cutting diameter of 37 cm. It has a 40-litre grass box and 6 height-of-cut settings ranging from 20 mm – 70 mm. Ergoflex handles and an integrated carrying handle make for easy carrying.
It also comes with a motor overload cut out system and hardened, sharpened blade. Because of its advanced motor system and sharp blade, the Rotak 37 LI can even cut through overgrown sections of your lawn. Thanks to its grass combs, you can mow right up to the edge while the lithium-ion battery allows you to cut even long and damp grass, making any mowing job a breeze.
The Rotak 37 Li lawnmower has an EC motor with Powerdrive LI +, powered by a 36 V/4.0 Ah high-power lithium-ion battery. The specific Bosch system comes with efficient energy management which allows the Rotak 37 Li to run for an additional 10%-20%. It also maintains the blade rotation for the entire battery charge and feeds back the energy generated by the blade run-down as soon as the motor is switched off.
With its QuickClick system, it is easily set up and ready for action while Ergoflex handles improve posture and prevent muscle strain.

7, Bosch Rotak 43 LI-2 Ergoflex Cordless Rotary Mower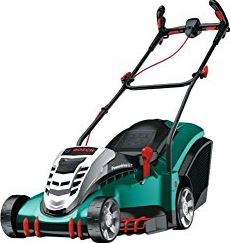 Key Features
The Bosch Rotak 43 LI Ergoflex with its hardened steel blade and a LeafCollect function makes cutting large lawns easier, even when the lawn is full of debris, weeds and leaves. Its 99% collection rate allows a clean cut, thanks to its innovative airflow technology. It has an extended running time lithium-ion battery offering the user freedom to mow in places without mains power. Thanks to its extended grass combs and rubber-coated wheels, cutting up to the edges of planting beds and fences is simple.
This cordless lawnmower is ideal for large gardens with obstacles such as trees. In addition to its optimal cutting performance and debris collection, the cordless Rotak 43 LI Ergoflex lawnmower features a hardened steel blade and innovative airflow technology. The efficient and new PowerDrive LI + system delivers consistently high torque for simplified mowing in all conditions.
Benefit from outstanding ergonomics thanks to its AGR certified Ergoflex handles. Extended grass combs and rubber-coated wheels enable the Rotak 43 LI Ergoflex to cut close to the edges of obstacles. Save trips emptying grass clippings with the 50-litre grass box and adjust cutting heights using a simple handle. Enjoy the freedom to reach the far corners of the garden without extension cords with this long running lithium-ion battery powered lawnmower. Cut grass along the edges of walls and flowerbeds effortlessly with the Rotak 43 LI Ergoflex's extended grass combs.
Save time tidying up after mowing thanks to a 99% collection rate and its large capacity, 50-litre grass box with handle for easy emptying. With a simple handle, choose from six different cutting heights – no tools required. What's more, its adjustable Ergoflex handles offer excellent handling that is also easy on the back and shoulders.
The 36 V/4.0 Ah EC motor PowerDrive LI+ with high torque and charge level indicator offers an efficient yet powerful solution to green keeping. Featuring a hardened and sharpened steel blade, the Rotak 43 LI cordless lawnmower offers a full 43 cm cutting width and six cutting heights ranging between 20 – 70 mm.
Included with a charger, the lithium-ion battery is fully charged in 140 minutes or 80% charged in 70 minutes. The 13.9 kg lawnmower is exceptionally easy to assemble, tool-free, with its new QuickClick handle system. Its AGR certified Ergoflex handles make for excellent handling, even in difficult conditions.

8, Bosch Indego 350 Connect Robotic Lawnmower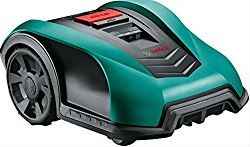 Key Features:
The Bosch Inbdego 350 robotic lawnmower. Connect is an easy and convenient way to achieve a pristine looking lawn. The compact garden helper is particularly time saving thanks to its connectivity feature which enables you to control the Indego 350 Connect via a smart device app no matter where you are.
It has the ability to cut a lawn with a maximum size of 350 Sqm. Once put into operation, it works all by itself. Which means manoeuvring around obstacles and going back to charge on its own. It features an 'auto' calendar function making the Indego 350 even more time-saving as it allows comfortable scheduling of mowing times.
Moreover, thanks to logicut the Indego takes into account the shape and size of your lawn for calculating the most efficient route to mow and it remembers where it has already cut. With the Indego 350 connect, lawnmowing becomes a breeze as you even don't need be at home to control the robotic lawnmower. Just use the smart device app provided by Bosch and make sure that your lawnmower does the job – whether you stay on your sofa, are at work or enjoying your holiday.
The mulching system removes the need for any grass collection as the grass clippings are used to feed the soil, which helps to provide ample nutrition for the grass to ensure a great looking lawn. Varying the cutting direction for every new cutting session helps to keep your lawn healthy.
Lawnmower features: Metal blade.19cm blade width.3 cutting heights - Cutting heights ranging from 3cm-5cm. You also get the Safety switch and it has a 0.75 hour recharge time and the weight is 7.5kg – you also get the manufacturer's 2 year guarantee.

Things to consider before you buy
The first decision you'll need to make is how you will mow your yard: Will you walk or ride your mower? Consumer Reports suggests that if your lawn is greater than a half-acre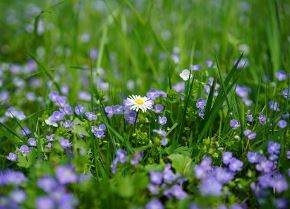 (a lot approximately 220 feet by 100 feet), you should consider a riding mower. If your lot is smaller but you really like to ride, you're still allowed to buy a riding mower; just be prepared for eye-rolling looks from your neighbours.
Otherwise, consider a walking mower. You can choose between a motor-powered or man-powered lawn mower; gas or electric; battery or corded; self-propelled or push; and more.
Before you get to cutting, you'll also want to determine what you want to do with the grass clippings. Are you a bagger who collects your clippings? A mulcher who wants a machine that chops the cut blades of grass into tiny confetti bits that fall to the ground and nourish the lawn? A side-discharger, who'd like the clippings blown out of the side of the mower to remain where they fall?
Terrain and Slopes
And finally, consider the terrain you're cutting. A 15-degree slope is roughly the maximum angle you can cut safely. But remember, if your lawn does have a lot of slopes, you might not want to be lugging a behemoth mower up and down it. So, what's the best lawn mower for your needs? Read on for further details about each type.
Cord vs Cordless
People who are concerned about pollution often opt for an electric lawn mower. Effortless to start and maintain, many models run quietly and offer mulch, bag, and side-discharge options. There are some disadvantages to this type of mower though, the primary being the awkwardness of wrestling with the cord — and trying not to cut it. This type of electric mower is cord-free, operating from a battery enclosed in the housing. Less cumbersome than corded models, these mowers can start at the flip of a switch and just need to be plugged in to recharge.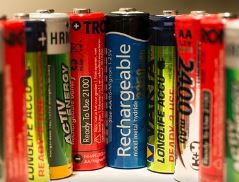 Electric battery mowers are also emission-free at point-of-use. The downsides here are that, for many models, the recharge time can be close to a full day, and the battery is heavy, making the mower more cumbersome to push.
Electric vs Fuel
There is a lot to be said for the modern gas-powered mowers. They are efficient, powerful, durable, and dependable when properly maintained. Most gas lawn mowers are powerful enough to cut yards that have been allowed to grow a bit beyond ideal, so don't be sucked into a horsepower competition with your neighbours.
Instead, look for a lawn mower that has side-discharge, bagging, and mulching options included, not as additional purchases. A washout port (the place to screw in a hose and wash out the cutting chamber after you mow) is also a useful feature, along with a blade brake (which allows you to empty the clippings bag without stopping the mower). Plus, padded grips help avoid numb hands.
Self Propelled Support
If you don't fancy shoving a heavy mower around your lawn all day, you might consider investing in a self-propelled version of the walking mower. It harnesses the power of the mower to pull itself along the yard and vastly reduces the amount of work necessary to manicure the grass.
Further Reading
While you are here, feel free also to take a look at some of the other Best UK Lawn mower reviews as follows:
Best UK Petrol mowers – Take a look here
Best UK Corded Mowers – Take a look here
Best UK Cordless Mowers – Take a look here
Best UK Hover Mowers – Take a look here
Best UK Robotic Mowers – Take a look here
Best UK Tractor Ride on Mowers – Take a look here
Conclusion & Feedback
Finally, Bosch is a great company making quality products for its clients in UK. Its lawnmowers are very popular. I hope the above review will help to choose a Bosch model lawnmower. I am sure that you will enjoy years of good service with the product and we have no problem in recommending them to the wider public
If you purchase or have uses a Bosch lawnmower in the past, please write in your experiences good or bad in the comment box below as it will help other readers that come here to choose their own model.