After reviewing several petrol Hedge Trimmers in the UK, we have compiled our narrowed down list of what we believe are the best petrol Hedge Trimmers that are currently available in the market and all of these top Hedge trimmer options can be ordered online and delivered to your home hassle free.
As price guides can only be shown in this review, please make sure to view the price checkers provided below which will help ensure you have the most accurate up to date price information.
View also: Our Best Lawnmower Lists here
Advantages of Petrol Hedge Trimmers
These hedge trimmers will give you continuous and high levels of power for your Hedges and this is particularly important if you have longer and taller hedges to work on. There are no cords to worry about and no batteries either so you have more freedom with the work you have to do, just add fuel and away you go. While we have included standard hedge trimmers in our list, we also have included long reach petrol pole Hedge trimmers for those of you with higher hedges to deal with which should cater for everyone's needs.
Manual Fuel Pumps
Some Hedge trimmers will have a manual fuel pump which means you have to press the button 3 times before you can pull the recoil cord to help get it started. This is normal practice in 2 stroke engines and it basically helps to deliver fuel directly to the Carburettor especially when the hedge trimmer hasn't been used in a very long time.
Best Petrol Hedge Trimmers UK – 5 Recommendations
1, Stihl 45cm Petrol Hedge Trimmer - HS45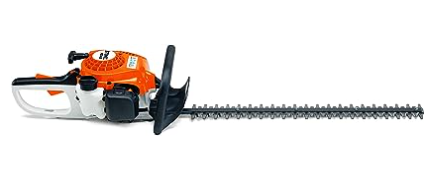 Our first petrol hedge trimmer recommendation is the Stihl HS45 Petrol Hedge Trimmer with a 45cm long cutting blade, 3cm tooth spacing and a powerful 2 stroke 27.2cc Stihl engine that started every time without any hassle whatsoever and ripped through the hedges with ease. When you are dealing with a difficult overgrown hedge, this Stihl hedge trimmer simply ploughs through it which in turn makes your job quicker and easier to do.
It has the double sided dual cutting blades and it's a lightweight trimmer that can deal with various bushes, shrubs and hedges around your home so it's not just limited to hedges alone. It's bar length can be 45cm or 60cm and it also has the built in cutting protection as well as the anti-vibration mechanics so that it is kinder on your hands and arms.
You need to use the manual fuel pump to help get it started and the air filter works longer which means you don't have to change it as often. It's one of the best sellers within the Stihl range and it is backed with their 2 year warranty
Price Guide: £250 - £300

View also: Popular Lawnmower Lists here
2, Makita 25.4cc 59cm 4 Stroke Pole Hedge Trimmer - EN5950SH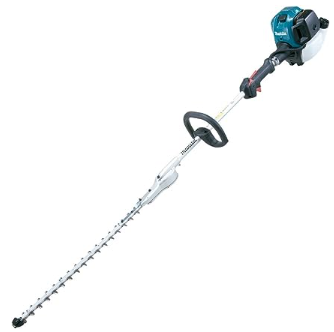 For the longer and taller hedges, you should take a closer look at the Makita 4 stroke long Pole Hedge Trimmer (EN5950SH) with the 59cm long blade and the 4 stroke (no fuel mixing) 25.4cc engine which provides plenty of power for heavy duty work. The big advantage with the 4 stroke engine here is that it doesn't require any mixing of fuels – only straight unleaded petrol is needed.
The fuel tank here can hold 0.6 litres of fuel, the length of the blade is quite good at 59cm and the full length of the hedge trimmer extended is 1.78m so it can deal with the majority of high hedges that you may have. There is a primer pump to use which is simple to do and you have the rubber covered loop handle as well as the double edge blade.
It can be used by home gardeners as well as professional landscapers and you get a few additions thrown in such as the hex wrench, blade cover, oil set and socket wrench
Price Guide: £500 - £600

View also: Our Corded Lawnmower Reviews Here
3, Mountfield 3 in 1 Garden Multi-Tool - MM2603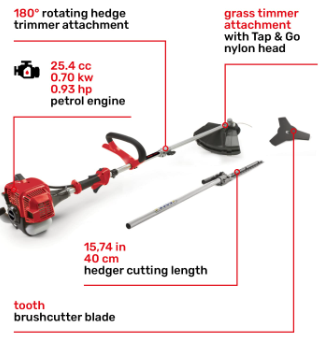 Up next we recommend a multi tool from Mountfield in that it can be used as a long pole hedge trimmer as well as a brushcutter and a grass trimmer so there are significant advantages of having a tool like this in your shed.
The brush-cutter is ideal for heavy thick grasses that haven't been mowed for a long time and clearing away heavy brush, weeds and brambles and the grass trimmer can be used for lighter work such as to tidy up edges and boundaries to give you a nice clean cut finish to your garden lawn
It comes with a 2 stroke engine which will need the mixing of fuels and the hedge trimmer offers a full long length of 2.2m to reach those harder to trim areas. The cutting hedge trimming blade is 40cm long and the tooth spacing here is 2.5cm wide. It comes with a 2 year warranty and you get the loop handle as well as the shoulder strap to support longer periods of work.
Price Guide: £200 - £250

View also: Our Corded Lawnmower Reviews Here
4, Webb 26cc Long Reach Petrol Pole Hedge Trimmer - WEPHT26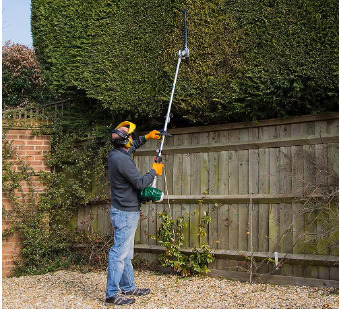 For the taller harder to reach hedges, we can also recommend the Webb Long Reach Petrol Pole 26cc Hedge trimmer (WEPHT26)  which has the anti-vibration system built in as well as the shoulder harness, a loop handle and a head that can pivot for cutting the tops of hedges as well as the sides of hedges.
The engines from Webb have a good reputation and it has a 26cc full crank 2 stroke engine that will need the mixing of the fuels. It offers a 42cm long blade and the maximum cutting diameter of 2.5cm when it comes to the tooth spacings.
As it is a longer hedge trimmer, the weight is heavier at 7kg so bear this in mind as you will need to take more regular breaks during your hedge trimming work. While the blade length is 42cm, the full length of the hedge trimmer itself is 2.3m long which in turn reduces the need for height support or step ladders. They are a British firm so you are supporting your own and it comes backed with their UK customer service team and a 2 year warranty.
Price Guide: £170 - £220

View also: Our Robotic Mower Reviews Here
5, Mitox Premium Petrol Hedge Trimmer - 600DX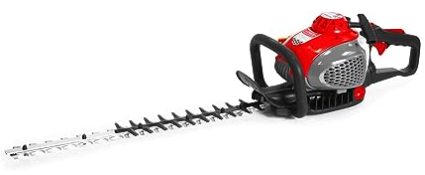 Our last petrol hedge trimmer recommendation is from Mitox and it's the Mitox Premium Petrol Hedge Trimmer (600DX) which is usually on sale for less then £220 when seen at the time of our review. It's a hedge trimmer for low to level reach hedges and it weighs around 5 and half kilos which is ideal for longer hedge trimming jobs.
There is plenty of power in this hedge trimmer 24.5cc engine from what we have seen, you get a slightly larger blade length of 60cm and the rear handle can be rotated 180 degree in 3 different positions.
The quality of the steel in the blades is impressive and there is also the 4 point anti-vibration system in place to keep your hand fatigue to a minimum. The pull recoil has the smart pull assist feature to support starting the engine and it comes backed with a standard 12 month warranty.
Price Guide: £170 - £220

View also: Our Petrol Lawnmower Reviews Here
Vibration levels
One of the key features when selecting our recommended Hedge trimmers was to ensure the levels of vibrations were as low as possible. This is because high levels of vibrations can affect the blood vessels in your hands and arms over time so anti-vibrations systems were important in our final selection where the oscillations of the engines could be dampened.
2 stroke and 4 stroke engines
The hedge trimmers in our list includes 2 stroke engines and also 4 stroke engines such as the Makita 4 stroke Pole hedge trimmer outlined. You will need to use a fuel oil mix for the 2 stroke engine only as there is no mixing needed for the 4 stroke engine – just unleaded petrol is added so keep this in mind when deciding on your final selection.
View also: Our Reel Lawnmower Reviews Here
Conclusion
After completing this top best list of Petrol Hedge trimmers in the UK, we hope our suggestions here can give you some options to think about and perhaps speed up the process of your own online research.
Which one would we choose? To be honest, we would go for the Mountfield 3 in 1 Multi-Tool MM2603 outlined earlier and further information can be checked out below including reviews, images and prices…

Petrol Hedge Trimmer Feedback
Have you ever used any of these Petrol Hedge Trimmers in the past? Or would you recommend alternative brands instead? If possible, please share your own feedback, recommendations or experiences with the wider gardening community by leaving a comment in the comment box section provided below….