After reviewing the lawnmowers from Spear & Jackson, we decided to also take a quick test and outline our review for the Spear & Jackson Hedge trimmers which are also readily available in the UK and which also can be easily ordered online and delivered to your home hassle free.
Corded & Cordless
There is a good selection of Hedge trimmers available from Spear & Jackson be it corded, cordless, pole and petrol powered and our focus will be on the corded 45cm hedge trimmer as this one offers the lowest price in this range which will be ideal for people who are seeking the lowest possible price.
We will also briefly outline 3 other options that we liked under this brand which are larger than this 45cm hedge trimmer so at least you have more than just one option when it comes to making your final decision. These options include a pole trimmer for really tall hedges and of course a cordless option if you need to avoid using cable cords or where your hedge is too far to reach from your home with a power cord.
Electric Hedge Trimmer Review Content
Part 1: Overview Features and FAQ's
Part 2: Spear & Jackson 45cm Corded Hedge Trimmer Review
Part 3: Assembly Tips
Part 4: Larger Alternatives to Consider
Part 5: Conclusion
As guide prices can only be presented at the time of this Spear & Jackson Hedge trimmer review, please make sure to view the price checkers provided below to ensure you get the most accurate up to date price information.
Read also: Our Spear & Jackson Electric Cordless Lawnmower review here
Part 1: Overview Features and FAQ's
| Model: | Spear & Jackson 45cm Corded Hedge Trimmer |
| --- | --- |
| Power: | 450W |
| Cutting Length: | 45cm long |
| Best Place to Buy: | Argos UK – View Stocks and Prices Here |
| Warranty: | 3 years duration |
| Support: | Spear & Jackson customer helpline - 0345 605 2067 |
Frequently Asked Questions for the Spear & Jackson Corded Hedge Trimmer:
Q1. How heavy is this hedge trimmer to use?
A. This hedge trimmer is less than 4kg coming in at 3.6kg only so you wont find many hedge trimmers as light as this to use.
Q2. What thickness of hedges can it cut through?
A. It has a tooth gap of 16mm so the hedge trimmings should be thinner than this (wider on the 66cm model)
Q3. Does it include a blade cover when not in use?
A. Yes, it comes with a blade sheath cover when not in use for extra protection.
Q4. Where can I get spare blades?
A. You can contact Spear & Jackson directly on 0345 605 2067 as they are not on sale with Argos
Q5. How often should I trim the hedges?
A. Conifers and shrubs can be trimmed every 6 to 8 weeks. Evergreens should be April to August while green leaf hedges should be June to October.
Q6. Should I keep the blades lubricated?
A. Yes, you should add a small quantity of standard oil or gear grease to the blades after each use
Q7. How can I keep the blades cleaned?
A. The blades can be cleaned with simple soap suds and water or use a small brush for hard to reach places. Please avoid using aggressive chemicals or disinfectants when cleaning as these can damage the integrity of the blades.
Part 2: Spear & Jackson 45cm Corded Hedge Trimmer Review
Spear & Jackson 45cm 450W Corded Hedge Trimmer (S4545EH)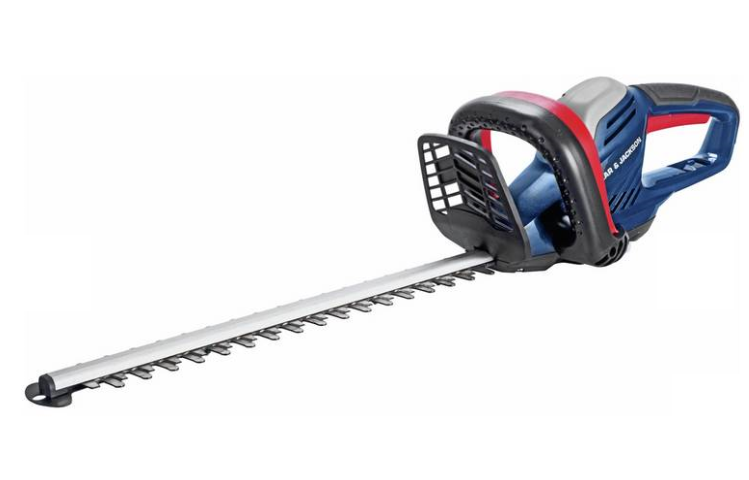 Main Features in Summary:
Dual action blades 45cm
270 degree rotation handle
Motor power level 450W
For small type hedges
Tooth gap is 1.6cm
Cable cord is 10m long
Electronic brake & hand guard
Blade tip protector
Safety dual switch
Warranty is 3 years long
Electric Hedge Trimmer Description
This hedge trimmer from Spear & Jackson is the smallest and lowest priced hedge trimmer option that you will find and it comes from a brand that has been around since 1760 which goes a long way when they want to protect their heritage and brand which in effect benefits you the end consumer
It has dual action blades for a nice clean finish and the handle can be set to different positions through the rotations to support hedges that need to be cut at specific angles. The level of rotation provided is at 270 degrees which we found to work well on awkward and difficult angled hedging.
It is designed for scrubs and smaller hedges but can also tackle medium sized hedges also and it comes with a 10m long cable cord which needs to be powered with a home mains socket. Extension cords may also be needed if the length of the hedge to the power socket is more than 10m (best to measure up first before you buy)
The thickness of the branches it can cut through needs to be less than 1.6cm as the diameter of the blade teeth is 16mm, there is a nice soft grip handle to reduce hand fatigue and there is a hand guard and safety guard in place to keep your hands and fingers protected at all times.
In addition, this hedge trimmer comes with an electronic brake, a quick stop brake, a blade tip protector and the net weight that you need to carry comes in at only 3.6kg
Price Guide: Less than £70

Further images of the Spear & Jackson 45cm 450W Corded Hedge Trimmer is outlined below
Pros & Cons to be Noted
Pros for the Spear & Jackson Corded Hedge Trimmer
One of the biggest attractions here is the really low price on offer which was for less than £50 at the time of this review which provides great value for such a low-level investment.
You get a great reliable 3-year warranty from Spear & Jackson which they stand over hassle free and you have back up support available directly from representatives in their UK offices. This adds great peace of mind when going with a brand like this as opposed to brands you don't recognise or never heard of before.
All the safety features that you would expect are in place to keep your hands and fingers protected at all times when using a tool like this.
The quality of the blades are really good and the dual action gives a tight clean finish across the hedges which really impressed us.
Overall does a great job to keep the scrubs and hedges neat and tidy and for less than £50, this little machine works great and offers great value for the amount of money you need to pay
Cons for the Spear & Jackson Corded Hedge Trimmer
The length of the cords on their lawnmowers is 12m yet the length of the cords on this Hedge trimmer is 2m shorter at 10m – surely this could have been designed with a 12m cable cord also?
Even though it is less than 4kg in weight, some people will find hand fatigue setting in after longer trimming jobs
As it is corded, hedge trimming is a lot longer to do when compared to the cordless as you have to be extra careful and slower trying to navigate and avoid the cord while you are working
The blade length here is the shortest in the range so you should choose a longer blade option below if you have large hedges to trim.
It has the narrowest tooth gap also so if the branches are over 1.6cm, then you should invest in a larger alternative.

Part 3: Assembly Tips
There isn't a whole lot to do to get this up and running but the images below will give you an idea on the steps you need to take to tackle that hedge trimming job with your Spear & Jackson hedge trimmer – more information is available in the manual that comes in the box.
View also: Our Cordless Lawnmower Reviews here
What's in the Box?
There are 10 main parts involved in the box delivery and each of these parts are outlined in the image below such as the air vent, the blade sheath and the cord strain relief.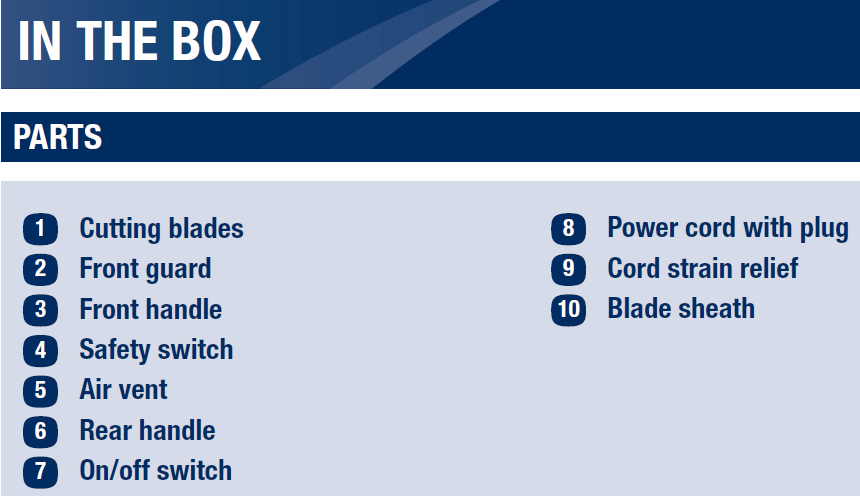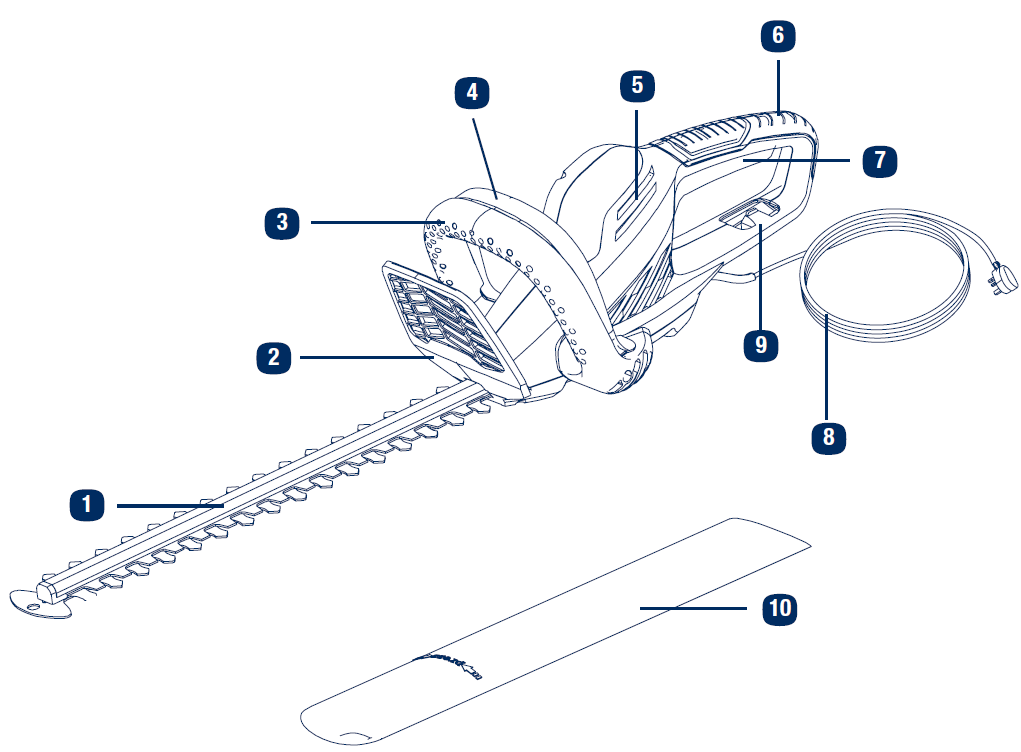 Part 4: Larger Alternatives to Consider
If you have slightly more money to spend and you can invest in a cordless or a larger type hedge trimmer from Spear & Jackson, then check out the 3 alternative options outlined below which we can also recommend. Each of these 3 options also come with a 3-year warranty and they can deal with thicker branches overall with higher levels of power.
View also: Multiple Lawnmower Suppliers here
Part 5: Conclusion
Which one would we choose or recommend the most? To be honest, it would have to either the more powerful and longer 66cm corded hedge trimmer or the 51cm 18V cordless hedge trimmer as the 45cm was a little too small for our hedges. As our hedges go way past 10 metres in length, then our preference is definitely the 51cm cordless hedge trimmer with the 2 batteries as we prefer to avoid the hassle of navigating the cords, cables and extension cords as we work.
Verdict
If you need to spend less than £50 though on a hedge trimmer, then this 45cm will do the trick for you but please have limited expectations as it less powerful and a lot shorter with smaller tooth gaps which explains its lower price point.
If I were to buy one tomorrow for a friend, again it would definitely be the cordless 51cm hedge trimmer with the 2 batteries as the batteries give a work time of 35 minutes and you always have a back up battery available in place which is always great to have when working with cordless electric tools.

Educate Others
Have you ever used a Spear & Jackson Electric Hedge trimmer before in the recent past? Anything good or bad to say about it?
If possible, please educate others in the UK community by leaving your comment in the comment box section provided below.