After reviewing over 30 cordless Hedge trimmers, we have compiled our list of the best cordless Hedge Trimmers that are currently available in the UK which should speed up the process when it comes to your own online research.
The good news also is that all of these Hedge trimmers can be ordered online and delivered to your home in a matter of a few working days. We came across several shady brands which we have avoided and instead focused on reputable brands that have tons of experience in the sector that will stand the test of time and give you lengthy warranty periods.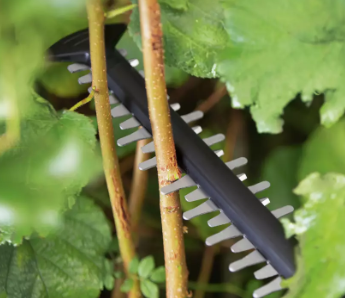 View also: Multiple Lawnmower Suppliers here
Advantages of Cordless Hedge Trimmers
There are several advantages of using a cordless Hedge trimmer as you don't have to worry about fuels, oils, cords or mixing of fuels in 2 stroke petrol engines. There are 4 stoke petrol engines available when it comes to Hedge trimmers however they do tend to be quite expensive from what we have seen. Having a cordless Hedge trimmer gives you the freedom to work where you want to without any restrictions and the batteries tend to last 20 to 40 minutes on average from previous experiences.
Best Cordless Hedge Trimmers – Top 5 Recommendations
1, Spear & Jackson 51cm 18V Cordless Hedge Trimmer
One of our favourite cordless hedge trimmers especially when it comes to great value is the Spear & Jackson 51cm 18V Cordless Hedge Trimmer which does an excellent job on small and medium sized hedges and it comes at an affordable price level that most people can well afford. One big attraction here is that there is an additional spare battery included in the pack so you will get up to 30 to 35 minutes hedge trimming work done before you will need to take a break and recharge.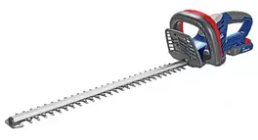 You also get a fast charger for the batteries which take 1 hour to recharge each so you can use one while the other recharges. The dual action blades cut and perform well, the tooth gap spacing is 1.6cm for the branches and bushes and it has the blade tip protector as well as the hand guard and blade cover. For trimming, the blade length is 51cm, the batteries are 1.5Ah powered batteries and this cordless hedge trimmer comes backed with their UK 3 year gardening warranty.
Price Guide: £100 - £150 @ Argos

View also: Our Grass Trimmer Reviews here
2, Bosch 50cm 18V Cordless Hedge Trimmer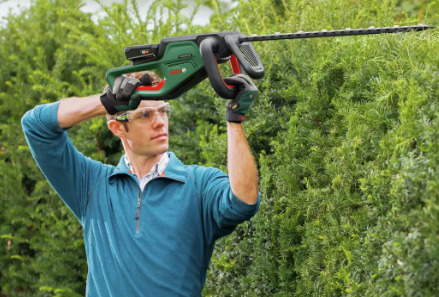 A reliable brand when it comes to gardening tools and equipment is Bosch and their Bosch 50cm Cordless Hedge Trimmer 18V gives great hedge trimming results to leave a nice clean and straight finish to your various types of hedges. One thing you will like here is the anti-blocking system on the dual cutting blades which means you get more work done in less time without any stoppages or restrictions.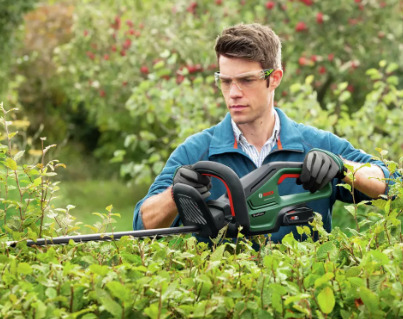 The length of the blade here is 50cm long and the tooth gap spacings is 2cm wide which works great with the quick cut action technology and the diamond ground clean blades. The front handle can be changed to different positions and you have the blade tip protection built in as standard.
For the batteries, recharging will take 1.5 hours and you can expect to get 30 to 40 minutes hedge trimming done before having to recharge the battery once again. Included in the design is the electronic brake, a dual safety switch, the quick brake stop and it is covered with their 2 year warranty (3 years if registered online)
Price Guide: £130 - £180 @ Argos

View also: Our Hedge Trimmer Reviews here
3, VonHaus Telescopic 20V Cordless Pole Hedge Trimmer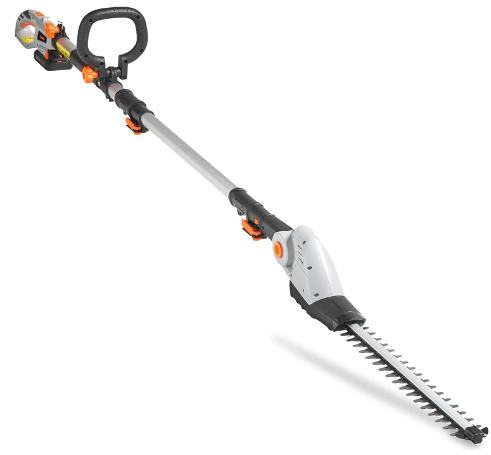 For the taller hedges that need a higher reach, you should take a closer look at the very popular VonHaus Telescopic 20V Cordless Pole Hedge Trimmer which is certainly a best seller within this category and it has the useful adjustable trimmer head which works great levelling the top of higher hedges. When extended, the trimmer can reach 2.44m which reduces the need for height support or step ladders and it has the handy shoulder strap which helps a little when fatigue starts to set in on your arms and hands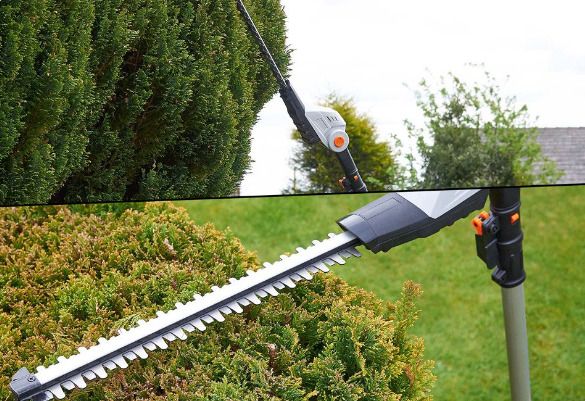 It comes with a 20V battery which can be recharged in 60 minutes and you can expect to get 40 to 50 minutes hedge trimming work done before having to recharge once again (depends on your hedge conditions). The pole part of the trimmer works by way of a quick release button lever and it includes the dual action blades as well as the 2 stage safety trigger for you own protection.
It has a lightweight design at 3.8kg, the length of the cutting blade is 45cm and it is also covered with a 2 year warranty. Please note though that the tooth gap spacing is slightly narrower at 1.4cm
Price Guide: £100 - £150 @ Amazon

View also: Our Corded Lawnmower Reviews here
4, Hyundai 20V Cordless Hedge Trimmer (HY2188)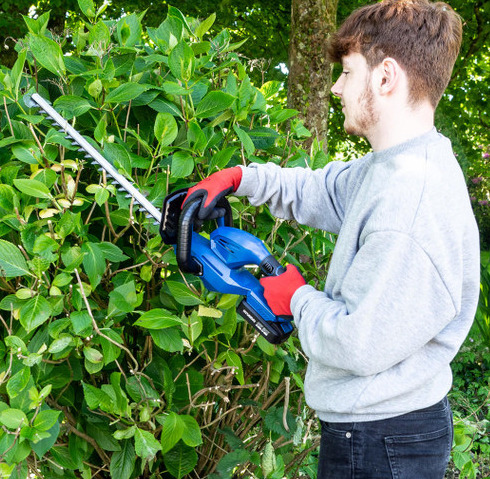 For a lower priced cordless hedge trimmer that performs better than expected, you should take a closer look at the Hyundai HY2188 20V Cordless Hedge Trimmer which can be delivered in 1-2 working days and it is covered with their Hyundai 3 year platinum warranty (which sounds very fancy indeed). It's a small lightweight hedge trimmer at just 2.5kg so it allows you to work for longer than usual without any hand or arm fatigue setting in.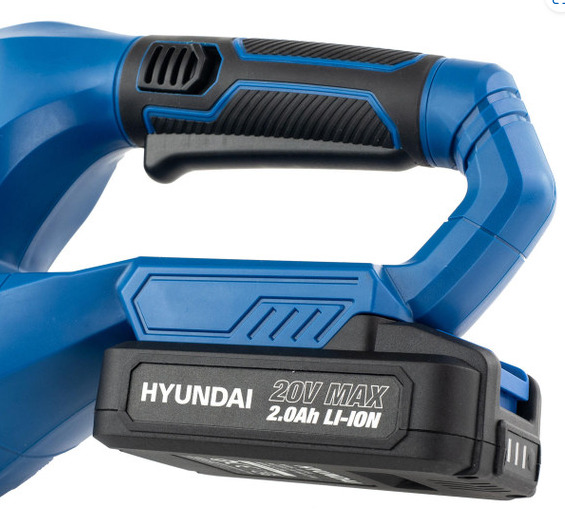 The tooth spacings on this blade is 1.6cm wide and the length of the cutting blade is 51cm or 20 inches long which can be adjusted and rotated to work at different angles on your hedges. While it cannot cut thick branches, it is still a great solution for bushes, hedges, shrubs and branches that are approx. 1.5cm in diameter. Included in the pack is a 2Ah powered battery which takes 65 to 70 minutes to recharge and you can expect to get average 20 to 30 minutes worktime depending on the thickness of your hedges.
Price Guide: £90 - £120 @ Hyundai

View also: Our Cordless Lawnmower Reviews here
5, Gtech Cordless Hedge Trimmer (HT50)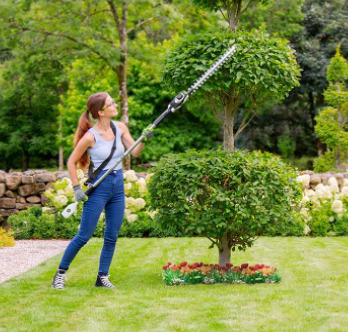 Another long reach pole hedge trimmer that we recommend is the high performance Gtech Cordless HT50 Hedge trimmer which is slightly more expensive than the others but still should be available for less than the £250 level. For dealing with taller hedges, the head of the trimmer can be rotated at 135 degrees and it can cover hedges that are around 10 feet tall from what we have seen.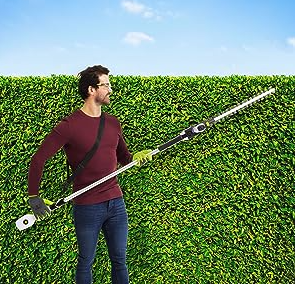 While other hedge trimmers have tooth spacing of less than 2cm, the tooth spacing here on this blade is wider at 2.5cm so it designed to cope with more matured type bushes and hedges in your garden. Recharging of this battery will take longer at 4 hours so charge it the day before if you intend to start trimming your hedges first thing the next morning. It has all the safety precautions in place such as the safety switch and guards and you can get 30 to 40 minutes trimming time from the battery from what we have seen.
Price Guide: £200 - £250 @ Gtech

View also: Our Best Lawnmower Lists here
Conclusion
After completing this narrowed down list of top Cordless Hedge Trimmers in the UK, we hope our suggestions and recommendations here can give you some ideas to think about and perhaps help you when making a final decision. We have included small standard size hedge trimmer plus longer pole type long reach Hedge trimmers as well as lower priced great value Hedge trimmers with spare batteries so there should be something here to cater for you own needs.
Which one would we choose? As our hedges are quite tall, our preference would have to be the VonHaus Hedge trimmer outlined earlier and further information along with price updates can be double checked below…

Cordless Hedge Trimmer Feedback
Have you used any of these Cordless Hedge Trimmers in the past? Or would you recommend alternative brands? If possible, please share your own feedback and opinions with the wider hedge trimming community by leaving a comment in the comment box section provided below….