Are you searching online for a cheap low priced electric Cordless Hedge trimmer? If so, then check out this Cheap Cordless Hedge Trimmer review for people in the UK which will outline 5 great value options for you to choose from at prices you can well afford.
All of these Cordless Hedge Trimmers were on sale for less than £100 at the time of our review so please make sure to view the price checkers provided below to ensure you have the most accurate up to date price information.
Lower Powered Cordless Hedge Trimmers
When seeking a low priced cheap cordless hedge trimmer, please be aware that the build, design, engineering, blades and batteries are on the lower priced scale. That being said, the length of the blades tend to be shorter than your average hedge trimmer, the batteries are lower powered and you tend to get lower battery runtime trimming on the hedges.
In addition, the batteries tend to take longer to have them recharged once again and they are more suitable for smaller type hedges rather than heavy duty long hedges but they can still provide great value for the money from what we have seen
View also: Our Hedge Trimmer Reviews Here
Cheap Cordless Hedge Trimmers – 5 Recommendations
Option 1: Challenge 45cm 18V Cordless Hedge Trimmer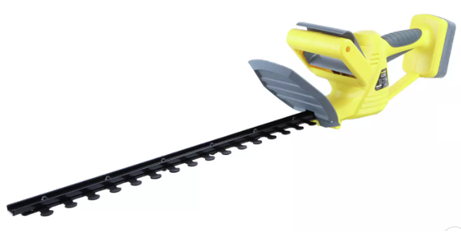 For the lowest possible price, you should take a closer look at the great value Challenge 45cm Cordless Hedge Trimmer 18V that weighs only approx. 3kg so it's a great lightweight tool without any arm fatigue setting in. The length of this blade is 45cm long and you get the quick stop brake and the dual safety switch built in as standard.
The charger and the 18V battery are included in the pack and you can get 20-30 minutes trimming time while the recharging of the battery takes longer than normal at 3 and half hours. The trimming width is narrower also as the tooth gap is 1.4cm so it is designed for thinner type branches and hedges rather than thicker stems.
For people seeking the lowest possible price, this Challenge Hedge trimmer offers good value and it comes backed with a 12 month warranty
Price Guide: £40 - £60

Option 2: McGregor 45cm 18V Cordless Hedge Trimmer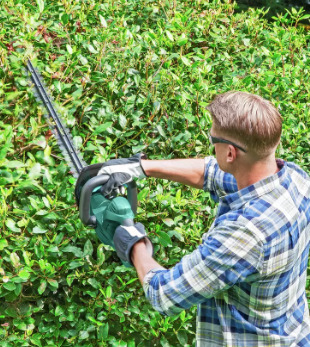 Another low priced cheap cordless hedge trimmer that we recommend is the McGregor 45cm  Cordless 18V Hedge Trimmer that is also designed for smaller type hedges and the width of the tooth gaps on the blade is slightly wider at 1.6cm. There is a nice comfortable grip on the handles and again it weighs only approx. 3kg so working with this lightweight tool was easier than expected.
You have the blade cover to protect the blade when not in use and it has the dual switch to prevent unwanted starts and the hanger hole at the top so it can be hanged away neatly in your shed. The battery power once charged should last you around 15 to 20 minutes trimming time and it will take around 3 to 3 and half hours to have it recharged once again. There is also the useful blade tip protector in place and a 2 year warranty for peace of mind.
Price Guide: £50 - £80

View also: Our Grass Trimmer Reviews Here
Option 3: Spear & Jackson 45cm 18V Cordless Pole Hedge Trimmer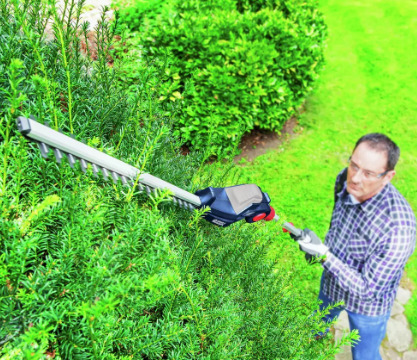 One highly popular Cordless hedge trimmer on promotion at the time of our review was the Spear & Jackson 18V 45cm Cordless Pole Hedge Trimmer which is the perfect solution if you have taller type hedges to deal with such as beech or conifers. This pole can be extended  by 1.25m so the full length is approx. 2.3m long which is plenty for your taller type hedging around your home. Please be aware though that arm fatigue will set in when fully extended so plenty of breaks will be needed during your work.
The length of the blade itself is 45cm which is supported by the long reach pole and the shoulder strap and you get the quick stop brake for your safety as well as the blade tip protector and the safety guard.
The trimming time of this battery should last 15-20 minutes but it has a faster recharging time of approx. 1 hour plus it also has a longer warranty period of 3 years which is good to know
Price Guide: £90 - £120

Option 4: Black + Decker 45cm 18V Cordless Hedge Trimmer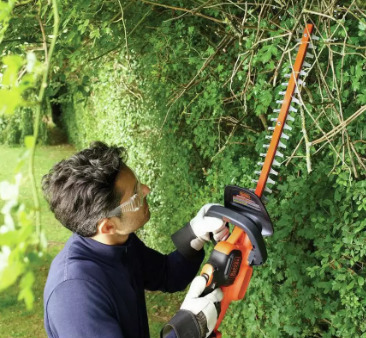 The next cheap low priced cordless trimmer worth a closer look is the Black + Decker 18V 45cm Cordless Hedge Trimmer which provides you with extra power for trimming work and to prevent blockages and jamming of the blades. The length of this blade is also at 45cm long the blade tooth gap spacing is wider at 1.8cm to cope with thicker branches and hedge growth.
You need both hands to get it started to prevent any accidental starts for the safety of others and it comes with the blade tip protector and the hand safety guard as standard. Recharging of this battery is quite long at approx. 5 hours so you will need to have it charged the night before if you intend to trim your hedges early in the morning. Trimming time on the battery usually lasts around 15 to 20 minutes from what we have seen and it comes backed with a 2 year warranty period.
Price Guide: £80 - £110

View also: Our Corded Lawnmower Reviews Here
Option 5: Einhell Power X-Change 18V 46cm Cordless Hedge Trimmer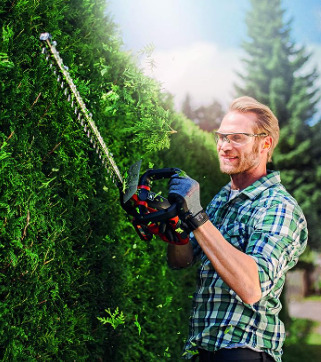 A brand that offers great quality affordable gardening tools is Einhell and their Einhell 18V 46cm Cordless Hedge Trimmer certainly deserves a closer look when seeking a great value hedge trimmer at an affordable level. You need to choose the smaller 46cm hedge trimmer in their range with the battery and charger included in the pack as there are more expensive hedge trimmers than this in their range.
The 18V 2Ah battery should give you around 20-25 minutes trimming time and the fast charger will take around 1 hour to have it fully recharged once again.
It's also a lightweight Hedge trimmer at less than 3kg and you have the 2 hand safety switch to prevent accidental starting and it stops automatically if both hands are not on the handle again which is a nice safety feature to have. The tooth spacing on the 46cm blade is 1.5cm while the tooth spacing on the longer 56cm blade is wider at 1.8cm so bear this in mind when making a final selection.
Price Guide: £80 to £110

View also: Our Best Lawnmower Lists here
Conclusion
After completing this short list of cheap Cordless Hedge trimmers in the UK, we hope our work here can help you out in some small way and perhaps help save you some money in the process. Which one would we buy? Our preference would definitely have to be the longer pole Spear and Jackson Hedge trimmer outlined earlier for taller hedges and further information along with price updates can be viewed below

Cheap Hedge Trimmer Feedback
Have you ever used any of these low priced Hedge Trimmers in the past? Or would you recommend alternative Hedge Trimmers instead? If possible, please share your own feedback, recommendations or experiences with the wider gardening community by leaving a comment in the comment box section provided below….