After reviewing several Petrol Hedge Trimmers in the UK, we have compiled a list of what we believe are 5 of the best value cheap Petrol Hedge Trimmers that you can by online and most of them are from brands that you should already be familiar with.
We have avoided many shady type brands that we haven't seen before and instead stuck to brands that are household names and brands that have tons of experience in this sector with reliable reputations.
View also: Our Best Gardening Tools Lists here
Cheap Petrol Hedge Trimmers UK – 5 Recommendations
Options 1: Hyundai 60cm 26cc Petrol Hedge Trimmer HYHT2600X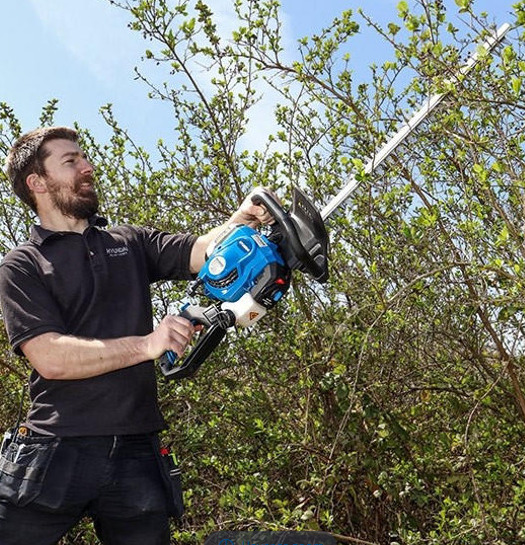 Our first recommendation will be a bargain in many people eyes and it's the Hyundai 60cm Petrol Hedge Trimmer with a 2 stroke 26cc easy start engine and it has a blade length of 24 inches or 60cm. It a lightweight hedge trimmer at just 5.5kg and it gives a lot more power than you would expect from a hedge trimmer of this size.
Trimming direction angles can be changed for more accurate trimming and the levels of vibrations on the hands are quite low plus the controls are simple and easy to use and manage. It starts with its CDI ignition system in tandem with the recoil pull cord and we liked how the double reciprocating blade works for better trimming performance.
For the branches, the 3.5cm blade spacing helps trimming on the more mature type hedging. The handle can be rotated 180 degrees and they include a mixing bottle for the oil along with instructions to get you going without any delays
Price Guide: £130 - £160 @ Hyundai

View also: Our Corded Lawnmower Reviews Here
Options 2: Einhell 55cm Petrol Hedge Trimmer - GEPH 2555A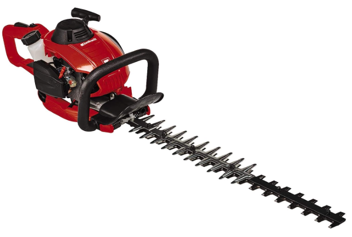 Another reliable brand for gardening tools is Einhell and their 55cm Petrol Hegde trimmer offers great value for the money as you should be able to get your hands on it for less than £170 when seen at the time of our review. The length of the blade is 22 inches or 55cm and again the starting ignition autochoke system with the recoil pull cord works great every time from what we have seen
It operates with a 2 stroke 25cc engine with low vibration levels and it has the swivel handle that can be rotated 180 degrees for angled trimming jobs. It's a lightweight hedge trimmer at only 5.5kg approx. and it has the blade guard in the pack to protect it when not in use. You can cut hedges and branches with a narrower thickness of 1.9cm maximum and the large petrol opening hole allows easier additions of the fuel.
Price Guide: £140 - £170 @ Amazon

Option 3: Mountfield Petrol Hedge Trimmer - MHT 2322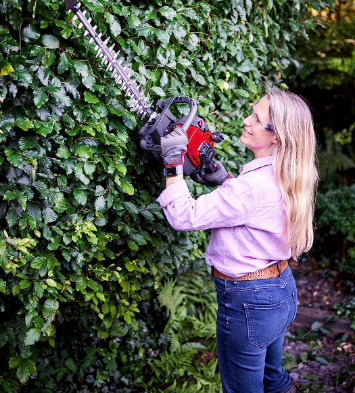 Another popular brand in the UK is Mountfield and their Mountfield 70cm Petrol Hedge Trimmer (MHT 2322) is a really great option especially when it comes to a good bargain and superb value for the money. It has a long blade at 70cm length and it comes with a 2 stroke 22.5cc petrol engine.
Similar to the previous hedge trimmers, the weight of this unit is only approx. 5.5kg which is very manageable from a fatigue point of view and while the length of the blade is 70cm, please note that the length of the cutting blade is only 50cm.
The blade tooth spacings can work on branches and hedges with a max width of 2.7cm, the handle can be rotated 180 degrees and it comes backed with their standard 2 year warranty. Please be aware also that the mix of the petrol to oil ratio is 50 to 1.
Price Guide: £120 - £150 @ Amazon

Option 4: McCulloch 56cm Petrol Hedge Trimmer - HT 5622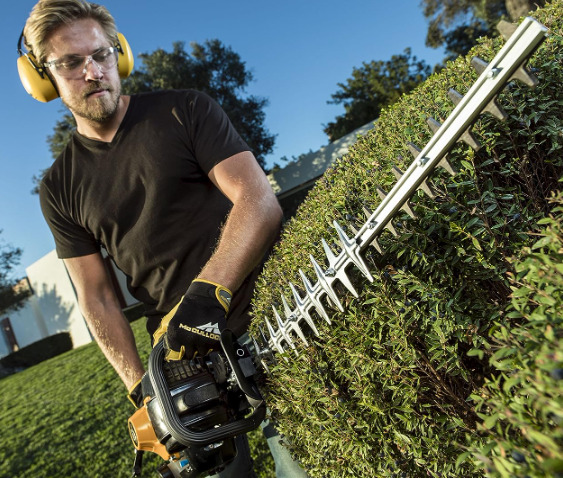 Our next recommendation when it comes to low priced bargain Hedge trimmers is the McCulloch HT 5622 Petrol Hedge trimmers which comes with the 2 stroke 22.7cc engine and a reliable, easier starting system with the innovative built in soft starter system.
The blade length works at 56cm long and the rear handle can be rotated and adjusted when needed. In addition, you get the dual action cutting blades as standard and you have the anti-vibration system in place to reduce the work effect on your hands.
For the branch thickness, it has the 2.2cm tooth gap spacing and you get the reciprocating cut as well as an engine with a fairly low level of noise. The weight is slightly lighter at 5.2kg and it comes backed with a 12 month warranty plus the auto return stop switch to help you keep working without delays. Lastly, the air filter on this hedge trimmer can be changed without the need of any tools
Price Guide: £180 - £200 @ Amazon

View also: Our Grass Trimmer Reviews Here
Option 5: Webb 56cm Petrol Hedge Cutter Trimmer - HC600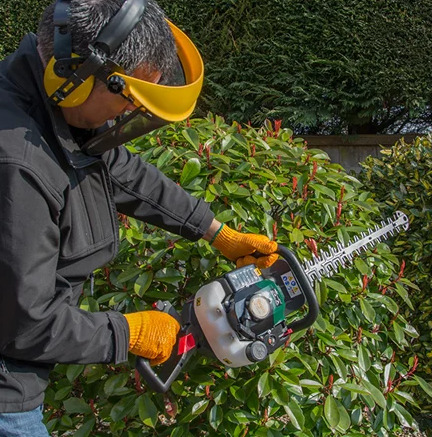 Lastly then, if you like the Webb gardening tools brand, then you should take a closer look at the Webb 56cm Petrol Hedge Trimmer (HC600)  which has a 2 stroke 26cc powered engine and you should be able to buy it for less than £200 when seen at the time of our review. The length of this blade is 56cm and it has the champion spark plug as well as 5 different angles to work from depending on the angles of your hedging.
It can cut branches and hedges with a maximum thickness of 3.5cm which is quite impressive and as it is a 2 stroke engine, you need to make sure that the petrol and oil are mixed before adding it to the fuel tank. It's a slightly heavier hedge trimmer at 6kg and it comes backed with the standard 2 year Webb warranty.
Price Guide: £170 - £200 @ Gloucester

View also: Further Hedge Trimmer Reviews Here
Conclusion
After completing this short list of cheap lower priced Petrol hedge trimmers in the UK, we hope we can give you some ideas to think about which possibly can save you some money in the process. There is a wide range of tooth gap spacings from 1.9cm up to 3.5cm branches so there should be something here to cater for your own hedge trimming needs.
Our preference from this list would have to the Hyundai 60cm Petrol Hedge Trimmer outlined earlier and further spec information and pricing details can be double checked at Hyundai Power Equipment below

Petrol Hedge Trimmer Feedback
Have you ever used any of these low priced Petrol Hedge Trimmers before in the past? Would you recommend alternative brands instead? If possible, please share your own feedback, recommendations or experiences with the wider gardening community by leaving a comment in the comment box section provided below….