Welcome to this review on UK Reel Mowers where we will review and show 7 of the Best Reel Lawn Mowers which are right now accessible in the UK market with the true objective of making it simple for you to pick the one which suits you best.
Reel Mowers are extremely useful and inexpensive garden tools which can mow the grass every now and then during spring and summer months. Reel mowers come in different shapes and sizes and we want to help you pick the best one so at least then you can make an informed decision.
View also: Our Best Lawnmower Lists here
Maintenance tips
After mowing, you should clean the mower after each use with a hand brush and a soft cloth and avoid using water (especially no high-pressure sprays). You should remove compacted grass cuttings from the blade area with a wooden or plastic implement and then lubricate the cutting blades regularly to avoid any oxidation. Get into the habit to regularly check for loose or damaged cutting blades, and worn or damaged components and when necessary, take the mower to your dealer to have the cutting blades sharpened.
Best Manual Reel Cylinder Lawnmowers UK – 7 Recommendations
#1, Spear & Jackson 40cm Reel Cylinder Lawnmower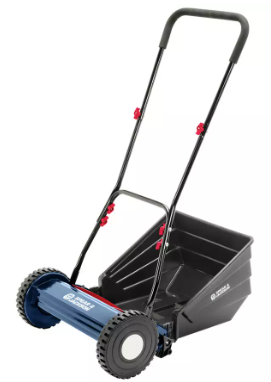 Our first recommendation when it comes to Reel Lawn mowers in the UK would have to be the Spear & Jackson 40cm wide Cylinder Reel Lawn mower which gives you a nice clean cut by cutting your grass like a scissors which in turn helps to improve the overall health of your lawn. It also offers good value as you should be able to get your hands on it for less than £90 when seen at the time of our review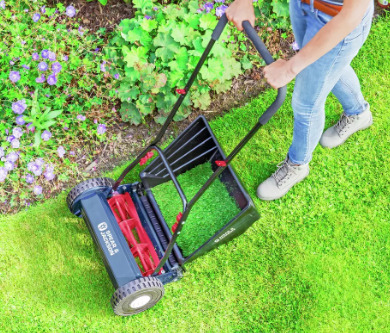 Unlike many other Reel mowers that have flimsy grass collectors, this Reel lawn mower has a solid heavy duty plastic grass catcher which certainly lasts a lot longer when it comes to general wear and tear over time. You get multiple mowing heights that range from 1.5cm up to 4.2cm, it weighs only 8.5kg for pushing and it comes backed with a 3 year warranty for your protection
Price Guide: £70 - £90 @ Argos

View also: Our Reel Lawnmower reviews here
#2, Fiskars 43cm StaySharp Plus Reel Cylinder Mower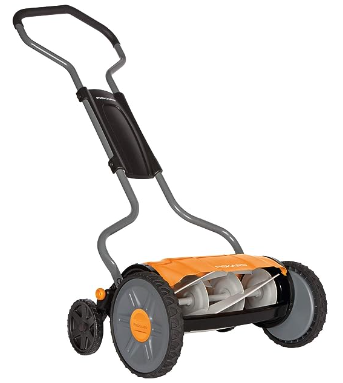 If you have more money in your pocket to spend, then we would recommend the Fiskars StaySharp Plus 43cm wide Reel Cylinder Mower which comes with the premium stay sharp blades within the Reel and it can deal with larger lawn sizes of up to 200-250m2 from what we have seen as long as you manage the grass growth levels correctly. It's a good deal more expensive than your traditional Reel lawn mower but it can make a tough physical job so much more easier to do.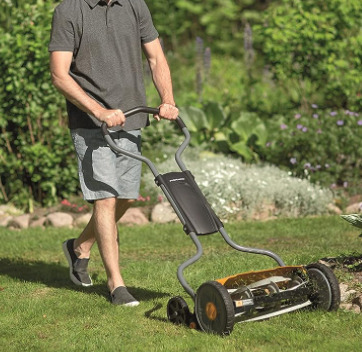 It's also a much heavier Reel lawnmower than you would expect at 18.5kg so bear this in mind when it comes to pushing it around your lawn – for example it's over twice the weight of the McGregor Reel lawn mower outlined also within our list. The mowing height options here are 3.5cm to 8cm which could be lower in our opinion to give a tighter cut but you have the 4 wheels instead of 2 for more stability and comfort as you work and mow.
Price Guide: £200 - £250 @ Amazon

View also: Branded Cylinder Lawnmower Reviews
Video - Fiskars Stay Sharp Reel Cylinder Lawnmower
#3, Bosch 38cm Hand Push Reel Cylinder Lawnmower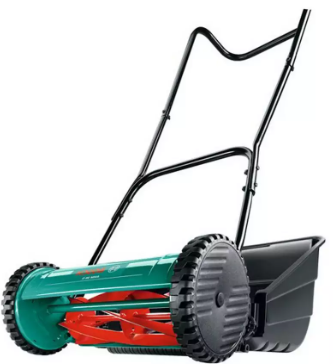 One of our favourite Reel lawnmowers would have to be the reliable Bosch 38cm wide Reel Cylinder Lawnmower which leaves a nice tidy finish but you also need to make sure you mow more regularly instead of letting the grass grow out of control. It has a solid heavy duty plastic grass collection box that has a capacity of 25 litres and the quality of these blades are impressive to say the very least – sharp as a razor.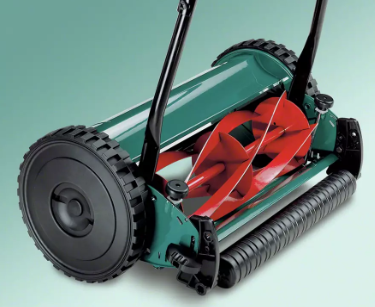 It is designed for smaller garden sizes under 100-150m2 and it has a small rear roller to help give you stripes (which would be on the smaller scale when compared to heavier petrol lawnmowers). It's nice and wide giving you a 38cm mowing path and you have a nice selection of mow heights ranging from a low of 1.5cm up to 5cm for dealing with longer grasses.
Price Guide: £50 - £75 @ Argos

View also: Our Cordless Lawnmower reviews
Video - Bosch Reel Cylinder Lawnmower
#4, Einhell 30cm Push Reel Cylinder Lawnmower GC-HM 300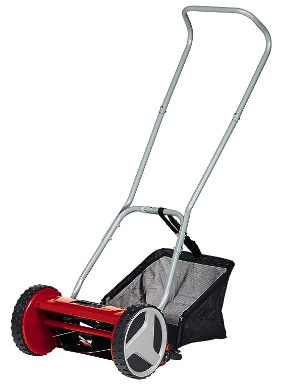 A reel cylinder manual lawn mower that has moved up the ranks in popularity is definitely the Einhell 30cm wide Reel Cylinder Lawnmower and we can understand why. The blades here are excellent quality and they are well able to deal with thicker grasses but you should manage the grass height under 4 inches as a rough guide for easier mowing on an ongoing basis. The grass box is small though at 16 litre capacity so it is for small gardens only under 100-150m2 in size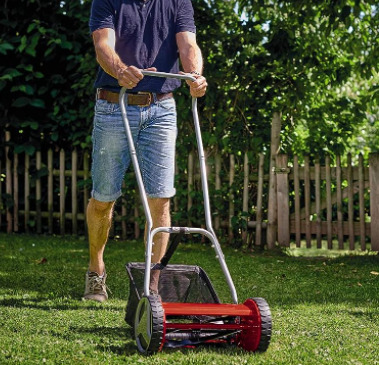 It comes with an attractive price level that most people can well afford and there are 4 mowing options ranging from 1.3cm up to 3.7cm plus it has a lightweight design at only 6.5kg so pushing it is a breeze from what we have seen. There are 5 blades in this reel and you should get into the habit of more regular mowing to manage the grass growth especially in peak growing months of the year. Finally, they also stock a 40cm wide version which is good to know in the background
Price: £50 - £75 @ Amazon

View also: Popular Cordless Lawnmower Reviews
#5, Gardena 33cm Classic Reel Cylinder Mower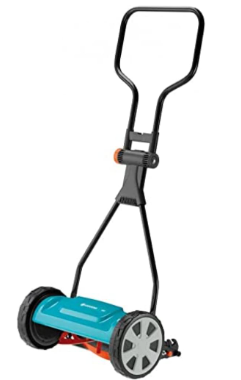 Another Reel lawn mower that performed well for us is the Gardena 33cm wide Classic Reel Cylinder Mower and the price level appears to be very affordable for most people. It can be used on small lawns up to 100m2 to 150m2 and it comes with robust strong and sharp blades within the reel that will be able to stand the test of time. This brand originates from Germany and it has become more and more established with various gardening tools in recent years.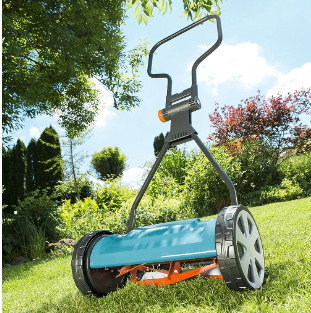 There are 4 mowing height options with this reel mower and it can give you a tighter and cleaner cut as the mow heights range from a low of 1.2cm up as far as 4.2cm. One big attraction here is the fact that the handle frame can be folded down so it literally takes up minimum storage space in your shed after the work is done.
The grass collection catcher is not included in the standard package but can be ordered as an additional extra if you wish. Also if you have a larger garden up to 250m2, then you can choose the Gardena 40cm wide Comfort Cylinder Reel mower which would be a better fit overall for your needs.
Price Guide: £90 - £120 @ Amazon

View also: Our Best Lawnmower lists here
#6, Greenworks 50cm 5-Blade Reel Lawnmower with Grass Catcher (20-Inch)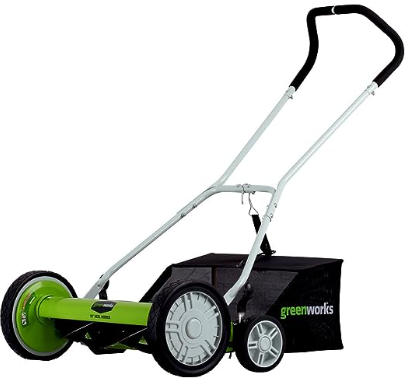 Another Reel lawn mower that we liked that includes the Grass collection catcher at the rear is the Greenworks 50.8cm wide or 20 inch 5-Blade Reel Lawnmower and it is also backed with tons of positive reviews. You will need to mow more regularly and keep the grass height under 4 inches as a general rule of thumb and you should try to avoid cutting in wet or damp conditions as dry grasses under 4 inches work best.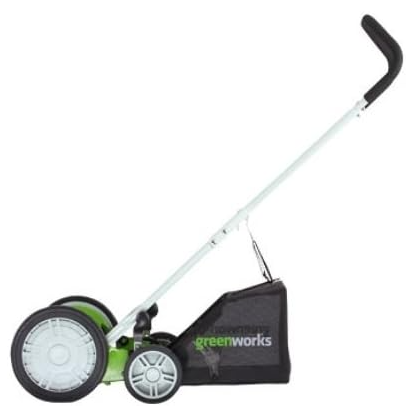 There are 2 versions available here based on width – you can choose the narrower 40.6cm wide (16 inch) model or the wider 50.8cm (20 inch) model and they would be suitable for lawn sizes up to 250m2 as a rough guide to use. There are 4 wheels in the design which gives you more balance and stability as you work and there is a higher number of 9 mow heights available to choose from. In addition, you also get a 3 year warranty cover period protection
Price Guide: £100 - £130

View also: Popular Lawnmower suppliers here
#7, McGregor 30cm Reel Cylinder Lawnmower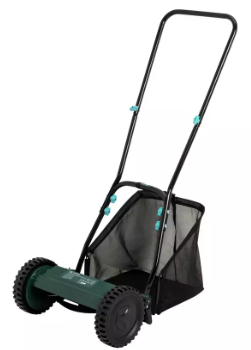 For a lower priced Reel cylinder lawn mower, we would recommend the McGregor 30cm wide Reel Cylinder Lawn mower that comes with a price tag that is probably one of the lowest in the market and will suit those seeking a bargain or those seeking the lowest possible price. The quality of the grass collector wouldn't be the best we have seen so you will need to treat it with some care and attention and avoiding rough use.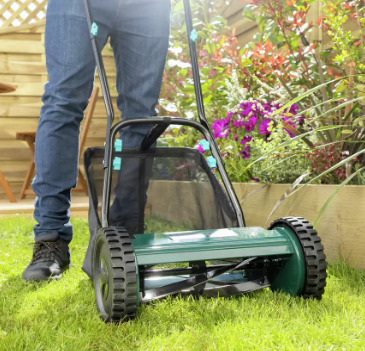 There are 4 mowing height options here that range from 1.8cm up to 3.8cm and there is a small rear roller attached to help give you a little striped effect. As it is smaller, it has a narrower mow path of 30cm and a lighter weight of 6.3kg which helps a little when it comes to the pushing plus it is covered with a 2 year warranty to protect your investment
Price: £40 - £65 @ Argos

View also: Our Corded Lawnmower Reviews
Buying tips
Before purchasing reel mowers, you need to know about the kind of garden you have and ensure you get one that matches the specifications of your lawn. For owners of little lawns which are level in nature then a push mower is the suitable decision for you. But generally, if you have a bumpy yard loaded with so much grass which keeps the push reel mower from cutting, at that point you are better off with a different kind of mower.
View also: Our Grass Trimmer reviews
Safety tips
Take care when transporting the mower to the lawn, as the cutting blades are sharp
Always wear long trousers when mowing and do not operate the mower when barefoot or wearing open sandals
Thoroughly inspect the area where the mower is to be used and remove all hard objects which could be caught up and thrown by the cutting mechanism
Always ensure that the cutting mechanism is in good working order (have worn or damaged parts replaced)
Keep all nuts, bolts and screws tight to be sure that the mower is in safe working condition
Only mow with sufficient daylight or with appropriate artificial lighting
Never mow in the direct vicinity of persons (especially children) and animals
View also: Our Hedge Trimmer reviews
Conclusion
I am glad to say the list of the top Reel mowers in the UK have been completely analysed, giving you all the different aspects that you need to be aware of before you choose. I hope those of you in the UK found this list of the top Reel Mowers in the UK helpful and please share your feedback by leaving a comment below.
Which one would I choose from this list? I don't want to influence your own decision but it would have to be the Spear and Jackson based on cutting performance, value for the money and reliability...

Reel Mower Community Feedback
Which is your own preferred Reel Cylinder and why? If possible, please share your own opinions, experiences or feedback with the wider mowing community by leaving a comment in the comment box section provided below…