After reviewing the Webb Electric and Petrol lawnmowers, we wanted to complete a quick Webb Manual hand push cylinder Lawnmower review to see how good it really was at cutting different types of grasses and maintaining your lawn in the best possible manner.
The focus of this review will be on the Webb WEH30 manual push cylinder Lawnmower but we will also compare it to 2 alternative hand push Cylinder lawnmowers further down on this page so at least you have more than just 1 option when it comes to making any final decision (another one from Webb and the Cylinder lawnmower from Bosch)
Read also: Webb Electric Lawnmower review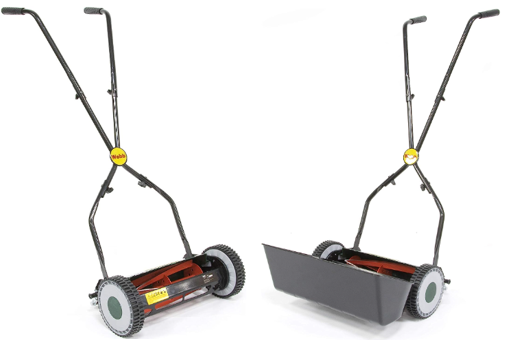 Cylinder Manual Lawnmowers
As you have no power cords, batteries, motors, engines or petrol, you need to put in all the extra tougher work manually yourself so the job of mowing a lawn manually requires a good deal of extra effort and work on your part. This becomes more manageable if you are prepared to maintain the grass growth to workable levels up to 8cm (or 3 inches) so you will need to mow more often than normal especially in peak grass growing weeks to keep on top of it.
View also: Webb Manual Lawnmower Stocks & Prices
Regular Mowing
If you don't like the idea of mowing more regularly and maintaining the grass levels properly or if you do not have the time, then a Cylinder Hand push lawnmower wouldn't be the best option for you and you should consider a Corded or Cordless Rotary Electric lawnmower instead.
The lawn will need more regular mowing than normal so keep this in mind if you decide to buy a Hand push cylinder mower and the same goes for all brands in our opinion.
Webb Hand Push Cylinder Lawnmower Review
Webb Manual Hand Push Cylinder Lawnmower WEH30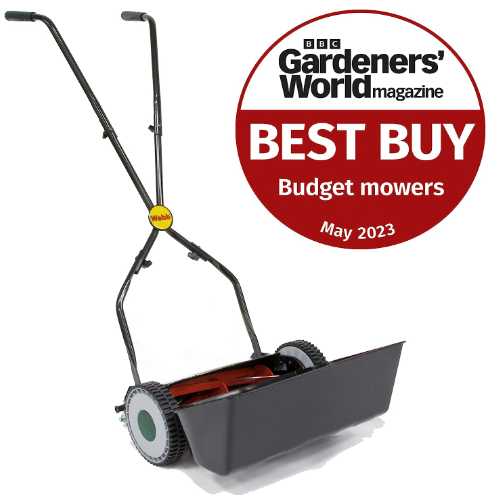 This small lightweight manual hand push Cylinder lawnmower from Webb comes from a British brand and it offers a mowing path width of 30cm or 12 inches and a grass collection box with a storage capacity of 17 litres. It was voted by the BBC Gardeners world as being a Best Budget Buy lawnmower in May 2023 so it deserves some recognition in this regard when it comes to build, design, quality components and blade cutting performance.
It includes 6 razor sharp blades in the head and there are 4 mowing height options that range from 1cm up to 4cm. The weight of the unit is 9kg, the handles are spread wider to support better grass cutting and it comes backed with a 2 year warranty from Webb.
It is an environmentally friendly way to cut grass and maintain your lawn plus it can be used with or without the front collection box. It also has a small 3 piece rear roller attached at the back.
Price Guide: £80 - £100

Read also: Webb Electric Corded Lawnmower review
FAQ's about the Webb Cylinder Lawnmower
Q1, How do you adjust the mow height settings?
A, You need to pull and release the knobs on both sides and then adjust the blade heights
Q2, Are there any tools needed for adjusted the mow heights?
A, No tools are needed as it can be adjusted easily by hand.
Q3, Can you use it without the front collection box?
A, Yes, this cylinder lawnmower can be used with or without the front grass collection box
Q4, Will it cut tall long grass?
A, No, this is designed for maintaining lower grass heights under 3 inches approx.
Q5, Can the handles be folded down?
A, No, unfortunately they cannot be folded (but you can unscrew the bolts and remove them if needed)
Pros for the Webb Manual Cylinder lawnmower
It's an environmentally friendly way for cutting small areas of grass as there is no petrol, oils, cords or batteries required – just a little bit of hard work and tough elbow grease.
It is from a British brand that use quality parts and design so you are supporting your own when you buy. Plus the quality of the blades are excellent and will last a long time.
It received an award from the BBC Gardener's world which deserves an additional mention and once you find the best height setting, you will find that you will be more accustomed to managing it and your garden grass
The use of the front grass collection box is optional so you can use it if you wish or mow without it and it leaves a nice clean cut finish that stacks up as good as many other cylinder hand push lawnmowers in the market
There is little to no prep work or no costs involved when it comes to getting grass cut – no laying out of cords, no charging of batteries, no annual maintenance fees, no petrol costs and no back-up batteries so the costs associated to running a lawnmower is literally zero which in turns leaves a lot more money in your pocket
If you have neighbours living close by, there is literally no noise emitted at all like the petrol lawnmowers or rotary electric lawnmowers can do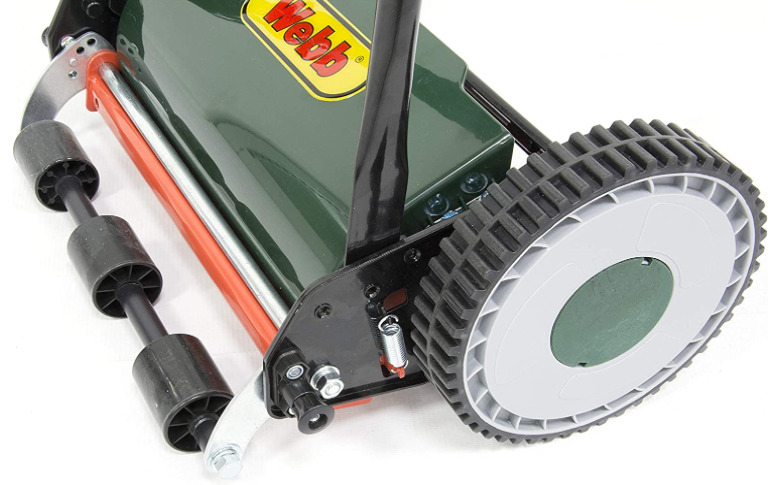 Cons for the Webb Manual Cylinder lawnmower
It is limited to small grass areas only under 50m2 in our opinion and the grass needs to be cut more frequently and managed correctly rather than letting it grow out of control – ideally every week especially when grass growth is at its peak (you need to enjoy gardening and mowing)
If you let the grass grow too tall, then you have to use a grass trimmer or a traditional rotary lawnmower before using the Cylinder lawnmower so more effort is needed on your end when it comes to lawn maintenance. It just won't work on long grass for you!
The grass box at times can slip off so you need to make sure it slots down securely on the strip and positioned correctly at the front plus it tends to fill up rather quickly
It requires a lot more physical effort to get the grass cut and it takes a while to get the hang of it plus a second pass may be needed to give it the tidy finish that you need – on a positive though, it's a great way to burn calories and get additional exercises in!
More regular cutting is required so you need to spend more time doing gardening work and people with reduced strength levels or mobility problems will struggle with it
The 3 piece roller at the rear does little to nothing in terms or generating a striped effect and it doesn't cut the grass at the outer edges where the wheel rolls, so you will need to use a clippers or a trimmer to tidy it up.
Price Comparisons
Read also: Webb Petrol Lawn mower review
Alternative Cylinder Lawnmowers
If you need to consider an alternative Hand Push Cylinder lawnmowers than the WEH30, then check out the 2 further options provided below that will also be of interest to you. The WEH12R has no side wheels like the WEH30 which means better results around the edges and the Bosch offers a wider mowing path, a larger grass box at the rear and a lower price tag
Cylinder Manual Lawnmower Comparison Table
For further clarity, feel free to check out the comparison table below where you can see the WEH30, the WEH12R and the Bosch AHM38G side by side
| Manual Mower | Webb WEH30 | Webb WEH12R | Bosch AHM 38 G |
| --- | --- | --- | --- |
| Width | 30cm / 12 inch | 30cm / 12 inch | 38cm / 15 inch |
| Mow Heights | 4 (1cm - 4cm) | 4 (1cm - 4cm) | 5 (1.2cm - 4cm) |
| Weight | 9kg | 11kg | 7kg |
| Collection box | 17L capacity | 18L capacity | 25L capacity |
| Roller | 3 piece | Yes | None |
| Warranty | 2 years | 2 years | 2 years |
Read also: Webb Petrol Self Propelled Lawnmower review
Conclusion
Would we buy the Webb Cylinder Hand Push lawnmower? Only if it was for a small lawn under 50-60m2 to be honest and if I was prepared to put the extra work in when it comes to maintaining the lawn and grass growth under 3 inches maximum. If you prefer to let it grow and cut it every few weeks, then this Cylinder lawnmower is not for you as you will need a trimmer or a rotary lawnmower to cut the grass down first to a more manageable level before using this Cylinder lawnmower (or any other Cylinder lawnmower for that matter).
Verdict
Yes I would buy it but I would rather invest in a small electric cordless lawnmower in the event that I cannot keep the grass growth under control each and every week. If you can COMMIT to not letting the grass grow beyond 3 inches and mow more regularly and if your lawn is less than 50m2 (10m long by 5m wide as a guide), then yes, this little cylinder lawnmower will do the trick for you and further information, reviews and prices can be viewed below. However, if you are not prepared to but in a little extra work, then you should choose a Rotary lawnmower instead.

Webb Manual Lawnmower Feedback
Have you ever used a Webb Hand push Cylinder Lawnmower in the past? If so, please share your feedback and experiences with the wider mowing community by leaving a comment in the comment box section provided below…