After completing numerous Reel Lawn mower reviews across the market, we have compiled our list of what we believe are the best push manual Reel Lawn mowers in the USA at the moment and all of them can be ordered online and delivered to your home hassle free which is good to know. There are certainly dominant branded players in this sector and the range of Reel Lawn mowers on offer was certainly impressive to say the very least.
View also: Our Reel Lawnmower Reviews here
Reel Sizes & Blades
We have included 14 inch, 16 inch and 18 inch Reel lawn mowers sizes in our recommendations but many of these brands also offer larger 20 inch Reel Lawn mowers in their wider range portfolios. As the Reel Mower sizes increase, so does the price so bear this in mind when making any final decision.
In addition, our Reel Lawn mower recommendations include Reels with 4 blades, Reels with 5, 6 and 7 Blades but again the more blades you have, the higher the buying price will be at the end of the day.
Tougher Grass Types
Our recommendations here will be able to deal with tough grass varieties such as Bermuda, Bahia, St Augusine and Zoysia grass. In addition to this, they can also maintain other grass varieties such as Kentucky Bluegrass and centipede grass as long as you mow more regularly and keep the grass growth under control especially during the peak growing seasons.
Best Push Manual Reel Lawn Mowers USA – 7 Recommendations
1, Fiskars StaySharp Max 18 Inch Reel Push Lawn Mower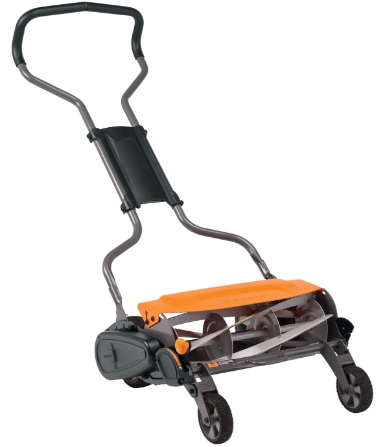 Our first recommendation when it comes to Reel mowers would have to be the awesome Fiskars Stay-Sharp Max 18 inch wide Reel Mower that is certainly the best reel grass cutter from what we have seen and it is the best option if you don't mind spending a little extra than you traditional Reel mower.
This particular Reel mower offers a lot more than most other Reel mowers in that the blades stay sharper for longer and the Inertia drive reel gives you more cutting power on the grass especially on difficult mowing areas.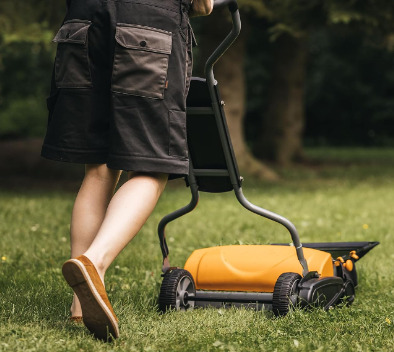 It's a much larger and stronger Reel mower than you would expect so it does require extra strength when it comes to pushing and cutting. You get 5 mowing height options 1-4 inches to choose from here and the Reel design works better when it comes to leaves, twigs and tougher mowing conditions. Yes it is a little pricey but after using this Reel Mower for a while you will understand why it is so.
Price Guide: $250 - $300

View also: Multiple Reel Lawnmower Reviews
Fiskars StaySharp - Reel Lawn Mower Video demo
2, American Lawn Mower Company 14-Inch 4-Blade Reel Lawn Mower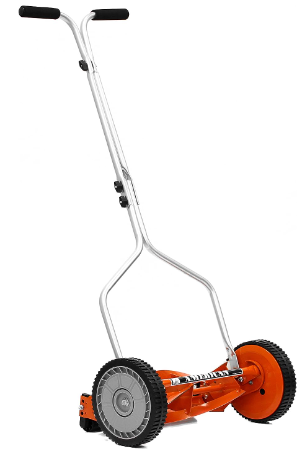 For a lower priced traditional Reel lawn mower, we would recommend the 14 inch 4 blade Reel lawn mower from the American Lawn Mower Company and this option is generally on sale for less than $100 when seen at the time of our review. They have this lower priced 14 inch 4 blade Reel mower available but you can also go for a larger 16 inch 5 blade Reel mower if you prefer.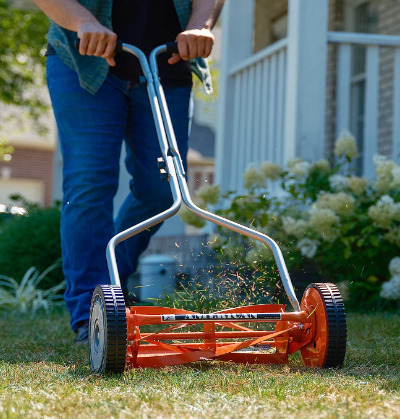 To support your mowing and this Reel Mower for the long term, there are supports in place such as the grass catcher if you wish or a blade sharpener and these will come as optional extras. It will be able to cut grasses as long as the grass is dry and the grass height is comfortably under 4 inches tall so you need to make sure your yard is mowed more regularly instead of letting the grass grow out of control.
Price Guide: $80 - $100

View also: Branded Reel Lawnmower Reviews
American Lawn Company - Reel Lawn Mower Video demo
3, Scotts 14-Inch 5-Blade Push Reel Lawn Mower 304-14S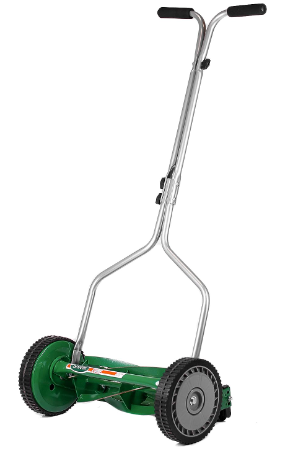 There are multiple Reel lawn mowers available from the brand of Scotts but this particular 14 inch 5 blade Reel mower interested us the most as it offered one of the lowest prices in their range. If you prefer, you can go for a larger Scotts Reel mower than this, but if the price tag is the thing that motivates you the most, then you should stick to this smaller 14 inch version instead.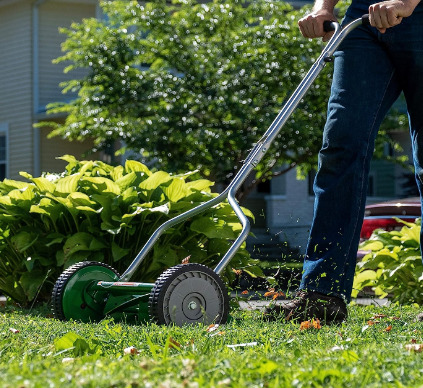 There is a very long tradition of Reel Mowers from the brand of Scotts so they have tons of experience in this sector – as much as any else from what we have seen. You will need extra energy and pushing if the grass has grown too long so you need to get in a habit of regular mowing and maintaining grass levels at a more manageable level. Assembly is done in a matter of a few minutes and the quality of these blades certainly do the job as intended as long as the grass is dry and not overgrown
Price Guide: $90 - $120

View also: Our Cordless Lawnmower Reviews
Scotts Reel Lawn Mower Video demo
4, Earthwise 16-Inch 7-Blade Reel Lawn Mower 1715-16EW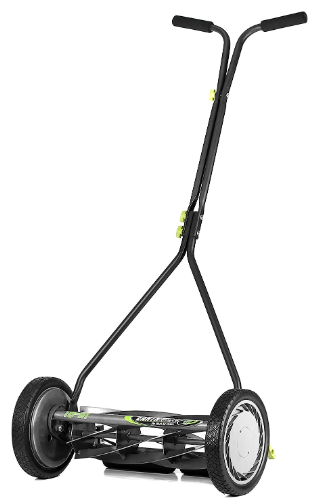 A highly popular Reel Mower in the market is the Earthwise 16 inch Reel Mower with the higher number of 7 blades and a decent mowing width of 16 inches for small lawn yard areas. This Reel lawn mower works better when the grass is mowed more regularly plus when the grass is dry and less than 4 inches high. If the weeds or grasses are allowed to grow too long, then you will need to do multiple passes to get the grass mowed.
There is no grass catcher with this particular Reel mower but it does come with a low price tag level that can certainly suit the gardeners looking for a bargain or a competitively low price. The extra alloy steel blades do warrant the slightly extra price involved and it gives a nice cut to the lawn and can go as low as 0.5 inch if you prefer a tighter cut
Price Guide: $120 - $170

View also: Branded Cordless Lawnmower Reviews
5, Great States 14 Inch Hand Reel Lawn Mower 204-14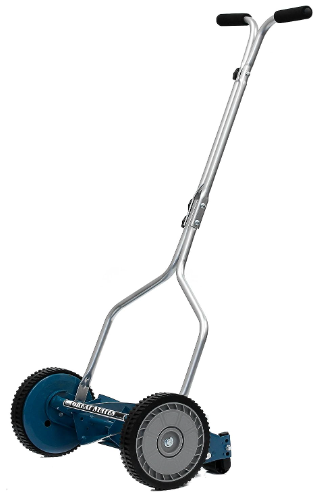 For a very affordable Reel Mower and possibly one of the lowest prices out there, you should check out the Great States 14 Inch Reel Mower which comes from a brand that is well established throughout the country and has over 100 years' experience in this sector which goes a long way when it comes to craftsmanship and quality. There are other options under this brand such as a 16 inch 5 blade Reel Mower and an 18 inch Reel mower but this smaller 14 inch version offers you the lower more attractive price level.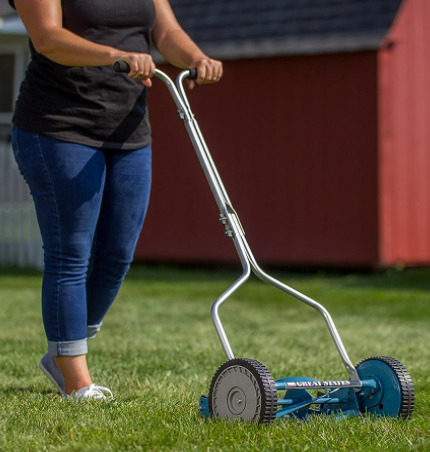 That being said, if your yard is slightly larger, then the 18 inch 5 blade version would be the better solution for you instead of this smaller lower priced 14 inch Reel mower and the price difference between the two is not all that bad to be fair. A little extra effort is needed on your part to mow the grass with this Reel mower but you don't have to worry about fuels, oils, power cords or expensive cordless batteries for that matter.
Price Guide: $80 - $100

View also: Popular Cordless Lawnmower Reviews
Great States - Reel Lawn Mower Video demo
6, Greenworks 14 Inch Reel Lawn Mower RM1400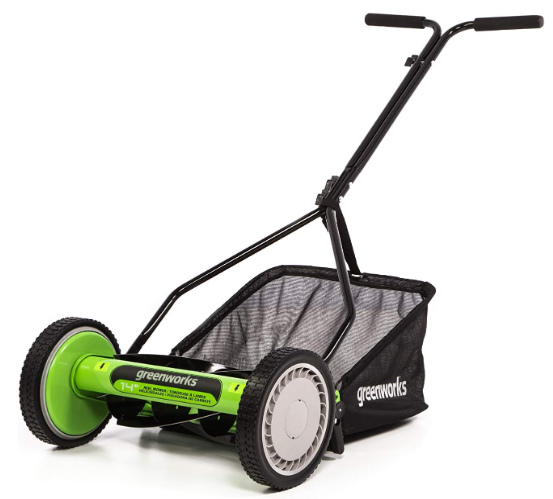 If you prefer a Reel mower with the grass catcher attached to the back, then you should consider the Greenworks 14 inch Reel Lawn Mower to help you get the grass clippings collected. Some would say that the grass catchers on most Reel Mowers are a bit flimsy and while it may not collect everything, it can still collect a certain percentage of the grass being cut nonetheless.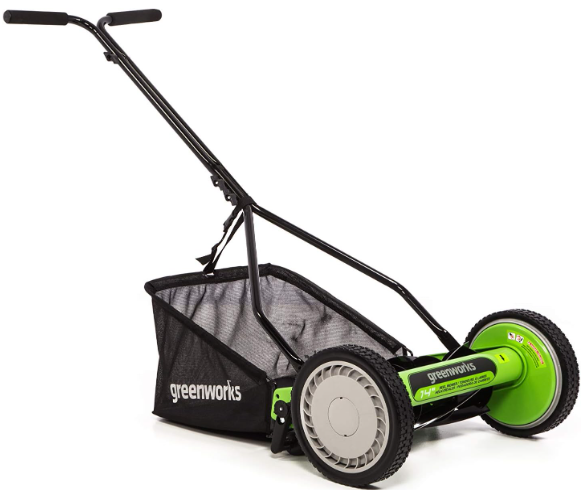 This 14 inch Reel Mower is the lower priced option but you can upgrade to a larger 20 inch Greenworks Reel mower version if you prefer for your larger yard. This will cost around $40 - $50 extra from what we have seen but if this price is too expensive for you, then just stick to the better priced 14 inch version.
Price Guide: $100 - $130

View also: Our Corded Lawnmower Reviews
Greenworks - Reel Lawn Mower Video demo
7, Craftsman 18 Inch 5 Blade Reel Lawn Mower with Grass Catcher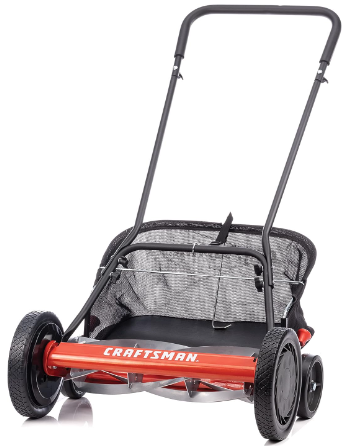 If our recommendations so far haven't ticked all of your boxes just yet, then consider the Craftsman 18 Inch 5 Blade Reel Mower that comes with the grass catcher attached and it performs as good as many other lower priced Reel Mowers in the market. This particular version is the 18 inch 5 blade Reel mower but there are also cheaper versions in the range such as the lower priced 14 inch 5 blade Reel mower and the 16 inch 5 blade Reel mower – both of these have Grass catchers also.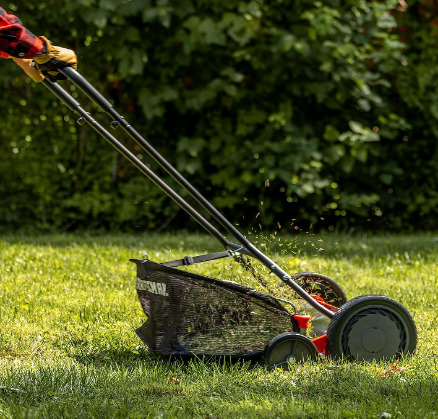 You will need to maintain and mow your lawn more regularly and you should also avoid wet grasses or even damp grasses for that matter as it can give an uneven type cut. Again it requires more physical effort on your part but you can make the job easier by mowing more frequently and keeping the grass heights under 4 inches as a rough guide
Price Guide: $100 - $130

View also: Electric Lawnmower Reviews
Reel Lawn Mower  Comparisons
A quick summary chart is also outlined below for various Reel mowers across the market that may be of interest to you.
| Model | Mow width | Cutting heights | Rating |
| --- | --- | --- | --- |
| American lawn mower 1204-14 | 14 Inch | 0.5 to 1.5 Inch | 5 |
| Great States Reel Mower 415-16 | 16 Inch | 1/2- to 2-3/4-Inch | 5 |
| Fiskars Staysharp Max Reel Mower | 18 Inch | 1 to 4 Inch | 5 |
| Remington 15A-3000783 | 16 Inch | 3/4 to 2-1/2 inch | 4 |
| Earthwise 1715-16EW push Reel Mower | 16 Inch | 1/2 to 2 1/2 Inch | 4 |
| Scotts 415-16S | 16 Inch | 1/2- to 2 1/2-Inch | 4 |
| Fiskars 17 inch Reel Mower | 17 Inch | 1.5 to 3.5 Inch | 4 |
| Greenworks Reel Lawn Mower | 18 Inch | 1 3/4 to 2 3/4 Inch | 5 |
| Scotts 2000-20 | 20 Inch | 1 to 3 Inch | 4 |
| Sun Joe MJ501M Manual Reel Mower | 18 Inch | 1.4 to 2.5 Inch | 4 |
Maintenance tips
If necessary, take the mower to your local dealer to have the cutting blades sharpened. You should lubricate the cutting blades on a frequent basis to avoid oxidation effects and clean the mower after each use with a hand brush and a soft cloth to extend the shelf-life. Do not use water - especially no high-pressure sprays as this will damage it and remove compacted grass from the blade area with a wooden or plastic implement. Finally you should regularly check for loose or damaged nuts, screws, bolts or cutting blades.
Safety tips
You should thoroughly inspect the area where the mower is to be used and remove all hard objects which could be caught up and thrown by the cutting blades. Always wear long trousers when mowing to protect your legs and please do not operate the mower when barefoot or wearing open sandals – always wear some form of footwear. You should replace any damaged or worn parts and always ensure that the mower is in good working condition. Also keep all the nuts, bolts and screws locked tight and check it each month.
Storage tips when not in use
Always store the mower indoors in a dry place after use and do not place other objects on top of the mower when stored. While putting away your mower after use, keep in a safe place and cover the blades so that children or animals cannot get in contact with it. Do a final check and make sure all the fasteners and bolts are tightened for your next mow.
Conclusion
After finishing all our hard manual pushing for these Reel Lawn mowers, we hope our hard graft here can help you out and perhaps speed up the process when it comes to making your own final decision. Reel Lawn mowers are not for everyone and they are certainly more challenging than you electric or gas powered lawn mower but you can get more exercises in, get fitter, burn more calories and at the same time you can do your bit for a greener environment by going down this Reel Lawn mower route.
Reel Mower Community Feedback
Have you ever used any of these Reel Manual Lawn mowers in the past? If so, please share your own opinions, experiences or feedback with the wider mowing community by leaving a short comment in the comment box section provided below…