There has been tons of reviews completed already on the best Robotic Lawn mowers to buy in the marketplace so we have completed our own shorter review list for OUR OWN TOP 5 best Robotic Lawn mowers which should speed up the process when it comes to your own online research.
There is really only a few dominant players in this market which surprised us as we were expecting many of the other big lawn mower brands to have Robotic lawn mowers available also - however sadly this was not the case.
View also: Our Best Lawnmower Lists here
Branded Robotic Mowers
Husqvarna are certainly the brand that is head lining this sector and sure enough, their range of Automowers or Robotic Mowers are top class to say the very least. Other brands are trying to compete with lower price options and some are performing well while others are lacking the quality components and engineering to complete against the high tier premium brand of Husqvarna. Well, they have invested over 20 years of research work, innovation and design into this work so they are several steps ahead of everyone else from what we have seen
View also: Our Robotic Mower Reviews here
Best Robotic Lawn Mowers USA – 5 Recommendations
#1, Husqvarna Automower 430X Robotic Lawn Mower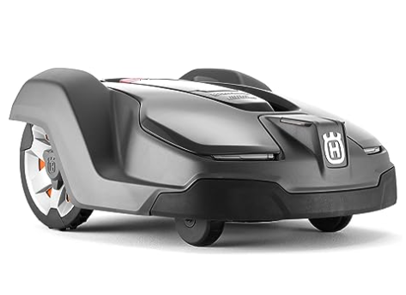 Highlights
For yard areas up to 0.8 acre in size
GPS navigation assisted program
Works on slopes up to 45% or 24 degrees
Mows grass automatically 0.8-2.4 inches
Controls with your own smart device
GPS protection against theft
Price Guide: $2000 - $2500 @ Amazon

#2, Husqvarna Automower 310 Robotic Lawn Mower
Highlights
World leading brand on Robotic mowers
Bluetooth Connectivity up to 100 ft
Connect @ Home App for 100% control
Mows in all weather conditions
Pin code anti-theft system in place
Anti-collision sensors included
Price Guide: $2000 - $2500 @ Amazon

Video - How to install a Husqvarna Automower
#3, Gardena SILENO Minimo Robotic Lawn Mower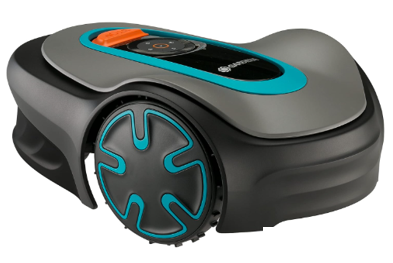 Highlights
Lower priced Robotic mower alternative
Suitable for yards 0.6 acre or 2700sq ft
Includes boundary wire and Bluetooth connection
From an established European brand
Mowing time 60-65 minutes
Capability for maximum slopes 35%  or 20°
Part of the Husqvarna group since 2007
Price Guide: $600 - $700 @ Amazon

#4, Worx Landroid L20V 6Ah Robotic Lawn Mower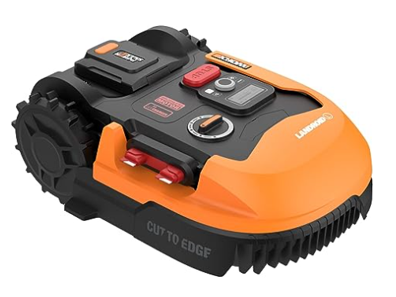 Highlights
For yard areas up to half acre size or 21800 sq ft
Boundary perimeter wire installation needed
Wire needs to be secured down with pegs
Needs connection with the Landroid App
Ability to schedule all the mowing times
Can navigate through narrow passageways
Powerful 6Ah battery with long mowing times
Price Guide: $1000 - $1500 @ Amazon

Video – Gardena Sileno Minimo Robotic lawn mower in action
#5, Greenworks Robotic Lawn Mower Optimow 50H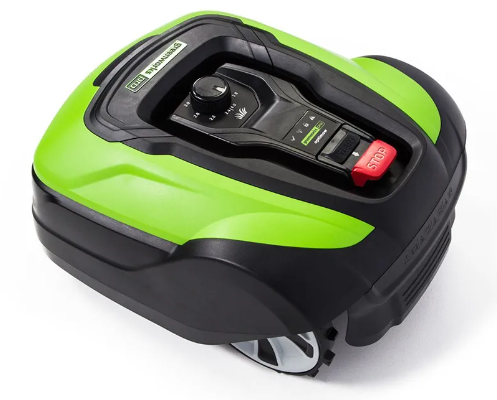 Highlights
For yard areas from half acre to 1 acre in size
Full cellular smart connectivity and GPS tracking - Slope navigation ability is 35% or 20° maximum
Mowing heights range from 2.4 inch to 4 inches
Theft protection with real time location tracking - Includes weather and collision sensors
Requires a boundary wire secured with pegs
Price Guide: $1300 - $1800 @ Lowe's

Video - Greenworks Optimow Robotic lawn mower Installation Guide
View also: Additional Robotic Mower Reviews here
Husqvarna Automower 430X Robotic Lawn Mower
Certainly one of the most popular Robotic lawn mowers is the Husqvarna Automower 430X and everything is included in the box delivery to get you set up and get going. You get the charging station, mowing blades, a 246 ft loop boundary wire and the low voltage cable for supporting the docking charging station.
There is also the couplers for the loop wire, a power supply unit, stakes x 1000 and a detailed operation manual that you will need to follow
Automower Variations
You need to be careful when selecting a  Husqvarna Automower as their different codes offer different features and capabilities. For example their 115H and 415X models are only suited for smaller yards up to 0.4 acres while the 430X and the 430XH are designed for larger yards up to 0.8 acres.
Then there are 2 versions of the Automower 115 in that you can choose either the 115H with Bluetooth connectivity or you can choose the 115H with the 4G connectivity.
In addition, the 115H Automowers only have mowing heights from 2 inch to 3.6 inch while the 430X, 415X and the 430XH offer deeper and tighter cuts 0.8 inches to 2.4 inches so bear this in mind when making your own selection
View also: Additional Best Lawnmower Lists here
Robotic Mower Community Feedback
Which is your own favourite Robotic Lawn mower and why? If possible, please share your own opinions, experiences or feedback with the wider mowing community by leaving a comment in the comment box section provided below…