If you are interested in buying a self-propelled Electric Lawnmower from Cobra in the coming days, then check out our detailed Cobra electric self-propelled Lawnmower review which will cover both the corded and cordless options for you to consider.
Not all brands offer self-propelled electric lawnmowers but there are several different choices available from this Cobra UK brand which is good to see so you are not limited to just one option – you can decide on either the lower priced corded version or the more expensive cordless models
View also: Our Cobra Cordless Hand Push Electric Lawnmower review
Review Focus
The focus of this review will be on the Cobra Corded Electric self-propelled lawn mower as it offers the lowest price level but we will also include 2 Cordless self-propelled alternatives which will be a better choice for those of you who wish to avoid working with power cords on their lawn as they mow and work.
We will outline all the features, pros and cons that you need to know and we will also include a video insert and a detailed comparison table for all 3 at the end of this page.
View also: Cobra Lawnmower updated Prices here
Cobra Corded Self Propelled Electric Lawnmower Review
Cobra MX46SPE 46cm Corded Self-propelled Electric 1800W Lawnmower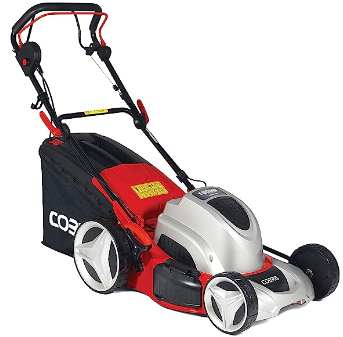 For people who want a lower priced self-propelled electric lawnmower, then the Cobra MX46SPE Corded Self-propelled Electric Lawnmower would be a popular choice and it offers a mowing width of 18 inches or 46cm and a reliable continuous power supply with its 1800W motor. It is connected to the mains with its 15m long power cord which is longer than many other branded corded lawnmowers (Bosch is 10m long) and there are 7 mowing height options that range from 2.5cm up to 7.5cm.
The mowing heights can be adjusted with a single lever beside the wheel and you should start with the higher setting for thick lush grass and use the lower height settings for mild grasses and light trimming jobs.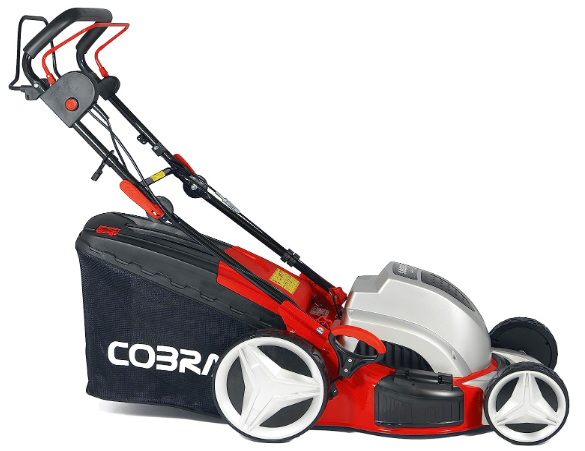 It's a multifunctional lawnmower in that you can use the rear collect, rear discharge, use the side discharge chute or use the mulch plug to return the grass as a natural fertiliser to your own lawn in re-cut smaller clippings.
The grass collection box has the hard top robust feature and it is larger than your average electric lawnmower coming in with a storage capacity of 60 litres. The self-propelled speed operates at a speed level of 3.3km per hour which is a nice walking pace and it comes backed with their standard 2 year warranty.
Price Guide: £270 - £320

View: Cobra Self Propelled Petrol lawnmower review
Pros for the Cobra Corded SP Electric Lawnmower
The cost level is significantly lower than the cordless versions below so there are plenty of savings to be made here
Not too many electric lawnmowers offer the self-propelled support, side discharge and mulching ability so there are lots of mowing choices available in the same machine
It's a heavier machine than you think to manoeuvre around your lawn but at least you have the self-propelled lever support at a gentle pace to get you going with a lot less strain
Many other electric lawnmowers only have power cords 10m long but this power cord is longer at 15m which is a good help and reduces the possible need for extension cords.
The handles can be folded down when not in use for better storage in tighter spaces and you don't have to worry about fuels, oils or recharging of batteries- just plug it in and go!
While it cannot perform and mow as good as many petrol lawnmowers, it still has sufficient torque power to deal with moderate conditions as long as you start on the higher mow height settings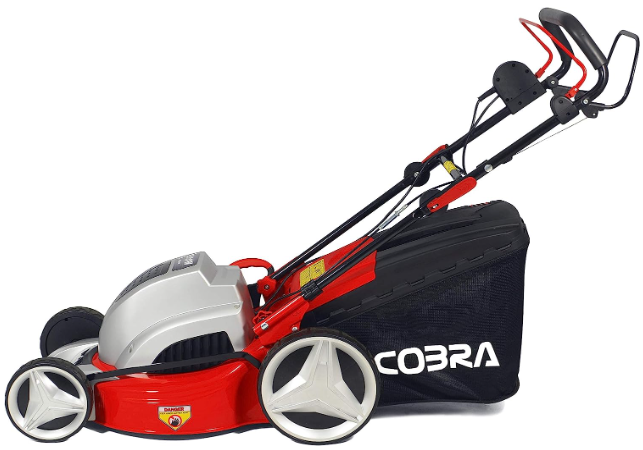 Cons for the Cobra Corded SP Electric Lawnmower
You are limited to the length of the 15m extension cord so you may need to invest in extension cords also if you lawn length is longer than this
Having a power cord across your lawn as you mow and work is awkward so you will need to develop a technique of avoiding the power cord as you mow your lawn – it slows you down
Lacks the superior power you get from the self-propelled petrol lawnmower Cobra RM46SPCE which ploughs through all types of grasses with ease (but still mows stronger than many other branded electric mowers)
There is no rear rollers included here but they are available in other lawnmower models in the wider Cobra range
The weight of this lawnmower is larger and a good deal heavier than your average lawnmower weighing over 30kg so be prepared for this (though you still have the self-propelled support)
As it is an electric 1800W corded lawnmower, you cannot expect it deal with difficult mowing conditions like a petrol powered lawnmower but a self-propelled electric lawnmower is still a nice bonus nonetheless
Compare Lower Priced Lawn mowers
View: Cobra Rear Roller Petrol & Electric lawnmower review
Side Discharge
For less informal lawn areas, you can choose to use the side discharge option instead of collecting them in the grass box which also helps to speed up the mowing jobs. Simply lift the side discharge lever and add the side discharge chute and away you go. All the grass clippings will be left in neat rows and this is a great option especially if you grass has become overgrown or out of control.
Alternative Cobra Cordless Self Propelled Electric Lawnmowers
If you do not want the hassle of power cords on your lawn as you work and you are prepared to pay more for mowing your lawn, then you should check out the 2 cordless battery powered self-propelled electric lawnmower recommendations instead below summarised briefly as follows.
There is a single 5Ah battery in the first option and 2 5Ah batteries and 2 chargers in the second option which explains the higher price level.
1, Cobra MX460S40V 46cm Self-Propelled 40V 5Ah Battery Cordless Lawnmower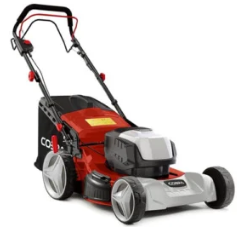 Includes a 5Ah 40V battery and charger
No fuels, oils or power cables - Mowing path width also 46cm
Same 7 mowing heights 2.5-7.5cm
LED power display in the hand top lever
Self-propelled support speed 3.3km/hr
Hard top grass collection bag 60L capacity
Side discharge and mulching options also
Push button starter and steel deck
Battery runtime average 35-45 minutes
Recharging takes average 1 hour - Covered with 2 year warranty
Price Guide: £380 - £420

2, Cobra MX51S80V 51cm Self-Propelled 80V 5Ah Batteries x 2 Cordless Lawnmower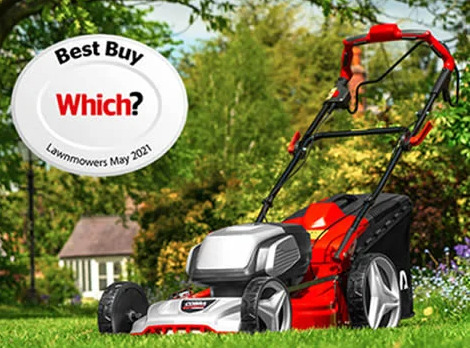 Premium more expensive cordless SP mower
Includes two 5Ah batteries and 2 chargers - Longer mowing time 70 to 90 minutes
Mulching plug and side discharge included
Mow heights x 7 - 2.5cm up to 7.5cm
Self-propelled support single speed 3.2km/hr
Foldable handles using the easy to use levers
Large grass hard top bag with 60L capacity
Wider mowing path of 51cm or 21 inches
Winner of Best buy award with Which?
Handlebar LED battery indicator included - For larger lawns 500m2 plus
Price Guide: £570 - £630

Video - Cobra MX51S80V 80V 3-in-1 Lawnmower overview
This video covers how to attach the mulch plug, attaching the side discharge chute, adjusting the heights and folding the handles as well as the self propelled lever and the mowing height lever so you should definitely check this video out which is straight to the point and will help you get the most out of your lawn mower machine
Comparison Table Cobra Electric Self-propelled Lawnmowers
| Cobra SPE | Cobra MX46SPE | Cobra MX460S40V | Cobra MX51S80V |
| --- | --- | --- | --- |
| Propelled | Self propelled | Self propelled | Self propelled |
| Operation | Power Cord | Cordless | Cordless |
| Power | 1800W motor | 40V 5Ah battery | 40V 5Ah battery x 2 |
| Mow width | 46cm / 18 inch | 46cm / 18 inch | 51cm / 21 inch |
| Mow heights | 7, 2.5-7.5cm | 7, 2.5-7.5cm | 7, 2.5-7.5cm |
| Weight | 34kg | 24kg | 29kg |
| Cable | 15m long | N/A | N/A |
| Grass bag | 60L capacity | 60L capacity | 60L capacity |
| Side discharge | Yes | Yes | Yes |
| Mulch plug | Yes | Yes | Yes |
| Speed | 3.3 km/hr | 3.3 km/hr | 3.2 km/hr |
| Battery runtime | N/A | 35-45 mins | 70-90 mins |
| Warranty | 2 years | 2 years | 2 years |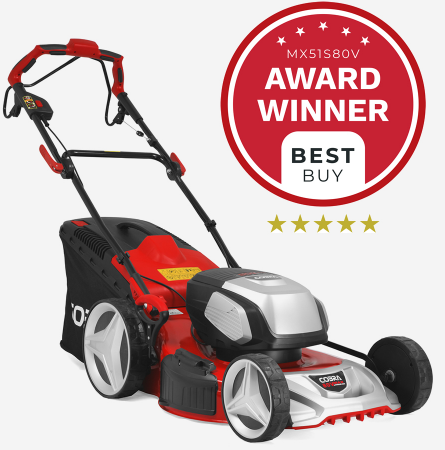 View: Cobra Corded Electric Hand push lawnmower review
Conclusion
After completing this Cobra Electric Self Propelled Lawnmower review, we hope our work here can give you a better idea of what these corded and cordless lawnmowers are all about and what they can do for you. While the corded self-propelled lawnmower is not as good as the cordless in our opinion, it still offers a significantly lower price which would be a better solution for those seeking the lowest possible price.
For those of you who have the extra disposable income, we would recommend the awesome Cobra MX51S80V cordless self-propelled lawnmower with 2 batteries which has received an award from Which and further information and prices and be double checked below

Cobra Electric Self Propelled Lawnmower Feedback
Have you ever used a Cobra self-propelled Electric Lawnmower in the past (corded or cordless)? If so, please share your own feedback and experiences with the wider mowing community by leaving a comment in the comment box section provided below…