After completing several Electric lawnmower reviews, we also wanted to complete our Cobra Cordless Electric Lawn mower review to see if they perform as good as other leading brands across the market. We will outline what we believe to be the most popular options of Cordless Lawn mowers under their brand and outline all the key features you need to be aware of plus the pros and cons that we came across during our review.
Read also: Popular Cordless Lawnmowers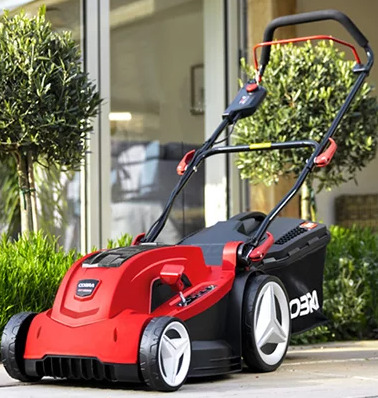 Cobra Cordless Lawnmower Types
There are several sizes and variations of Cobra Cordless lawnmowers available, so we have focussed our review on 3 types namely the Cobra cordless 34cm, the wider and more powerful Cobra Cordless 43cm and also the Cobra 41cm Rear Roller cordless version. Covering 3 models will be better for you to give you a wider picture so at least you have more than just 1 option when it comes to making any final decision.
Cobra Comparisons
To ensure you have all the relevant information, we have included a comparison table further down on this page which will add clarity on the key features and components for these cordless lawnmowers from Cobra. In addition, we have also provided some brand alternatives so you can see how they compare pricewise to other cordless brands on sale which can possibly save you some money in the process.
Cobra Cordless Lawnmower Review – 3 Popular Options
Option 1: Cobra 34cm Cordless Hand Propelled Lawnmower MX3440V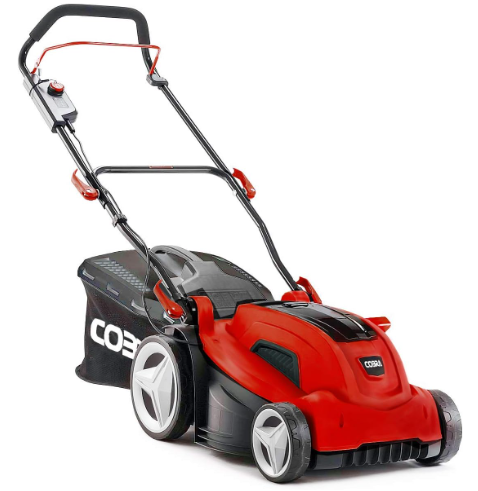 The first recommendation is the lower priced Cobra 40V Cordless hand push Lawn mower code MX3440V that comes with the 40V 2.5Ah lithium ion battery, a charger and it offers a mowing path width of 34cm or 13 inches. Recharging this battery takes around 75 minutes to complete, the motor is brushed (not brushless) and you can expect to get 30 to 40 minutes mowing time from the battery depending on mowing, grass and terrain conditions.
It's a basic cordless lawnmower to suit those looking for the best possible price so there is no additional spare battery, no rear rollers, no mulch plug, no self-propelled support and it has the narrower frame of just 34cm width. There are 5 mowing heights options that are controlled with a single lever and it can mow from 2.5cm up to 7.5cm.
The grass collection box has a capacity of 35 litres, the weight of the unit is 12.5kg and it comes backed with a 2 year warranty from Cobra. A cordless lawnmower like this is best suited for lawn sizes up to 250-300m2 in our opinion
Price Guide: £180 - £230

Video – Overview of the Cobra MX3440V Cordless Lawnmower
Read also: Popular Robotic lawnmowers
Option 2: Cobra 43cm Cordless Hand Propelled Lawnmower MX4340V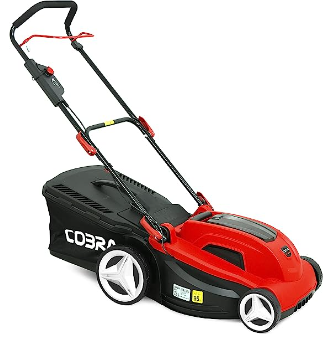 For a wider mowing path and a more powerful battery for dealing with tougher mowing conditions and larger lawns, then you should consider the more expensive Cobra 43cm wide Cordless 5Ah battery Lawnmower code MX4340V that will do a much better job overall and make the mowing work a lot easier for you to do.
Yes it will cost you more but it is more equipped for dealing with larger mowing jobs that require the extra power you get from this 5Ah battery. There is no rear roller, no mulch plug or additional second battery so it is still more affordable that many other brands – plus the motor is brushed not brushless. The 40V charger is included and you get 5 mowing heights from 2.5cm to 7.5cm, the grass box is larger at 50L and it is designed for larger lawn sizes 400m2 to 500m2 in our opinion.
Recharging usually takes around 90 minutes, the battery mowing time ranges from 35 to 45 minutes depending on grass conditions and it is also covered with a 2 year warranty.
Price Guide: £280 - £320

Option 3: Cobra 41cm Cordless Rear Roller Lawnmower RM4140V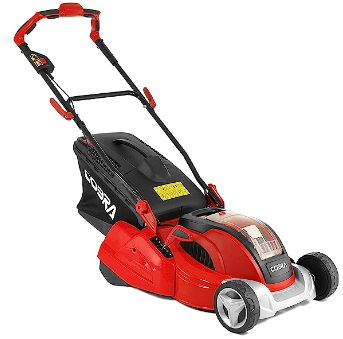 For a tighter lower cut supported with a rear roller for stripes, then you should choose the Cobra 41cm Cordless Rear Roller Lawnmower code RM4140V instead which comes with the 40V charger and a single 4Ah battery.
It's a much heavier machine at 22kg and the battery mowing time tends to be slightly less to support the heavier weight and the tighter cut so bear this in mind when making your selection. It has 7 mowing heights that range from 2cm to 7.5cm and it comes with the Cobra Samsung 40V Lithium-ion battery that takes around 80 minutes to recharge and will give you 20 to 30 minutes mowing time depending on mowing conditions and mow heights selected.
This lawnmower weighs around 22kg, the grass collection unit has a capacity of 50 litres and it also comes with the 2 year warranty as expected.
Price Guide: £370 - £420

Read also: Webb Electric Lawnmower review
FAQ's for the Cobra Cordless Lawnmowers
Q1, Is the deck made from plastic or steel?
A, The decks are made with heavy duty hardened plastic
Q2, Are the motors brushed or brushless?
A, The motors are brushed only for the lawnmowers in this review
Q3, Do the grass collection boxes have hard tops?
A, Yes, the grass boxes are designed with fabric and the heavy duty hard top lid
Q4, How long will the battery mow for?
A, It depends on mowing and grass conditions but you can expect them to last 20-45 minutes (see comparison table below)
Q5, Can the handles be folded down after use?
A, Yes, you can fold down the handles after use to allow improved storage in tighter spaces.
Q6, What sizes are the wheels?
A, The front wheels are 6 inches and the rear wheels are 9 inches
Q7, Is there a rear roller and mulch plug included in the MX3440V?
A, No, they are not included in the MX3440V but these features are available in alternative Cobra models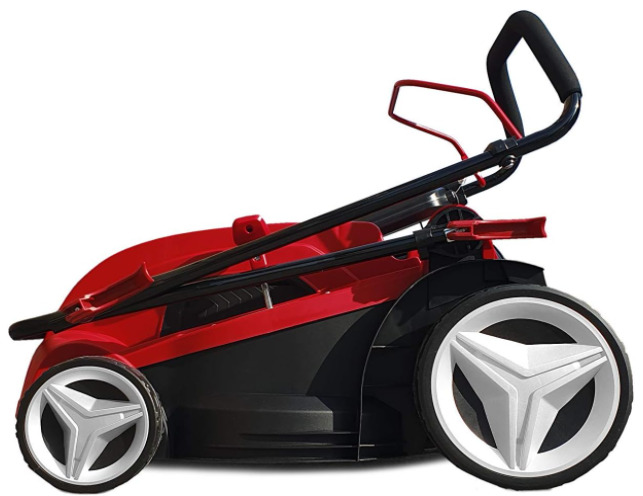 Pros for the Cobra Cordless lawnmowers (7)
There is a great choice of lawnmowers to choose from – you can get the cheaper and basic MX3440V model without the rear rollers, mulch plug and one 2.5Ah battery or you can select other more expensive models that do offer these extra mowing features and more powerful 5Ah batteries
You are not limited to the length of power cords so you have more freedom when doing your gardening and mowing work – no cords on the lawn as you work
There are no maintenance costs like petrol lawnmowers as there are no fumes, no oils and no fuels to worry about so you save money in the long term.
The lightweight design of the MX3440V is impressive especially around corners and difficult obstacles and it gave a really good quality cut and did a satisfactory job when it came to collecting all the grass clippings
Batteries appear to be able to manage most small to medium sized lawns be it 250m2, 300m2 and in some cases even up to 500m2 when a light trim is needed on the more powerful batteries
Noise levels from these cordless lawnmowers is far lower than the petrol lawnmowers and you have the push button start instead of the pull cord
It can handle longer grasses quite well as long as you start with the higher setting 5 and work your way down on the second pass
Cons for the Cobra Cordless Lawn mowers (6)
There are only brushed motors in place – not the brushless motors that you see available in other premium brands
These lawnmowers are hand pushed so you need to do all the pushing yourself (alternative models in the Cobra portfolio are electric self-propelled but much more expensive)
The recharging time is well over 1 hour where other brands have quicker chargers than this
Difficult mowing conditions, denser and coarser grasses will deplete the battery charge a lot quicker
There are no second batteries available in the packs (which explains the lower price point)
There are no rear rollers or mulch plugs included in the MX3440V or MX4340V but are available in other more expensive models within the wider Cobra range
Read also: Popular Electric Corded Lawnmowers
Price Comparisons vs other Brands
Cobra Cordless Comparison Table
To add further clarity on these Cordless lawnmowers from Cobra, feel free to check out the comparison table below where you can see each of them side by side. Please note that the heavier Rear roller version requires more power for the tighter cut so the battery runtime tends to be somewhat less (bear this in mind also)
| Cordless | Cobra MX3440V | Cobra MX4340V | Cobra RM4140V |
| --- | --- | --- | --- |
| Mow width | 34cm / 13 inch | 43cm / 17 inch | 41cm / 16 inch |
| Voltage | 40V | 40V | 40V |
| Mow heights | 5, 2.5cm-7.5cm | 5, 2.5cm-7.5cm | 7, 2cm-7.5cm |
| Rear Roller | None | None | Yes |
| Battery | 2.5Ah x 1 | 5Ah x 1 | 4Ah x 1 |
| Operation | Hand push | Hand push | Hand push |
| Battery runtime | 25-35 mins | 35-45 mins | 20-30 mins |
| Battery recharge | 75 minutes | 90 minutes | 80 minutes |
| Lawn size guide | 250-300m2 | 400-500m2 | 300-400m2 |
| Motor | Brushed | Brushed | Brushed |
| Grass Box | 35L capacity | 50L capacity | 50L capacity |
| Weight | 12.5kg | 15kg | 22kg |
| Handles | Foldable | Foldable | Foldable |
| Warranty | 2 years | 2 years | 2 years |
View: Mountfield Cordless Lawnmower review here
Conclusion
After completing our Cobra Cordless hand push lawnmower review, we hope our work here can give you a better idea of what these lawn mowers are all about and what they can offer you for your own mowing gardening jobs.
Which one would we choose? It depends on the garden size – if I had a lawn 200-300m2 I would choose the MX3440V but if my lawn was larger 400-500m2, then I would choose the MX4340V instead. These lawnmowers performed much better than expected so we have no hesitation in recommending them to the wider public and further information, reviews and price updates can be viewed below

Cobra Cordless Lawnmower Feedback
Have you ever used a Cobra Cordless lawnmower in the past? If so, please share your own feedback and experiences with the wider mowing community by leaving a comment in the comment box section provided below…