If you are interested in buying a corded electric Lawnmower from Cobra, then please make sure to take a quick through our detailed Cobra Corded electric Lawn mower review which outline everything you need to know including the features, specifications and the pros and cons that we came across during our review.
Cobra Corded Range of Lawnmowers
One advantage you have when it comes to the corded GTRM Lawnmowers under the Cobra brand is the fact that you are not just limited to 1 or 2 options within their range. They carry a good range of mowing widths and weights so you can expect to get choices like a smaller 34cm wide 13kg lawnmower, a 38cm wide lawnmower, a 40cm and also a larger 43cm 22kg lawnmower plus more.
These Cobra corded GTRM lawnmowers are designed with the rear rollers built in which will help give you the attractive eye catching grass striped effect plus the mulch plug alternatives.
View also: Cobra Cordless Hand Push Lawnmower review
Power Levels
Even though some of the prices are higher than other brands, you should know that the power levels tend to be higher for similar sized lawnmowers. For example, the Cobra 34cm corded lawnmower is 1300W while the Webb 33cm corded lawnmower is at 1300W and the Mountfield Electress 34cm corded lawnmower is lower at 1200W.
Similarly the Cobra 38cm corded lawnmower is 1600W where the Mountfield Electress 38cm corded lawnmower is lower at 1400W so bear this in mind when you are making your selection.
Cobra Corded Lawnmower Review – 4 Options
Instead of giving you a long story on each of these corded lawnmowers, we will provide a short summary which outlines the key features on each type. We have started with the larger more expensive 43cm GTRM43 corded lawnmower and finished with the smaller lower priced 34cm GTRM34 and many of the features are similar except for the power levels, weights and mowing widths (comparison table is further below)
Option 1: Cobra GTRM43 43cm 1800W Electric Lawnmower with Roller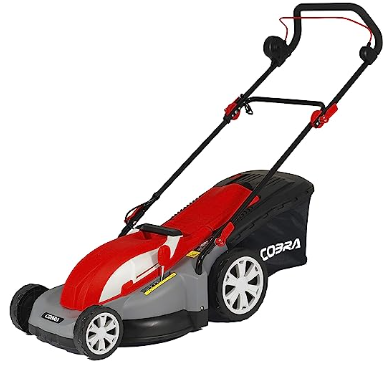 Overview
More powerful 1800W motor
Wider mowing width 17 inch or 43cm
Rear roller and mulch plug included
Power cable length is 10m long
7 mowing heights 2cm to 7.5cm
Grass collection box with 50L capacity
Warranty 2 years long
Price Guide: £150 - £180

Option 2: Cobra GTRM40 40cm 1600W Electric Lawnmower with Roller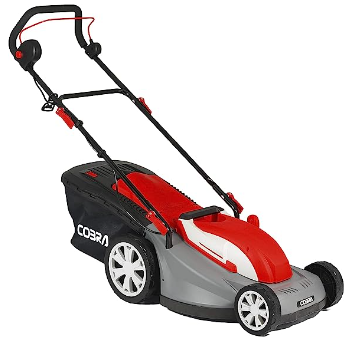 Overview
Motor power level is 1600W
7 mowing heigh positions 2-7.5cm
Integrated roller for striped effect
Power cable length is 10m
Grass collection box capacity 45L
Warranty protection is 2 years
Mulch plug included
Price Guide: £130 - £160

Read also: Our Webb Electric Lawnmower review
Video Overview: Cobra Electric 38cm Rear Roller Push Lawnmower GTRM38
Mulch Plugs
One good to know is that there are Mulch plugs included with these 4 corded Cobra electric lawnmowers so instead of collecting the grass clippings, you can recycle the grass finely into re-cut smaller clippings and return to the soil as a natural fertiliser. This is great also when it comes to getting your grass mowed quicker with no time wasted emptying the grass collection box
Comfortable Soft Grip Controls
Another thing we liked about these 4 lawnmowers was the soft hand grips on the upper frame which helps you when it comes to pushing the lawnmower and it also helps to reduce levels of hand fatigue setting in. Time will tell how long they will last but adding some heavy duty black tape on the sides will help them last a lot longer from what we have seen.
Option 3: Cobra GTRM38 38cm 1600W Electric Lawnmower with Roller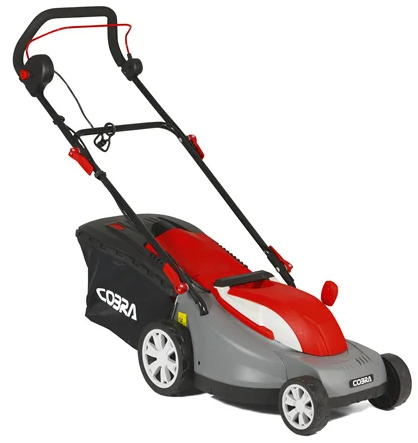 Overview
Designed with motor power 1600W
Mowing width is 15 inch or 38cm
Includes mulch plug and the rear roller
Length of the power cable is 10m long
Mowing heights x 7, 2cm - 7.5cm
Grass collection with 40L capacity
Warranty cover duration 2 years
Price Guide: £110 - £140

Option 4: Cobra GTRM34 34cm 1300W Electric Lawnmower with Roller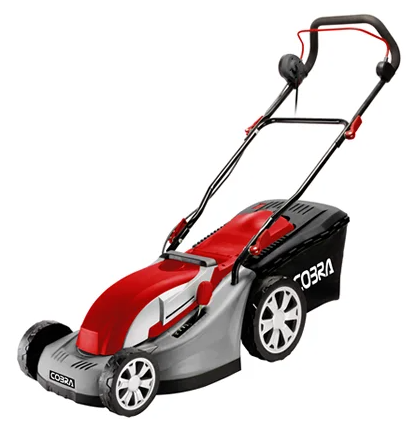 Overview
Lighter designed weight of 13kg
Can be used as mulching or rear collect
Rear roller included for striped effect
Motor power level is 1300W
7 mowing heigh positions 2 to 7.5cm
Power cable is 10m & grass box 40L capacity
Warranty 2 years domestic only
Price Guide: £90 - £120

View: Our Mountfield Corded Electric lawnmower review here
Pros for the Cobra Corded GTRM Lawnmowers
You have a good selection of mowing widths, power levels and price points to choose from so you are not just limited to 1 or 2 options. You can choose the heavier 22kg more powerful GTRM43 or go with the lighter 13kg less powerful GTRM34
There is plenty of power in these lawnmowers starting at 1600W where many other cheaper brands only offer power levels of 1200W or even lower
Other lower priced brands don't have mulch plugs or rear rollers but they are included in these "GTRM" corded lawnmowers which explains the slightly higher prices
The grass collection bag for the smaller 34cm lawnmower is 40L which is larger than the same sized lawnmower from Mountfield which is 35L and the Webb 33cm which is also 35L capacity
It cuts well around the edges, it is easy to clean including the undercarriage and adjusting the mow heights works great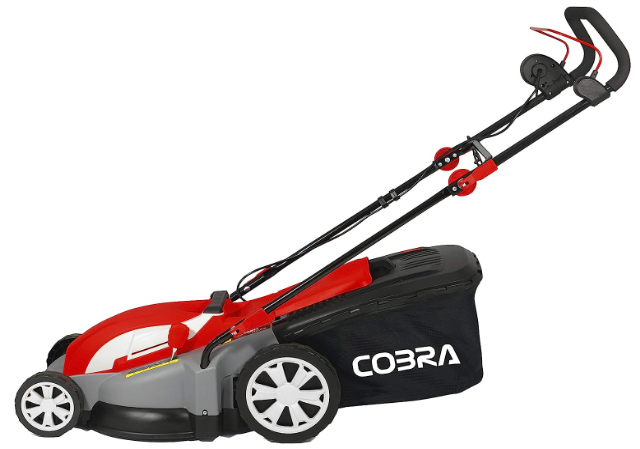 Cons for the Cobra Corded GTRM Lawnmowers
The length of the power cable is only 10m which is average but many other brands offer longer power cables such as 12m (Spear & Jackson) and 15m (Mountfield)
You need to be able to develop a technique of mowing your lawn while having a cord across your lawn at the same time
If you lawn is over 8m long, you will need to buy an extension cord also which is an added expense.
These GTRM lawnmowers are all hand propelled so you need to do all the pushing yourself which can be difficult on sloped terrain (they offer self-propelled electric lawnmowers also but these are more expensive)
As the rear rollers are included, they are a littler heavier than usual and the folding of the handles is more difficult than expected
Price Comparisons vs Brands
Grass Collection boxes
The larger lawnmowers will have larger grass collection boxes and the smaller lawnmowers such as the 34cm wide lawnmower will have smaller grass collection boxes. That being said, the Cobra smaller 34cm lawnmower still has a 40 litre collection bag which is larger than many other similar sized alternative brands that offer 35L collection bags (example Webb, McGregor and Mountfield). They also have grass full indicators which is also a nice addition to have
Rear Rollers
The Cobra lawnmower with the "GTRM" in their code descriptions will all have rear rollers included in their design. These help to give you the nice attractive striped effect but please note they don't generate the higher quality stripes that you get from the heavier petrol powered rear roller lawnmowers.
Mowing Heights
The mowing heights on these lawnmowers are controlled using a single lever and they can cut as low as 2cm and up as high as 7.5cm. If you have to mow long grasses over 3-4 inches, then you should start at the higher mow settings and then work your way down on the second and third pass.
Cobra Corded Lawnmower Comparison Table
For easier viewing on how these Cobra Corded GTRM electric lawnmowers compare, feel free to check out the comparison table below where you can see each of these Cobra GTRM lawnmowers side by side…
| Cobra | Cobra GTRM43 | Cobra GTRM40 | Cobra GTRM38 | Cobra GTRM34 |
| --- | --- | --- | --- | --- |
| Mow width | 43cm | 40cm | 38cm | 34cm |
| Motor power | 1800W | 1600W | 1600W | 1300W |
| Mow heights | 7, 2-7.5cm | 7, 2-7.5cm | 7, 2-7.5cm | 7, 2-7.5cm |
| Rear Roller | Yes | Yes | Yes | Yes |
| Mulch plug | Yes | Yes | Yes | Yes |
| Power cable | 10m long | 10m long | 10m long | 10m long |
| Grass box | 50L | 45L | 40L | 40L |
| Weight | 22kg | 18kg | 17kg | 13kg |
| Warranty | 2 years | 2 years | 2 years | 2 years |
Read also: Popular UK Electric Corded Lawnmowers
Conclusion
After completing this Cobra Corded Electric lawnmower review, we hope our work here can give you a better idea of what these corded lawnmowers are all about and what they can offer you. Overall, we would be happy with their performance and we would have no hesitation in recommending them to the wider public.
Yes, they are a little heavier than normal (due to rear rollers) and yes the cable could be longer as some other brands do offer longer cords that are 12m long and some even 15m long. Their power levels are strong and their grass boxes are also bigger than many of their rivals for the same sized lawnmower so you should keep this in mind also.
Final Note
One last thing to note, there is a big difference in the weights of these lawnmowers so pick the heavier 22kg model if you can handle it or select the lighter 13kg GTRM34 version for an easier mowing experience.

Cobra Corded Lawnmower Feedback
Have you ever used any of these Cobra GTRM Corded Electric Lawnmowers in the past? If so, please share your own feedback and experiences with the wider mowing community by leaving a comment in the comment box section provided below…