If you are thinking about buying a Cobra Rear Roller Lawnmower in the coming days, then make sure to check out our detailed Cobra Rear Roller Lawn mower review which will outline 3 of our preferences in this category plus all the main features, pros and cons that we came across during the course of our review.
Types of Cobra Rear Roller Lawnmowers
There are multiple different variations and types of Rear roller lawnmowers within the Cobra portfolio but the 3 types we will be covering in this review will be (1) the Petrol Self-propelled Rear Roller lawnmower with a pull cord, (2) the cordless Rear Roller lawnmower that is hand pushed and finally (3) the more expensive Petrol Self-propelled lawnmower with the electric ignition key starter. That way you have more than just 1 choice when it comes to making any final selection
View also: Cobra Self Propelled Petrol lawnmower review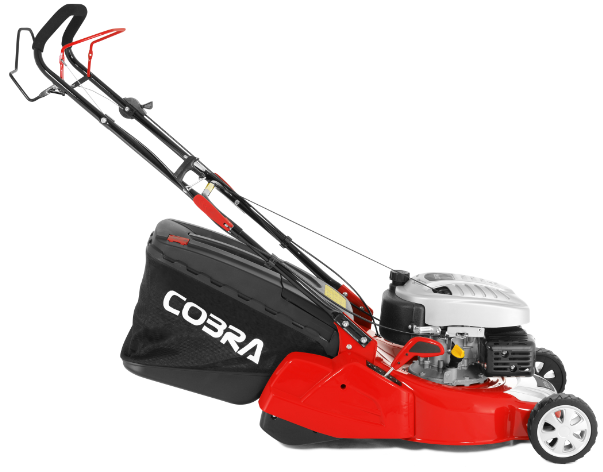 No Mulch Plugs
As these lawnmowers are designed with the rear collect and the rear rollers for the striped mowing effect, there is no mulch plugs included in the package as they cannot be fitted. In addition, there is no side discharge available either for more informal areas so it is limited to rear collection only with the built in rear rollers.
Cobra Rear Roller Lawnmower Review – 3 Types
Type 1: Cobra RM46SPC 46cm Petrol Powered Rear Roller Lawnmower (Pull cord)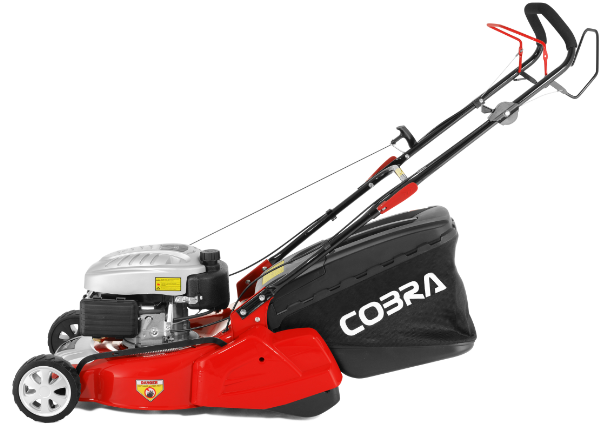 For nice attractive mowing stripes across the lawn, there is the Cobra RM46SPC 46cm Petrol Powered Rear Roller Lawnmower that is started using the pull cord and it comes designed with a Cobra OHV DG450 135cc engine. It gives a lower cut than you normal petrol lawnmower down to 1.7cm and it can be raised to 7.5cm to deal with longer grasses in your lawn. There is no mulch plug or side discharge – only the rear rollers and the rear collection grass bag that has a storage capacity of 55 litres.
It offers a mowing path width of 46cm and a lawnmower like this is designed really for lawn sizes up to 600m2 in area. It can mow and cut over the border lawn edges and it can give you that traditional striped appearance to leave a nice eye catching finish after your mowing work is done.
The self-propelled support operates at a single speed of 3.4km per hour which works fine for the average walking mowing speed and it comes with their standard 2 year warranty
Price Guide: £350 - £400

View: Cobra Cordless Hand Push Electric Lawnmower review
Type 2: Cobra RM4140V 41cm Cordless Battery Rear Roller Lawnmower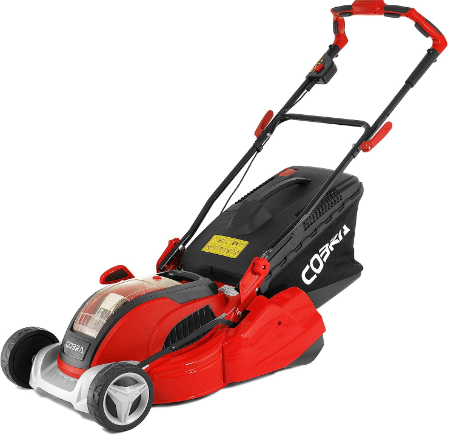 If you want to stay away from petrol and oils, then you should consider the electric cordless version instead which is the Cobra RM4140V 41cm hand push cordless battery Rear roller Lawn mower. It's not as powerful as the petrol versions and you need to push it rather than having the self-propelled petrol versions. It's lowest mow height is also slightly higher than the petrol version and the grass collection bag is also slightly smaller at 50L capacity.
It comes with a cordless 4Ah battery and the 40V charger in the pack and it can cover lawns up to 400m2 in our opinion. The mowing width is 16 inches or 41cm and there are 7 mowing height options that range from 2cm up to 7.5cm. The Cobra battery itself is actually a Samsung 40V battery and you have the battery charge information indicator located close to the top of the handles.
It's a much lighter alternative to the petrol version as this electric lawnmower weighs less at 23kg and it also comes backed with the 2 year warranty cover. It takes about 90 minutes to fully recharge this battery and you can expect to get 20-30 minutes mowing time depending on grass conditions
Price Guide: £370 - £420

Video Overview: Cobra Electric RM4140V Rear Roller Lawnmower
Type 3: Cobra RM46SPCE 46cm Petrol Self Propelled Rear Roller Lawnmower (Electric Start)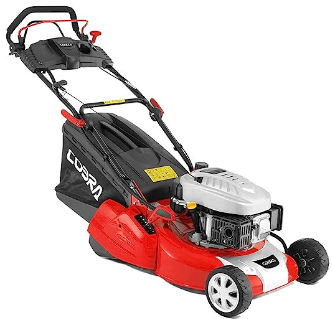 This rear roller lawnmower from Cobra is powered by petrol and the big attraction here is the electric ignition key starter so you don't have to worry about pull cords – though a pull cord is also there as back up if needed. It has the 46cm or 18 inch mowing path, 6 mowing heights 1.7cm to 7.5cm and the single speed self-propelled support that operates at 3.4 km per hour.
Due the extra features – electric start, self-propelled support, rear roller and the 4 stroke 135cc Engine, you can expect to pay more but you can still get it from between £450 and £500 when seen at the time of our review. The grass box has the storage capacity of 55 litres and it is designed for lawn areas up to 600m2 in size. It's a heavy machine at 40kg but you have the self-propelled support to get you around the lawn and it has the 2 year warranty as well as the Cobra DG450 OHV 135cc engine.
Price Guide: £450 - £500

View also: Cobra Corded Electric lawnmower review
Pros for the Cobra Rear Roller Lawnmowers
You are not just limited to one type as you can choose "self-propelled or push", "pull cords or electric ignition starting" and "petrol or cordless battery" so there are more choices to meet the needs to different gardeners
The front wheels are in line with the border which mean less trimming work afterwards and the rear roller width is designed for the full width of the lawnmower so there are no areas missed (small border trimming may be still necessary though for a cleaner cut finish)
They supply oil with the lawnmower to help get you started and the quality of the stripes is excellent overall (better on the petrol vs the electric)
Having the electric ignition key starter in the RM46SPCE is a big bonus and attraction to have when it comes to reliable starting, easier mowing and it also helps to reduce wear and tear on this engine.
Cons for the Cobra Rear Roller Lawnmowers
While the electric rear roller works great, the mowing time can be unreliable 20 to 30 minutes depending on mowing conditions – more difficult grasses will deplete the battery a lot quicker than expected
The petrol powered rear roller lawnmowers can work on lawn sizes up to 600m2 but the electric version is really only suitable for lawn sizes up to 400m2
Even though the petrol self-propelled rear rollers give you a low mowing height of 1.7cm, the electric hand push version is higher at 2cm for the lowest setting which won't be low enough for everyone's requirements.
The self-propelled support operates at single speed only at 3.4km/hr unlike some other self-propelled lawnmowers that can offer variable speed options
Compare Lower Priced UK Lawnmowers
Cobra Rear Roller Lawnmower Comparison Table
To add further clarity on these Rear Roller Lawnmowers from Cobra, feel free to check out the detailed comparison table below where you can see each of these 3 options side by side
| Coba Rear Roller | Cobra RM46SPC | Cobra RM4140V | Cobra RM46SPCE |
| --- | --- | --- | --- |
| Self Propelled | Yes | No | Yes |
| Mow width | 46cm | 41cm | 46cm |
| Starter | Pull cord | Push Button | Key & recoil |
| Engine | Cobra DG450 135cc | Electric | Cobra DG450 135cc |
| Powered | Petrol | 4Ah Battery | Petrol |
| Mow heights | 6, 1.7cm-7.5cm | 7, 2cm-7.5cm | 6, 1.7cm-7.5cm |
| Grass bag | 55L capacity | 50L capacity | 55L capacity |
| Speed | 3.4 km/hr | N/A | 3.4 km/hr |
| Lawn size | Up to 600m2 | Up to 400m2 | Up to 600m2 |
| Weight | 37kg | 23kg | 40kg |
| Warranty | 2 years | 2 years | 2 years |
View also: Mountfield HP41 & SP41 Petrol Lawnmowers review
Conclusion
After completing this review for the Rear Roller Lawnmowers from Cobra, we hope our work here gave you a better idea of what you can expect and also to give you some recommendations on the different types of Rear Rollers that you can choose to use. We have included Petrol Self propelled with pull cords, Electric Cordless Hand push with button starters and also a Petrol self-propelled rear roller lawnmower with an electric ignition starter so there should be something here to cater for your own gardening and mowing needs.
Which lawnmower would we choose? For an easier life, without a doubt it would have to be the Cobra RM46SPCE with the electric ignition  key starter and further information along with updated prices can be viewed below

Cobra Rear Roller Lawnmower Feedback
Have you ever used any of these Cobra Rear Roller Petrol or Electric Lawnmowers before? If so, please share your own feedback and experiences with the wider mowing community by leaving a comment in the comment box section provided below…