If you are thinking about buying a Hayter Harrier 48 lawn mower in the coming days, then please make sure to check out our Hayter Harrier 48 Cordless and Petrol lawnmower review which will outline everything you need to know plus we will outline our main pros and cons for each during the course of our review.
These premium British lawnmowers are packed with extra features to make your mowing work and experiences easier to do and of course they are recognised for giving you that self-propelled support and crisp sharp striped grass finish with their built in rear rollers.
View also: Popular UK Petrol lawnmowers
Hayter Company Background
This company was created a long time ago back in 1946 so there is a very strong tradition of expertise, brand awareness and customer loyalty within the company ethos. The lawnmowers under the brand of Hayter Harrier are manufactured in the UK while various other Hayter branded lawnmowers such as Hayter Hawk and Hayter Osprey are manufactured outside of the UK.
They have a strong heritage and they are recognised as a premium brand with innovative technology, durable decks and high powered premium batteries and engines. The brand is operated and owned by Toro UK Ltd in Hertfordshire and their customer care phone number is 0800 616298
Hayter Lawnmower Range
The range of lawnmowers on offer from Hayter is diverse and it includes petrol and electric cordless lawnmowers both hand propelled and self-propelled. In addition, they have an excellent range of rear roller lawnmowers for garden stripes, self-propelled electric lawnmowers and also lawnmowers with variable speed options so they are in the top tier when it comes to garden lawnmowers.
Part 1: Hayter Harrier 48 Cordless Electric Lawnmower Review
Hayter Harrier 48cm Cordless 60V Variable Speed Lawnmower 477A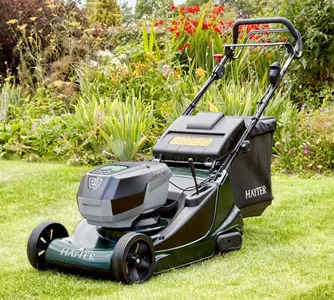 This premium lawnmower from Hayter Harrier is a 60V 2000W cordless electric self-propelled lawnmower that includes the 7.5Ah battery and charger and it can deal with larger lawns up to 500m2 in area as a guide. One thing we liked here was the power boost technology in that the machine will give you extra power when you need it most especially when dealing with lush or damp or longer grasses.
There is no oils, fuels or pull cords as it starts with the simple press of a button after you insert the powerful battery into the frame slothe built in rear rollers at the back give you the eye catching attractive garden striped effect.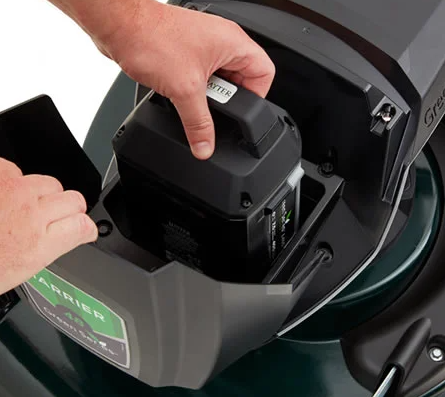 It is made in Britian and the adjustable variable speeds operate from a slow pace of 1.7km per hour up to a nice steady pace at 3.2 km per hour. The mowing path is 48cm or 19 inches wide and it gives a superior sharper stripe from what we have seen when compared to other branded rear roller lawnmowers.
Included in the design is a brushless DC motor, an aluminium deck and the self-propelled support does all the hard work so you just need to walk behind it and steer it around your lawn.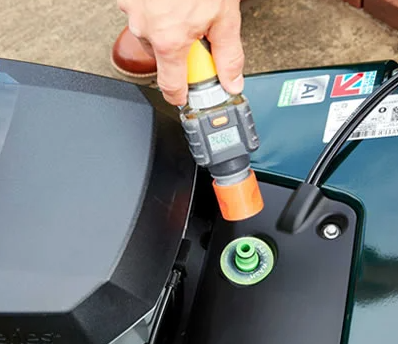 There are 7 mowing height options that range from 1.3cm up to 6cm and it comes backed with a 5 year warranty. The rear roller is designed as a 2 piece heavy duty polymer roller and while the domestic warranty is 5 years long, the commercial business warranty is 3 months. In addition, the handles can be folded down for tighter storage, the weight is 42kg and the storage capacity of the grass box is 70 litres which is significantly larger than your average lower priced electric lawnmower.
Price Guide: £1300 - £1600

View also: Cobra Self Propelled Electric lawnmower review
Cordless Lawnmower Price Comparisons
Pros for the Hayter Harrier 48 Cordless Lawnmower 477A
Many other cheaper cordless lawnmowers only have 2.5Ah batteries where you get a significantly more powerful 7.5Ah battery here to give longer mowing runtimes
You get the rear rollers, self-propelled support, power boost technology, variable speeds options, vari-pitch technology all in the same machine unlike most other cordless lawnmowers in the market plus a long 5 year warranty
The longer mowing times enable this lawnmower to cover larger lawn areas up to 500m2 and even 600m2 from what we have seen where many other cordless lawnmowers can only cover 250m2
Unlike most other cordless lawnmowers, you have the wash port included here for cleaning out the undercarriage for a much easier cleaning experience
Many cordless lawnmowers you see in the market will only go as low as 2.5cm where this Hayter 48 cordless lawnmower gives you a lower mowing cut of 1.3cm for a tighter and cleaner finish.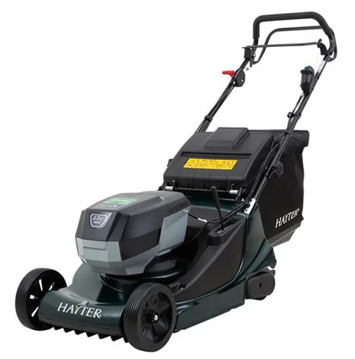 Cons for the Hayter Harrier 48 Cordless Lawnmower 477A
The price level and cost of this lawnmower is significantly higher than your average lawnmower so it won't be affordable for everyone.
The highest speed of 3.2km per hour won't be fast enough for some people who prefer a faster mowing pace
While there is plenty of power in this lawnmower, we felt the Hayter petrol version works much better on sloped and difficult terrain
The weight of this cordless lawnmower is a lot heavier than you average cordless lawnmower but at least you have the self-propelled support to get you around the lawn and garden
Video overview: Harrier 48 60V Cordless Rear Roller Lawnmower
Hayter Harrier 48 Petrol Lawnmower Variations
There are several different variations of the Hayter Harrier 48 petrol lawnmowers available in the range so you are not limited to just 1 particular model. The lower priced models are the Hayter Harrier 48 VS with adjustable variable drive speed and the Hayter Harrier 48 BBC with the blade break clutch.
The more expensive Hayter Harrier 48 petrol lawnmowers then are the Hayter Harrier 48 ES and the Hayter Harrier 48 PRO which is designed more for professional gardeners, commercial business and landscape contractors.
Part 2: Hayter Harrier 48 Petrol Self-propelled Lawnmower review
Hayter Harrier 48 Petrol Variable Speed Self Propelled Lawnmower 474A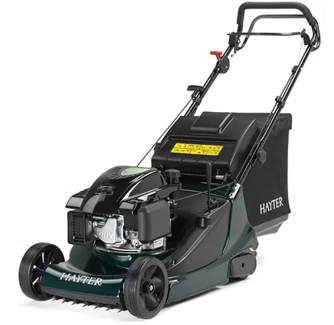 This petrol lawnmower from Hayter Harrier offers a mowing path of 19 inches or 48cm and it has the variable speed self-propelled support that operates from 1.8km per hour up to 3.3km per hour. It is designed for lawn areas sizes up to 1600m2 and it works great on difficult and sloped terrain and tougher mowing conditions such as lusher thicker grasses, damp grasses and long grasses. There is a lifetime warranty on the crank shaft and it is covered with a domestic warranty of 5 years as long as it is serviced annually by an authorised dealer.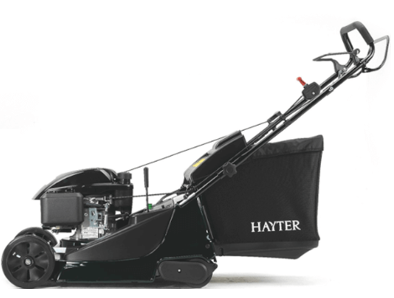 The heavy built in 2 piece rear rollers give you a crisp striped effect across your lawn and the trim side deck means that it will cut as wide as the wheels which in turn allows it cuts right up against your border areas so less trimming is needed afterwards.
The deck is made using aluminium and the 7 mow heights work as low as 1.3cm up as far as 6cm. You get the vari-pitch technology for a cleaner crisp cut finish, a wash port hose on top, the guaranteed start technology and the handles can also be folded here for tighter storage. It is designed with their Hayter 1P65FC single cylinder 4-stroke OHV (overhead valve) 2.6kW 159cc engine and the oil tank capacity is 0.55L while the fuel tank capacity is 1.0L.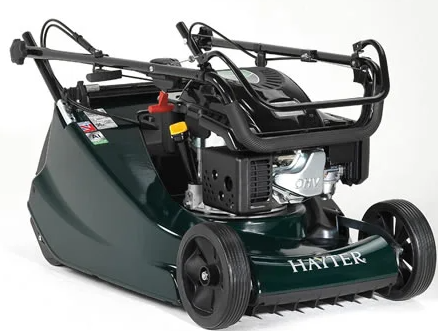 The variable self-propelled support operates from 1.8km per hour up to a steady pace of 3.3km per hour and it has the 2 piece polymer rear roller plus the grass box has a large storage capacity of 70 litres. It's a heavy lawnmower machine at 47kg and it is started with the pull cord rather than an electric starter. The mowing heights re adjusted with a single lever, the handles can be folded and it is also covered with a 90 day money back guarantee from the supply base in Gloucester
Price Guide: £1000 - £1300

View also: Mountfield HP41 & SP41 Petrol Lawnmowers review
Petrol Lawnmower Price Comparisons
Pros for the Hayter Harrier 48 Petrol Lawnmower 474A
Unlike many other petrol lawnmowers, you have several features included in the same machine such as the rear rollers, lower 1.3cm mowing cuts, variable speed self-propelled support and the wash port on top for the undercarriage cleaning
The GTS "Guaranteed to Start" technology built in gives to 100% confidence of starting the machine every time plus it is lower priced than the Hayter Harrier 48 cordless lawnmower so savings can be made here
While the cordless Hayter 48 can cover lawn 500-600m2, this petrol Hayter 48 can cover much larger areas up to 1600m2 no problem (40m by 40m)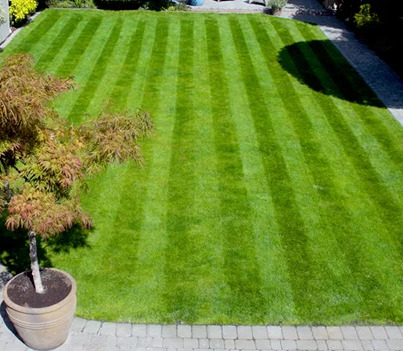 Cons for the Hayter Harrier 48 Petrol Lawnmower 474A
As you have the rear rollers, there is no mulch plug included and no side discharge option either
Again many other self-propelled petrol lawnmowers will cost significantly lower than this so you need to have a higher level of disposable income available
You need to have it serviced annually in order to qualify for the 5 year warranty
Read also: Webb Petrol Lawn mower review
Conclusion
Which Hayter Harrier 48 Lawnmower would we buy? Our preference would have to be the Hayter Harrier Petrol 48 lawnmower over the cordless as we found the power levels on difficult and sloped terrain better and it can cover our larger mowing areas better. That being said, these lawnmowers don't come cheap so you will need to be prepared to dig deeper into your pockets to get your hands on them and further information and pricing updates can be double checked below…

Hayter Harrier 48 Lawnmower Feedback
Have you ever used a Hayter Harrier 48 Cordless or Petrol VS Lawnmower in the past? If so, please share your own feedback and experiences with the wider mowing community by leaving a comment in the comment box section provided below….