One of the most popular Lawn mowers under the Mountfield range is the low priced Mountfield HP41 Hand Push petrol lawnmower so we wanted to check it out and complete our review to see if it works as good as people say it does. We will also give you some price comparison options which can possibly save you some money in the process as this lawnmower tends to offer good price discounts at certain times of the year.
In addition, we have also compared it to the Mountfield SP41 Self-propelled lawnmower further down on this page so at least you have more than just one option when making a final decision
Read also: Mountfield SP185 lawnmower review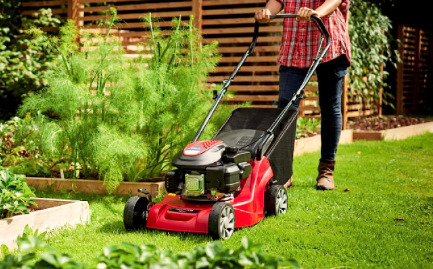 Service Team
If you have any problems with your Mountfield Petrol lawn mower, you can contact their service link team directly on 0800 121 6585. You should also ensure that the lawn mower is serviced annually who can also sharpen the blades and change the oil for you as well as fix any parts due to wear and tear.
In addition, you should also get into the habit of clearing out the undercarriage of the lawnmower as dried grass, debris and dirt will tend to lodge. By clearing out the under carriage, the lawn mower will perform better and give you an improved cut and the collection of the grass clippings into the rear grass box will also be improved.
Mountfield HP41 Petrol Lawnmower Review
Mountfield HP41 39cm Hand Propelled Petrol Lawnmower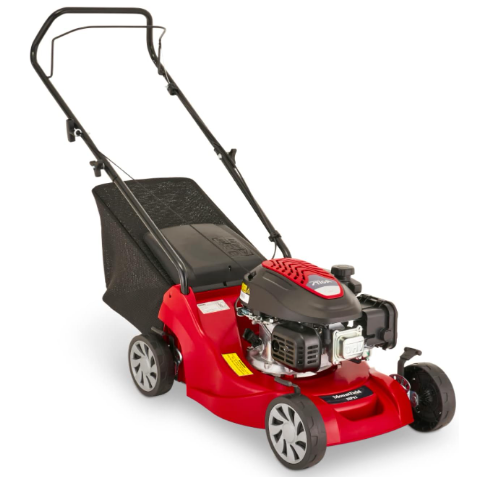 This popular petrol hand push HP41 lawnmower from Mountfield offers a mowing path of 39cm wide and it comes designed with the ST120 123cc Autochoke engine so there is no manual choke or priming required. There is no electric key start so it needs to be started using the pull cord and it uses standard unleaded petrol as well as SAE30 oil. There are 5 mowing height options that range from 2.5cm up to 7.5cm and these are controlled with the levers beside the wheels.
Based on the size, it is more suited for flat level lawns than steep sloped gardens and it is designed for lawn areas of  up 250m2 as a guide and possibly slightly more – even 300m2 would be fine in our opinion. The grass collection box has a storage capacity only of 40L and the chassis is made using polypropylene so it is resistant to rust and corrosion which is one less thing to worry about.
In addition, the oil tank has a capacity of 0.5L, the fuel tank has a capacity of 0.75L and it comes backed with a 2 year warranty from Mountfield.
Price Guide: £200 - £250

Read also: Mountfield Corded Electric lawnmower review
Pros for the Mountfield HP41 Lawnmower (6)
This lawnmower now has the Autochoke feature built in so there is no need to worry about the manual choke priming anymore
It performed so much better than any electric lawn mower we have used when it comes to dealing with damp grasses, long grasses and coarser denser grasses – there is plenty of power in this engine for a clean cut
Many heavy petrol lawnmowers are difficult to push however this lawnmower is only 19kg so pushing it around the lawn is a lot more manageable than you think
Putting it together is simple and it started on the first pull of the cord after the oil and fuel was added
The plastic polypropylene chassis deck is a great alternative to steel or aluminium as you don't have to worry about rust or corrosion setting in
Petrol lawnmowers can be very expensive but this particular HP41 lawnmower is certainly one of the best priced petrol lawnmowers we have seen anywhere – ideal for people seeking a basic and cost effective lawnmower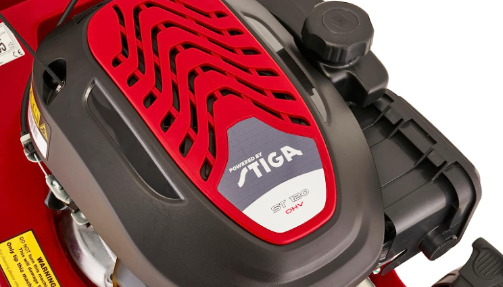 Cons for the Mountfield HP41 Lawnmower (6)
There is no self-propelled support, no rear roller, no mulch plug and no side discharge available so it's a very basic lawn mower overall (which explains the lower price tag)
If your lawn has difficult terrain or steep slopes, then pushing this lawn mower will require a good deal of physical effort so you would be better off with a self-propelled version instead in these circumstances
There is no wash port for under the deck either so you need to clear the debris underneath manually yourself (you can use a small hand trowel for this)
The grass collection box would be a bit on the small side at 40L capacity as many other lawnmowers have grass boxes with larger storage capacities of 50L and 60L
There is no oil included in the delivery and you need to ensure you don't start the machine until the oil is added
The assembly instructions could be a whole lot better but at least there are videos online that you can use instead
Mountfield Price Comparisons
Mountfield SP41 Petrol Lawnmower Review
As mentioned earlier, if you have a flat even lawn then the HP41 will work fine however if you have difficult terrain or steep slopes in your garden, then we would recommend the SP41 self-propelled version instead to help you get the job done easier and with a lot less strain.
Mountfield SP41 Self Propelled Petrol Lawnmower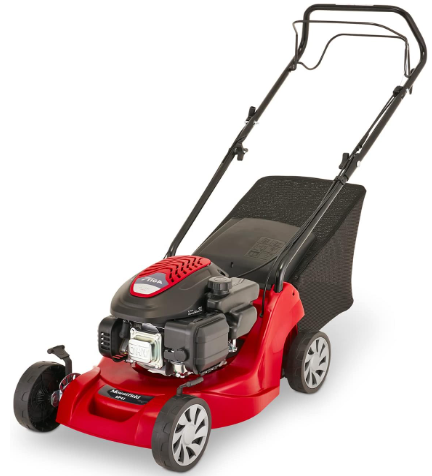 For an easier life and to deal with more difficult mowing conditions, you should take a closer look at the self-propelled Mountfield SP41 lawnmower instead and you will find that the mowing jobs are done a lot quicker and with a lot less strain on the body.
All the features are more or less the same as the HP41 except one is self-propelled and the other is hand propelled. The engine, chassis, mowing width and mowing heights are all the same as the HP41 and the extra cost involved is not all that bad to be fair (for an easier life)
It can also cover lawn areas also 250-300m2 and the weight of this machine is slightly heavier than the HP41 by about 3kg. It's a basic yet cost effective self-propelled lawnmower without any rear roller, variable speeds, mulch plug or side discharge and it is also covered with their 2 year warranty.
Price Guide: £250 - £300

Read also: Mountfield Cordless lawnmower review
Mountfield HP41 vs SP41 Comparison Table
To add further clarity on these petrol lawnmowers from Mountfield, feel free to check out this HP41 vs SP41 comparison table below
| Petrol Lawnmower | Mountfield HP41 | Mountfield SP41 |
| --- | --- | --- |
| Operation | Hand Push | Self-propelled |
| Mow width | 39cm / 15.35 inch | 39cm / 15.35 inch |
| Engine | 123cc Stiga ST120 | 123cc Stiga ST120 |
| Autochoke | Yes | Yes |
| Lawn size | Up to 250m2 | Up to 250m2 |
| Grass box | 40 litre capacity | 40 litre capacity |
| Chassis | Rust proof | Rust proof |
| Mow heights | 5, 2.5cm – 7cm | 5, 2.5cm – 7cm |
| Weight | 19kg | 22kg |
| Fuel tank | 0.75L capacity | 0.75L capacity |
| Oil tank | 0.5L capacity | 0.5L capacity |
| HP Power | 2.54 HP | 2.54 HP |
| Warranty | 2 years | 2 years |
Read also: Mountfield 827H Ride on Mower review
Conclusion
Even though the Mountfield HP41 is a very basic lawnmower, it still does a great job in getting grass cut and the Autochoke is a great addition to have as well as the rust free chassis. First impressions anyway is very positive and we would highly recommend it to the wider public as a cost effective petrol lawnmower for people who prefer to buy a lawnmower at the best or lowest possible price.
Sure there are plenty of better petrol lawnmowers than this that offer variable speed control, vari-pitch cut technology, integrated rear rollers, mulch plugs and side discharges but they don't come with a competitive price tag as good as the Mountfield HP41 lawnmower. Further information and more customers reviews can also be checked out below

Mountfield HP41 / SP41 Lawnmower Feedback
Have you ever used the Mountfield HP41 or the SP41 Lawnmowers in the past? If so, please share your own feedback and experiences with the wider mowing community by leaving a comment in the comment box section provided below…