Which Mountfield Ride on Tractor Mower do we recommend? If you are thinking about buying a Mountfield ride on mower in the coming days, then make sure to check out our Mountfield ride on Tractor mower review which will outline all you need to know and also the best ones we believe that are available under this brand. Mountfield is certainly a brand that can be trusted in the UK for garden equipment for reliability and quality, but we wanted to check out their ride on mowers as well to see how good they really are.
Our review will focus on one of the best tractor mowers from Mountfield which we believe is the Mountfield 656cc 2248H Lawn Tractor mower with the hydrostatic transmission, but we will also outline 2 lower priced options under this brand so at least you have more than just one choice when it comes to making a final decision. We will do our best to outline the pros and cons in this review which we came across plus a series of frequently asked questions that hopefully can answer some of the queries that you may possibly have. For easier, navigation, our review will be split into 5 parts as follows…
Riding Tractor Lawn Mower Review Content:
Part 1: Quick Overview & Video Demo
Part 2: Frequently Asked Questions
Part 3: Mountfield 2248H 656cc Tractor Riding Mower Review
Part 4: Lower Priced Alternatives – 2 options
Part 5: Comparison table & Conclusion
As guide prices can only be shown as the time of this Mountfield riding tractor mower review, please make sure to view the price checkers provided below to ensure you have the most accurate up to date price information available.
Read also: Our list of Best Tractor mowers in the UK
Part 1: Quick Overview & Video Demo
| Brand: | Mountfield |
| --- | --- |
| Model: | Mountfield 2248H Lawn Tractor with Hydrostatic transmission |
| Power Level: | 10.4kW @ 2500rpm - 656cc |
| Engine: | Briggs & Stratton 7220 V-twin cylinder Intek engine |
| Fuel Tank: | 7 litres capacity |
| Warranty: | 5 years (available from Mowers Online UK in Gloucester) |
| Price Level: | Usually in the £4k region - View Today's Price Here |
Mountfield Tractor Mower Video Overview
Part 2: Frequently Asked Questions (8)
Q1. How long does delivery take?
A. Online orders are normally delivered in a few days – 3 working days on average
Q2. Is there much assembly work needed?
A. This mower can be delivered fully assembled and ready to mow straight away
Q3. How do I know which day it will be delivered?
A. They will contact you directly with details of the delivery day.
Q4. Does it include a tractor mower cover for protection?
A. No, usually this is available as an extra add-on.
Q5. How big or what capacity is the fuel tank?
A. The fuel tank has a capacity of 7 litres
Q6. What size lawn is it suitable for?
A. The recommended lawn size for this tractor mower is up to approx. 5 acres
Q7. What are the mow heights available?
A. This ride on mower provides mowing heights from 3cm up to 9cm over 7 height settings
Q8. How big is the grass collection unit?
A. The grass collection unit has a capacity of 320 litres.
Part 3: Mountfield 2248H Tractor Riding Mower Review
Tractor Mower Description:
This powerful tractor mower from Mountfield is on the upper end scale in their range and is certainly one of the best on offer in our opinion. After working with this machine for a few weeks, we did not come across any problems and the power, cutting, collecting and comfort level certainly surpassed many of our expectations.
It is provided with a 656cc V- twin cylinder Briggs & Stratton engine and also the high output 122cm or 48 inch Contra-Flo cutting system which leaves a clear and precise finish across the grass lawn.
In terms of lawn areas, it can handle up to 5 acres and even more no problem whatsoever and it operates with an electronic engagement on the cutter deck which gives a high-quality finish and grass clipping collections.
It comes with a Briggs & Stratton 7220 V-twin cylinder Intek engine, a towing bar hitch, a mulching plug and the engine capacity operates at a level of 656cc. You can switch from collection mode to mulching mode by removing the collector and inserting the mulch plug into the discharge area.
The transmission functions with a hydrostatic transmission for extra comfort, the control levers are well placed for managing the machine while you work and the seat can also be adjusted to your liking.
The grass collector has a capacity of 320L and there are 7 mow height positions that work from 3cm up to 9cm.
Available from: B&Q UK - Further information below

Further images of the Mountfield 656cc 48 Inch Lawn Tractor mower are outlined below (3)
Pros and Cons to Note:
Pros for the Mountfield 656cc Tractor Mower:
In terms of overall functionality, power and capability, this model is definitely our favourite tractor under the Mountfield brand and we would rate it as certainly one of the best if not their number 1 overall rated tractor mower.
It includes a battery charger, head lights, a diagnostic display and also an audible alarm.
There is also a wash port which allows quick and easy cleaning of the deck and blades. As it is hydrostatic, all you need to do is press the pedal and off you go.
Even though the price is quite high, the amount of money you need to spend is well warranted with the quality of engine and machine you are getting.
Deliveries are faster than expected and the fact that it can be delivered fully assembled and ready to go is a major plus.
Cons for the Mountfield 656cc Tractor Mower:
No tractor cover is included. It is only available as an added extra cost which will cost you approx. £100 extra!
It doesn't include a grass deflector also which was disappointing. To get this, it will cost you a further £100 extra if you need it added to the package.
Many other tractor mowers include engine oil to get you started but there is no engine oil included here. It would have been better if they added in some SAE30 engine oil for a tractor mower of this size and cost.
Changing from the collection mode to the mulching mode could be easier to do but is not all that bad once you get the hang of it.
Mountfield 452cc Tractor 38 Inch Lawn Mower 1538M
Key Points to Note:
Mountfield ST500 engine Rear wheel drive
5 speed manual transmission
Cutting deck 38 inches / 98cm
2 anti-scalp wheels - single cylinder
Mow heights 2.5 to 8cm
Grass collector capacity 240L
Speed levels of 2 to 9.7 km per hour
Delivered fully assembled
Price Guide: £2k region (warranty 5 years)

Mountfield 452cc 38 Inch Tractor Mower 1538M-SD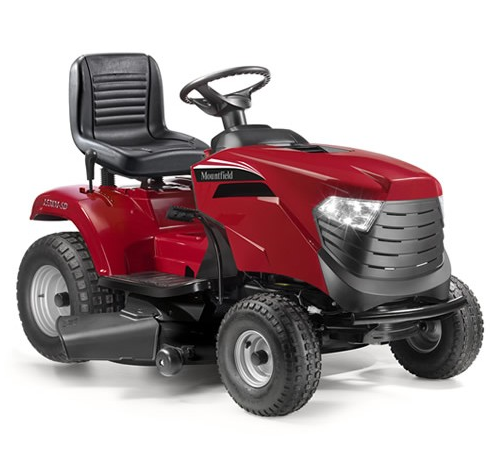 Key Points to Note:
Side Discharge and Mulching Tractor mower
Grass collection unit not included
Lower priced alternative solution
Fuel tank capacity is 6 litres
Speed levels 2 to 9.7 km / hour
Manual transmission 5 speed
Reverse transmission - single cylinder
Delivered fully assembled & ready to go
Price Guide: £1.5k region (warranty is 5 years)

Part 5: Comparison table & Conclusion
To help you get a better understanding of how these tractor mowers compare against one another, then check out the comparison table outlined below so you can compare whatever parameters that interest you the most…
| Model: | Mountfield 656cc 2248H | Mountfield 452cc 1538M | Mountfield 1538M-SD |
| --- | --- | --- | --- |
| Power: | 656cc | 452cc | 452cc |
| Engine: | Twin cylinder Briggs & Stratton | Mountfield ST500 | Mountfield ST500 |
| Contra-Flo cutting: | Contra flo | Twin untimed blades | Dual cutting |
| Lawn areas: | Up to 5 acres | Up to 4 acres | Up to 4 acres |
| Cutting width: | 48 inches/122cm | 38 inches/98cm | 38 inches/98cm |
| Mulching Plug: | Included | Included | Included |
| Towing Hitch: | Included | Optional extra | Included |
| Fuel Tank: | 7 litres | 6 litres | 6 litres |
| Output: | 10.4kW @ 2500rpm | 7.9kW @ 2600rpm | 7.9kW @ 2600rpm |
| Grass Collector: | 320 L capacity | 240 L capacity | N/A |
| Mow Heights: | 7 – 3cm to 9cm | 7 – 2.5cm to 8cm | 7 – 2.5cm to 8cm |
| Wheels: | Rear 18" / Front 15" | Rear 18" / Front 15" | Rear 18" / Front 15" |
| Dimensions: | W129cm x L242cm | W103cm x L234cm | W120cm x L173cm |
| Battery Charger: | Yes | Yes | Yes |
| Weight: | 247kg | 190kg | 164kg |
| Warranty: | 5 years | 5 years | 5 years |
Check out also: Our list for the best tractor mowers in the UK
Conclusion:
As far as tractor mowers goes, this lawn mower is certainly up there with the best of them in terms of power, performance and reliability so we have no issues whatsoever in recommending it to the wider public. The price on the 656cc 48 inch version is quite high so it may not fit into everyone's specified budget but the lower priced alternatives outlined above should help give you a more affordable option also. Deliveries to mainland UK can be quicker than expected as it can be delivered on the next day when conditions allow it and a big advantage is the fact that it can be delivered fully built and assembled which is one less headache to worry about.

Your Feedback?
Have you ever used a Mountfield Tractor Ride on mower yourself in the recent past?
If possible, please share your experiences and feedback with the wider UK community by leaving a comment in the comment box section provided below – So that others in the UK can learn also!