If you are thinking about buying the Mountfield 827H or the Mountfield 827M Ride on mower in the coming days, then please make sure to check out this review which will outline everything you need to know before you make any final decision.
We have included some video inserts so you can see it in action and in more detail plus we will outline all the features it can offer you as well as the main pros and cons that we came across during the course of our review.
View also: Popular Petrol lawnmowers in the UK
Focus
The focus of our review will be on the Mountfield 827H Ride on Hydrostatic mower but we will also include the Mountfield 827M Compact Ride-On Mower and the Mountfield MTF 84M 1330M Petrol Garden Tractor mower so at least you have more than 1 option when it comes to making any final decision.
These alternatives offer features that the 827H doesn't offer you such as the side discharge and lower tighter mowing cuts – check out the comparison table at the end of this page for more information
View also: Mountfield 827H Ride on Mower Prices here
Grass Heights
It should be noted that these Ride on mowers are not as powerful as other Tractor ride on mowers so you cannot expect it to plough through tall grasses at the lowest mow height settings. If you try to cut tall, wet or long grass on the lowest mow height settings, then it will damage the drive belts and it will cause too many problems for the engine. Instead you should start at the higher mow height settings when dealing with long grass and work your way down on the second and third pass.
Mountfield 827H Ride on Mower Review
Mountfield 827H Compact Ride on Lawnmower with Hydrostatic Transmission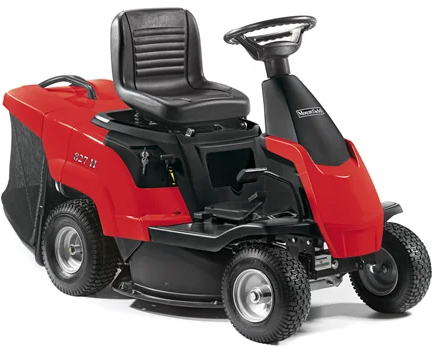 This small framed Ride on Mower from Mountfield is designed for lawn areas up to ¾ acres or 3000m2 and it is ideal for people who need an entry level Ride on mower instead of a more expensive Tractor Ride on mower. It has become increasingly popular within the Mountfield catalogue range and you should be able to get your hands on it for less than £2200 when seen at the time of our review.
When promotional discounts are in place, you can generally purchase it for less than £2000 which is significantly lower than your average Tractor Ride on mower. It offers a mowing path of 66cm where the total width is only 73cm and it's much better at dealing with various obstacles such as trees, garden furniture and flower beds with its smaller frame dimensions. Instead of gears, you have the Hydrostatic transmission for speed control and the fuel tank has a capacity of 3.8 litres.
Its engine is a Stiga ST250 ES engine with a capacity of 224cc and the large grass collection box has a storage capacity of 150 litres. You get 6 mowing height options that range from 3cm up to 7.5cm and it comes backed with a 5 year warranty. Further technical and dimension information can be viewed in the comparison table below
Price Guide: £1800 - £2200

Read also: Our Webb Petrol Lawnmower review
Video Introduction – Mountfield 827H Ride on Mower
Pros for the Mountfield 827H Ride on Mower
The 827H includes the Hydrostatic transmission which makes the whole mowing job easier to do while the 827M has the manual transmission with 4 forward gears to get through
You get a better turning circle of 155cm with the 827H where the turning circle of larger tractor mowers can be 180-200+cm
Its provides an excellent entry level Ride on mowing experience as they cost considerably less than you average tractor ride on mower
It can mow in reverse as well as mowing in forward speed
The mowing quality was better than expected and it has become one of the best sellers within the Mountfield lawnmower range and we can see why
Unlike many other lawnmowers that only offer 2 year warranty's, you get a much longer warranty of 5 years with this particular 827H Ride on mower which goes a long way when it comes to peace of mind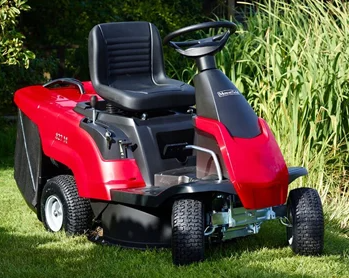 Cons for the Mountfield 827H Ride on Mower
As it is so popular, it tends to go out of stock so you either have to wait a week or more or choose an alternative ride on mower
The lowest mowing cut may not be low enough for you as it can only go as low as 3cm where other petrol lawnmowers can cut as low as 2cm and some even as low as 1.2cm (Hayter Harrier)
There is no side discharge available on the 827H but it is available on the 827M
There is also no Anti-scalp wheels available either but it is available on the Mountfield MTF 84M tractor mower
You don't get any tow bar or mulch plug included which need to be bought as optional extras
Alternative Ride on Mountfield Mowers
If you need a side discharge or a more powerful larger tractor mower from Mountfield, then check out the 2 alternative recommendations summarised briefly as follows...
Video - Overview of Mountfield Lawn Riders Mowers
Comparison Table
To ensure you have all the necessary information, please make sure to check out the comparison table below where you can see all the features of the Mountfield 827H vs the Mountfield 827M and the Mountfield MTF 84M side by side
| Ride on Mower | Mountfield 827H | Mountfield 827M | Mountfield MTF 84M |
| --- | --- | --- | --- |
| Mow Width | 66cm | 66cm | 84cm |
| Total width | 73cm | 73cm | 90cm |
| Transmission | Hydrostatic | Manual (5 gears) | Manual (6 gears) |
| Engine | Stiga ST250 ES | B & S 950E | Stiga ST350 |
| Mow heights | 6 – 3cm to 7.5cm | 5 – 3cm to 6.5cm | 7 – 2.5cm to 8cm |
| Engine Capacity | 224cc | 224cc | 352cc |
| Power Output | 3.6kw at 2450rpm | 3.6kw at 2450rpm | 5.8kw at 2450rpm |
| Turning Circle | 155cm | 155cm | 180cm |
| Fuel tank | 3.8L capacity | 3.8L capacity | 6L capacity |
| Grass collection | 150L capacity | 150L capacity | 200L capacity |
| Mulch | Optional extra | Optional extra | Optional extra |
| Lawn size | Up to 3000m2 / ¾ acre | Up to 3000m2 / ¾ acre | Up to 4000m2 / 1 acre |
| Dimensions | L183 x W73 x H109cm | L183 x W73 x H109cm | L234 x W88 x H110cm |
| Side discharge | None | Yes | None |
| Warranty | 5 year domestic | 5 year domestic | 5 year domestic |
Price Comparisons vs B&Q and Amazon
Read also: Popular Robotic lawnmowers in the UK
Conclusion
After completing our review on the Mountfield 827H Ride on mower, we hope our work here plus the video inserts can give you a better idea of what this Ride on mower is all about and if it can meet your own set of needs and requirements. Would we recommend it? Certainly yes, we have no hesitation in recommending it as an entry level Ride on Mower to the wider public and further information along with updated prices can be double checked below

Mountfield Ride on Mower Feedback
Have you ever used the Mountfield 827H or the Mountfield 827M Ride on Mowers in the past? If so, please share your own feedback and experiences with the wider mowing community by leaving a comment in the comment box section provided below…