Greetings once again and today we are conducting a review for the Remington 18-inch Reel Push Lawn Mower, so please take a quick look through this review if you are considering buying it in the coming days.
In addition, I will also outline a cheap place to buy it so at least you can also save some money in the process.
The Remington Reel Mower has its advantages and disadvantages and we will outline the main ones to you along with the important features that you need to be aware of plus some frequently asked questions that came up that will be of interest to you. At the end, I will also have a quick look at the 16 inch Reel Mower to see how it compares to the 18 inch…
Reel Lawn Mower Overview:
| Lawn Mower: | Remington 18 Inch Reel Mower |
| --- | --- |
| Brand | Remington |
| Model | 15A |
| Attachments | Yes, attachments are available |
| Cheap place to Buy: | Amazon - Check Stock Availability Here |
Main Features:
5 cutting blades
Ideal for small yards with flat terrain
Made from non-corrosive heavy duty steel
Small Compact size
Width of the mow path is 18 inches
Height of the mow can vary from 0.75-2.5 inches
Wheels are 10 inches in diameter
Grass Bagger Included
Handle includes foam padding for comfort
Blade sharpener and Balance kit can be bought separately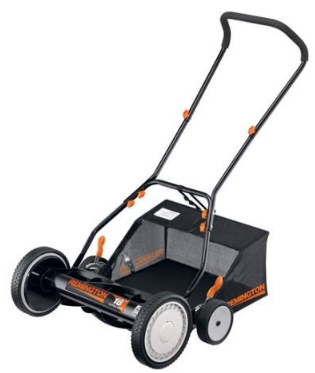 Further images are outlined below (includes the Handle foam padding)
FAQ's – Frequently asked Questions:
Q, How often do the blades need to be sharpened?
A, Typically at the start of each season or when the grass is not being cut at the optimum level
Q, Is the handle strong enough so it won't bend with heavy pushing?
A, Yes, the handle is strong enough and will not bend
Q. What Height levels are available?
A, The mow heights can be adjusted from 0.75 inches to 2.50 inches
Q, Is there much work involved with assembly upon delivery?
A, No, only 5 minutes just to attach the handle in the slots and grass catcher (no tools needed)
Q, Can the grass catcher be removed?
A, Yes, the grass catcher can be removed
Q, Can this Reel Mower perform on wet grass?
A, The performance on wet grass is significantly lower, dry grass is the preferred option
Pros / Advantages
Environmentally friendly alternative (no gas / fume emissions)
Includes the bagger
Simple assembly process – takes about 5 minutes only
Foam pad on the handle gives you more comfort when pushing
To keep the blades sharp, a Blade sharpener and balance kit is available separately to keep it in peak condition
Can operate without the grass catcher bag
Ideal if storage space is limited for a gas mower
Provides a great form of physical exercise
Great price when compared to gas mowers
Cons / Disadvantages:
Can only be used for small yards
Not able to handle thick long grass as effective as commercial mower
Suitable for flat terrain only, very difficult in hilly areas
The quality of the grass catcher could be improved significantly as it tends to be quite flimsy
The size of the grass catcher could be bigger to hold more grass cuttings – fills up very quickly
Struggles with hilly and bumpy terrain
Much slower than the gas or electric mowers
At times, a second going over will be needed to get your desired mow quality.

A lower priced option is also available and it is the Remington 16 Inch Reel Mower which has a smaller cutting path by 2 inches but can work if your garden is that bit smaller…
Main Features for the Lower Priced 16 Inch Reel Mower:
For small lawns with light grass
Not suitable for thick heavy-duty mowing
Model number is 15A-3000783
Mow width is 16 inches
Includes 5 cutting blades
Wheels are 10 inches in diameter
Foam grip on the handle
Same cutting heights of 0.75 – 2.50 inches
Lower priced when compared to the 18-inch Reel mower above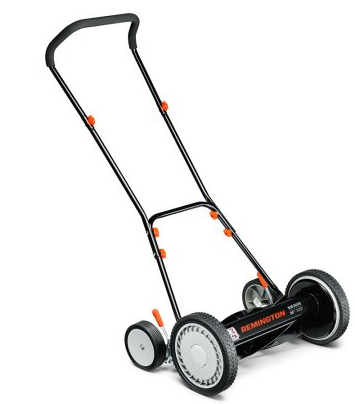 Need to Explore Alternative Reel Mowers???
If you need to take a closer look at alternative brands, then check out some of the more popular options outlined below...
In addition – feel free to take a look at related Lawn Mower Reviews outlined as follows:
Finally, I hope this review on the Remington Reel Mowers has helped you out in your search and you can let me know your own experiences with Reel mowers by leaving a comment below.