Greetings once more and today I am also reviewing the Remington 12 Amp 19 inch Electric Mower which you should take a look before you consider buying it. My focus and objective will be to outline all you need to know about it including questions asked, the advantages and also the disadvantages.
I also want to try and help you save some money in the process and display a cheap place where it is currently stocked and available for sale, so let's begin…
Electric Lawn Mower Overview:
| Lawn Mower: | Remington 12 Amp 19 Inch Electric Mower (3 in 1) |
| --- | --- |
| Brand | Remington |
| Model | 18A-212A783 (corded) |
| Motor | 12 Amp |
Key Important Features:
Cutting path is 19 inches wide
12 Amp Motor to provide extra power for thicker grass and mulching
Includes a 3 in 1 mowing settings
3 settings are side discharge, mulching and rear catcher
Mow height can be changed to 6 positions ranging from 1.75 – 3.50 inches
Ideal for smaller to medium size lawns
Can be easily folded for convenient storage
Wheels are 8 inches at the back and 7 inches at the front
Weight of mower is 67.1 Ibs
This is a Corded Electric Mower (cordless model number is 18A212B783)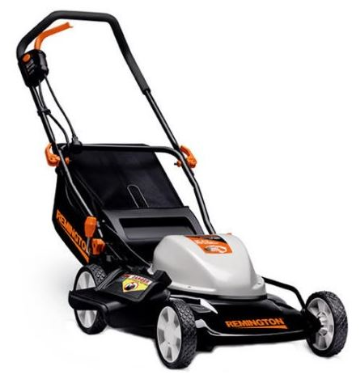 Additional images are outlined below:
Frequently Asked questions about this Electric Mower:
Q, Can the handle be folded?
A, Yes the handle can be folded for easy storage
Q, Is this a corded Mower?
A, Yes, 18A-212A783 is corded and the 18A-212B783 is cordless
Q, Is It self propelled?
A, No, this is a push mower
Q, Is the grass catcher bag included?
A, Yes, the grass catcher bag for the rear is included
Q, What type of extension cord is needed?
A, A regular 100 foot 16 gauge outdoor cord
Q, Is a Cordless version available?
A, Yes and the model number is 18A212B783
Pros / Advantages:
Simple push button start (no pull cords)
Lower maintenance required when compared to the gas models
Longer handle to assist in manoeuvring
Much lighter than a gas mower and therefore easier to push around and work with
No need to worry about oil, gas or fumes.
Noise level is significantly lower when compared to gas mowers
More powerful than it appears and can give power somewhat similar to a gas mower
Replacements are readily available if needed (wheels / 19 inch blade)
More positive feedback than the cordless rechargeable version due to the charge times involved.
3 settings of mulching, rear catcher and side discharge are a major plus
Superior level of performance when tackling weeds
Cons / Disadvantages:
Not self propelled so you need to do all the pushing
Rear bag could be larger as it tends to fill up quickly and requires more frequent emptying
Price is a little on the high side when compared to regular gas mowers (however savings are made with no gas / oil costs and lower maintenance costs)
You need to be extra careful when mowing with an extension cord lying around the lawn as you mow.
Dragging the cord around as you mow can be quite annoying
Comparisons?
To ensure you have a broader view, make sure to check out and compare the 2 popular options provided below before you make your final decision
Need to Consider Alternatives?
If the Remington hasn't ticked all of your boxes just yet, then take a quick look also at some of the popular options outlined below...
In addition, a selection of related reviews that may be of interest to you are also outlined as follows:
Finally, I really hope this review for the Remington 19 Inch Electric Corded Mower has helped you out and feel free to let know your own experiences with electric mowers by leaving a comment below.