After reviewing various Ryobi Lawn mowers, we also wanted to check out and complete our Ryobi 36V Cordless Lawn mower review to find out how good it really is versus similar powered Cordless lawn mowers across the market.
We will outline all the main features that it has to offer you plus the main pros and cons that we came across during the course of our review.
View also: More Cordless Lawnmower reviews here
Ryobi 36V Cordless Lawnmower Review
Ryobi 36V Max Power Cordless 40cm Lawnmower

This 36V Ryobi Cordless lawnmower is available either as a bare tool RY36LM40A-0 or with the 5Ah battery and charger included in the pack and it is designed with the upgraded Max Power battery system for superior mowing results when compared to regular lithium ion powered batteries. It comes with the mulching plug option and the handles can be adjusted as well as being folded down for easier storage in tight spaces.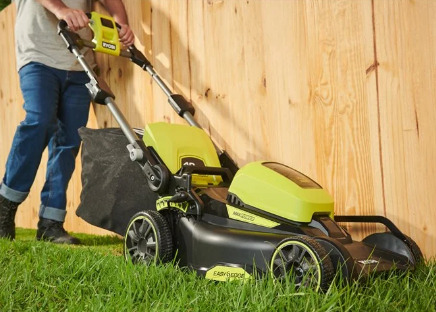 It is designed with the wider mowing deck 40cm wide so it can work on larger lawns 400-500m2 in size and it has the grass combs on the sides for a better finish around the boundary areas and flower beds. There are 7 mowing height positions here that range from 2.5cm up to 7.5cm for longer grasses and the battery is compatible with various other Ryobi Max power gardening tools in their range.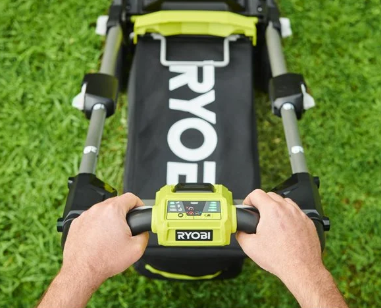 The big attraction for this cordless lawnmower is the digital panel on the top handles which shows you the battery charge left in the battery and it can also tell you when the blades needs to be changed or when the mowing is being over loaded so higher mow heights are required. There are also 3 mode settings you can use depending on mowing conditions be it Eco, Smart or Power which helps to adapt the lawnmower to the conditions in front of you.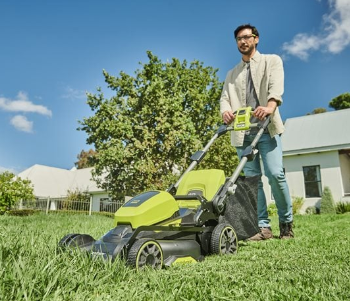 The grass catcher is larger at 50L storage capacity which is bigger than many other small cordless lawnmowers plus it can be folded down with its collapsible design. The battery needed for this lawnmower is a 5Ah battery and the weight for pushing is heavier at approx. 19.5kg so bear this mind also.
Price Guide: £280 - £380 @ Ryobi Direct

View also: Our Best Lawnmower Lists
Pros for the Ryobi 36V Lawnmower
You get longer mowing runtimes with the Max Power batteries than their regular batteries
It is designed with a wider deck of 40cm which can cover larger lawns 400-500m2 in size
There is a mulch plug included so you can return the clippings to the ground to act as a natural fertiliser
You have the digital interface on the top handles to tell you of the battery charge status and more
The grass catcher capacity is larger than many others offering 50L storage capacity
You can choose the higher Power mode for working on thicker grass areas of the lawn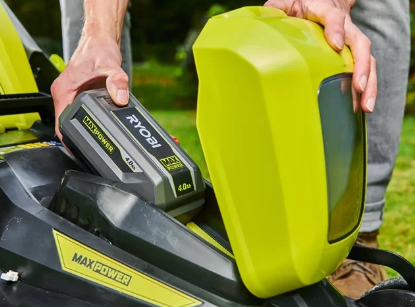 Cons for the Ryobi 36V Lawnmower
Stock availability is unpredictable and tends to be out of stock regularly from what we have seen
Price for the Bare tool alone is a lot higher than expected and then the additional battery and charger added on inflates the higher price even further
There are no rear rollers to generate the eye catching lawn stripes
You don't have any self-propelled support for steep hills and rough terrain
Tough mowing conditions deplete the battery charge a lot quicker than expected

View also: Best Lawnmower lists here
Conclusion
After completing this Ryobi Max Power 36V Cordless lawnmower review, we hope our work here can give you a better idea of what this Lawnmower is all about plus the main pros and cons that you should keep in mind if you decide to buy. It is a heavier lawnmower to work with than many other electric cordless lawnmowers in the market but you have the option to use the higher Power mode for mowing tougher areas of the lawn which is nice to have however this will deplete the battery charge a lot quicker than normal.
That being said, a second back up 5Ah battery would be beneficial to have from what we have seen especially for covering larger lawns in one setting rather than having to stop and recharge once again. Overall to be fair, it's an impressive Cordless lawnmower with the mulch plug included and the digital display in the top handle and further reviews can be checked out at Amazon below...

Ryobi Max Power Lawnmower Feedback
Have you ever used a Ryobi Max Power 36V Cordless Lawn mower in the past? If so, please share your own experiences and feedback with the wider mowing community by leaving a comment in the comment box section provided below – so that others across the mowing community can learn also…