If you are thinking about buying a Ryobi Cordless Lawn mower in the coming days, then make sure to check out our quick review which will outline all the main pros and cons that you need to know plus all the main features that is has to offer you.
The most popular lawn mowers under the Ryobi brand appear to be their cordless Lawn mowers backed with the One+ 18V batteries and they come with various mowing widths such as 33cm, 37cm and even wider 40cm mowing decks.
View also: Our Best Lawnmower Lists
Lawn Sizes
These cordless Lawn mowers from Ryobi can cover different lawn sizes depending on the mowing width and power levels you choose. As a rough guide, the smaller narrower cordless lawn mowers such as the 30cm or 33cm models are designed for lawn sizes 100m2 to 150m2 while their larger, wider and more powerful cordless lawnmowers can cover lawn sizes up to 250m2 to 350m2 from what we have seen.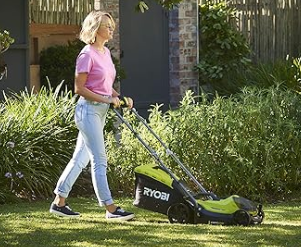 View also: Ryobi Lawnmowers from Ryobi direct
Ryobi Lawnmower Variants
There are a number of different ways in which you can buy a Ryobi cordless lawnmower and the first option is to buy it as a bare tool assuming that you already have a compatible charger and battery in stock. The second option is to buy it with the battery and charger included in the pack and then sometimes there is an option to buy it as part of a combo deal with a Ryobi Grass trimmer included which in turn helps to give a neater finished around the edging.
With this in mind, you need to pay extra attention with your final selection based on your own needs and requirements so make sure to choose wisely
View also: Our Robotic Mower Reviews
Ryobi Cordless Lawn mower Review
Ryobi 18V ONE+ Cordless 33cm Lawnmower RLM18X33B40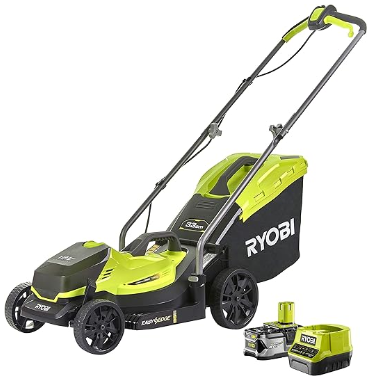 This smaller Ryobi Cordless lawnmower is one of the lowest priced options in their range as it has the narrower 33cm wide mowing deck and a lightweight design of just 11kg approx. It is available as a bare tool or it can be bought with the charger and battery included in the pack and you can also choose to buy it with a grass trimmer as part of a combo deal when seen at the time of our review.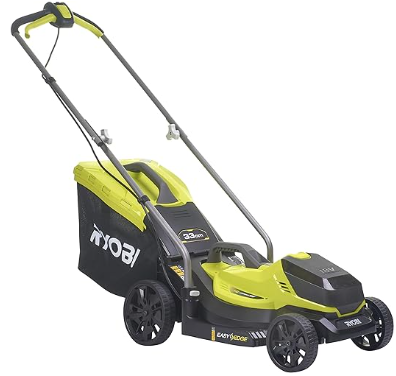 This lawnmower offers 5 different mowing height options that range from 2.5cm up to 6.5cm when dealing with longer grasses and it has an adjustable handle that can be changed to 5 different positions to suit your height and comfort levels. It is part of the One+ system so you can use the charger and battery with various other tools from Ryobi which can help to reduce costs in the long term.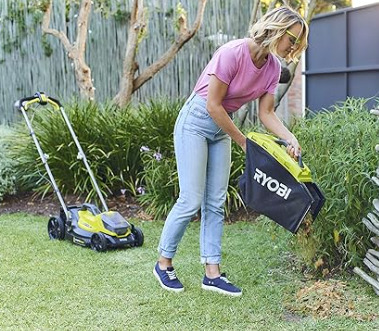 The handles can be folded down after use to help with small storage spaces and it is designed with the grass combs on the sides for a better finish around the boundary areas. It is powered with a 4Ah battery and they offer a 2 year limited warranty as long as it is properly maintained each year
Price Guide: £250 - £350 @ Amazon

View also: Our Corded Lawnmower Reviews here
Pros for the Ryobi 33cm Cordless Lawnmower
As the lawnmower is so small and light, it is simple to push around the lawn so there is no heavy lifting or heavy pushing involved
Some cheaper cordless lawnmowers only have 2.5Ah batteries where this lawnmower offers a more powerful 4Ah battery
If you already have the One+ battery, then you can buy the bare tool option at a lower price point
You don't have to worry about power cords, oils, gas, petrol or high maintenance costs for that matter
The adjustable height position on the handles work great to suit your own height and preferred mowing positions
It can be stored in tight spaces as the handles can be folded down after use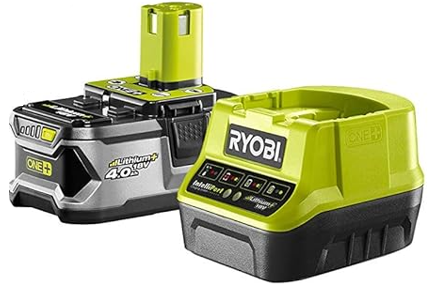 Cons for the Ryobi 33cm Cordless Lawnmower
The battery life tends to deplete a lot quicker when mowing longer and thicker grasses
There is no self-propelled support to help getting up steep hills
Mowing time from the battery charge can be unpredictable with difficult mowing conditions for example 14 to 20 minutes
This lawnmower is limited only to small garden sizes 100 to 150m2 in our opinion
It tends to clog a little with longer damp grasses so it lacks the superior power offered by petrol powered lawn mowers
There are no rear rollers included to give the garden lawn striped effect

View also: Our Cordless Lawnmower Reviews here
Conclusion
While we liked using this lightweight Ryobi Lawnmower, we wished it offered more powerful batteries to give longer mowing times for dealing with tougher mowing conditions and longer damp grasses. Would we recommend it? Yes but only if your lawn size is up to 150m2 max as it lacks the power and size for dealing with larger or even medium sized lawns.
They offer wider mowing versions of 37cm or 40cm to deal with larger garden sizes but again these are limited to medium sized gardens up to 200-250m2 in our opinion. Further reviews and pricing updates can also be checked out at Amazon below…

Ryobi Cordless Lawnmower Feedback
Have you ever used a Ryobi Cordless Lawn mower in the past? If so, please share your own experiences and feedback with the wider mowing community by leaving a comment in the comment box section provided below – so that others across the mowing community can learn also…