Greetings and welcome to this review on Ryobi lawnmowers which are on sale in both the US and UK markets at present. If you are considering buying a Ryobi lawn mower in the comings days or weeks, then take a quick look through this review which will help you decide if this brand of mower is the one for you or not.
Our review will outline the main features that you need to know plus the main pros and cons which we came across that you can check out further down on this page. So, without further delay, let's get started with this review...
Electric Review Overview
| Lawn mower Review | Ryobi |
| --- | --- |
| Detail: | Ryobi Lawn mowers - Electric and Petrol |
| Models: | 3 Reviewed - Our Top Picks |
| Cheap Place to buy: | Amazon - View Prices Here |
Brief Ryobi lawn Mower Overview
Ryobi is a brand which is recognised worldwide for various power tools that can be used around the house and garden and they are considered as one of the most innovative companies in its category.
They supply tools to millions of people across the globe and their products are backed with a 2 year warranty which is an added bonus in terms of security and peace of mind before you buy.
Frequently asked Questions on Ryobi Lawn Mowers
Q1. Is the 36V a single battery?
A. No, you get 2 18V batteries
Q2. What is the duration of the charged battery?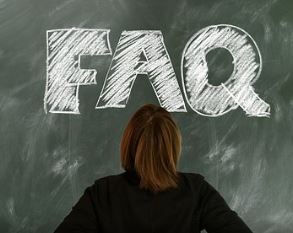 A. General feedback from previous buyer's state 25 to 30 minutes on a fully charged battery.
Q3. What size lawn can a charged battery cover?
A, The 2x 18V 4Ah batteries when fully charged can cover 600 metres squared.
Q4. Can you get striped lawn from these mowers?
A. No, you should look elsewhere if you are looking for striped lawns
Q5. Does the OLM1833H model include a battery?
A. No, this model has no battery and is a bare tool only
Q6. Which is the better battery to get – a 4Ah or a 5Ah?
A. For longer charged timeframes, the 5Ah is superior
Q7. How do the cordless mowers perform on wet grass?
A. The performance on wet grass is only average and works best on dry grass only.
Ryobi Lawn Mower Reviews - Our Top Picks
1, Ryobi 18V Lawnmower Cordless OLM1833H (bare tool)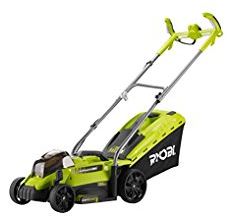 Key Features:
This is a perfect option for you if you have a battery and charger already which you use for other tools as this particular model number is a bare tool only and does not include the charger or battery.
Battery / charger will need to be purchased separately and you get a 33cm deck and also the ability to change the height settings to 5 different levels and the height range varies from 22 to 75mm.
The design here allows you to collapse the machine and fold over so it will work great if you have tighter storage spaces plus the he weight of this model is just over 12kg and the dimensions are 68 by 39.2 by 37.4cm. The lightweight feature makes it really easy to move around and mow.
You also get the grass collection box included with your purchase and the batteries which are separate should be a 4Ah or a 5Ah battery only and requires minimal assembly work upon delivery
Pros: Perfect and lower priced option if you already have the battery and charger or if you want to buy the battery separately. Fold over also for you which is excellent when storage space is limited. Perfect for small gardens as it is quite small so it very easy to get into tight corners. Really simple assembly process so you are up and running in no time at all.
Cons: Not for you if you need a battery and charger to come with your mower. You are limited somewhat only to the 4Ah or the 5Ah battery to use. If your lawn takes longer than 25-30 minutes to complete, then you need a backup battery or should even consider a cored version. The grass box is also quite small and will fill up very quickly. Will struggle also with tall thick grass if you let the growth get out of control.

2, Ryobi 36V Fusion Cordless 40cm Lawnmower (with 2 x 18V 4.0Ah batteries)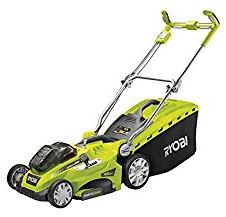 Key Features:
Unlike the model above, you actually get the batteries included with this particular model. The term fusion means that you are using the 2 batteries at the same time. You get 2 18V 4Ah batteries included which is great if one has depleted and you need to switch over to finish your lawn that takes over 25-30 minutes. (total 36V)
This model is also wider than the model above as it has a deck of 40cm so it will save you some time as it will require less passes on your part. For flexibility, there are 5 separate height adjustments and the range of heights vary from 20mm to 70mm and there is a simple assembly process and there is very little effort needed on your end to get started straight away.
The size is 52 by 76 by 42 cm and overall it has a well designed handle which will reduce the level of fatigue as you work and it fold down nice and easily which is great if you only have small spaces available for storage. The grass box you get is larger at 50L capacity so you get more mowing time and the speed of the blade is 3,550 per minute.
Pros: Provides you with similar power to what you would get from a petrol mower and it's an environmentally friendly alternative to gas mowers. The larger grass box also allows more mowing time and reduced stoppages for emptying. Pollution free engine and you don't have to worry about cords on the lawn as you mow or the ongoing costs of fuel and maintenance which are associated to gas mowers. There is also the battery gauge so you know how much time is left in your battery as you work.

Cons

: You always need to remember to keep the batteries charged and you always need to remember where your charger is at all times. Only suitable for small to medium sized lawn up to 600sqm's – the battery life could be longer also. if your lawn is over 600 meters squared or takes over 30 minutes to complete, then you should be considering a different solution to avoid disappointment

3, Ryobi Corded Rotary Lawnmower - 1900W RLM19E40H

Key Features:
This option is for your larger sized lawns and is an alternative to the cordless models outlined above. It's a 1900W electric powerful lawn mower and has a small compact size giving the level of power you would expect.
Assembly process is quick and easy and the size of the deck is 40cm and the weight is 14kg. It includes a comfortable handle to work with also which reduces the level of fatigue you get.
Included in this model also is the dual trigger system which is required for safety when starting your mower. You also get 5 separate mow heights that range from 20mm to 70mm and the size of the grass box which is included has a capacity of 50L There is also a 2 year warranty is included for you also.
Pros: You don't have to worry about batteries or charging them as you have a reliable power source to get the job done. Price is also very attractive and much lower when comparing to the cordless versions. Again having a constant power supply as you work is the main attraction along with the lower price.
Cons: You are limited to the area you can work on to the length of the extension cord you buy. An extension will also be an added expense for you but is quite affordable. Cable could also be longer for the smaller gardens and also more secure.

Comparison Table
A short summary comparison table is also outlined below:
| Model | Battery included | Mow Heights | Weight and Deck size |
| --- | --- | --- | --- |
| Ryobi 18V Lawnmower Cordless OLM1833H (bare tool) | No | 22-75mm | Approx 12kg, 33cm wide |
| Ryobi 36V Fusion Cordless 40cm Lawnmower (with 2 x 18V 4.0Ah batteries) | Yes | 20-70mm | Approx 21kg, 40cm wide |
| Ryobi Corded Rotary Lawnmower - 1900W RLM19E40H | No | 20-70mm | Approx 14kg, 40cm wide |
Further Reading
In addition, if you are still undecided about the Ryobi Lawn mower brand, then take a look also at other branded electric mower reviews as follows which may help you out:
UK Bosch Lawn Mower Compilation Review – Take a look here
US Greenworks Lawn Mower Compilation Review – Take a look here
US SunJoe Lawn Mower Compilation Review – Take a look here
UK Flymo Lawn Mower Compilation Review – Take a look here
Finally, I hope this review has helped you out and feel free to ask any questions in the comment box below.

In addition – Please share your experiences with electric lawn mowers good or bad with the community by leaving a comment in the comment box below – the community would greatly appreciate it so that they can learn also!