Are you considering buying a Ryobi cordless Grass Trimmer over the next few days? If so, then make sure to check out this Ryobi grass trimmer review which will outline everything you need to know before you make that all-important final buying decision. We have seen many disgruntled buyers already when they buy this Ryobi grass trimmer as many expected it to include the battery and charger in the pack which in many cases it does not.
Bare Tool Selections
From what we see, you need to be EXTRA CAREFUL WITH THE MODEL NUMBER you order as specific models have the battery and charger in place while other models are bare tool options only (no battery and charger included). The whole idea of offering the bare tool model is for people who already have the Ryobi 2.5Ah battery and the One+ compact charger already in stock – if that is the case, then you can save money with your other Ryobi tools also.
View also: Our Best Lawnmower Lists here
Charger & Battery
If you don't have the battery and charger already in stock (for other Ryobi tools), then we would suggest avoiding the bare tool model OLT1832 altogether as the price becomes way too expensive in our opinion.
The bare tool will set you back around £60 to £80, the battery can cost over £50 and the charger can also cost a further £50+ so you can end up paying well over £160+ or even £180+ which is certainly one of the most expensive grass trimmers we have seen. SO BE WARNED – DON'T BUY THE OLT1832 UNLESS YOU HAVE THE BATTERY AND CHARGER ALREADY IN STOCK!

With that out of the way, we will be reviewing the bare tool option from Ryobi without the battery and charger and we will also outline 2 further options in this review so at least you have more than just 1 choice when it comes to making your final decision. These further 2 options will include a lower priced corded trimmer and also a cordless trimmer THAT DOES INCLUDE THE BATTERY AND CHARGER!
One tip before you start, if you are dealing with long grass, you need to work down the tall grass in steps rather than tackling the tall grass from the bottom which is outlined in the image below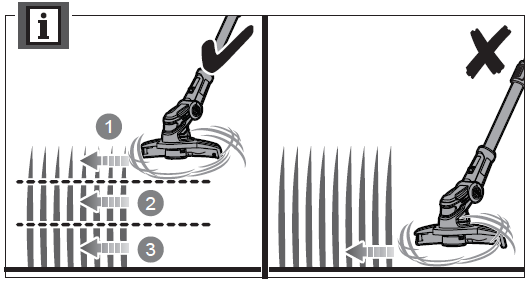 Cordless Grass Trimmer Review Content
Part 1: Quick Overview with some FAQ's
Part 2: Ryobi Cordless Grass Trimmer Review (Bare tool)
Part 3: Assembly Tips
Part 4: Ryobi Grass Trimmer Alternatives
Part 5: Conclusion
Before you start, please note that guide price levels can only be published at the time of this Ryobi Grass trimmer review, so please make sure to view the price checkers provided below to ensure you have the most accurate up to date price information.
Read also: Our Spear & Jackson Grass Trimmer Review Here
Part 1: Quick Overview with some FAQ's
| Model: | Ryobi 18V OLT1832 ONE+ Grass Trimmer |
| --- | --- |
| Power: | Uses a 18V Lithium-Ion Battery (bought separately) |
| Trim Width: | Up to 30cm wide |
| Best Place to Buy: | Amazon - View Today's Updated Price Here |
| Warranty: | 3 years long across the One+ range |
FAQ's for the Ryobi Cordless Grass Trimmer Bare Tool OLT1832 (12)
Q1. Does the OLT1832 include the battery or charger?
A. No, neither the charger nor battery are included with model OLT1832
Q2. Which battery is recommended for it?
A. The recommended battery is a 2.5Ah or higher-powered Ryobi battery
Q3. What charger is recommended for this trimmer?
A. The Ryobi 18V One+ Compact charger is recommended for this battery and trimmer
Q4. Can you buy this with the battery and charger?
A. You need to choose another model, for example the RLT1825M13 outlined further below that does include the charger and battery
Q5. Can the length of the shaft be extended for taller people?
A. Yes, this shaft is adjustable for either shorter or taller people
Q6. Can plastic cutting blades be used instead of the trimming line?
A. No, this trimmer can only use a nylon trimming line
Q7. What type of spool line is used here?
A. This trimmer uses a Ryobi 1.6mm diameter spool line RAC124 – examples can be seen here
Q8. How does it feed out more line?
A. Simply stopping and starting the tool feeds out more line automatically
Q9. What level of sound is emitted?
A. The level of sound power emitted is 94.2dB Lwa
Q10. What is the weight of the bare tool plus the battery?
A. The weight of the trimmer bare tool plus the battery is 3.5kg
Q11. What are the box dimensions?
A. The box dimensions are approx. 119cm by 250cm by 103cm
Q12. How long should the line be positioned in the head?
A. The length of the line should come close to the edge of the head as outlined in the diagram below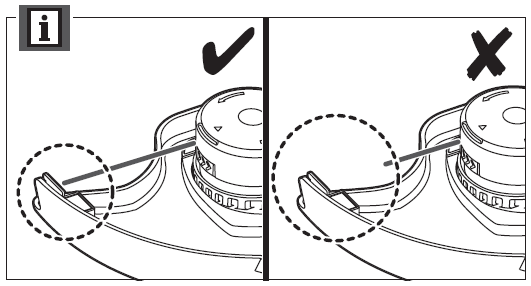 Part 2: Ryobi Cordless Grass Trimmer Review (Bare tool)
Ryobi 18V OLT1832 ONE+ Grass Trimmer (Bare Tool)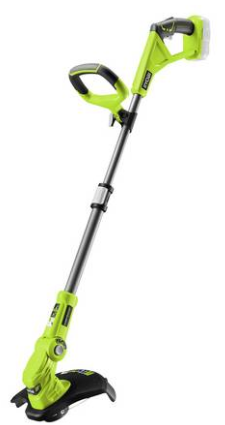 Key Features in Summary:
Bare tool Cordless solution
No battery or charger included
Trimming width 25-30cm
Head can be rotated for edging
Adjustable front handle
Shaft can be extended
Requires 2.5Ah 18V battery
Nylon 1.6mm trimming line
Auto line feed system
Safety guard included
Weight is 2.3kg (excl battery)
Warranty is 3 years long
Pros for the OLT1832
If you already have a Ryobi 2.5Ah battery and One+ compact charger, then this trimming tool is the ideal solution for you as the battery is interchangeable which can save you money in the long run  - one battery and charger to power various One+ Ryobi tools
It gives a decent trim width of up to 30cm, it has a great sleek stylish design and both the shaft and handle can be adjusted which are great in providing more flexibility when handling and working with this tool – supports less arm and backaches
Adjusting the rotating head is simple to do as all you have to do is press a button and away you go. This works particularly well for around flower beds, kerbs, patios and under garden furniture such as benches.
The quality of the line is quite good with a diameter of 1.6mm. Many other trimming lines are only 1.4mm diameter which can break rather easily while this line tends to deal with tougher weeds and grasses slightly better.
There is no need to worry about cables or cords, it is an environmentally friendly alternative and the auto feed line works as well as can be expected. Assembly also is simple to do and a good detailed manual is included to show you how best to work this tool from the very start.
Many other brands only offer a 2 year warranty where you get a longer 3 year warranty here from Ryobi.
Cons for the OLT1832
In terms of cutting power and performance, this is a great tool however you do need to consider the added expense of buying a charger and battery separately which can cost you well over £100 more.
This would be considered a premium grass trimmer and the price will be viewed as too expensive for many gardeners – there are many other cordless trimmers out there for a lot less money than this
You need to register your purchase online to get the 3rd year warranty which is not as simple as one would expect
Unfortunately, many people still get confused and buy this tool expecting to find the battery and charger included in the box – generally when the research hasn't been done properly or when the purchase was done in a hurry.
The price of both the battery and charger when bought separately is a bit excessive in our opinion – surely they can be sold for less than this?
Price Guide: £90 to £120 @ Amazon

Further images of the Ryobi 18V OLT1832 ONE+ Grass Trimmer Bare Tool are outlined below (3). Swipe left or right if on mobile
Part 3: Assembly Tips
If you need to take a sneak preview of some of the assembly steps involved before you buy, then check out the 5 images below which cover the 10 steps you need to follow which range from attaching the head cover, adjusting the shaft, adjusting the auxiliary handle and attaching the battery
View also: Our Hedge Trimmer Reviews here
Operational Tips
Before you start you should always make sure that all the parts are locked securely tight especially the guards and the adjustable handle. You should wear suitable boots or footwear, gloves, long trousers and make sure you are aware of any potential hazards that may be around your garden such as wire fencing or cables. You should also ideally invest in a set of safety goggles for your own protection as trimmings can get deflected against borders walls in particular. For best results, you should avoid using it on wet grass and stick to trimming on drier days.
Part 4: Ryobi Grass Trimmer Alternatives
If the bare tool option OLT1832 from Ryobi hasn't ticked all of your boxes just yet or you don't already have a Ryobi battery and compact charger in stock, then check out the 2 further options outlined below that will be of interest to you – one is a corded lower priced alternative while the other is a cordless trimmer with the charger and battery included.
View also: Our Grass Trimmer Reviews here
Part 5: Conclusion
Would we recommend this Cordless Bare tool Trimmer? Yes and no. Yes, if you already have the battery and charger and no if you don't. When you weigh up the price of the bare tool plus the charger plus the battery – the total overall price is a bit on the high side for my liking. If you can afford to pay over £160/£180 for all this, then you won't be disappointed. However, if you want a basic trimmer for lighter type edging work at the lowest possible price, then there are lower priced cordless grass trimmers out there readily available to choose from instead.
As I don't have a charger and battery in my shed for Ryobi tools, I would rather buy the Ryobi cordless trimmer model number RLT1825M13 instead as that has all the accessories you need included in the package such as the battery and the charger and the price would be more in line with my own personal expectations. Paying over £50 for a charger and over £50/£70 for a battery is a bit excessive in my personal opinion.

Educate Others
Have you ever used a Ryobi cordless or corded grass trimmer yourself in the recent past? Anything positive or negative to say about the batteries or the power levels?
If possible, please educate others in the UK community by leaving your feedback or comment in the comment box section provided below.