If you are considering buying a Webb Electric Lawnmower in the coming days, then check out this Webb Electric lawnmower review which will cover 3 different powers and size options for you to consider based on your own garden size. We will complete a review of the Webb Cordless Lawnmowers at a later date as this review will focus on the Webb Corded Electric Lawnmowers instead that offer power levels of 1300W, 1600W and 1800W.
Read also: Popular Cordless Lawnmowers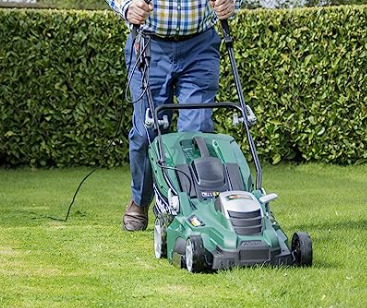 Webb Corded Electric Classic Lawnmowers
You have 3 different corded electric options of Lawnmowers under the Webb Classic brand and each of them are similar but vary in mowing widths and motor mowing power levels. The Webb Classic WEER33 offers a 33cm mowing width and a power level of 1300W while the Webb Classic WEER36 corded lawnmower offers a mowing path of 36cm and 1600W motor power.
The largest one then in the range is the Webb Classic WEER40 Electric Rotary Lawnmower as it offers a 40cm mowing path width and a higher power level again of 1800W.
View also: Webb Lawnmower stocks and prices here
British Brand
As you are probably already aware, Webb is a British brand so it's good to know you are supporting your own when you are buying one of their gardening tools be it Lawnmowers, trimmers or other related gardening maintenance tools.
They have their own customer UK customer support team in place and their offices are based in Swindon, Wiltshire, SN3 5HY. You can visit their contact page here but one thing annoys us - I don't like the fact that they don't include a contact number on their website (to actually speak to a human being)
Price Guides
As you would expect the smaller Webb Classic WEER33 is the cheapest in the range usually around the £100 mark while the Webb Classic WEER40 is the most expensive of the 3 coming in at around £150-£170 level.
The Webb Classic WEER36 is usually then priced somewhere in the middle of the WEER33 and the WEER40. As price guides can only be shown at the time of the review, please make sure to view the price checkers below which will help ensure you have the most accurate up to date price information
FAQ's about the Webb Electric Corded Lawnmowers
Q1, Do these Webb classic lawnmowers include a mulching plug?
A, No, there are no mulching capabilities with this lawnmower
Q2, Can the handles be folded down?
A, Yes, you can fold down the handles for small storage spaces
Q3, Does it include a rear roller for the stripes?
A, These Webb Classic corded electric lawnmowers don't have a rear roller but the petrol version does
Read also: Popular UK Robotic lawnmowers
Webb Corded Electric Lawnmower Range
Option 1: Webb Classic 1300W Electric Rotary Lawnmower WEER33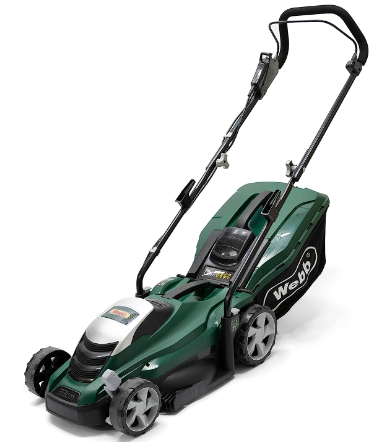 The smallest and cheapest lawnmower from Webb in this category is the Webb Classic Electric Lawnmower 1300W WEER33 which offers a narrow mow path of 33cm or 13 inches and a smaller grass collection box of 35 litre capacity. It is designed for small urban type lawn gardens 50-60m2 and it offers 5 mowing heights that range from 2.5cm up to 6.5cm. The length of the power cord is 10m long so you may need to invest in an extension also depending on your own lawn size dimensions.
It is designed with a polymer deck so the weight of the lawnmower is only 10kg approx. for pushing and the mowing heights can be adjusted using the single lever attachment. It was featured in the BBC Gardeners World Magazine as a best budget value lawnmower and it comes backed with a 2 year warranty
Price Guide: £90 – £120

Option 2: Webb Classic 1600W Electric Rotary Lawnmower WEER36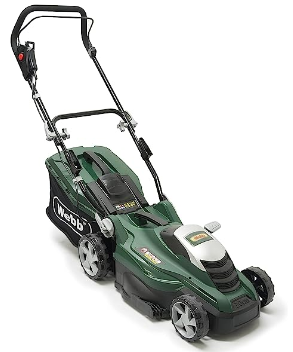 This lawnmower is in the middle when it comes to size, collection capacity and power and it is designed for slightly larger lawns to get the mowing jobs done slightly quicker.  It offers a mowing path width of 36cm, a grass collection storage capacity of 45 litres and it delivers 1600W of mowing power for your garden grass.
It is British designed and made so you are supporting your own and it includes a polymer deck that is resistant to corrosion and rust. You get 5 mowing positions that range from 2cm up to 7cm and the handles can be folded down when not in use. It comes with a power cord length of 10m so you will most likely need an extension cord and it comes backed with a 2 year warranty also.
Price Guide: £120 - £150

Option 3: Webb Classic 1800W Electric Rotary Lawnmower WEER40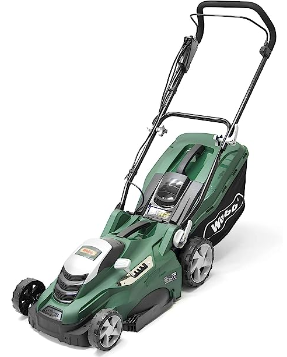 The 3rd and final option under the Webb Classic Rotary lawnmower range is the WEER40 which offers a wider mowing path of 40cm, a larger storage capacity of 50 litres in the collection bag and the highest motor power level of 1800W. The mowing heights are the same with 5 settings from 2cm up to 7cm and it also has the polymer deck and the foldable handles.
As it is larger and more powerful, the price is also higher and the extra power is particularly good for lawns with tougher weeds, denser grasses and damp grass. This lawnmower is designed for garden lawn sizes 80-100m2 and you will need an extension cord as the power cord is 10m in length
Price Guide: £140 - £170

Read also: Popular UK Electric Corded Lawnmowers
Pros for the Webb Electric Corded Classic Lawnmowers
It received an award within the BBC Gardeners world magazine for best budget lawn mower so this certainly deserves a small mention (I hope they were not biased as Webb is British and many other brands are not)
Collection of the grass clippings is quite good from what we have seen leaving a nice and tidy finish
You are not just limited to the smaller 1300W 33cm lawnmower as you have the options to go larger if needed.
You have the backing of a UK customer support team in place with a 2 year warranty for peace of mind
It works well around the edges and it feels more robust and heavier than some of the cheaper brands
It provides good value for money and it compares similarly pricewise to other brands in the market
Cons for the Webb Electric Classic lawnmowers
There are no self-propelled electric options in this Classic range so you have to do all the pushing yourself
There are no rear rollers built in for the attractive mow grass stripes that other lawnmowers can offer
The power cord is 10m long which is the standard however other corded lawnmowers we see can offer power cords 12m long (such as Spear and Jackson further below)
As the power cable is black, you need to be extra careful when mowing especially if you are mowing in the later evening time
At times the grass cuttings can get stuck in the rear tube chute instead of being blown into the rear bag which can be annoying.
Price Comparison vs Spear & Jackson
Webb Classic Electric Lawnmower Comparisons
To ensure you have all the necessary information, feel free to check out the comparison table below for the various Webb Classic Electric corded lawnmowers in this review
| Model | Webb WEER33 | Webb WEER36 | Webb WEER40 |
| --- | --- | --- | --- |
| Motor power | 1300W | 1600W | 1800W |
| Mow Width | 33cm / 13 inch | 36cm / 14 inch | 40cm / 16 inch |
| Mow positions | 5 | 5 | 5 |
| Mow Heights | 2.5cm – 6.5cm | 2cm – 7cm | 2cm – 7cm |
| Grass box size | 35 Litres | 45 Litres | 50 Litres |
| Power cable | 10m long | 10m long | 10m long |
| Weight | 10.5kg | 11.5kg | 13.5kg |
| Warranty | 2 years | 2 years | 2 years |
Read also: Popular Electric Corded Lawnmowers
Conclusion
Would we recommend the Webb Classic Corded Rotary lawnmowers? While they are not perfect and the collection of the grass clippings through the chute into the grass box could be better, it is still a great little lawnmower all the same and we would have no hesitation in recommending it to the wider public.
If your lawn is very small up to 50-60m2 then the smaller 33cm WEER33 will do the job just fine but if your lawn is larger than this, then you should choose the WEER36 or the WEER40 instead. Further reviews, images and price information can be double checked below…

Webb Lawnmower Feedback
Have you ever used a Webb Electric Lawnmower in the past? If so, please share your feedback and experiences with the wider mowing community by leaving a comment in the comment box section provided below…