After reviewing the Webb Electric Lawnmowers, it was time to complete our Webb Petrol Lawn mower review also to see if they are as good as people say they are, so make sure to check it out before you make any final buying decision. Webb is a British owned brand so these lawnmowers are more popular within the UK rather than other continental European countries and its good to know that you are supporting your own if you decide to buy.
View also: Popular Petrol lawnmowers
Push vs Self Propelled Lawnmowers
Webb offer a diverse range of Petrol Lawnmowers both push and self-propelled lawnmowers and understandably the self-propelled lawnmowers have become increasingly popular among gardeners and the general public. The price difference between the push and self-propelled lawnmowers in some cases is only £30 to £50 so for a small bit of extra cash, your mowing jobs can be done a whole lot easier and quicker.
In our opinion, once you start using self-propelled lawnmowers, you will never go back to push lawnmowers but the self-propelled lawnmowers do tend to use and demand higher levels of fuel input.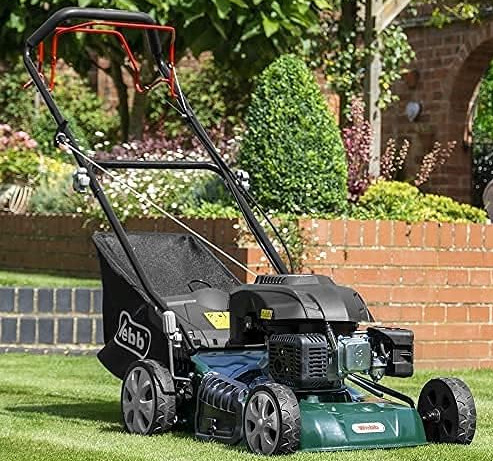 View also: Webb Lawnmower stocks & prices here
Webb Petrol Lawnmower Range
Our review of Webb Petrol lawnmowers will focus on 3 self-propelled lawnmowers within their range namely the WER410SP 41cm, WER460SP 46cm and the WER510SP 51cm petrol lawn mowers. If you are seeking the lowest possible price, then you should choose the 41cm WER410SP with the lower powered 132cc engine.
However if you garden is larger and you need more power, width and a side discharge or a mulch plug, then you should choose the more expensive WER510SP which offers a lot more power with its 173cc 4 stroke engine.
FAQ's about the Webb Petrol Lawnmowers
Q1, Does it include any engine oil with the delivery?
A, Yes, it includes enough oil 0.6L SAE30 engine oil to get you started
Q2, Can the speed be adjusted?
A, No, the speed level is fixed and cannot be adjusted
Q3, Do they have the electronic start or the pull cord?
A, These lawnmowers are started with a pull cord, not an electronic start
Q4, Do you need to prime it?
A, Yes, you need to push the prime button 3 times to get it started when cold
Q5, Do they include the mulch and side discharge options?
A, These are not included in the WER410SP but they are included in the WER460SP and the WER510SP
Read also: Popular Cordless Lawnmowers
Webb Petrol Lawnmower Review – 3 Options
Option 1: Webb 41cm Self Propelled Rotary 132cc Petrol Lawnmower WER410SP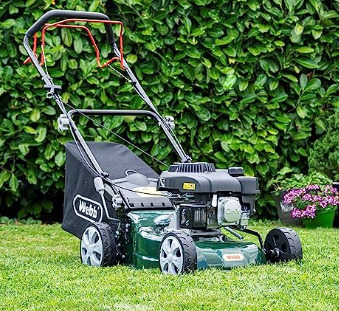 The first self-propelled petrol Webb lawnmower available is the smaller and less powerful Webb 41cm self-propelled 132cc Lawnmower code WER410SP which has the Webb DVO130 4 stroke 132cc engine and the smaller grass collection bag with 45 litre storage capacity. You have the option to rear collect or rear discharge only with this lawnmower as there is no mulching or side discharge available with WER410SP which in turn comes with a lower price point also.
It offers 7 mowing heights that range from 2.5cm up to 7.5cm and you can choose the push version also which would costs approx. £30 - £50 less. It is designed using alloy steel and the grass collection has a mesh design to allow a better air flow for the grass clippings. If you need the lowest possible price and if you don't need a mulch plug or side discharge, then this would be the best solution for you.
Price Guide: £230 - £280

Option 2: Webb 46cm Self Propelled Rotary 141cc Petrol Lawnmower WER460SP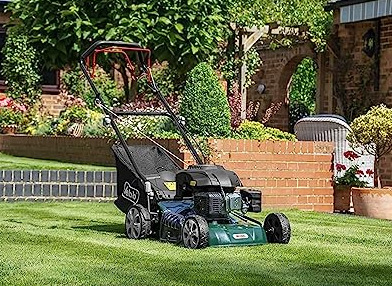 The second option you have when it comes to Webb self-propelled petrol lawnmowers is the WER460SP that gives a wider mowing path of 46cm or 18 inches and a more powerful output 4 stroke 141cc engine that gives better results especially when it comes to dealing with more difficult terrain and mowing conditions.
It's a larger and more heavier machine to handle but you have the self-propelled support to get your mowing jobs completed. The self-propelled lever can be disengaged when coming into tight corners or if you need to go slower around trees or flower beds.
It has a larger grass collection capacity of 55 litres and there are 7 mowing height options that is controlled with the central lever. It comes covered with a  2 year warranty and it is designed using alloy steel which will be resistant to corrosion and rust. The make of the engine is a DVO140 series engine and it offers 4 options for the grass clippings – you can use the rear collect, the side discharge, mulch or just use the rear discharge.
Price Guide: £250 - £300

Option 3: Webb 51cm Self Propelled Rotary 173cc Petrol Lawnmower WER510SP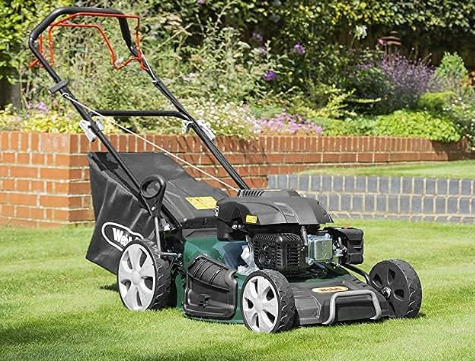 Another option within this Webb self-propelled petrol lawnmower range is the larger and more powerful 173cc WER510SP which offers a wider mowing path of 20 inches or 51cm and the grass collection box is also larger offering a storage capacity of 65 litres which means less time emptying and more time mowing.
This mower is designed with a  DVO173 4 stroke 173cc series engine and there are 4 options of mowing – you can rear discharge, side discharge, mulch or rear collect so there are plenty of different mowing and cutting options available to you.
As it larger and more powerful, it will be more expensive which is understandable but it offers great value in our opinion as you should be able to get your hands on it for less than £380 when seen at the time of our review. You get 7 mowing height options that range from 2.5cm to 7.5cm and it also comes with a 2 year warranty protection.
Price Guide: £330 - £380

Read also: Popular Robotic lawnmowers
Pros for the Webb Petrol Lawnmowers
Assembly is simple and the price for a self-propelled petrol powered lawn mower is very attractive as many other brands can set you back well over £400
You are not just limited to one size fits all lawn mower as they are plenty of variations available in the range such as wider mowing paths, more powerful engines, larger grass collection bags and side discharges or mulching
We found the starting with the pull cord very reliable without any hassle once it's primed when cold and it works well on both tall grasses and damp grasses as long as you first start on the higher mow height setting and work your way down to lower mow heights on the second pass
If you have awkward flower beds to get around, you can disengage the self-propelled lever and push it instead for more control and a tidier mowing finish
You should start these lawnmowers in push mode and then engage the self-propelled lever to avoid a sudden jolt and also disengage around tight corners and push manually
The mowing height adjustment is controlled with a single lever and there are lots of tips in the manual when it comes to maintenance, parts and service to ensure it performs to its maximum throughout the entire season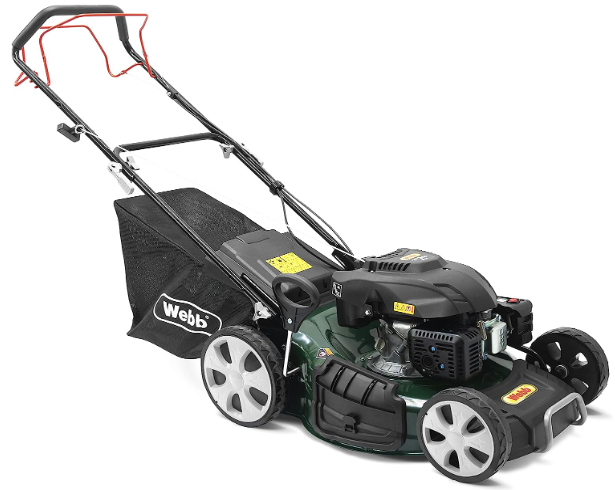 Cons for the Webb Petrol Lawnmowers
There is no side discharge or mulching with the WER410SP but it is available on both the WER460SP and the WER510SP so be extra careful when making a selection based on your own needs and requirements
Other higher priced petrol lawnmowers offer electronic starts but these lawnmowers need to start using a pull cord and priming.
Some may find that the forward self-propelled speed is a little too fast but you can disengage this and push it if necessary for a slower mowing pace especially around tight corners or edges
Damp grass tend to get blocked in the rear chute so it needs to be removed manually which is similar to many other brands we have seen (not just Webb)
There is no rear rollers on these models but they are available on other lawnmowers within the wider Webb lawnmower range.
The location and position of the oil filler could be better as pouring in the oil was more difficult than expected
Price Comparison vs Spear & Jackson
Webb Petrol Lawnmower Comparisons
To make sure you have all the necessary information, feel free to check out the comparison table below so that you can see how each of these 3 lawnmowers compare side by side.
| Model | Webb WER410SP | Webb WER460SP | Webb WER510SP |
| --- | --- | --- | --- |
| Engine | 4 stroke 132cc | 4 stroke 141cc | 4 stroke 173cc |
| Mow Settings | 7 | 7 | 7 |
| Mow Heights | 2.5cm – 7.5cm | 2.5cm – 7.5cm | 2.5cm – 7.5cm |
| Grass bag size | 45 litre | 55 litre | 65 litre |
| Weight | 26kg | 33kg | 39kg |
| Mow width | 41cm / 16 inch | 46cm / 18 inch | 51cm / 20 inch |
| Mulching | None | Included | Included |
| Side discharge | None | Included | Included |
| Warranty | 2 years | 2 years | 2 years |
Read also: Webb Electric Lawnmower review
Conclusion
After completing our Webb Petrol self-propelled lawnmower review, we hope our work here can help you out in some small way and perhaps give you a better idea of what these lawnmowers are all about. Would we recommend it? Certainly yes without hesitation and our preference would definitely have to be the WER510SP for the extra power, higher performance rate and wider mowing paths. Further information, images and updated prices can be double checked below as well as further customer reviews…

Webb Petrol Lawnmower Feedback
Have you ever used a Webb self-propelled petrol Lawnmower in the past? If so, please share your feedback and experiences with the wider mowing community by leaving a comment in the comment box section provided below…