Hello and welcome to our short review which will outline some of the most popular and best Hyundai Lawnmowers available from Hyundai Power Equipment UK at present. Not only do they stock Lawn mowers, but they also stock a wide range of  garden related tools also which are worth checking out. They are based in Pembrokeshire and they can be contacted on 01646 687 880 for any support and back-up queries that you may have.
Direct Deliveries
In addition, they are well experienced in handling online orders so all of these lawn mowers can be delivered direct to your home which is one less thing to worry about and they provide a free delivery to most of the UK mainland.
After reviewing their lawn mowers and stock availability, we have outlined below a short summary of their most popular options available to the UK public. Many of these items can be out of stock due to popular demand especially in peak season so it is better to book well in advance from what we can see.
Best Hyundai Lawnmowers @ Hyundai Power Equipment UK
1, Hyundai P1PE Engine Electric Start Petrol Lawnmower 20 inch / 51cm 173cc Lawn Mower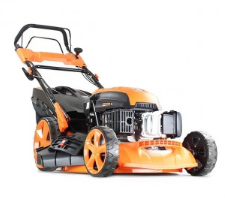 Main Features to Note:
Hyundai 173cc 4 Stroke petrol engine
Single height lever adjustment over 7 heights
Side discharge and mulching options
Self-propelled and includes Free 600ml Oil
Grass unit collection capacity is 60L
Price Guide: £350 to £400 (2-year warranty)

2, Hyundai HYM430SPR Self Propelled 17 inch / 43cm 139cc Petrol Roller Lawn Mower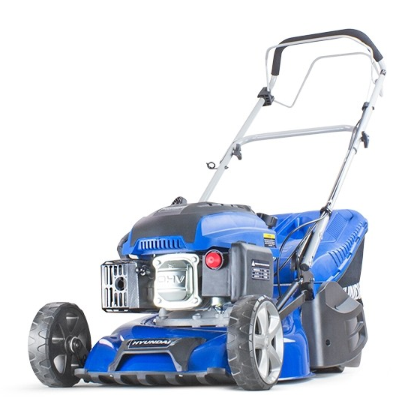 Main Features to Note:
Hyundai OHV 4-stroke 139cc engine
Power level output of 2.6kW or 3.7 HP
Rear wheel drive, rear roller, 17 inch cutting width
Full width split ribbed rear roller for striped effect
6 mow cutting heights 2.5cm to 7.5cm
Price Guide: £320 to £370 (3-year warranty)

3, Hyundai HYM480SPR 19 inch / 48cm Self Propelled 139cc Petrol Roller Lawn Mower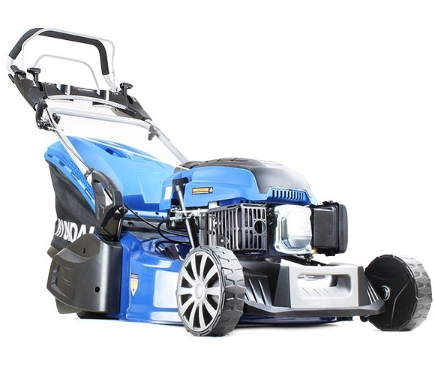 Main Features to Note:
Hyundai OHV 4-stroke 139cc engine
Low fuel consumption and easy start system
48cm 19-inch-wide, 5 mow heights 2.5cm to 7.5cm
Full width split 38cm ribbed rear roller, foldable
Hard wearing 70 litre capacity grass collector
Full UK spares backup and technical support
Price Guide: £400 to £450 (3-year warranty)

4, Hyundai HYM3200E Corded Electric 1000W 240V Rotary Lawnmower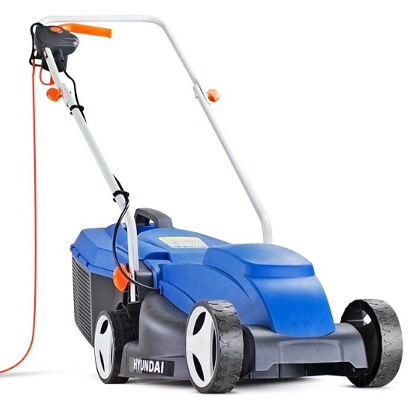 Main Features to Note:
Lower priced corded electric mower
For smaller gardens, mowing width of 32cm
Super lightweight and easy to use – less than 10kg
Small grass unit collector capacity 25 litre
Rust free plastic chassis, quick assembly process
Cable length is 10m long with 13 Amp power
Price Guide: £70 to £100 (3-year warranty)

5, Hyundai Corded Electric Lawn Mower and Trimmer Bundle Pack
Main Features to Note:
HYM3200E and HYTR250E reference code bundle
Electric 1000W 230V Rotary Lawnmower
Electric 250W 230v 25cm Grass Trimmer
Mow width 32cm and trim width 25cm
Limited availability in peak season
Price Guide: £90 to £120 (3-year warranty)

6, Hyundai HYM60LI380 60V Lithium ion Cordless Lawnmower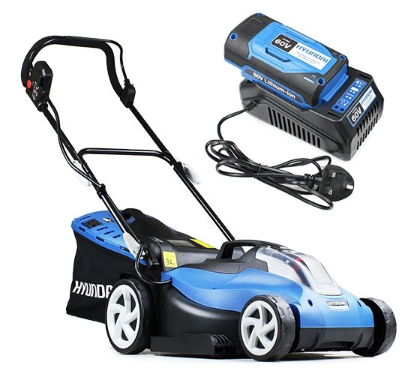 Main Features to Note:
LG lithium-ion 2.5Ah battery included
Recharging unit also included
No cables, no petrol and no fumes solution
Cutting width is 38cm and weighs less than 12kg
Mow heights are 2cm to 7cm with 45L grass unit
Price Guide: £300 to £350 (3-year warranty)

Hyundai Lawnmower Feedback
Have you ever used any of these Hyundai Lawnmowers in the past? If possible, please share your own opinions and feedback with the wider community by leaving a comment in the comment box section provided below….