After reviewing the McGregor lawnmowers, we decided also to take a look and review their grass trimmers, so if you are thinking about buying one over the next few days or weeks, then check out our brief McGregor Grass Trimmer review which will let you know everything you need to know along with our top picks from this brand.
Range of Prices
There is a good selection to choose from be it a lower priced and lower powered 350W corded model for less than £40 or you can go for a higher powered 600W corded model for less than £70 or even a cordless trimmer with 2 batteries for less than £90 so straight up, there are options here to suit almost everyone's needs.
Read also: Popular Cordless Lawnmowers
Assembly Tips
Our review will cover the most popular grass trimmer options available from McGregor and we will outline our top picks which is outlined in our conclusion at the end of this page. We have also included various images for you to take a look at, along with a series of FAQ's, some assembly tips and our pros and cons that you can check out further down on this page. For easier navigation, our review is split into 6 parts so feel free to skip to whatever part interests you the most.
Electric Grass Trimmer Review Content
Part 1: Overview plus Brief FAQ list
Part 2: McGregor 25cm Corded Grass Trimmer Review – Pros & Cons
Part 3: Alternative Corded Grass Trimmer Options (more power)
Part 4: Assembly Tips – Corded Grass Trimmers
Part 5: McGregor Cordless Grass Trimmer Option
Part 6: Our Conclusion
As guide prices can only be shown at the time of this McGregor Grass trimmer review, please make sure to view the price checkers provided below to ensure you have the most accurate up to date price information.
Read also: Our McGregor Lawnmower review here
Part 1: Overview plus Brief FAQ list
| Model: | McGregor 25cm Corded Grass Trimmer |
| --- | --- |
| Power: | 350W |
| Model code: | MET3525 |
| Best Place to Buy: | Argos UK – View Stock Availability Here |
| Warranty: | 2 years duration |
| Support: | McGregor helpline @ 0345 605 2065 |
Brief FAQ List - McGregor Grass Trimmers
Q1. How long is the cable length?
A. The cable length here is 8m long (2m shorter than Spear & Jackson)
Q2. Does the 350W have enough power for thicker denser coarse grass and brambles?
A. No, you need 400W+ power for denser coarser grasses and 600W+ power for brambles
Q3. Can the length of the telescopic shaft be extended?
A. Yes, this shaft is adjustable so it can be extended for taller people.
Q4. Where can you get additional spool lines as they are not on sale with Argos?
A. You can contact McGregor directly on 0345 605 2065 or simply order online with Amazon UK here
Q5. Does the additional spool line need to be brand specific or can it be generic?
A. This grass trimmer will accept generic or universal branded spool lines – examples can be seen here
Q6. How long will this trimmer extend to?
A. This grass trimmer from McGregor will extend to 1.2m long
View also: Spear & Jackson lawnmower review
Part 2: McGregor 25cm Corded Grass Trimmer Review – Pros & Cons
McGregor 25cm 350W Corded Grass Trimmer (MET3525)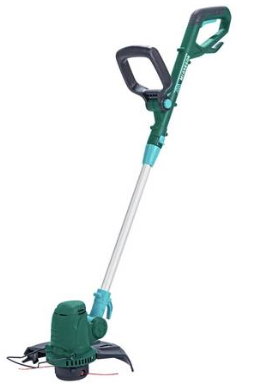 Grass Trimmer Highlights:
Lowest price option available
Corded 350W power, 25cm wide
Auto feed trimming line
Cable cord length is 8m
Flower guard & rotating head
Length of shaft is extendable
Front handle angle is adjustable
Edging facility, Soft grip handle
Lightweight at only 2kg
Dual feed line & simple assembly
Warranty is 2 years long
Pros for the McGregor 350W Corded Grass Trimmer
The first main attraction is the low price on offer – if you are seeking the lowest price grass trimmer available, then you don't need to look much further than this.
Having an adjustable shaft is great to suit taller people and the wheel support really does help with more accuracy around kerbs, flower beds and boundaries.
The flower guard gives a great guide to protect the flowers or plants you need and the rotating head gives great flexibility when you need to trim under garden objects such as garden furniture or benches.
The auto feed line worked as expected without any problems and the weight of this tool is seriously lightweight coming in at only 2kg which makes longer trimming jobs more possible.
A good reliable cheap option for smaller gardens and tidying up areas that the lawnmower fails to get cut in awkward type areas. It can also be used for smaller patches of grass that don't need a lawnmower at all.
Cons for the McGregor 350W Corded Grass Trimmer
There are no spare spools included in the box like what is offered from Spear & Jackson grass trimmers (but universal spools are accepted)
Sourcing additional spool lines from McGregor directly is a bit slow and cumbersome – but you get a result all the same or you can take a look and order from Amazon here instead
There is a lower level of warranty when compared to other brands who offer a 3-year warranty (1 year longer)
Lacks the power you need for heavy duty work, dense grasses or brambles that more powerful trimmers can do – really designed for lighter trimming work instead or tidying up after your lawnmower work
Extension cords may be needed also so make sure to measure up in advance to avoid disappointment as this cord is only 8m long. Minor isolated cases of the line snapping, flower guards falling off have been reported  also and you only get a refund if it hasn't been used.
Price Guide: Less than £50 (2-year warranty)

Further images of the McGregor 25cm 350W Corded Grass Trimmer MET3525 are outlined below
Part 3: Alternative Corded Grass Trimmer Options
If you need a more powerful corded trimmer tool for denser grass patches or even a mini garden, then check out the 2 more powerful options instead from McGregor summarised as follows. Again, any after sale support that you may need is directly available from McGregor at 0345 605 2065 which is great to have in the event that you come across any problems that need to be resolved.
Comparison Table – McGregor Corded Grass Trimmer Selection
| Model: | MET3525 | MET4530 | MET6032 |
| --- | --- | --- | --- |
| Power: | 350W | 450W | 600W |
| Trim Width: | 25cm | 30cm | 32cm |
| Cable Cord: | 8m long | 8m long | 8m long |
| Flower Guard: | Included | Included | Included |
| Rotating head: | Included | Included | Included |
| Shaft: | Adjustable | Adjustable | Adjustable |
| Weight: | 2kg | 2.6kg | 2.8kg |
| Warranty: | 2 years | 2 years | 2 years |
Read also: Our Spear & Jackson Grass trimmer review here
Part 4: Assembly Tips – McGregor Corded Grass Trimmers
All of these assembly steps are included in the manual provided but if you want to take a sneak preview before you buy, then check out some of the steps outlined below  that you will need to follow such as fitting the guard, adjusting the heights and rotating the front auxiliary handle.
What's in the Corded McGregor Grass Trimmer Box?
Again, all of these items are explained in the manual, but a sneak preview is outlined below. There are 20 main parts all labelled with numbers as per the diagram below such as the spool head cover, cable holder, motor housing and line cutter.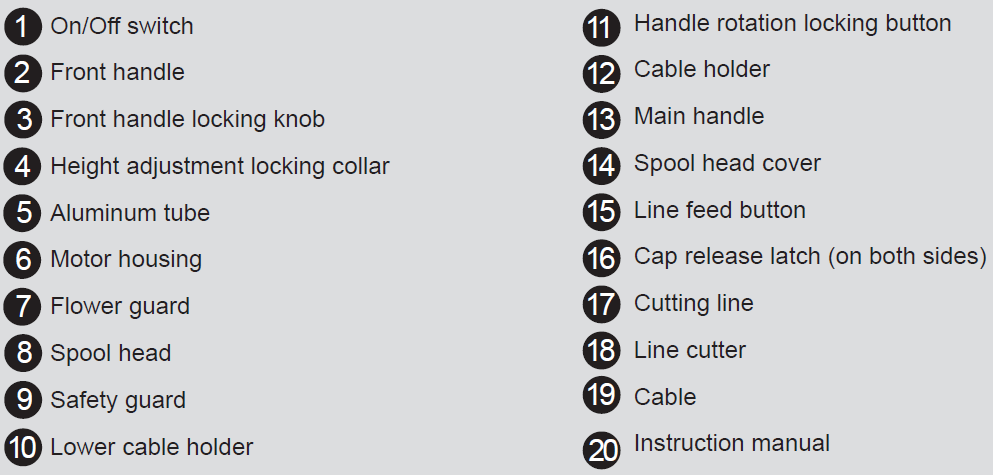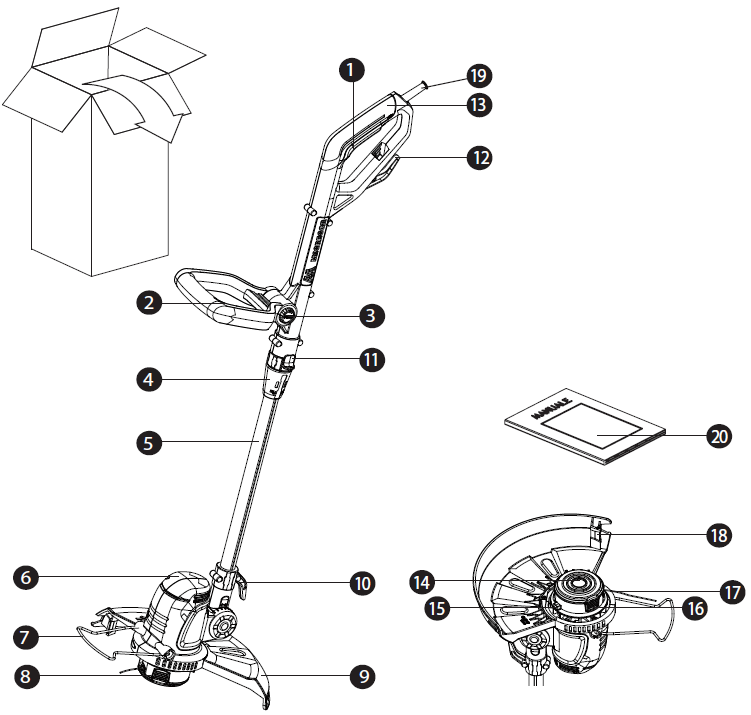 Part 5: McGregor Cordless Grass Trimmer Option
If you need to avoid cables and cords and you are prepared to spend a little more, then you should seriously consider the cordless option which would be our own personal preference by a long way as you can get the work done a lot quicker and you don't need to navigate through cords while you work. You also don't need to worry about buying additional extension cords either if needed which would be an added expense also.
McGregor 25cm 18V Cordless Grass Trimmer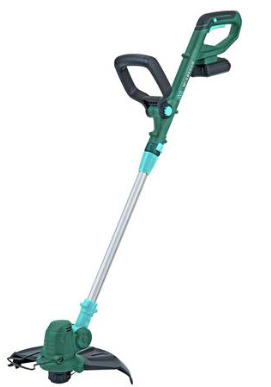 Key Trimmer Highlights
Cord and cable free solution with 18V 2.0Ah powered battery. Charger is included also in the box
Head can be rotated under benches and it has an adjustable shaft and handle
Provides a 25cm trim width and a soft grip handle
Battery runtime is 20 to 30 minutes depending on trimming conditions
Battery recharging takes 3 hours on average and it operates with an auto fee line system
There is also the option of buying this with 2 batteries (2.0Ah x 2) included in the box also by using order code MCT2X1825
Price Guide: £80 - £120 (2-year warranty)

Part 6: Our Conclusion
Do we recommend the 350W corded grass trimmer from McGregor? While it is not the best or the most powerful we have ever used, it still does a fairly good job on small gardens especially for tidying up areas where the lawnmower has failed to cut and at a price level of less than £40, it really does provide good value for the amount of money you need to spend. It is cheap and cheerful, but it certainly can do the job that it is intended to do without too many issues experienced.
Small Areas
If you have just a small patch such as a 70 square foot or a 80 square foot area for trimming, then this little trimmer will do the job just fine also but with an item as low priced as this, the level of quality standards is not as good as the more expensive brands so you need to lower your expectations when buying the "cheapest" possible option.
Let's face it, having everything 100% working properly for a budget price cannot be always guaranteed so if you buy, I would advise keeping the receipt in a safe place in case you need it again.
As for me, I would rather spend a little more and go for more power so I would much rather recommend the 600W corded model above or the Cordless trimmer with the 2 batteries as having no limitations with cables and cords is a major advantage to have especially if your garden is medium sized or on a larger site.

Educate Others
Have you ever used a McGregor Electric Grass trimmer before in the recent past? Anything good or bad to say about it?
If possible, please educate others in the UK community by leaving your comment in the comment box section provided below.