Hello and many thanks for taking the time to visit this Hyundai Grass Trimmer review which will cover both the electric and petrol grass trimmers under this brand so at least you have more than just one choice when it comes to making your final decision. For the electric options, we will briefly cover both the corded and the cordless grass trimmers as you have the choice of either working with a power cord or going down the battery powered cordless route.
View also: Grass Trimmer Reviews here
Corded vs Cordless
There is also a significant price difference between the corded version and the cordless version so if you want a basic option at the lowest possible price, then the corded grass trimmer from Hyundai is the way to go. Nevertheless, we will outline our review for all 3 options here which will cover the corded, the cordless and the petrol-powered push options that are supported with wheels for larger type grass trimming jobs.
The one thing we liked about the petrol versions is that you have less arm and hand fatigue when completing jobs that take over 1 hour to do. Handheld trimmers are fine but after a while, your arms do start to ache a bit so the petrol wheel supported trimmers here was certainly a great help for the larger heavier duty jobs.
Hyundai Grass Trimmer Review Content
Part 1: Overview and FAQ's
Part 2: Hyundai Corded Grass Trimmer Review
Part 3: Hyundai Cordless Grass Trimmer Review
Part 4: Hyundai Petrol Grass Trimmer Review – 2 Options
Part 5: Conclusion
Read also: Popular Hyundai Lawnmowers from Hyundai Power Equipment UK Here
Part 1: Overview and FAQ's
| Models: | Hyundai Grass Trimmers – Corded / Cordless / Petrol x 2 |
| --- | --- |
| Power Levels: | 250W Corded / 60V Battery Cordless / 50.8cc Petrol / 160cc Petrol |
| Cutting Widths: | Corded 25cm / Cordless 33cm / Petrol 40-45cm |
| Best Place to Buy: | Hyundai Power Equipment UK – View Stock Availability Here |
| Warranty: | 3 years duration for all types |
| Support: | Hyundai UK: 01646 687 880 or sales@hyundaipowerequipment.co.uk |
Grass Trimmers Selection from Hyundai
A selection of grass trimmers that are currently available from Hyundai are outlined below (8 images) which cover both electric for lighter domestic jobs and petrol powered grass trimmers for commercial type and heavier duty jobs.
Frequently Asked Questions for the Hyundai Grass Trimmers
Q1. Is it a single line or double line cutting system?
A. These grass trimmers work off a both a single & twin line cutting system depending on the model chosen
Q2. How long is the power cord on the corded version?
A. The cord length is only 10m long so you may need to buy an additional extension cord also.
Q3. What voltage level is needed on the corded?
A. The corded HYTR250 operates with a 230 to 240V
Q4. How long is the line on the corded and what thickness is it?
A. The line has a diameter of 1.2mm and a line length of 2m on the corded (cordless is thicker at 1.6mm)
Q5. Which is the lightest tool to work with for less fatigue?
A. The lightest tool is the corded model which weighs less than 2kg
Q6. Can you buy the cordless without the battery and charger?
A. Yes, they have a bare tool option also which costs approx. £100 less
Q7. Does the electric trimmers have rotating heads?
A. Only the cordless model has a rotating head. There is no rotating head on the corded.
Q8. How long does the cordless battery trim for when charged?
A. The battery powered cordless trim can operate between 30 and 40 mins on average
Q9. Which trimmer is best for harder to reach overgrown vegetation, weeds and brambles?
A. For heavy duty larger estate trimming jobs, the wheeled petrol HYFT56 model is the best way to go.
Q10. Which trimmer has the thickest line feed diameter?
A. The HYFT56 petrol based trimmer has the thickest line of 4mm which can cut through brambles and more.
Part 2: Hyundai Corded Grass Trimmer Review – Best Budget Option
Hyundai 250W 25cm Electric Grass Trimmer HYTR250E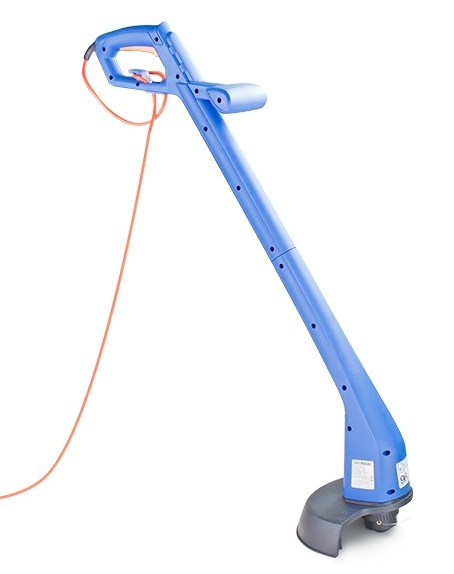 Key Features in Summary:
Power cord supplied is 10m - Twin line cutting system
Edge trimming and weeds
Front trimmer guard - Net weight is 1.7kg
240V power & 1.2mm line
Line length is 2m long
Warranty is 3 years
Grass Trimmer Description
If you are looking for the cheapest grass trimmer from Hyundai, then this is the one for you as it usually seen on sale for less than £40 which compares well against other corded trimmer brands. The width is 25cm, so it is more geared towards smaller trimming jobs such as edging, around flower beds and difficult corners.
It is powered with a 250W electric motor and all you need to do to get started is to plug it into a standard power socket. Many other corded trimmers only have an 8m cord where this one from Hyundai offers a longer 10m cable cord.
The frame is small for easier storage in your shed and the weight is only 1.7kg which goes a long way to reduce arm fatigue when mowing for longer periods. It comes with a trimmer guard, a front handle, a manual and the gross weight is just 2kg.
Many other branded trimmers offer a single line but here you get a twin line system with a line diameter of 1.2mm and a line length of 2m. It comes with a UK 3 pin plug and it is covered with a 3 year warranty.
Pros:
Extremely lightweight and easy to use – less than 2kg
Lowest price option for bargain hunters
Easy off spool system & twin line cutting for standard basic jobs
Reliable 3 year warranty and back up support
Cons:
Limited to an area of 10m with the cord
Additional extension cords may be needed (extra expense)
No rotating head is included (but is available on the cordless)
Shaft cannot be extended so the length is not adjustable
Price Guide: Less than £40 @ Hyundai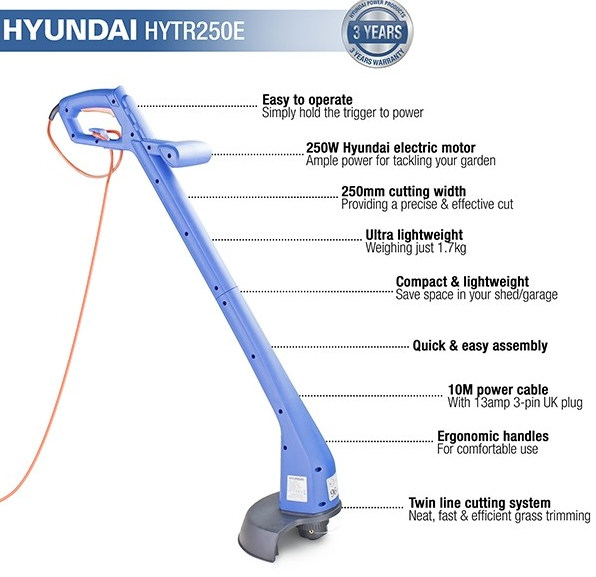 Part 3: Hyundai Cordless Grass Trimmer Review
Hyundai 60V Lithium-ion 33cm Cordless Grass Trimmer HYTR60LI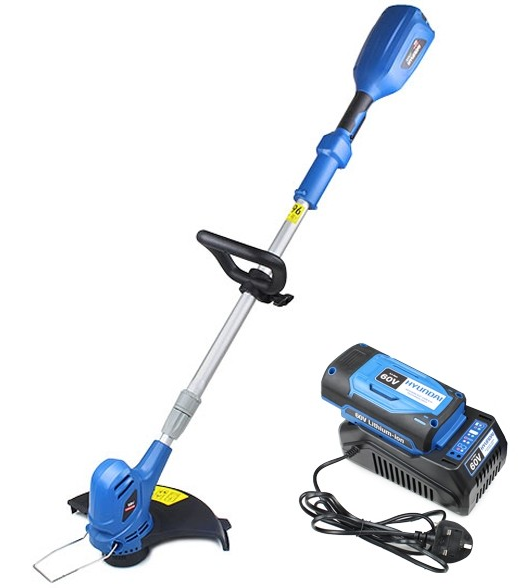 Key Features in Summary:
Cord/cable free solution - Bare tool option available also
LG lithium-ion 2.5Ah battery
Trimming width is 33cm - 180 degree rotating head
Rust and corrosion free - Aluminium shaft & tough plastic
Designed for 1k+ charges - Auto single line feed
Speed trigger is variable
Warranty is 3 years
Grass Trimmer Description
The 2nd grass trimmer option available from Hyundai is the Cordless battery powered Hyundai 60V Lithium-ion cordless Grass Trimmer ref code HYTR60LI which can also be bought also as a bare tool if you already have a 60V battery and charger in stock. The bare tool option is generally approx. £100 less than the full package.
Unlike many other lower priced trimmers, this grass trimmer comes with a superior and higher quality LG lithium-ion 2.5Ah battery which gives a much longer runtime and it is designed for 1k+ charges before you need to replace the battery so it will last for many seasons to come.
It has a 180 degree rotating head, a trimming width of 33cm, an aluminium rust free shaft and also an automatic single line feed with speed levels that can be varied. The rotating head is particularly useful when you need to trim under trampolines, benches or under garden furniture.
The handles can be folded down, the shaft can be extended when needed and assembly is done in less than 5 minutes. Like the corded trimmer, this cordless trimmer option is also covered with a 3 year warranty with service, parts and back up available from Hyundai in the UK.
If you want to avoid cables, cords, fuel or messy oil products, then the cordless trimmer is the way to go. The battery is charged on average 90 minutes, additional batteries are also available if required and the battery charge tends to last 30 to 40 minutes depending on trimming conditions.
Pros:
Includes the battery and charger but you can choose the bare tool also
No hassle with cords or extension cables and includes a rotating head
No ongoing fuel, oil or maintenance costs and rust/corrosion free
The 60V battery is interchangeable with other tools
The telescopic shaft can be extended for additional comfort
Cons:
Limited to a 30 to 40 minute trimming time and limited availability
Additional batteries if needed are more expensive than you think
Heavier duty trimming jobs deplete the battery a lot quicker
Price Guide: £180 to £220 @ Hyundai

Part 4: Hyundai Petrol Grass Trimmer Review – 2 Options
There are 2 different petrol-powered grass trimmer solutions available from Hyundai which are summarised in brief below. These are more designed for larger projects or even commercial jobs where an electric powered trimmer is too small or lacks enough the power needed to tackle larger grasses, brambles and weeds.
For the average home owner, these petrol based trimmers would not be needed in our opinion but are definitely the way to go if you need to work on very large areas, paddocks and large estates as the smaller electric trimmers would be far too slow.
1, Hyundai Petrol 50.8cc Wheeled Grass Trimmer HYWT5080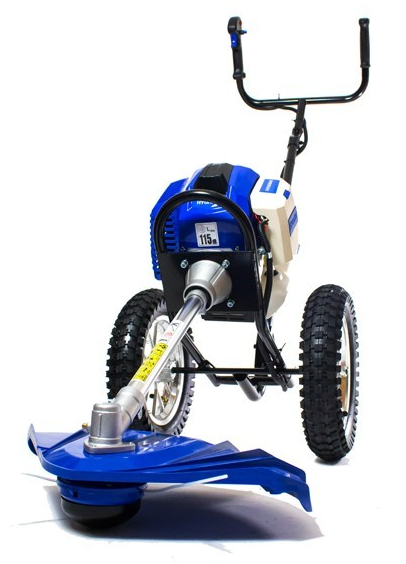 Summary of Key Points:
2-stroke petrol engine with 50.8cc capacity
For heavier duty trimming jobs with wheel support
Designed for large gardens, heavy grasses & weeds
Trimming width 40 to 45cm – Nylon feed
Recoil cord engine start system
Suitable for commercial trimming jobs
Capable of tackling brambles, weeds and long grass
Price Guide: £180 to £220 (3 year warranty)

2, Hyundai 160cc Petrol Push Field Grass Trimmer HYFT56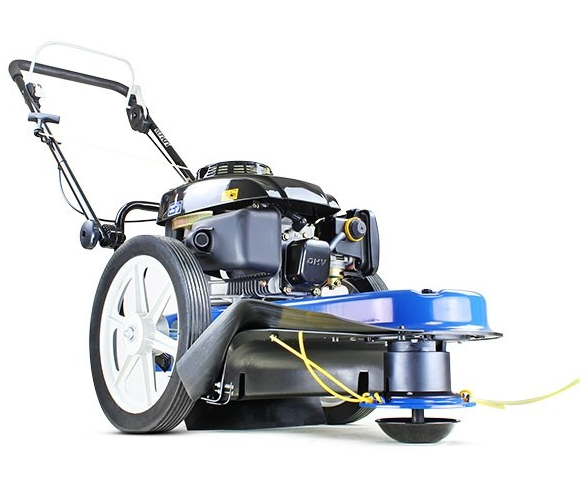 Summary of Key Points:
5.5HP Hyundai four-stroke petrol engine
Superior power 160cc for heavy duty jobs
Wheeled support, soft grip handles
Adjustable trimming heights for uneven surfaces
Designed for larger estates, parks, large open spaces
Thicker 4mm cutting nylon cord for difficult areas
Weight is 31kg and cutting width is 56cm
Price Guide: £350 to £400 (3 year warranty)

Comparison Table
A short comparison table is outlined below for 3 of the grass trimmers currently available from the Hyundai brand at present so feel free to make whatever comparisons you need to make yourself.
| Model: | Corded HYTR250E | Cordless HYTR60LI | Petrol HYWT5080 |
| --- | --- | --- | --- |
| Power: | 250W cord | 60v 2.5Ah battery | 50.8cc engine |
| Weight: | 1.7kg | 4kg | 16kg |
| Trim width: | 25cm | 33cm | 40 - 45cm |
| Rotating Head: | N/A | Yes | Yes |
| Charge time: | N/A | 90 mins | N/A |
| Battery Runtime: | N/A | 30 – 40 mins | N/A |
| Line Diameter: | 1.2mm line | 1.6mm line | 1.6mm line |
| Auto line Feed: | N/A | Included | Included |
View also: Our Best Lawnmower Lists here
Part 5: Conclusion
Which grass trimmer would we choose? Our own personal preference would definitely be the Cordless battery powered grass trimmer here as it gives a lot more freedom to the areas you can work to and you don't have to navigate any cables or cords as you work. That being said, if your lawn is small and it can be reached by 10m with a cord and you only need a trimmer for lighter trimming work around the edges or flower beds, then the corded model here will be sufficient for your needs. The petrol trimmers here are really for commercial larger type projects and personally I wouldn't have a need for them so even though they work great, I don't believe they are needed for small domestic type work.
What I liked from the cordless model here is the higher quality battery that lasted 30+ minutes, the rotating head to get underneath the trampoline and garden benches and also having the back up support, repairs and a 3 year warranty from Hyundai UK which goes a long way when making a final decision.

Educate Others
Have you ever used a Hyundai Grass trimmer yourself in the recent past? Anything good or bad to say about it?
If possible, please educate others in the UK by leaving a feedback comment in the comment box section provided below.