If you are interested in learning more about the Cub Cadet SC500K Lawn mower, then check out our review which will outline everything you need to know before you make that all important final decision.
We have worked through several Cub Cadet Lawn mowers at this stage so now it is time to complete our Cub Cadet SC500K review which we are sure will give you a better overview of what this lawnmower can offer and what it is all about.
View also: Cub Cadet CC600 CC800 Lawn mower review
Multi Grass Cutting Options
One good to know in advance with this SC500K Lawn mower is that if offers you a 3 in 1 mowing function in that you can choose to mulch with the integrated mulch plug, use the side discharge or you can use the rear bag collection.
The mulching is a great way to turn it into a fine mulch which returns to the soil to act as a natural fertiliser which in turn promotes a healthier lawn. The side discharge option is also a great way to use on longer grasses starting out or use can use it on less formal areas of you yard.
Cub Cadet SC500K Lawn Mower Review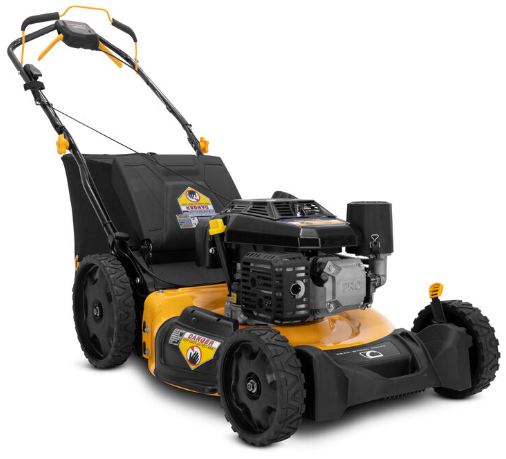 This Cub Cadet Self-propelled lawn mower comes equipped with a commercial grade engine namely a Kohler 173cc CV173 Command Pro engine which is designed to put the extra work in when mowing your yard so you don't have to. As it is self-propelled, it supports you around uneven terrain, awkward mowing conditions and slopes so it will do all the hard pushing for you which means a lot less strain on your arms and the body – a much more pleasant mowing experience.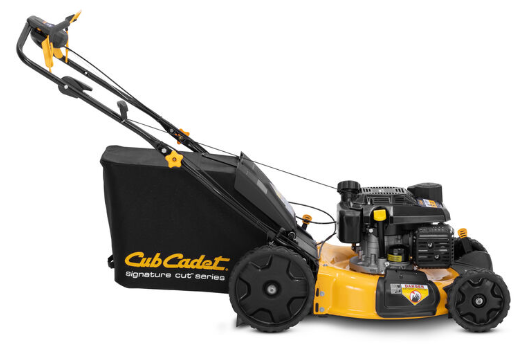 The Cub Cadet lawn mowers are designed with their Signature Cut or SC for short which helps you to get a cleaner cut and neater finish in your yard and this lawn mower offers you a 21 inch wide mowing deck as well as larger rear wheels of 11 inch diameter which again helps with varied types of mowing conditions. It operates with a rear wheel drive system and you have the option to mulch, rear collect or use the side discharge.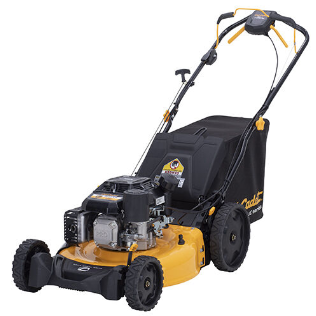 You will need to use the dual levers either side on the top handle to operate the self-propelled support and there are 6 mowing height settings that offer mowing heights from 1.25 inch up to 3.75 inch. For cleaning out the undercarriage, it comes with a wash port where you can attach a hose, the grass bag has a 2.3 bushel capacity and it is covered with a 3 year limited home warranty
Price Guide: $600 plus @ Cub Cadet

View also: Cub Cadet SC300 SP Lawn mower review
Pros for the SC500K
The self-propelled speed works at a nice speed to suit your own mowing pace with MySpeed built in
Reliable starting with the recoil pull cord as it started on the first pull
Instead of getting a lower powered 140cc engine, you are getting a more powerful Kohler 173cc engine here instead
It can be pushed also if you wish as the weight is very manageable (helps to burn more calories)
There is plenty of power for mowing difficult jobs and the wash post is handy for cleaning the undercarriage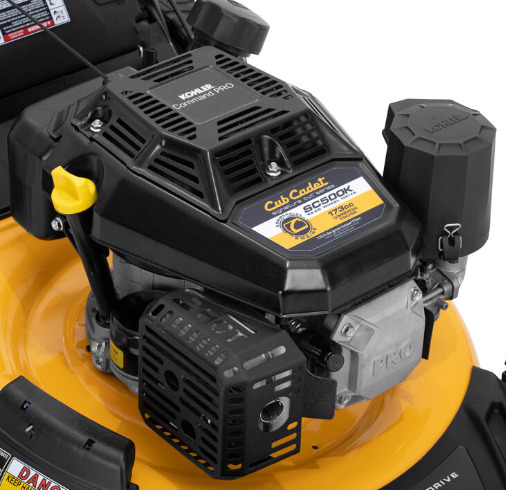 Cons for the SC500K
There is no electric button starter here so you will need to use the recoil pull cord.
The price level is higher than expected but good things usually are
Grass collection into the bag was quite good but could be better at times
At times, the rear wheels can slip a little when climbing slopes so you may have to do a little pushing
It can clog up at times in extreme grass conditions

Price Comparisons
If you need to check out more prices elsewhere at this point, then make sure to check out the 2 price comparison options below which can possibly save you some money while you are here…
View also: Cub Cadet Push Lawn Mower review
Conclusion
Overall we would have to say that this SC500K Lawn mower from Cub Cadet is a fine piece of gardening equipment and we would have no hesitation in recommending it to the wider public.
It's not perfect but it still does a pretty good job all the same. We particularly liked the way in which you can control the speed levels to suit your own mowing pace and how the speeds can be reduced when you are going down slopes.
Time will tell how it will perform in the future seasons but for now, we would give it a big thumbs up and further information, reviews and pricing information can be viewed directly at Cub Cadet below

Cub Cadet SC500K Feedback
Have you ever used a Cub Cadet self-propelled gas SC500K Lawn mower in the past? If so, please share your own opinions and feedback with the wider mowing community by leaving a comment in the comment box section provided below – so that others across the mowing community can learn also…