After working on the Cub Cadet Push Lawn mower, we also wanted to complete our Cub Cadet SC300 Self-propelled Lawn mower review to see how good it really is and to find out if indeed it is worth the money.
So that you have a broader view or review, we have checked out several other reviews across different online platforms so that you are not getting just a single review from ourselves – you will be getting a more balanced review in our opinion which will be taking into consideration what other people have said also.
View also: Our Cub Cadet Push Lawn Mower Review
Cub Cadet SP Lawn Mower Engines
The engines used for the Cub Cadet Gas Self-propelled lawn mowers are either Briggs and Stratton or Kohler engines and the engine power levels range from 163cc engines up to 190cc engines. There is also 1 wider self-propelled Cub Cadet that comes with a 344cc engine but we will cover this particular Lawn mower in another review at a later date.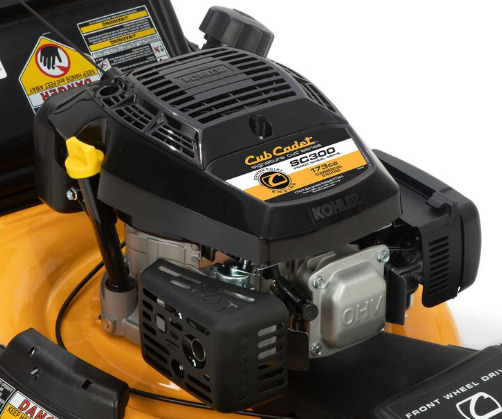 Cub Cadet SP Drive Systems
There are both forward wheel drive systems and rear wheel drive systems in the Cub Cadet self-propelled lawn mower category and the number of lawn mowers is generally 50/50 split from what we have seen. The cutting mowing decks range from 21 inch to 33 inches but the majority of lawn mowers on sale are generally either a 21 inch mowing deck or a 23 inch wide mowing deck.
View also: Our best Lawn mower lists here
Cub Cadet SP Lawn Mower Review
Cub Cadet SC300 Signature Cut Self Propelled Lawn Mower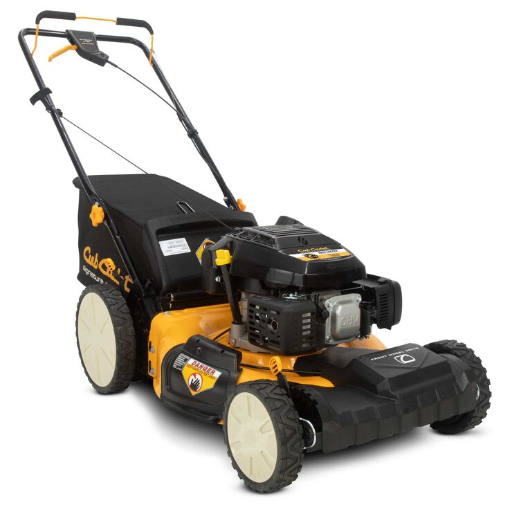 This self-propelled Lawn mower from Cub Cadet comes with a 21 inch mowing deck and a powerful Kohler 173cc engine to give you the extra power needed to deal with larger yards, slopes and uneven terrain. It offers you 3 in 1 mowing functions in that you can mulch, use the rear collection bag or use the side discharge and it operates with a forward wheel driving system.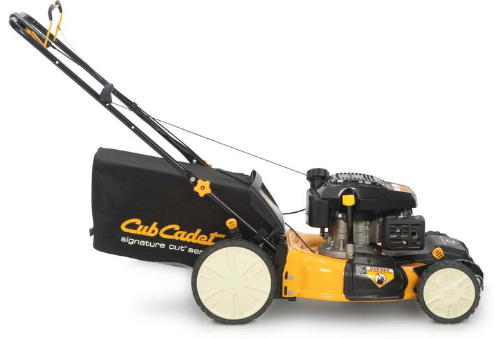 It has the 11 inch wheels at the rear and the 8 inch wheels at the front and the self-propelled support is controlled by the single lever on the top handle. You control the mowing heights with the dual levers either side and there are 6 different mow heights to choose from ranging from 1.25 inch up to 3.75 inches.
It is started with the normal recoil pull cord and it operates with the SmartChoke as well as their Signature Cut designed for giving a beautiful clean cut finish after the work is all done. It has the wash port for cleaning the undercarriage and it comes with a 3 year limited home warranty (commercial warranty is 1 year)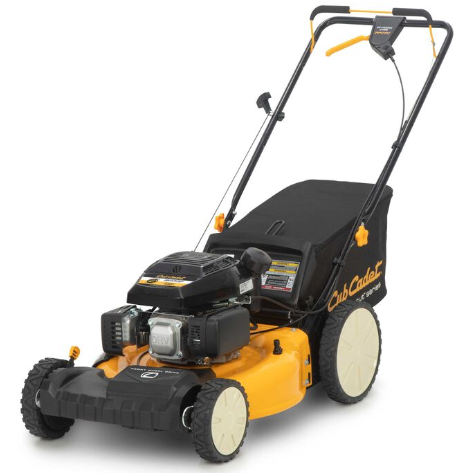 Pros for the SC300
Plenty of power in the Kohler 173cc engine for getting mowing work done faster
The wash port is great to help you clear out the undercarriage and clear away all the old debris
It is a perfect solution for those of you who prefer to use a FWD over a RWD
Adjusting the mowing heights was easier than expected with the dual levers
You have the larger rear wheels to help cover uneven terrain and tougher mowing conditions
Cons for the SC300
Some people may not be happy with the level of plastic parts included in the design
Customer service levels at times was quite disappointing and needs to be improved for the future
We have seen elsewhere that in some cases warranties were not being covered or honoured in the past – hopefully this has improved since then but it appears that the carburettor is not covered under warranty
Even though it is protected against rust and corrosion, we would be worried about how long it last into the future so you need to treat it with care and attention
Extra parts when needed are more expensive than you think and starting the lawn mower after the second season can be unpredictable so you need to ensure you follow all their recommendations carefully
Price Guide: $550 plus @ Cub Cadet

View also: Cub Cadet Push Lawn Mower Review
Alternative Variations
In addition to the SC300, there are 2 other similar Lawn mowers in the range though the engine make up in these lawn mowers are different to the Cub Cadet SC300. Personally if I was going to buy one of these lawn mowers, our preference would have to be the newer edition namely the Cub Cadet SC300K self-propelled gas lawn mower and both of these alternatives are outlined briefly below
#1, Cub Cadet SC300B Signature Cut Self Propelled Lawn Mower
Brief Overview
Briggs & Stratton 163cc engine
Forward wheel drive with 6 mow height settings
Mowing deck width 21 inches
Mulch plug and side discharge included
Rear wheel 11 inches and front 8 inches
Covered with their 3 year warranty
Price Guide: $500 plus @ Cub Cadet

#2, Cub Cadet SC300K Signature Cut Self Propelled Lawn Mower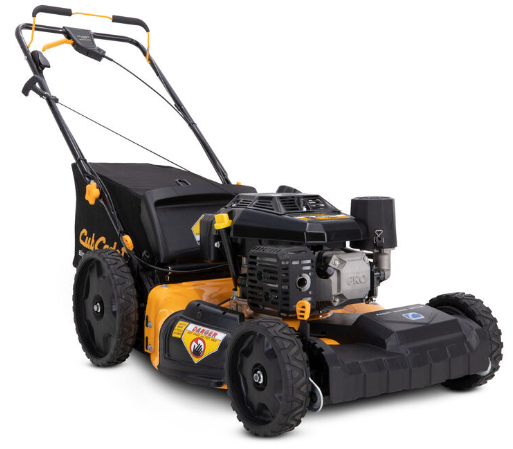 Brief Overview
Newer edition with Kohler 173cc engine
Different engine model number CV173
Larger fuel tank capacity of 1.4 qt
Wash port included for clearing undercarriage
Forward wheel drive system
6 mowing heights 1.25 - 3.75 inches
Price Guide: $550 plus @ Cub Cadet

View also: Our Troy-Bilt Bronco Riding Mower review
Cub Cadet SP SC300 Comparison Table
To add further clarity on these Cub Cadet SC300, SC300B and SC300K self-propelled lawn mowers, feel free to check out the comparison table below where you can see the engines, features and engine models side by side
| Cub Cadet SP | Cub Cadet SC300 | Cub Cadet SC300B | Cub Cadet SC300K |
| --- | --- | --- | --- |
| Engine | Kohler 173cc | B&S 163cc | Kohler 173cc |
| Engine model | HD775 | 725exi | CV173 |
| Drive | FWD | FWD | FWD |
| Fuel tank | 1.0 qt | 1.0 qt | 1.4 qt |
| Oil capacity | 20 oz | 15 oz | 20 oz |
| Rear wheels | 11 inch | 11 inch | 11 inch |
| Front wheels | 8 inch | 8 inch | 8 inch |
| Mow settings | 6 | 6 | 6 |
| Mow heights | 1.25 - 3.75 inch | 1.25 - 3.75 inch | 1.25 - 3.75 inch |
| Deck width | 21 inch | 21 inch | 21 inch |
| Wash port | Yes | Yes | Yes |
| Mulch plug | Integrated | Integrated | Integrated |
| Side discharge | Yes | Yes | Yes |
| Grass bag | 1.9 Bushel | 1.9 Bushel | 1.9 Bushel |
| Warranty | 3 years | 3 years | 3 years |
Self-Propelled Technology
Cub Cadet have done a lot of work with the control of the self-propelled support speed so they work with a MySpeed drive system which means that it works at a mowing pace to suit your own working and walking pace.
This helps to prevent the Lawn mower taking off at faster speeds that what you can handle. As it Is self-propelled, it requires additional power so they have integrated their IntelliPower which supports the engine when dealing with difficult mowing conditions and to prevent it from bogging down.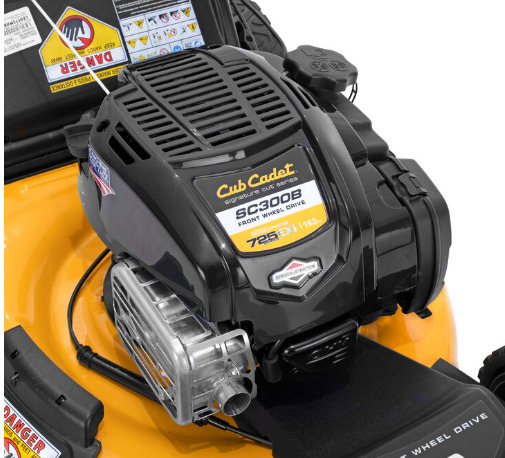 Warranty Cover
The level of warranty you get from Cub Cadet depends on a number of factors. First of all, they offer a 5 year limited consumer warranty, secondly they offer a 3 year limited home warranty and then there is 1 year commercial engine warranty available so you should keep this in mind for future reference. Agreements between dealers appear to be somewhat vague though and we found out that not all warranties were being honoured at local level.
It appears that carburettors are not included as part of the warranty protection which I suppose goes down to annual maintenance service costs that you have to cover yourself. As with most brands, you are expected to pay for the full annual maintenance costs yourself rather than getting it serviced free of charge or getting free carburettors in the process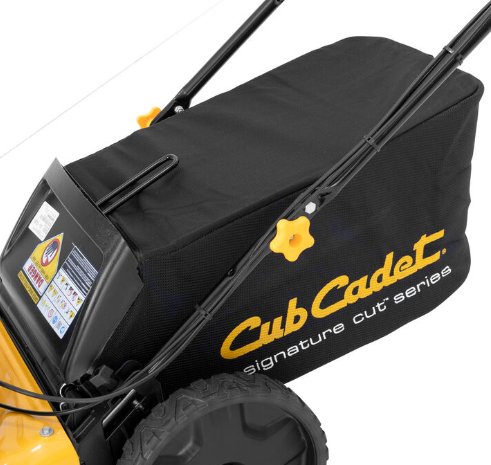 View also: Our Troy-Bilt Self Propelled Lawn mower review
Conclusion
Would we buy this Lawn mower from Cub Cadet? While it worked perfectly for us starting off, we would be concerned about some of reviews we have seen elsewhere from previous buyers across the market. Many are a few years old however we have seen too many issues, complaints and negative reviews being published so for that reason we wouldn't be confident in recommending it to the wider public. It appears that the SmartChoke isn't so smart after all
Some of the common problems people tend to have are starting problems in the second season, expensive spare parts, dealers not honouring warranties, carburettors not covered under warranty and broken parts due to general wear and tear. It appears that more work needs to be done from Cub Cadet to deal with these customer complaints from the past and additional reviews plus newer versions can be checked out directly from Cub Cadet below

Cub Cadet SC300 SP Mower Feedback
Have you ever used a Cub Cadet self-propelled SC300/SC300B/SC300K gas Lawn mower in the past? If so, please share your own experiences, opinions and feedback with the wider mowing community by leaving a comment in the comment box section provided below – so that others across the mowing community can learn also…