If you are thinking about buying a Cub Cadet Push SCP100 Lawn mower in the coming days, then check out this review which will outline everything you need to know including all the key features and engine detail along with the main pros and cons that we came across during our review.
Cub Cadet are well known for their Ride on Tractor and Zero Turn Mowers and in addition to this, they also have a selection of Walk behind Lawn mowers be it push or self-propelled Lawn mowers in their product range.
View also: Troy-Bilt Self Propelled Lawn mower review
Grass Clippings
Starting off, you have 3 different options with the grass clippings with this Cub Cadet Push Lawn mower in that you can choose to mulch, use the side discharge or use the rear collection bag instead. Mulching is a great way to return the grass clippings into a fine mulch back into the soil which help to give the yard nutrients and promote an overall healthier lawn. The side discharge also worked particularly well with longer grasses and less formal areas of the yard.
Engine Starting Support
One thing that can we liked straight away was the starting abilities of this lawn mower. The engine has plenty of power in it and it comes with the SureStart technology mechanism so it will always start on either the first or second pull of the recoil cord. This goes a long way when it comes to peace of mind as you have confidence in getting the lawn mower started and getting your work done without any delays.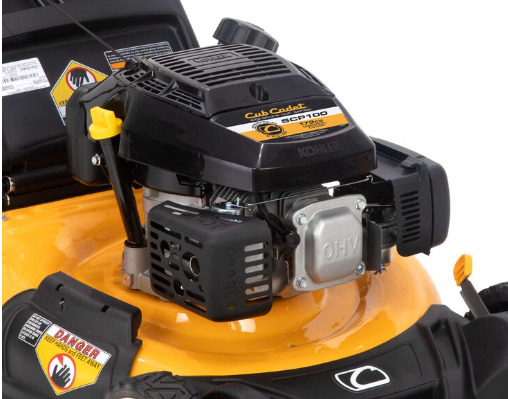 Mowing Deck
First impressions of the mowing cutting deck is that it is solid, robust and well made with durable components. It is 21 inches wide and it comes with their Signature Cut mowing system. It is also treated to prevent any possible rust or corrosion setting in so you know its appearance will remain in good condition for many years to come.
View also: Our Troy-Bilt Pony Riding mower review
Cub Cadet Push Lawn Mower Review
Best Overall: Cub Cadet SCP100 Signature Cut Gas Push Lawn Mower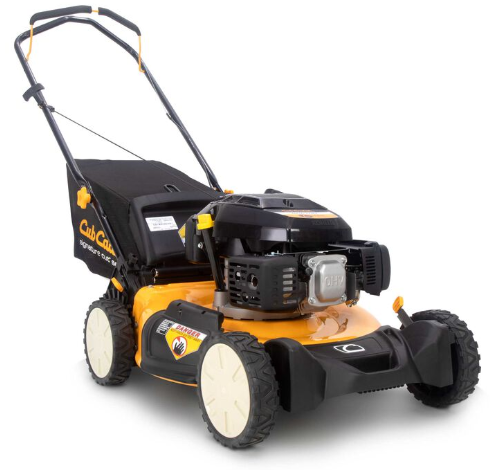 This SCP100 lawn mower would be the best Push lawn mower from Cub Cadet in our opinion and it comes designed with a 21 inch wide cutting deck and the powerful Kohler 173cc HD series engine. The deck is robust and solid and it is treated to prevent any possible rust or corrosion in the future. When it comes to mowing work, this is a 3 in 1 lawn more in that you can choose to use the side discharge, mulch or use the rear collection bag that has a 1.9 bushel storage capacity.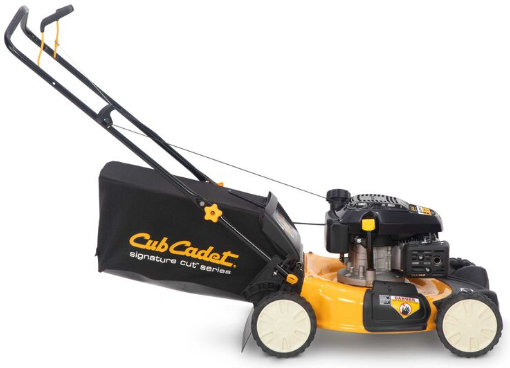 This engine would be considered as a commercial engine so you know straight away that you have serious power under your arms as you push and work. This makes mowing difficult areas of the yard easier to do which in turn gets the yards mowed a lot quicker and without stoppages. It also offers 6 mowing height options that range from 1.25 for a cleaner cut up to 3.75 inches for working on longer grasses.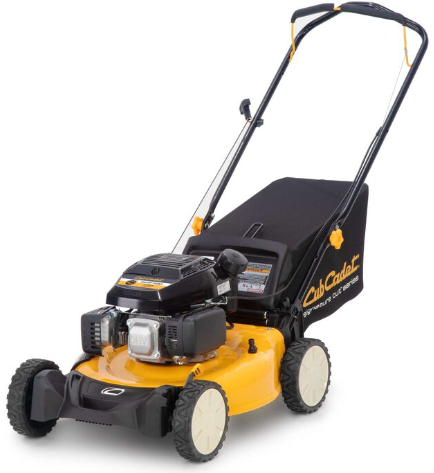 It is also designed with a wash port so you can attach the water hose for clearing out the undercarriage and the mowing heights are adjusted using the dual levers either side. Both the front and rear wheels are 8 inches in diameter and it comes with a 3 year home warranty as well as a 1 year commercial warranty.
Pros
This lawn mower is awesome to work with as it ploughs through tough conditions no problem whatsoever
No issues with starting, it always starts on either the first or the second pull
This 173cc engine gives you great power for making light work of difficult grasses or thicker grasses
The wash port works great to keep the undercarriage cleaned and cleared of debris
You get plenty of buying protection as they offer a 3 year home warranty
Cons
There is no self-propelled support so you need to do all the pushing yourself
Limited availability depending where you look so stock levels can be unpredictable
You have limited options when it comes to Push lawn mowers in this category
Only suitable for small to medium sized yards
There is no electric starter so you need to use the pull cord
Price Level: $400 plus @ Cub Cadet

Video: Cub Cadet Signature Cut Lawn Mower Overview
Price Comparisons
To ensure you have different options to compare prices across the market, please make sure to check out the 2 pricing options below which can possibly save you some money while you are here today
Engines
When it comes to Cub Cadet Push lawn mowers you have either the Kohler engine or Briggs and Stratton engines and the power level ranges from 140cc to 173cc. The gas Cub Cadet SCP100 lawn mower in this review has the superior and more powerful Kohler HD series 173cc engine and the engine model number they use is HD775.
This is considered to be a commercial grade engine as you can feel this extra power under your arms as you push and mow and it works a lot better than the 140cc B&S engine in our opinion.
View also: Our Troy-Bilt Bronco Riding Mower review
Conclusion
After all our review work, we would highly recommend this Push Lawn mower from Cub Cadet for small to medium sized yards that are flat without any significant slopes. The 173cc engine here gives you awesome power for making light work for different mowing conditions or difficult areas of the yard and it starts reliably every time which is good to know.
There is no primer or choke needed and most times it starts with just 1 pull plus the quality of the mowing work and grass clipping collection was excellent to leave a nice tidy finish across the yard. Its not too heavy either when it comes to pushing it and several more customer reviews can be checked out directly at Cub Cadet below

Cub Cadet Push Mower Feedback
Have you ever used a Cub Cadet Push Lawn mower in the past? If so, please share your own experiences, opinions and feedback with the wider mowing community by leaving a comment in the comment box section provided below – so that others in the mowing community can learn also…