After working on several self-propelled Cub Cadet Lawn mowers, it was time to complete our Cub Cadet SC900 Lawn mower review to find how good it really is and to also find out if indeed it is really worth the money.
We will outline all the key features that you need to aware of plus we will cover the mains pros and cons that we came across during the course of our review which will be of interest to you.
View also: Cub Cadet SC500K Lawn Mower Review
Self-Propelled Speed Control
Cub Cadet have developed it's self-propelled Lawn mowers with a technology called MySpeed which helps to control the speed level thrust from the wheels which in turn is more appropriate to your own mowing and walking pace. This prevents the lawn mower running at a speed level that you cannot control so that you can walk with the mower at a more comfortable working rate.
Other brands have also developed similar technologies but we would have to say that this technology for controlling the speed with your Cub Cadet lawn mower works superbly and is certainly very impressive for a more enjoyable mowing experience.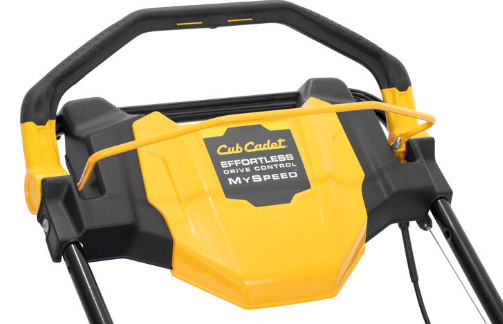 Engine Power Support
One thing that we liked about this Lawn mower is the extra IntelliPower support it gets when dealing with difficult terrain or difficult mowing conditions. Instead of getting bogged down or losing power in thick damp grasses, the engine works at a higher rate to combat these conditions which in turn reduces the amount of stoppages that you may need to take.
View also: Cub Cadet SC300 SP Lawn mower review
Cub Cadet SC900 Lawn Mower Review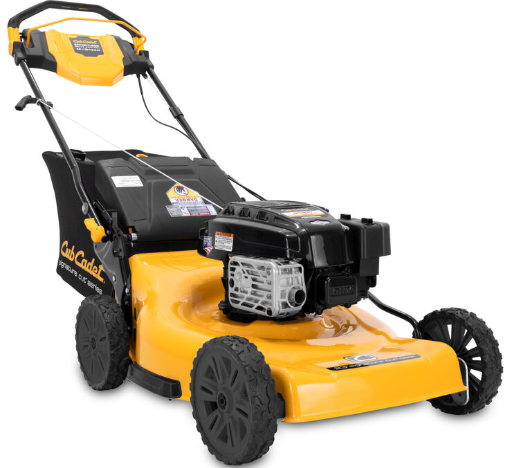 This self-propelled Signature cut gas Lawn mower is currently one of the top rated Lawn mowers within the Cub Cadet family of SP Lawn mowers and we can see why with its powerful 875 Pro Briggs and Stratton 190cc engine which is designed to make light work of difficult mowing jobs. Some lawn mowers only have 140cc or 163cc engines but you are paying for an upgrade in terms of engine power when you decide to buy a SC900 Cub Cadet lawn mower.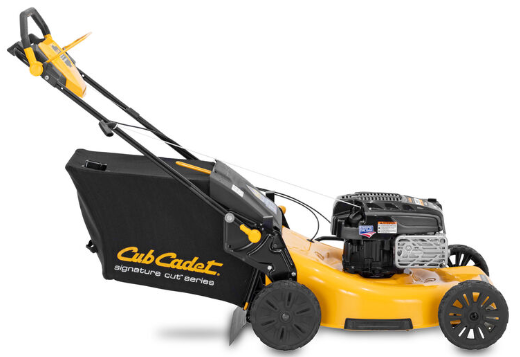 For those of you who want to avoid plastics, then this lawn mower will tick that box as there is minimal plastics used in the design of this lawn mower and of course you get a wider 23 inch mowing steel deck which is 2 inches wider than most of the other lawn mowers available at Cub Cadet. You don't have the side discharge option but you still have the integrated Mulch plug and of course the rear bag collection for the grass clippings.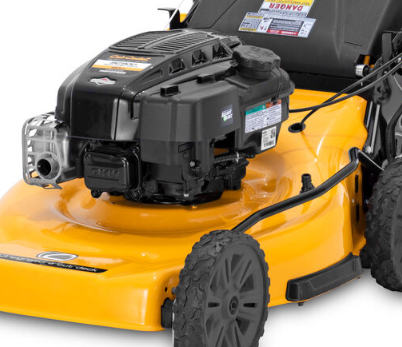 Both the rear wheels and the front wheels are 9 inches in diameter and there are 6 mowing heights to choose from ranging from 1.25 up to 3.75 inches. You should start at the highest setting when mowing longer grasses and work your way down on the next pass and these are adjusted using a single robust lever.
The grass bag is also larger with a capacity of 3.1 bushel and they offer you a longer 4 year limited warranty to protect your investment.
Price Guide: From $600 @ Cub Cadet

View also: Cub Cadet Push Lawn Mower review
Pros for the SC900
You have a superior B&S 190cc engine power as many of their other lawn mowers only have a B&S 163cc engine or a Kohler 173cc engine
Most lawn mowers are only 21 inches wide but you a getting a wider Lawn mower here at 23 inches
High levels of fuel economy and efficiency where 1 tank of gas can mow over 1 acre so the gas goes further
Where some lawn mowers can struggle, this powerful lawn mower rips and ploughs through it with ease
Controlling of the self-propelled speed support is easy to manage once you get the hang of it
Instead of having dual levers for adjusting the mow heights, you have the single lever adjustor instead
The grass collection bag is much larger at 3.1 bushel when compared to other Cub Cadet lawn mower grass bags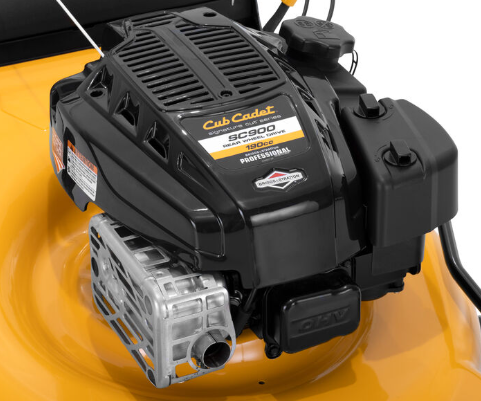 Cons for the SC900
There is no side discharge available so you are limited to mulching or rear bag collections only
We would have preferred the rear wheels to be larger to cater for uneven terrain as they are the same size as the front wheels
The wheels can lose their traction at times when going up difficult slopes so you may need to do a little pushing yourself
There is no electric starter button so you will need to use the recoil pull cord.
Even though you get the standard wash port, it doesn't comes with the superior jet pressure wash port
The mow height adjustor sticks out a little at the wheel so you need to be careful working beside boundary walls

Heavy Grass Yards
Some self-propelled lawn mowers will lose speed, traction and power when they come into contact with heavy grass load areas of the yard which would be expected from many of the top leading brands. What you get from this lawn mower in our opinion is more torque and power under your arms to deal better with these types of heavier grass conditions.  We also found that the fuel usage efficiency was quite good overall as it appears to be able to cover more ground area on a full tank of gas than other brands we have seen in the past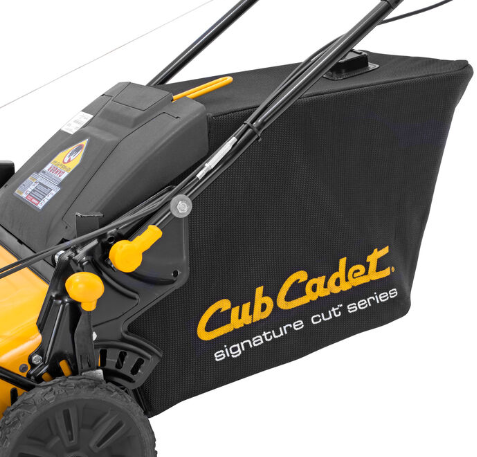 View also: Cub Cadet CC600 CC800 Lawn mower review
Conclusion
Overall, we would have to say that this Cub Cadet SC900 Lawn mower is seriously impressive and it matches many of its rivals no problem whatsoever and even surpasses many of them. The speed control with MySpeed is a significant advantage for a comfortable mowing pace and you have the wider deck of 23 inches which helps to reduce the number of mowing passes saving you some work time in the process.
In addition, the high spec more powerful B&S 190cc engine gets through tough mowing work at a faster rate than what we expected which means less strain on your own body at the end of the day. Overall we would highly recommend this powerful SP lawn mower and you can check out more reviews and pricing updates directly from Cub Cadet below

Cub Cadet SC 900 Feedback
Have you ever used a Cub Cadet SC 900 Lawn mower in the past? If so, please share your own opinions and feedback with the wider mowing community by leaving a comment in the comment box section provided below – so that others across the mowing community can learn also…