If you need to learn more about the Cub Cadet CC30H Compact Riding Mower, then check out our CC30H review which will outline everything you need to know plus the main pros and cons that we came across during the course of our review. This mini Riding mower from Cub Cadet costs a good deal more than what we expected so we wanted to check it out to find out if indeed it is worth the money for the average home gardener.
The smaller size and narrower frame is a big attraction here for people with narrow passageways and of course the brand itself which appears to excel in this sector.
Cub Cadet Mini Rider Mowers
There are basically 2 options when it comes to the Cub Cadet Mini Riding mowers and they are the Cub Cadet CC30H Hydrostatic Riding mower and the Cub Cadet CC30E Electric Mini Riding mower and both of them are designed with a 30 inch mowing deck.
The Electric CC30E Riding mower can mow for approx. 1 hour or up to 1 acre on a single charge but it will cost you over $1000 more when compared to the Gas powered CC30H. The focus of today's review will be on the Cub Cadet CC30H as we plan to complete another review on the CC30E at a later date.
View also: Cub Cadet CC600 CC800 Lawn mower reviews
Attachments & Accessories
There are plenty of extra parts, attachments and accessories available at Cub Cadet direct to help you keep in it top condition from one season to the next. You can source a blade removal tool, a high lift blade, mulching blades, deck belts or drive belts if needed. In addition, they also have AGM batteries, engine oils, mulch kits, grass baggers, spare wheels plus lots more and the full range can be explored further at Cub Cadet below.

View also: Cub Cadet SC500K Lawn Mower Review
Cub Cadet CC30H Compact Riding Mower Review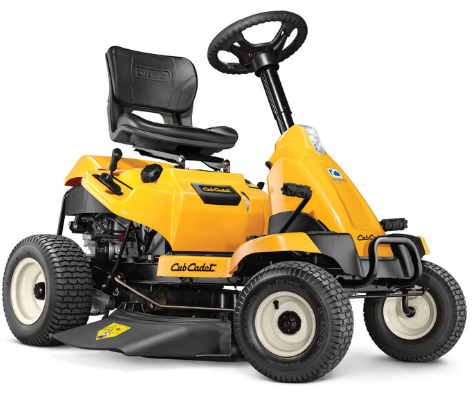 This compact mini Riding Mower CC30H from Cub Cadet comes with fully pressurized with an auto style oil pump system and it is designed with a 10.5HP Briggs and Stratton 344cc engine for medium sized yards. The width of the mowing deck is 30 inches wide so it is a smaller compact Riding mower and it can work up to a maximum speed of 4mph or 6.4kmh.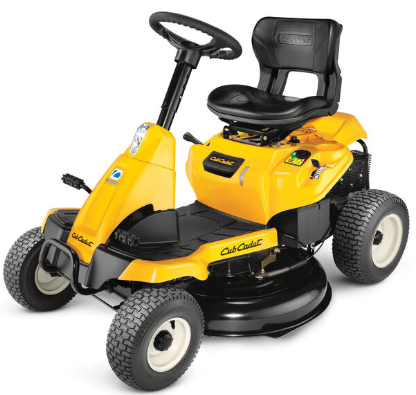 You will be impressed with Hydrostatic transmission with the foot pedal which allows a more pleasant working experience and the LED headlight can help you when visibility levels are poor. The CC30H has a fuel tank capacity of 1.3 gallons and it comes equipped with a 150 CCA AGM battery and a wash port for helping you get the undercarriage cleaned.
There are 5 mowing heights that range from 1.5 to 4 inches and the deck is made using 14 gauge steel. It also has a rear tow hitch, a mulching kit as well as an 18 inch turning radius and they offer you a 3 year limited warranty for peace of mind
Price Guide: From $2200 @ Cub Cadet

View also: Cub Cadet Push Lawn Mower review
Pros for the CC30H
This rider mower can mow in reverse unlike many other ride on mowers in the market
You have the superior Hydrostatic transmission for easier control of the speed levels
It can move in and out through trees, flowers beds and yard obstacles a lot easier than the larger bulkier ride on mowers
It costs over $1000 less than the electric 30 inch wide Cub Cadet Riding mower CC30E
The LED lights are great to have when working in poor light conditions or later evenings
As it is smaller in size, it takes up less space in your shed when it comes to storage
Its offers a low level turning radius at a much faster rate
Cons for the CC30H
There are no anti-scalp wheels to protect the turf and ground surface on uneven grounds or slopes.
You don't have any cruise control system available that you see from higher end tractor mowers
It doesn't offer any arm rests or elbow rests to help with longer mowing sessions
The warranty is only available for residential purposes and not commercial work
If you wish to buy the bagger attachment, this will cost you more as an optional extra
Its more expensive than many other brands but you get what you pay for in our opinion
The power can struggle a little when going in reverse up an incline or a slope

Price Comparisons
To ensure you have a broader view on various prices in the market, please make sure to check out the 2 price comparison options below which can possibly save you some money in the process while you are here…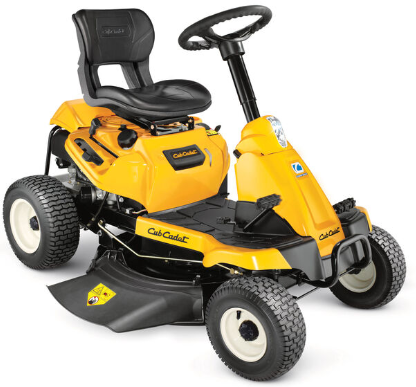 View also: Cub Cadet SC900 Lawn Mower Review
Faster Mowing Work
If you have worked with a push or self-propelled lawn mower in the past, then this smaller Compact Ride on Mower can get your mowing jobs done a lot faster and with a fraction of the effort on your part. This is particularly useful for people who struggle with the amount of time mowing work can take you when you are walking behind a lawn mower.
Another cool feature we liked is the fact that it can mow in reverse which again helps to get the work done faster. In addition, when walking behind the push lawn mower can take you 1 hours work, this compact Riding mower should be able to do it in 30 minutes or even less so it is a perfect solution if time is always against you.
View also: Cub Cadet CC800 Lawn mower review
Conclusion
Would we buy the Cub Cadet CC30H Compat Riding Mower? Without hesitation, yes we would buy it as it is a quality piece of equipment that is reliable, starts without any issues and gives a nice clean cut finish across the yard. Yes it is more expensive than your average Compact Riding mower but it is worth it from what we have seen.
It would be a perfect solution for those of you with narrow gates to get through or many obstacles across the yard and you have option to include the grass bagger also if needed. The hydrostatic transmission here is a major advantage for a more enjoyable mowing experience and further reviews and pricing updates can be checked out directly from Cub Cadet below

Cub Cadet CC30H Feedback
Have you ever used a Cub Cadet CC30H Compact Riding Lawn mower in the past? If so, please share your own opinions and feedback with the wider mowing community by leaving a comment in the comment box section provided below – so that others across the mowing community can learn also…