After completing our reviews on the gas powered Cub Cadet Garden Tractors, we also wanted to complete our Cub Cadet Electric XT1 LT42E Garden Tractor Ride on Mower review to find out how well it really works and to test its performance against various other Electric Tractor branded Mowers across the market.
We will outline all the key performance indicators that it has to offer as well as all the main pros and cons that we came across during the course of our review.
View also: Cub Cadet XT2 LX46 Tractor Mower Review
Environmental Advantages
By converting to an electric Tractor mower, you are making a big step and playing your part when it comes to reducing your own carbon footprint. There won't be any exhaust fumes, carbon monoxide or gases emitted as there are zero emissions here which promotes a healthier and greener environment and of course a cleaner air quality in the vicinity in which you work. The noise level is also over 50% lower than gas powered Tractor Mowers which again is a significant advantage especially if you have neighbors living close by.
Video Overview: Cub Cadet Electric Garden Tractor

View also: Our Cub Cadet SC500K Lawn Mower Review
Cub Cadet Electric Garden Tractor Review
Cub Cadet XT Enduro Series XT1 LT42E Electric Tractor Mower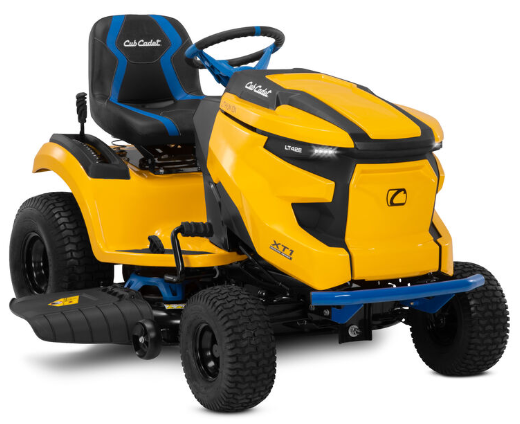 This Cub Cadet Electric Garden Tractor XT1 LT42E is part of the XT1 Enduro Series at Cub Cadet and it comes equipped with a 60Ah 56V 3000Wh battery that can mow and work from 1 to 1.5 hours on a single charge. This will deliver mowing work for yard areas from 3 acres to 3.5 acres on average depending on mowing and yard conditions before you will need to recharge once again. Recharging this 60Ah battery takes approx. 4 hours to complete with a 110V power outlet.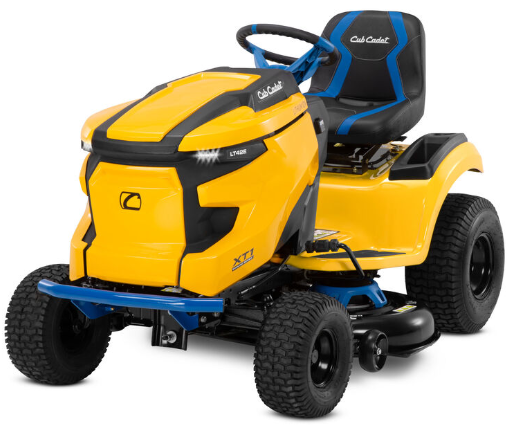 Starting this electric Garden tractor is done with a press of a button and it comes with a brushless electric motor as you would expect and the deck is made using a durable 13 gauge steel. It offers a 42 inch wide mowing deck and it can work up to a maximum speed of 5.5 mph or 8.6 km per hour. The reverse maximum speed is 3 mph also or 4.8 km per hour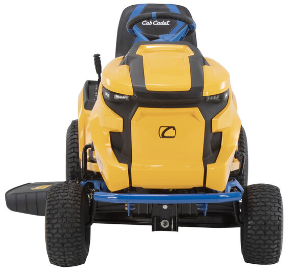 Similar to the gas Garden tractors, there are 4 anti-scalping wheels available to give an even cut on uneven terrain and there are 12 mowing height settings that range from 1 inch up to 4 inches. It includes superb steering giving you a 16 inch turning radius plus it has a tow hitch in place as well as Cruise control and a 15 inch high back comfortable seat.
Price Guide: From $3900 @ Cub Cadet

View also: Cub Cadet CC30H Compact Mower Review
Pros for the XT1 LT42E
Less maintenance work and no oils, gas costs, emissions, filters or spark plugs to worry about
You are doing your part to reduce your carbon footprint for a healthier environment
Overall time needed to keep the tractor mower running efficiently is reduced on your part
Significantly lower levels of noise emitted for a more user friendly experience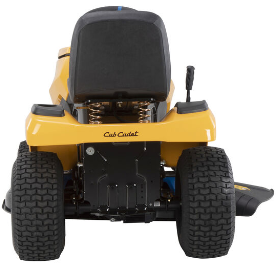 Cons for the XT1 LT42E
The battery will be susceptible to battery degradation over time and additional batteries are more expensive than you think
There is no rear differential lock in place or a wash port for the undercarriage
There are no commercial warranties available – only residential warranties
Slopes, long grass and difficult mowing conditions will deplete the battery charge a lot faster
Spare replacement parts on certain items are limited so there can be a long waiting time to get them
Problems has been raised elsewhere about the motors breaking down
Error codes E108, E228, E222, E522, E103, E702, E705 and E113 tend to pop up from time to time with poor instructions on how to fix them
Local repair shops appear to have little knowledge on how to fix error code issues and starting problems
Collecting of the grass clippings into the rear bagger could be better without clogging problems

View also: Cub Cadet XT1 LT46 Tractor Mower Review
Reduced Maintenance
As I'm sure you already aware, the maintenance costs associated to the Electric powered Tractor Mowers is significantly lower than the gas powered Tractor Ride on mowers so there is less ongoing costs to cover on your end and less hassle and work in terms of overall service maintenance requirements. Not only is there no gas or oil, you also don't have to worry about spark plugs, belts, air filters or gas filters etc for that matter.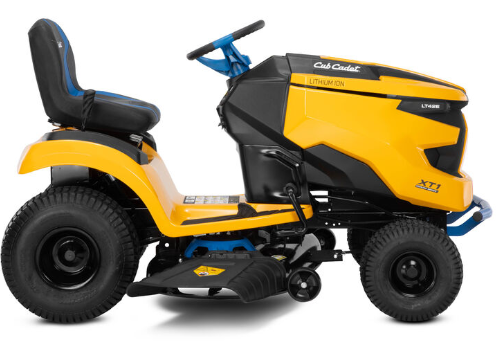 Warranties
One good thing to see is that Cub Cadet are offering a longer warranty period for this Electric Tractor Mower that many of their other Lawn mowers. They are giving a long 4 year warranty on the battery and a 3 year warranty on the machine itself which is great to see when it comes to protecting your investment of this size.
View also: Our Cub Cadet XT2 LX46 Garden Tractor Review
Conclusion
Would we buy this Cub Cadet XT1 LT42E Electric Garden Tractor? As there appears to be far too many issues at this point with starting it, sourcing spare parts and error codes popping up, it would have to be a definite no. More work needs to be done on improving the design and functionality of this Electric Garden Tractor and in particular when it comes to resolving various types of error codes that can come up.
Yes we love the idea of this Electric Garden tractor and perhaps in the future it will be improved but at this point of time we would not be confident in recommending it to the wider public. For that reason, we would prefer to recommend the Cub Cadet XT2 LX46 instead and further information is available directly from Cub Cadet below

Cub Cadet Electric Garden Tractor Feedback
Have you ever used a Cub Cadet Electric Garden Tractor in the past? If so, please share your own opinions and feedback with the wider mowing community by leaving a comment in the comment box section provided below – so that others across the mowing community can learn also…