Many thanks once again for taking the time to visit and welcome to this Hyundai HYM460SP Lawn mower review which should answer all the questions that you may have about this Lawn mower before you make your final decision.
This review will outline all the main features that you need to be aware of plus a series of frequently asked questions that has come in the recent past that will be of interest to you also. After testing this lawn mower, we will also outline all the main pros and cons that we encountered and we will provide a series of additional images to give you a better understanding of the components and the overall structure when it comes to workability.
View also: Popular Petrol lawnmowers
Online Orders
One good thing to know also is the fact that you do not need to commute or travel to your destination to collect as this Lawn mower can be ordered online and delivered to your home hassle free which is one less thing that you need to worry about.
Discounts
In terms of prices and comparisons, please be aware also that only guide prices can be presented at the time of this review as prices can change slightly from week to week depending on local discount activities so please make sure to view the price checkers outlined below to ensure you have the most up to date accurate price information. This review for the Hyundai HYM460SP Lawn mower will be outlined as follows…
Hyundai HYM460SP Lawn Mower Review – Content Summary
Part 1 – Overview & FAQ's
Part 2 – Review of Features / Pros / Cons
Part 3 – Comparison table vs other Hyundai Lawn mowers
Part 4 –  Price comparison options vs other brands in the market
Part 5 - Conclusion
Part 1: Brief Overview & FAQ's
| Brand: | Hyundai |
| --- | --- |
| Model: | HYM460SP Self Propelled Petrol Lawn mower |
| Warranty: | 3-year warranty (terms and conditions apply) |
| Orders Online: | Yes, with hassle free home delivery |
| Price Range: | £250 to £300 (at the time of this review) |
| Cheap Place to Buy: | Amazon UK – View Prices or Stock Availability Here |
| Reliable Stock: | Hyundai Power Equipment UK - View Stock Availability Here |
Frequently Asked Questions about the HYM460SP
Q1. Does it offer a side discharge option?
A. Yes, the HYM460SP has the ability to side discharge
Q2. Does it include the Mulching plug?
A. Yes, the HYM460SP has a mulching plug to cut the clippings and put them back down into the soil
Q3. How big is the grass collection container?
A. The size of the grass collector for the HYM460SP is 70L capacity
Q4. How are the heights adjusted and what heights are available?
A. It is adjusted with the single lever adjustor and the mow heights are 2.5cm to 7.5cm across 6 different settings
Q5. How heavy is it to operate?
A. The weight is quite heavy at 34kg so it requires a certain level of strength to operate
Q6. What sizes are the wheels?
A. The rear wheel is larger at 25cm and the front wheels are 17cm
Q7. Can the self-propelled mower be used as a manual push also for awkward areas?
A. Yes, you can disengage the self-propelled option and work it as a manual push lawn mower when needed around tighter corners / flower beds etc.
Q8. Can it cut long grass and steep slopes?
A. Yes, it can cut long grass no issues whatsoever and it is ideal for slopes where pushing is too difficult
Q9. Does the HYM460SP include the rear roller?
A. No, the HYM460SP does not include the rear roller for stripes. If you want rear rollers, then you need to select either the HYM460SPR or the HYM510SPER models instead
Part 2 – Hyundai HYM460SP Lawn Mower Review of Features / Pros / Cons
Hyundai HYM460SP 4-stroke Petrol Self-Propelled Lawn Mower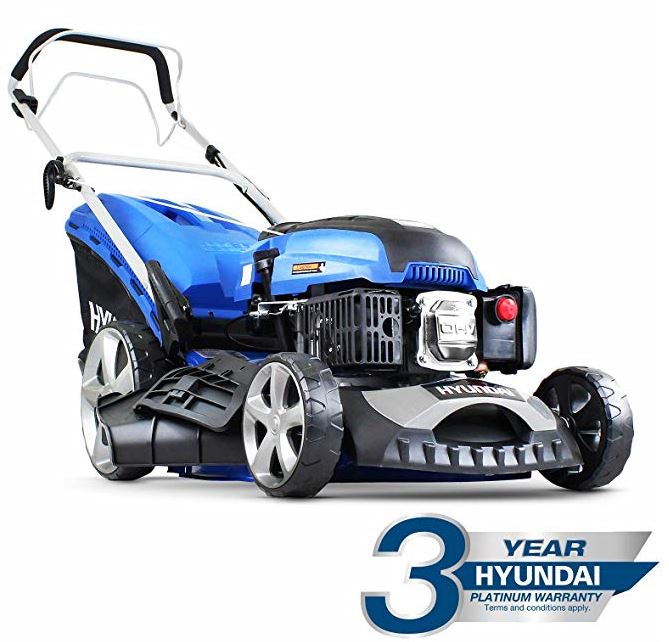 Main Features
This is a 4-stroke 139cc petrol self propelled Lawn mower (rear wheel drive) with a cutting mow width of 46cm or 18 inches and operates at a speed level of 3000 rpm and an easy starting process is provided with the CDI ignition system
Apart from being self-propelled, the other main attractions is the fact that you have the choice to either cut and collect, cut and drop, side discharge or even mulch so you get lots of options to choose from when working with the grass clippings
For easier storage in smaller type sheds or garages, you also get the quick release folding handles which is ideal for people who simply have limited storage space available. The grass box is quite big also with a storage capacity of 70L and it has a grass full level indicator so you know well in advance when it is time to empty it.
There are 6 different mow height settings to choose from and the heights are controlled with a central lever and the mow height range works from 2.5cm to 7.5cm. In terms of dimensions, they are 150cm by 520cm by 110cm and the weight comes in at 34kg
There is a free delivery in the UK mainland and the price range when last seen on sale at the time of this review was for less than £300 which of course can be double checked below

Further images are outlined below…
Main Pros Outlined (10)
As it is self propelled, it is a dream to work with as all the hard graft of pushing up hills and around larger type gardens is more or less gone
If you are using a push lawn mower and it is taking you 3 hours to complete the job, this self propelled lawn mower reduces the mowing time job duration significantly (25 to 30%)
Perfect for larger type gardens rather than small town house type gardens as there are no cables to worry about and no rechargeable batteries to worry about either
Gives an awesome level of power for heavy and thick grasses and cuts through them like a breeze, it is able to handle damp grass also which many electric lawn mowers struggle with.
A free delivery to the UK mainland is a nice bonus to have and the overall price for self-propelled is more or less on par with other similar self-propelled lawn mowers seen under various other brands.
You have the 4 options when mowing – you can collect – you can side discharge – you can rear discharge - you can mulch the clippings back into the soil to add nutrients to the soil so you get lots of flexibility with its range of capabilities
Many small lawn mowers have grass collectors of less than 30L capacity but this model gives you a much larger grass box of 70L which means a lot less emptying on your part and more time for mowing
It has a tool free assembly design and a user manual is included to help you get it up and running in no time at all and the drive belt can be accessed via the removable outer maintenance cover
It has the steel metal solid deck (instead of plastic electric ones) and it can be easily cleaned via the fitted garden hose connection outlet
The engines from Hyundai fully comply with European laws in terms of gas emissions with no catalysts added. For safety, it has the Operator Presence Control (OPC) so the engine will not run if you let go of the operation top handle.
Main Cons Outlined (10)
Much heavier piece of equipment to work with as it is over 30kg in weight so a good deal of strength is needed to operate it, turn it and operate it around tight corners and flower beds.
There are much lighter type lawn mowers out there in the market that are under 20kg in weight and they offer a much easier task of operating and mowing.
Starting with the pull cord tends to be quite good but some people will struggle with the amount of exertion needed to get it going properly when cold, again it needs quite a bit of strength and personal power.
If you want a push start lawn mower which is a lot easier to start, then you should look at the HYM460SPE or the HYM510SPE models instead.
No rear rollers are included to provide you with the striped effect. Plus, you need to pay for the ongoing costs of fuel and oil and maintenance costs as there is no oil included with the delivery so it will need to be bought separately
You need to pay attention to the manual when pushing the primer button, otherwise starting the engine will prove to be quite difficult and cause delays
The lowest mow height of 2.5cm will not be low enough for all types of gardeners who prefer a much tighter cut.
Inexperienced gardeners may struggle with the assembly instructions as they tend to view videos on Youtube for assistance but once it's up and running, it operates extremely well.
Noise level is a lot louder than your average electric lawn mower and getting it started when cold can take several attempts and usually requires a decent level of strength.
Finding the correct level markers on the oil plastic dipstick could be easier to find and locate and you should check that all bolts and nuts are checked and locked securely before you use it as losing parts and sourcing them if needed is more difficult than you think.

Part 3 – Comparison table vs other Hyundai Lawn mowers
The comparison table below compares the HYM460SP against other Hyundai lawn mowers such as the HYM430SP and the HYM510SP to add further clarity on their features
| Feature: | HYM460SP | HYM430SP | HYM510SP |
| --- | --- | --- | --- |
| Mow Width: | 46cm (18 inches) | 43cm (17 inches) | 51cm (20 inches) |
| Operation: | Petrol Self Propelled | Petrol Self Propelled | Petrol Self Propelled |
| Power: | 139cc OHV 4 stroke | 139cc OHV 4 stroke | 173cc OHV 4 stroke |
| Grass Box: | 70L Capacity | 45L Capacity | 70L Capacity |
| Side Discharge: | Available | Available | Available |
| Mulching Ability: | Yes | Yes | Yes |
| Mow Heights: | 6 | 6 | 6 |
| Cutting Range: | 2.5cm to 7.5cm | 2.5cm to 7.5cm | 2.5cm to 7.5cm |
| Foldable: | Handles Yes | Handles Yes | Handles Yes |
| Starter: | Recoil Pull | Recoil Pull | Recoil Pull |
| Clean Wash Port: | Yes | Yes | Yes |
| Warranty: | 3 years | 3 years | 3 years |
Part 4 - Price Comparison Options
If you would like to take a quick look and compare prices elsewhere in the market, then make sure to compare the prices of the 2 other options provided below that will be of interest to you before you make your final decision
Part 5 - Conclusion
Even though this lawn mower is quite heavy and doesn't include the rear roller, this machine is a tough piece of equipment and it has the ability to chew up tough, thick and long grasses no problem whatsoever and the fact that it is self-propelled also makes the hard work of mowing your lawn a hell of a lot easier, it saves more time especially on slopes and uneven ground – so without a shadow of a doubt, we would definitely recommend this lawn mower to everyone else as we were more than happy with its start up, it power and it performance throughout and is well worth the level of money you have to pay for it

Further Reading
If after the end of this review that you are still undecided and would like to explore more reviews for other brands, then feel free also to check out the following…
Spear & Jackson Lawn Mower Review Compilation– Take a Look Here
Bosch 34cm Corded Lawnmower Review - Take a Look Here
Flymo Mighti-Mo Rotary Lawnmower Review - Take a Look Here
McGregor Lawn Mower Review Compilation - Take a Look Here
Community Feedback
Finally, have you any previous experience of using a Hyundai Self Propelled Petrol Lawnmower in the past?
If possible, please educate the local community by leaving your feedback good or bad in the comment section provided below – So that other people across the community can learn also!